The noble work of being a Starbucks barista gets a little more complicated every time a secret menu drink goes viral on TikTok. This week, that drink is the Starbucks Lavender Haze drink, inspired by Taylor Swift's song on the Midnights album.
Now, the album dropped way back in October, but Swift just released the music video for "Lavender Haze." The video features about fifty shades of purple, plus Laith Ashley, a transgender model who plays the love interest.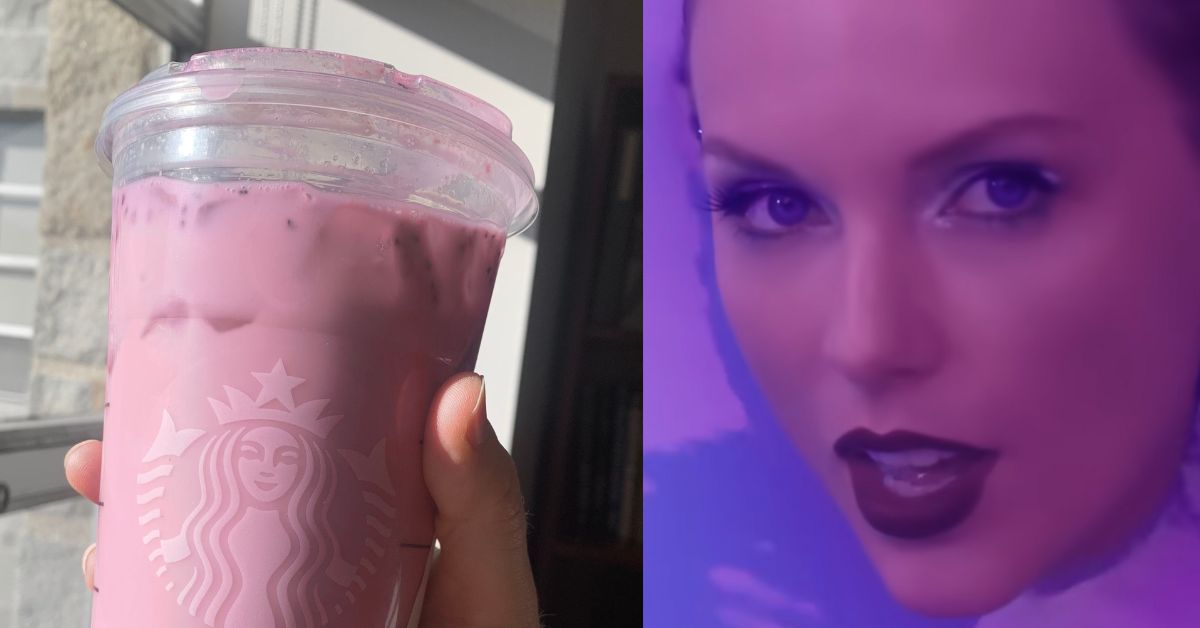 In honor of the "sultry sleepless 70's fever dream," people started ordering the Lavender Haze drink off the secret menu. We tried it ourselves to see how it tastes, so here's our review as well as how to order it.
What Is the Starbucks Lavender Haze Drink?
The Lavender Haze drink is made from passion fruit tea, soy milk, vanilla syrup, and dragonfruit inclusions. All of this results in a milky, light purple color, hence its name.
Unlike the official "Taylor's Latte," which the singer dropped in collaboration with Starbucks in November 2021 to promote her album, "Red (Taylor's Version)," the Lavender Haze drink is a secret menu item. That means you can only order it if you know the recipe.
And we do. Password is "no boys allowed." Especially not Jake Gyllenhaal.
How To Order the Lavender Haze
Ask for a Venti Iced Passion Tango Tea.
Ask for soy milk instead of water.
Ask for 6 pumps of vanilla syrup.
Ask for a scoop of dragonfruit inclusions.
Or tell your barista, "I'd like a venti iced passionfruit tango tea with soy milk, six pumps of vanilla syrup, and dragonfruit inclusions. Thank you."
If you order a different size, adjust the number of syrup pumps accordingly. Unless you're a hummingbird. In which case, carry on.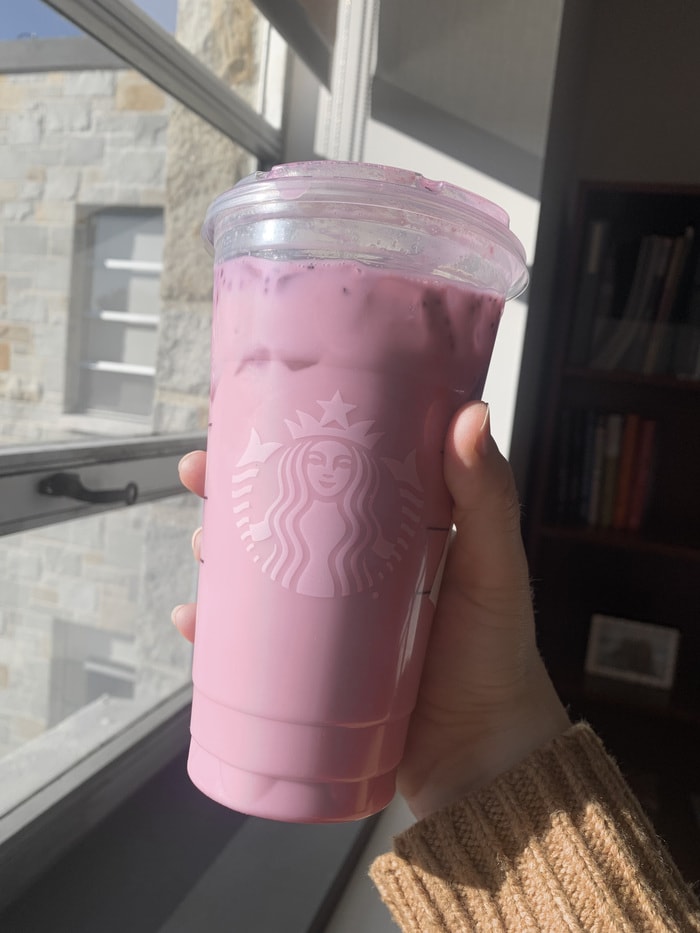 What Does the Lavender Haze Taste Like?
Asking this question is kind of like asking "what does cotton candy taste like," or "what does milk taste like?" It's hard to answer because the flavor isn't very strong. It basically tastes like an extra sweet version of passion fruit tea.
The vanilla syrup adds a bit of nuttiness to the drink, but that also might be due to the fact that we ordered ours with oat milk instead of soy. The passion fruit flavor is definitely present, but it's more diluted than it would be without milk.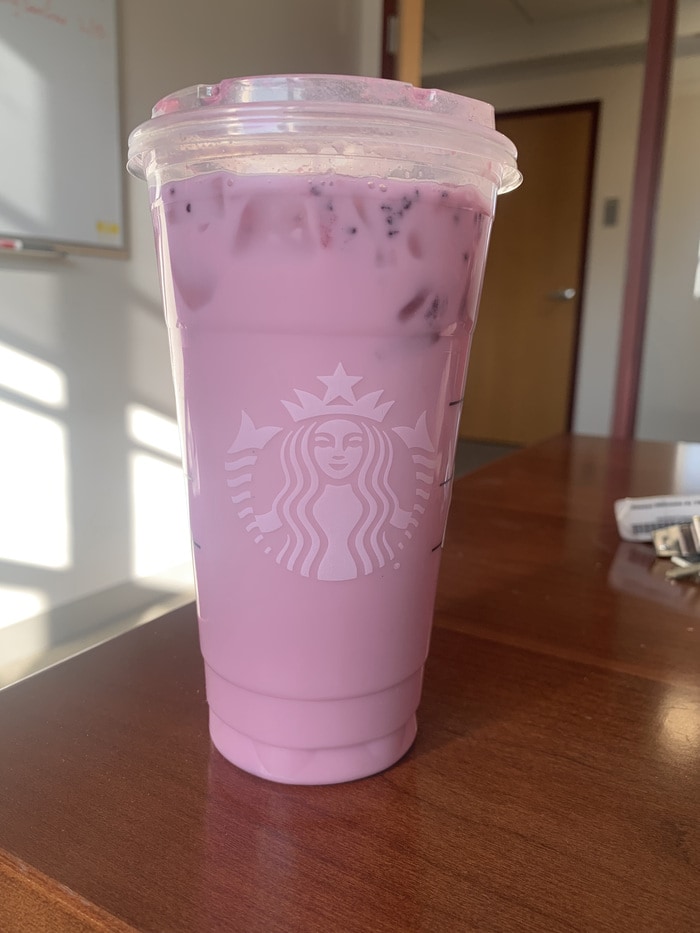 If you've ever had a Pink Drink, you can probably anticipate the flavor of this. It's creamy, sweet, and refreshing. We can't imagine anyone wouldn't like it, or that anyone would absolutely love it.
It is slightly bothersome that there's no actual lavender in the drink. But until Starbucks adds that flavor to their menu, there's not much you can do about that. Besides hit up your high school friend who's now slinging essential oils.
BRB, going back to Starbucks to order something caffeinated now.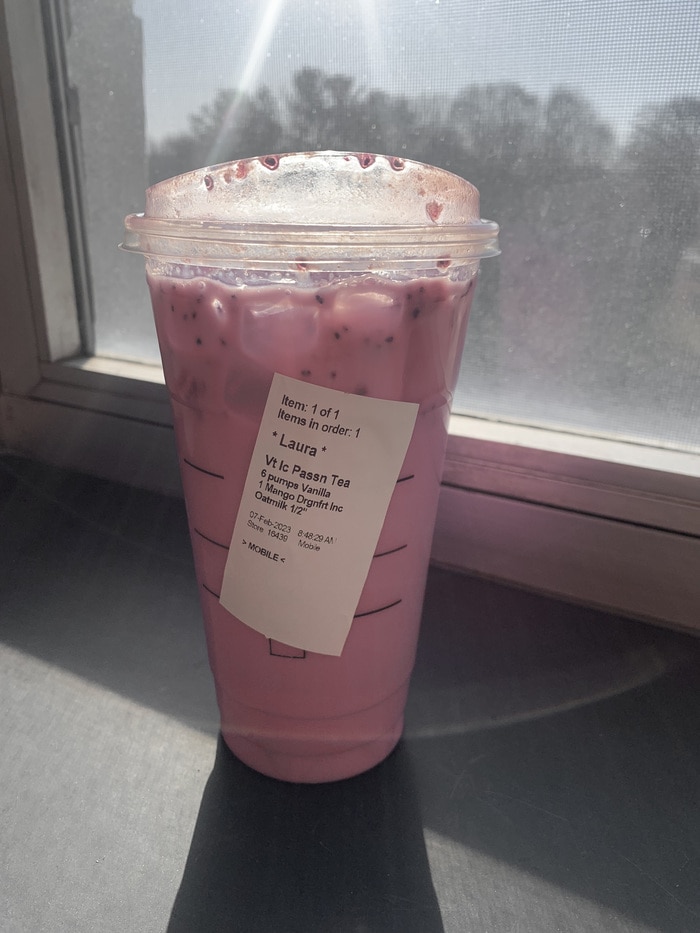 Lavender Haze Drink Variations
There are a few variations on the secret menu item for those who don't like one or more of the recommended ingredients. Try out these substitutions, but don't blame us if it all goes horribly wrong.
And don't forget to tip your barista, *especially* if it goes horribly wrong. She didn't sign up to be a chemist!
1. Swap the milk.
We actually did try this with our order. Instead of soy milk, we ordered oat milk. As expected, it gave the drink more flavor. But this isn't an oat milk superiority contest. If it was, we would have already won. Quit saying we're competitive.
We also saw several people on TikTok recommend using coconut milk, which is used in the Pink Drink. We can't attest to the color difference if you use a different type of milk, but it should still end up in the ballpark of light purple. Based on, you know, how colors work.
2. Use sugar-free vanilla syrup.
Trying to cut back on your sugar intake? You can use the sugar free vanilla syrup instead of the regular version for a lower-calorie version of the drink.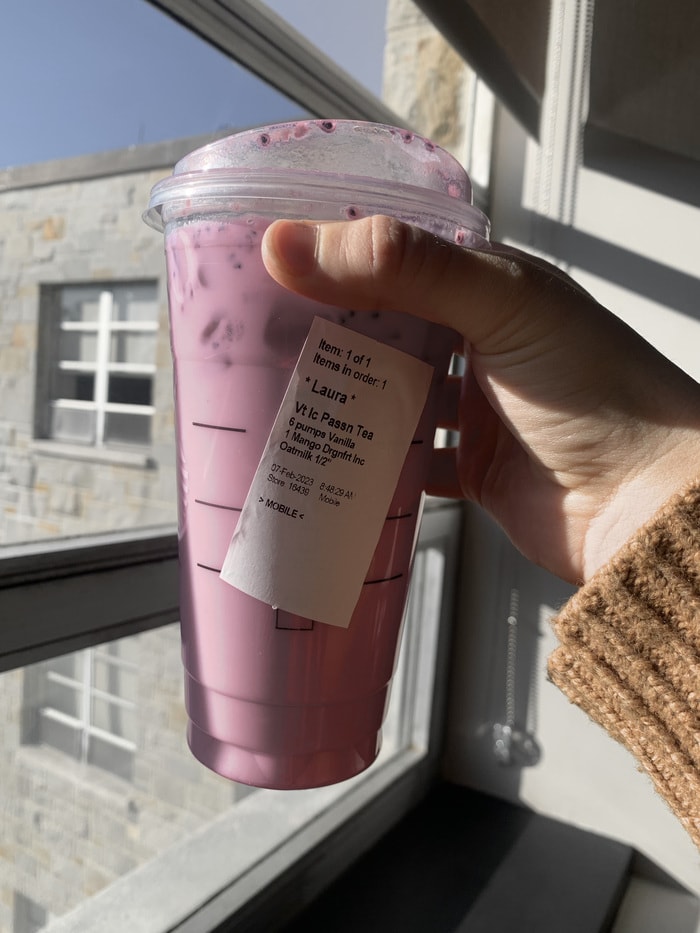 3. Leave out the fruit inclusions.
What, you don't like a chewy drink? Remind us to "forget" to invite you on our next Boba date.
If you're not into the whole freeze-dried fruit thing, you can leave out the dragonfruit inclusions, and it'll still come out lavender.
4. Add vanilla sweet cream cold foam.
One TikTok user recommended adding vanilla sweet cream cold foam on top to up the flavor profile and increase the "haze" factor. If we ever order this drink again, we'd probably try this method.
Not just because we like having a cold foam mustache. But 90 percent because of that.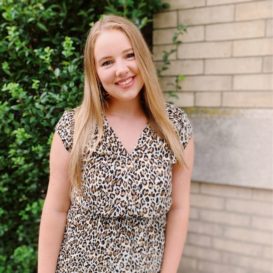 Latest posts by Laura Davis
(see all)