No joking over here – it's already April! That means it's time to freshen up your manicure aesthetic with some of these ideas for April nail design ideas. And an umbrella. And some rain boots.
Wait, are you sure you don't just want to stay home all month?
Whether you're a DIY enthusiast or a regular at the salon, this is the perfect month to experiment with fun and festive nail art. From Easter-inspired pastels to bright floral designs, there are endless possibilities to express your creativity this Spring.
Yes, even that means crocheting tiny little hats for your pet lizard. We get it. It's been a long winter for everyone.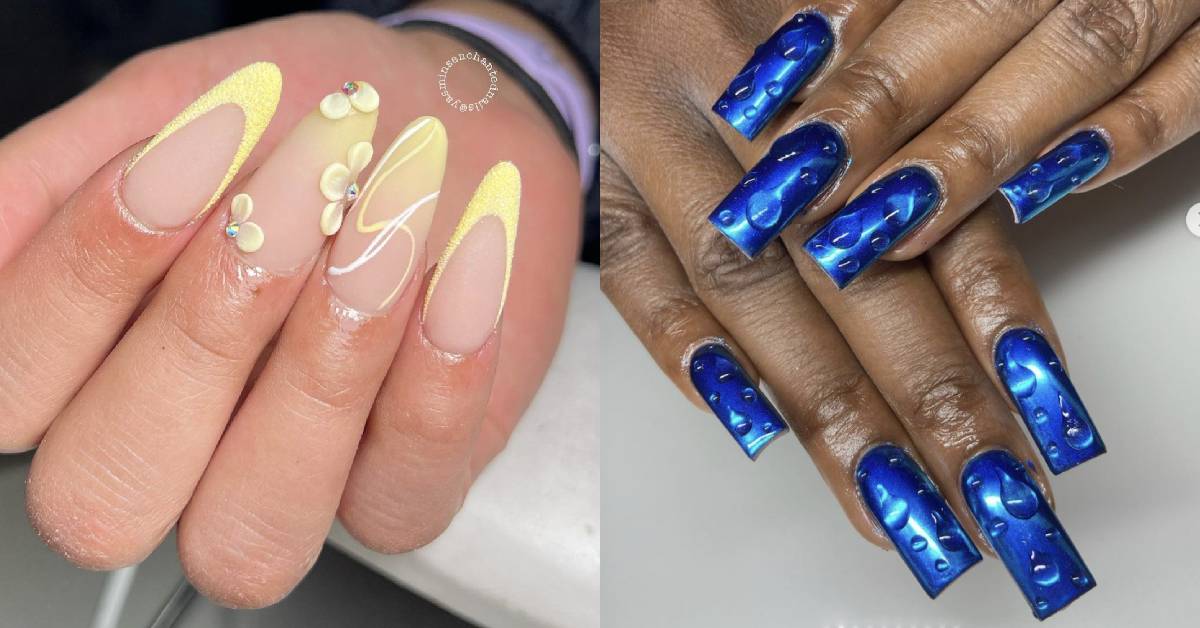 40 Ideas for April Nail Designs
1. April Showers Bring May Flowers Nails
Bonus points if you can keep this manicure looking fresh for both April and May.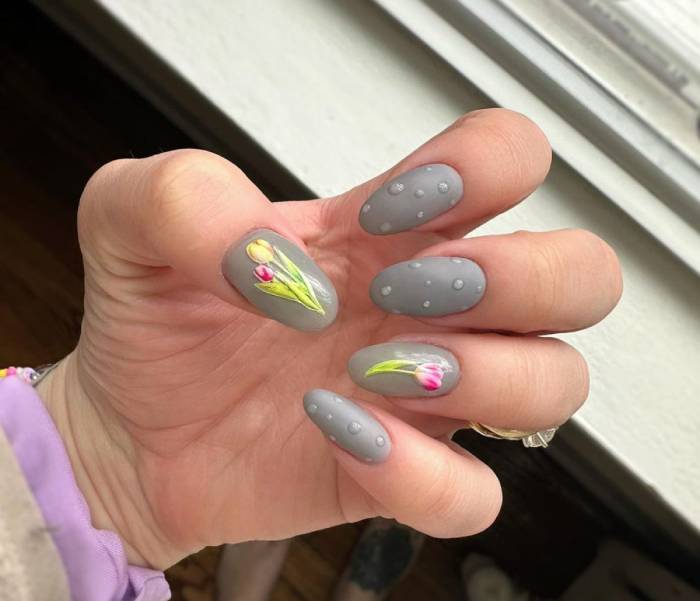 2. Green and Pink Geometric Nails
Sometimes it pays off to follow the Easter bunny down the trippy rabbit hole. Who knew the Mad Hatter was such a good manicurist?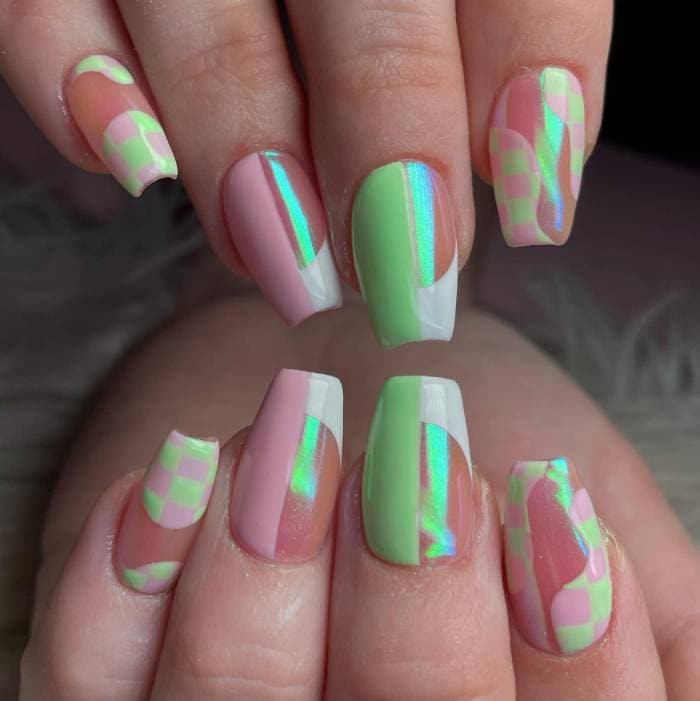 3. Yellow and Peach Negative Design Nails
We're positive that you'll love this negative space design. We're also positive that we'd love another Cadbury egg.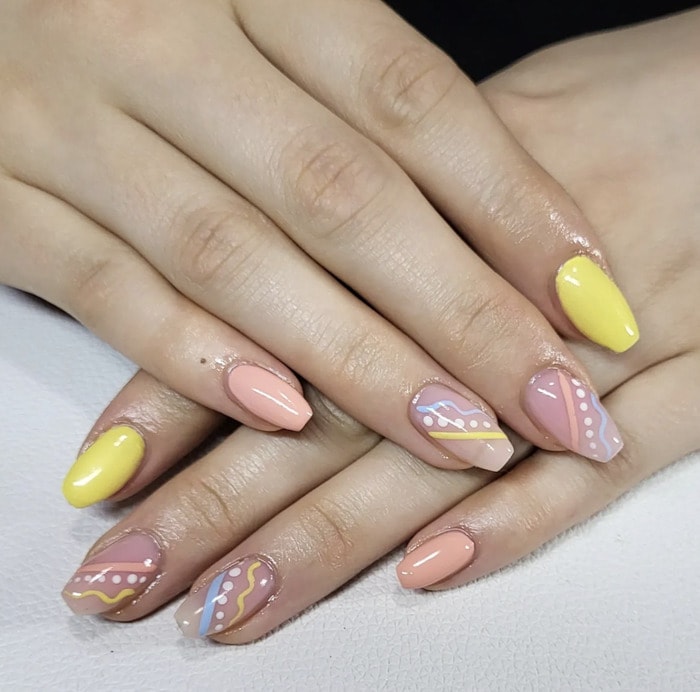 4. Blue Squiggles
This simple nail design is pulling double duty: it kind of makes these nails look like dyed Easter eggs, and it also kind of looks like "April showers." Or, April rivers, if the streets in your town don't have great drainage.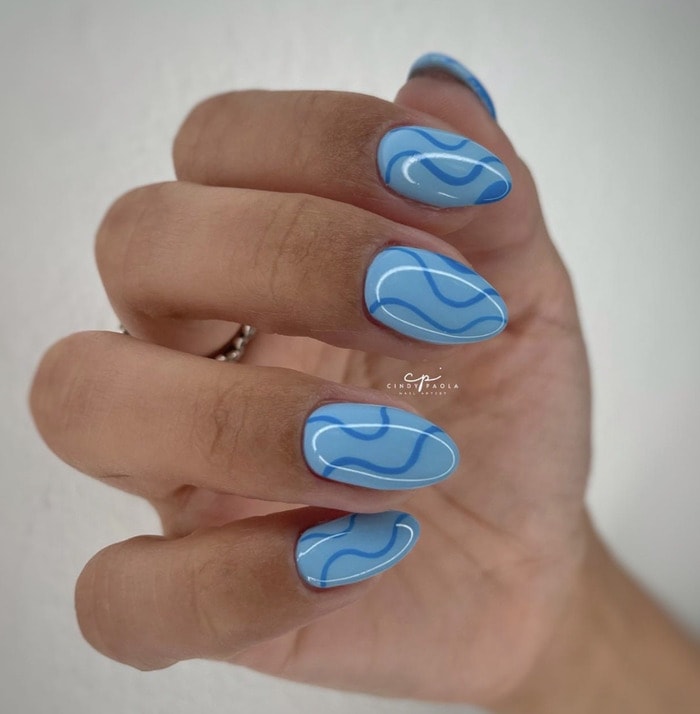 5. Pastel Skittles French Tips
We don't know what they call Skittles in France, but if they're anything like these nails, we bet they're wonderful!
Oh…they just call them Skittles? Well that's a little disappointing.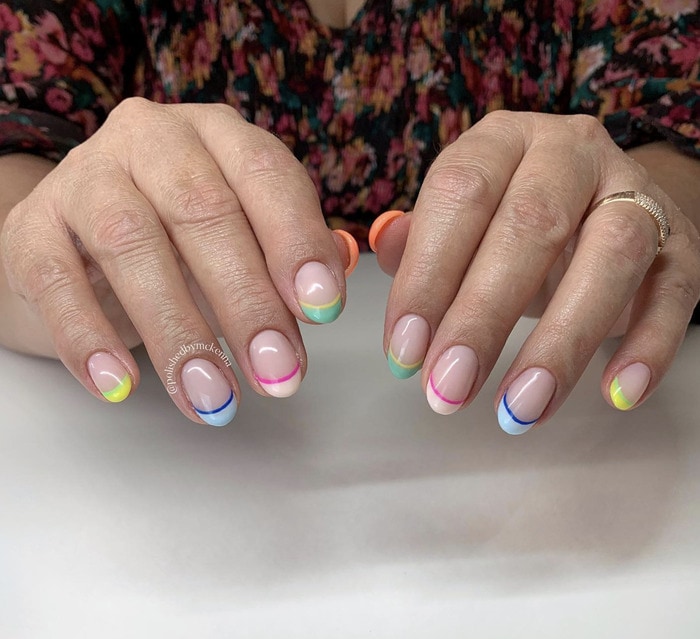 6. Blue Raindrops
April showers may bring May flowers, but they also bring really good nail inspo, too. And, less allergies.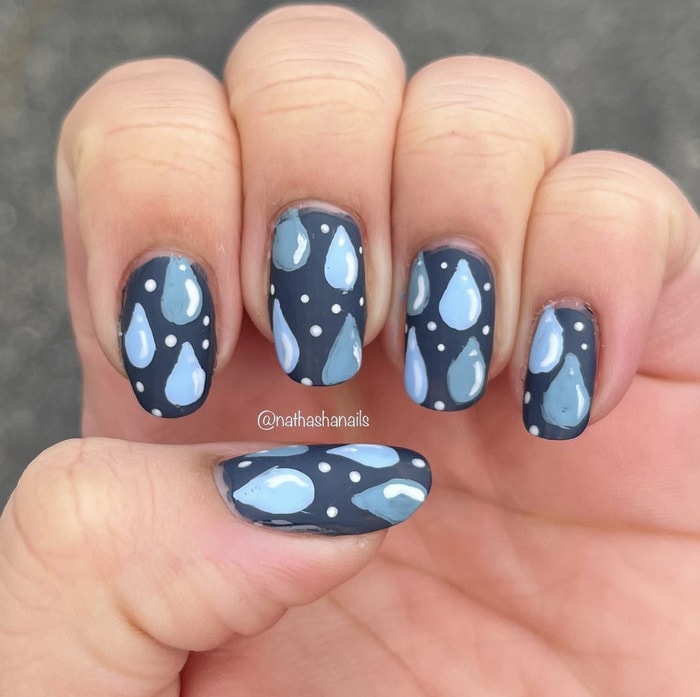 7. Rain and Umbrella Nail Design
If the Morton Salt Girl was a nail influencer today, you know she'd be rocking this look. And probably spreading pink salt instead of regular salt.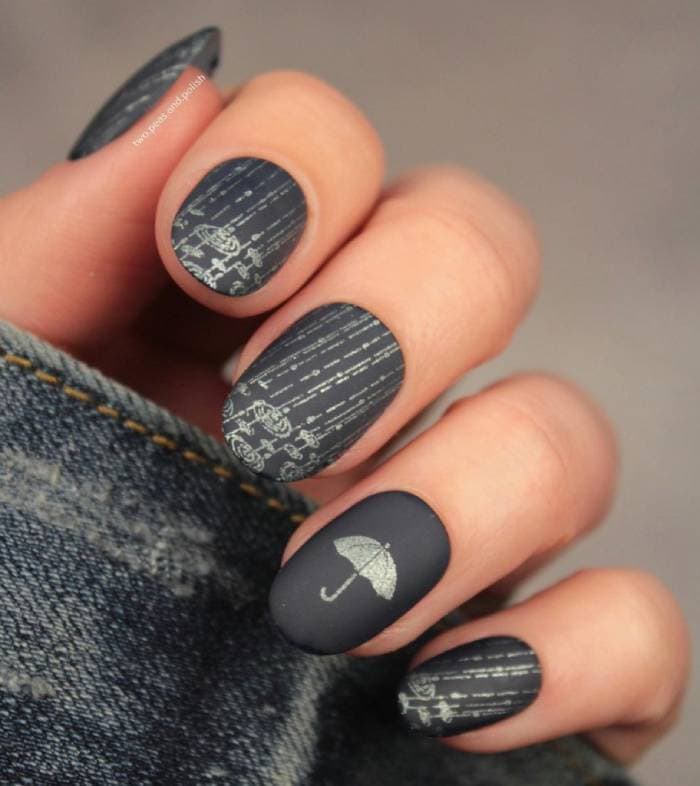 8. Rain and Rainbow Nails
Finally, here's one rainbow where we can reach the end! Not that we spent three hours chasing the end of a real one…we just happened to get a lot of steps that day.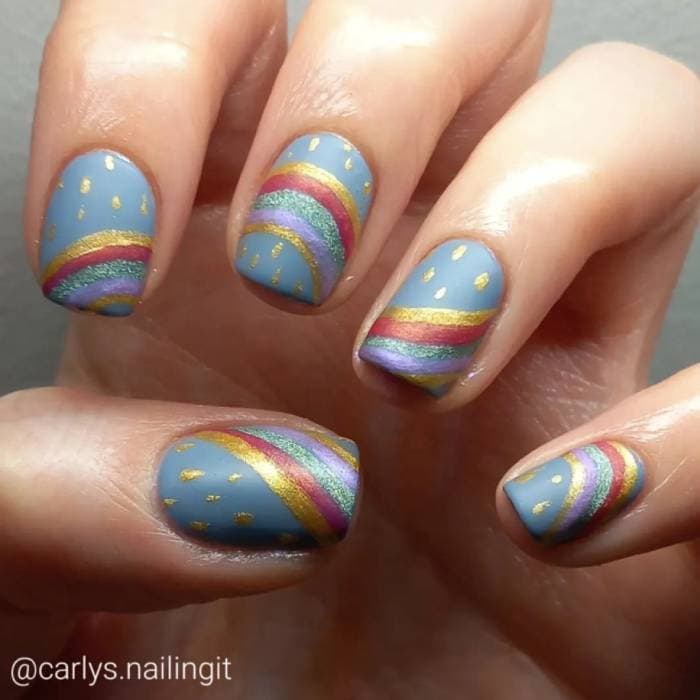 9. Colorful Nature Doodle Nails
April is a wild and unpredictable month. So harness that chaotic energy into your next manicure with fun, colorful doodles like these. Betsey Johnson would be so proud.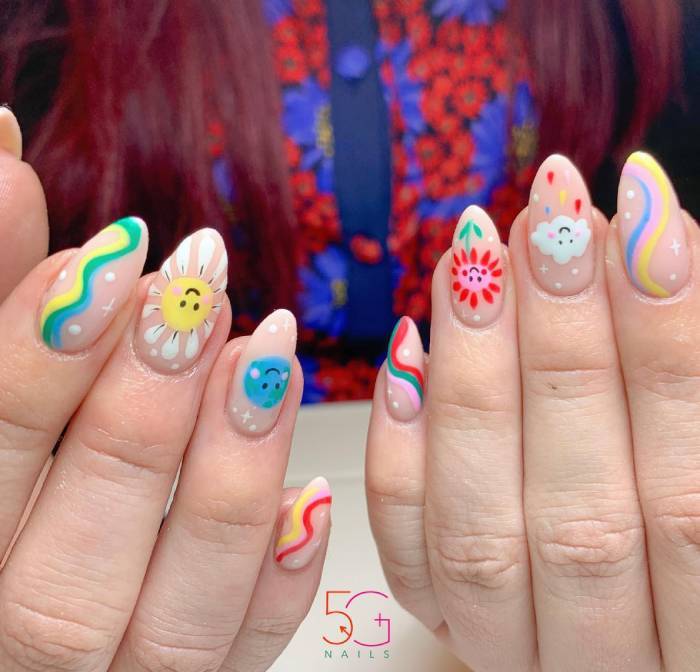 10. Abstract Earth Day Nails
When it's Earth Day, but you kind of forget the exact shape of Australia, this abstract design is just what you need. And maybe a quick skim of a world map, too.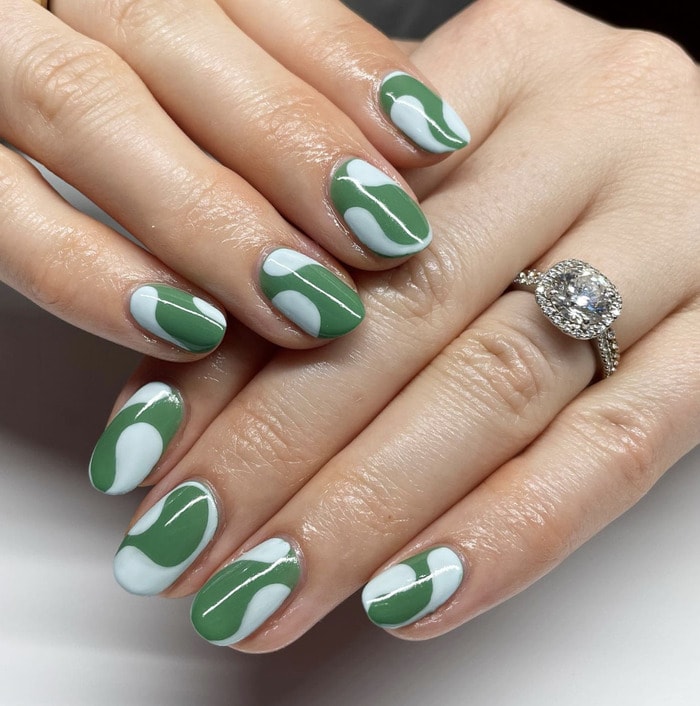 11. Floral Wreath Nail Design
It's giving Midsommar…minus all the creepy rituals and bear costumes. You might need to bring in your toenails if you want to get that whole scene in.
12. Black Lines with Flowers
If you're not into all the bright, happy colors and pastel florals, this neutral April nail design idea is right up your ally. And yes, we will be challenging everyone we pass with this manicure to a game of Tic-Tac-Toe.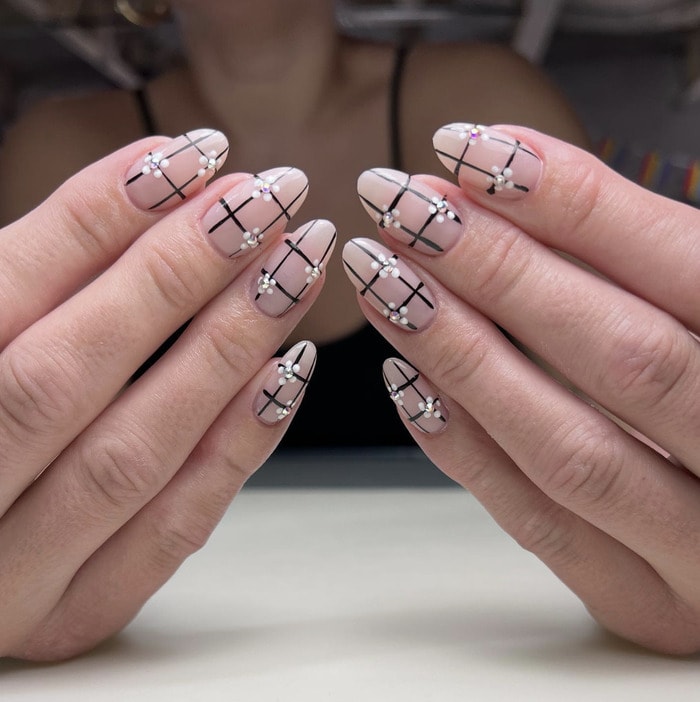 13. Cherry Blossom Nails
Make the cherry blossom season last a little bit longer by painting them onto your nails. Extra points if you can figure out how to make them scratch and sniff.
14. 3D Yellow Nails
French tips, abstract swirls, and 3D flowers…the only thing that's missing is the kitchen sink! No seriously, how did someone manage to walk out with an entire sink?
15. Neon Green Money Nails
Tax Day might be the most hated "holiday" out there, but that doesn't mean you can use it as an excuse to get a stellar manicure! Let's call it money manifestation. Patent pending.
16. Dollar Bill Nail Art
If this doesn't make you think of dollar, dollar bills, Wyclef Jean,Akon, Lil Wayne, and Niia, then please come to our very specific class on "Iconic 2007 Songs." We're sure Harvard will be calling us to teach any day now.
17. Palm Sunday Nail Stickers
If the Easter celebrations snuck up on you, these Palm Sunday nail stickers can work in a pinch! Or ideally, a gentle press.
18. Subtle Palm Leaf Nails
When you have to go to church at 8, but a tropical vacation at 9.
19. Blue Sparkles With Bunny Nail Art
Painting on full Easter bunnies seemed too complicated, anyway.
20. Neutral Easter Egg Nails
We love this nail design, but hopefully your actual Easter eggs don't blend in as well as these nails. We don't want a repeat of 2014's lost rotten egg.
21. Cute Easter Nail Tips
This Spring nail design has a little something for everyone! Except the person who's looking for more chocolate. (It's us. Hi.)
22. 3D Floral Nail Design
This nail art is giving off Polly Pocket vibes. And no, we will not be elaborating further.
23. Sparkly Rainbow Gudetama Nail Art
We always felt like we could relate to Gudetama. But add in the sparkly rainbows? Suddenly we don't feel the need to keep searching for our soulmate.
24. Translucent Raindrop Nail Art
Is this manicure paying homage to all the rain? Or are we just prepping for the release of The Little Mermaid in May 2023?
25. Purple Rain and Flowers Nail Design
It would be too easy to make a comment about Prince's Purple Rain, so we're definitely not going to do that.
26. Dark Blue 3D Rain Nails
Pro tip: this design is a lot cheaper if you just cry onto blue nails! (Do you wanna talk about it?)
27. Teal Raindrop French Manicure
We've seen rain in this gorgeous teal color, but we also bury ourselves under 10 layers of blankets every time it storms.
28. Green and Blue Ombre Nails
Are you subtly celebrating Earth Day? Or have you just dyed one too many Easter Eggs? In the case of this nail design…yes.
29. Groovy Earth Day Nails
A gentle reminder that we might have to celebrate Earth Day from outer space if we're not careful. And that you're not the best at drawing straight lines, but that's okay!
30. Green and Blue Marble Nails
Water makes up 70% of the Earth, so this look is perfect for Earth Day celebrations. And it's a great conversation starter to flex your vast knowledge of the elements. No, of course it's not annoying!
31. Root For The Trees Nail Art
Wear these nails with pride! No one has to know you turned around a quarter mile into the hike last weekend.
32. Tree Painting Nail Design
If you didn't get to use all of your Christmas nail design ideas in December, Earth Day is a great time to bring them back. Just leave out the red colors and the tree ornaments. Cookies are still more than welcome, though!
33. Woodsy Nail Art
Legend has it that this is the first step of turning into a woodland fairy. The second step is becoming comfortable around bugs. And that…that might take some time.
34. Earth Day Nails With Accent Designs
Make this look even better by adding a little alien on one of the blue nails. It's only the neighborly thing to do!
35. Lavender Chrome Nails
Regardless of all the Hailey Bieber drama, glazed donut nails don't seem to be going anywhere. Except, to a Taylor Swift concert all decked out in lavender.
36. Strawberry Nails
Strawberries fields may be forever, but these nails will be like…two or three weeks max. Not bad!
37. Black and White Ramadan Nail Design
These nails only need to last for 30 days, but the black and white design is timeless.
38. Green and Gold Ramadan Nails
This design is just complicated enough to look cool, but not so complicated that we can't do it at home. Are we still going to go to the salon? Of course. But that's not the point.
39. Blue and Purple Passover Nail Art
We were going to draw designs on all of our nails, but then we started on the Manischewitz. Luckily, the purple really ties it all together.
40. Matzah Nail Art
They say you are what you eat. And these nails just further prove that point. We're just happy it isn't gefilte fish.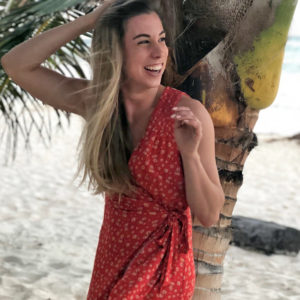 Latest posts by Hannah Rex
(see all)