Forget about the Espresso Martini. Throw out your Dirty Shirley. There's a new drink in town, and it's the Negroni Sbagliato with Prosecco.
And, thanks to the House of the Dragon's Emma D'Arcy, there are also are quite a few Negroni Sbagliato memes and tweets. Here's the best ones we've found so far.

What's the Origin of the Negroni Sbagliato Meme?
If your TikTok, Twitter, and Instagram feed haven't been flooded with these words yet, let's back up. HBO posted a video of House of the Dragon stars Emma D'Arcy (Princess Rhaenyra Targaryen) and Olivia Cooke (Queen Alicent).
Cooke asks D'Arcy what their favorite drink is, and they respond, "A negroni." Pause. "Sbagliato." More pause. "With Prosecco in it. Everyone collectively loses their minds. Cooke chimes in, "Oh, stunning!"
Now, just reading that dialog doesn't do it justice. D'Arcy's cadence and tone makes it sound like they're recording an audio book for an adult novel. They're letting you in on a secret.
They're stirring up emotions that you haven't felt since watching every scene with Camila Mendes and Maya Hawke in Do Revenge.
So that's the scene. But what about the drink? A traditional negroni is made with Campari, sweet vermouth, and gin. A Negroni Sbagliato (which translates to "broken negroni") swaps the gin for a sparkling wine. And D'Arcy educates us that it should be Processo. Thank you, future queen.
To the delight of the queer community and the despair of bartenders everywhere, this drink and the Negroni Sbagliato with Prosecco memes took off like wildfire from a dragon. Here are the best ones we found so far.
21 Negroni Sbagliato With Prosecco Memes, Thanks to Emma D'Arcy
1. The limit does not exist.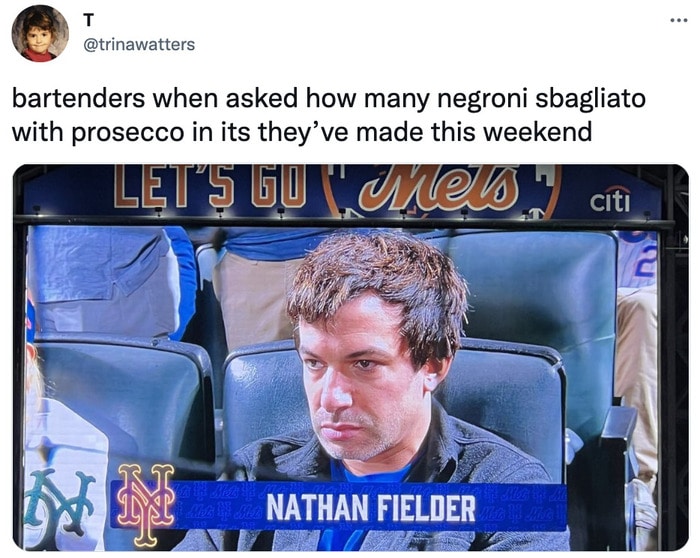 2. So much better than the last season of Game of Thrones.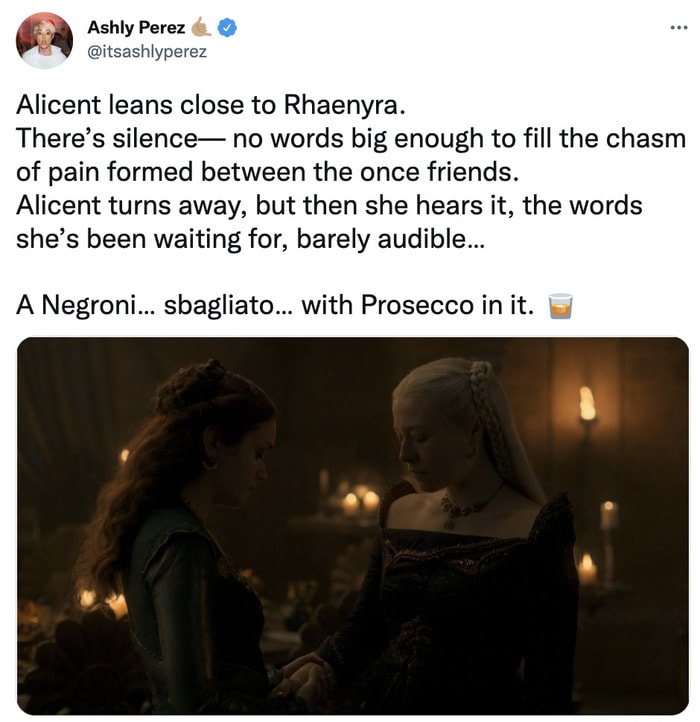 3. The Campari executives are *ecstatic.*
google wondering why searches for "negroni sbagliato" have hit an all time high pic.twitter.com/4u6X74AGR2

— isla (@hyyhcores) October 7, 2022
4. We bet this is the same house that gives out the King Size Snickers.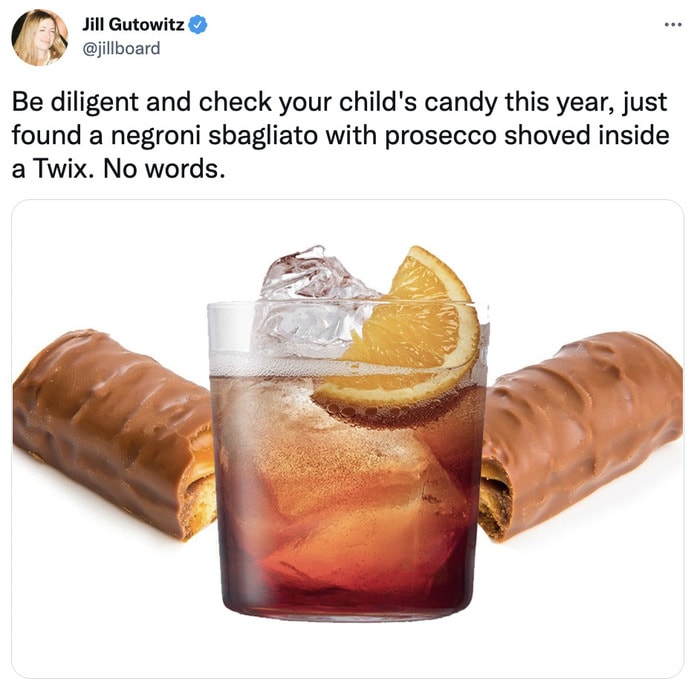 5. Enjoy retirement with Dirty Shirley.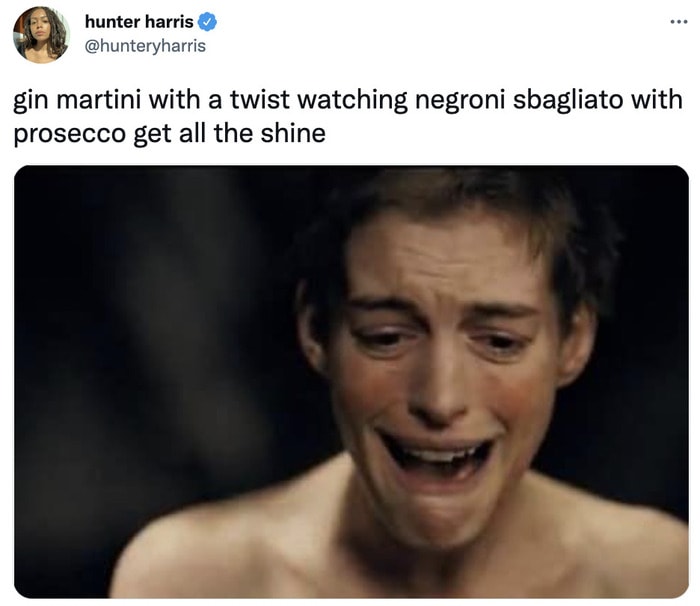 6. They don't breathe fire. They just shoot lasers out of their eyes.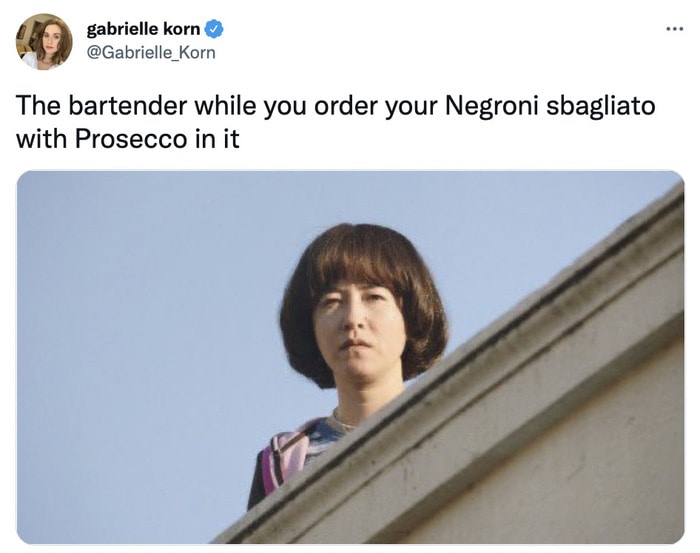 7. The Starbucks Secret Menu has done it again!

8. Okay so maybe it doesn't taste quite as good as D'Arcy makes it sound…
fruity bitches this weekend after ordering a negroni sbagliato with prosecco pic.twitter.com/lX3EXSz5V6

— lucy (@heylucymay) October 13, 2022
9. But we're willing to try it at least 10 times.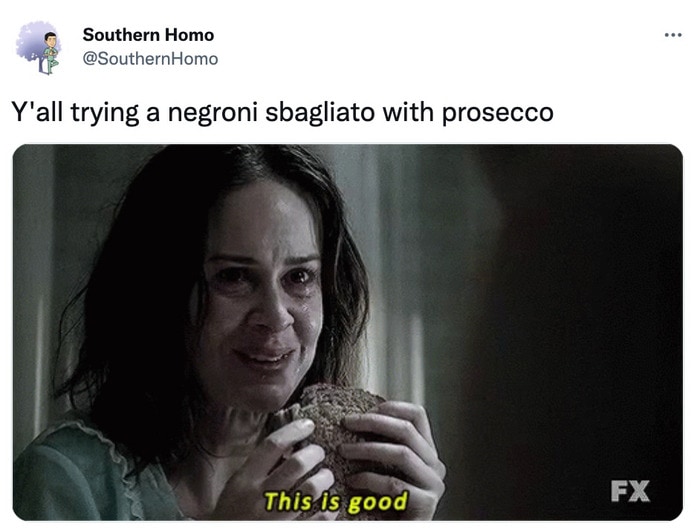 10. There will be a Lifetime movie about a TikTok queer awakening.
is your entire fyp "a negroni. sbagliato. ooo. with prosecco in it. oh stunning" or are you straight?

— kels❓ hotd brainrot (@sansaskywalkers) October 8, 2022
11. Watch out, WeHo!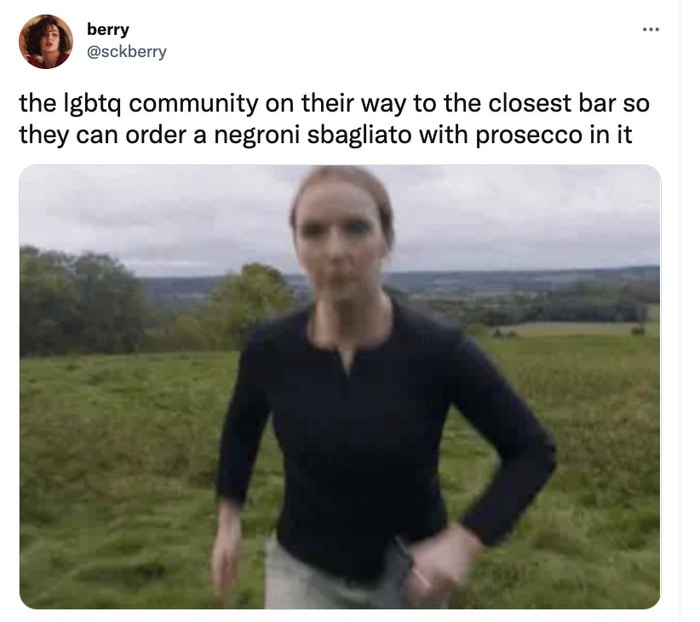 12. We love inclusivity.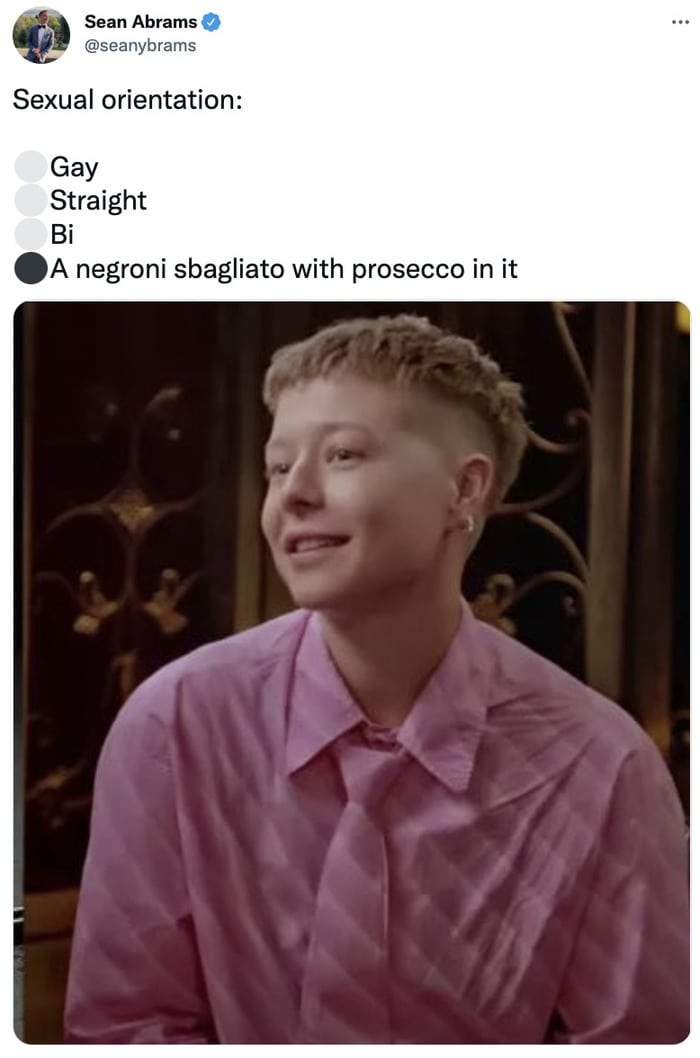 13. You saw us decked out in a rainbow onesies last week, Gary. Of course you know!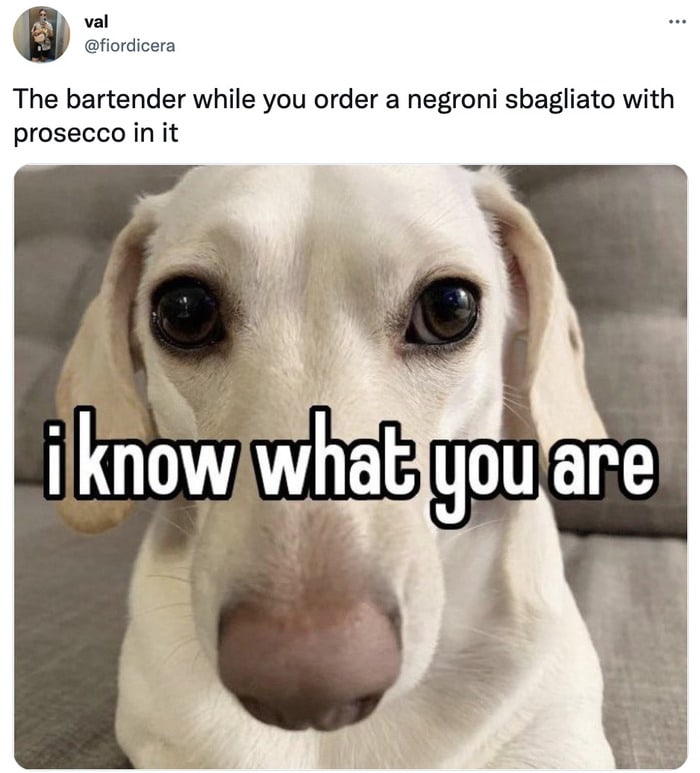 14. Fine, just don't ask us to spell recipet. Uh, reicept. Maybe it's reciept? We're done.
oh you're bi? spell negroni sbagliato right now

— Tyson (@mrtysonw) October 10, 2022
15. Keep the tips flowing!
bartenders at gay clubs when they have to make the 180th negroni sbagliato with prosecco in it pic.twitter.com/8IcPPSfliO

— pauli (@prettyanddpunkk) October 10, 2022
16. This is already the password to get into a club in Chelsea. We know it.
now you dont ask people if theyre a lesbian anymore
you just say "a negroni. sbagliato" and if they respond "with prosecco in it" you just know

— eden/jay | 13 !!!🦑 (@moonyrockstar) October 9, 2022
17. Honestly, A+ marketing.
idc how many people have told me to watch the dragon show the "negroni sbagliato with prosecco in it" was the most effective advertisement ive ever seen in my life

— ranch (@miss_ranch) October 8, 2022
18. Did you know there were dragons in this show?!
"a negroni… sbagliato… with prosecco in it" is singlehandedly making me want to watch house of the dragon and i've never watched an episode of GoT ever

— boo (@cloudyleeee) October 7, 2022
19. And that compensation is…a Negroni Sbagliato with Prosecco.
if the words "a Negroni sbagliato with Prosecco in it" mean anything to you you may be entitled to compensation

— Madison Malone Kircher (@4evrmalone) October 8, 2022
20. It does have a nice ring to it.
my daughter gonna be mad as hell when i name her a negroni sbagliato with prosecco in it pic.twitter.com/tCEFQ1fN44

— soph 🎃 (@themiIfofus) October 8, 2022
21. The Corn Song is done. We now have this:
thisss mix….get negroni sbagliato with prosecco in the clubs by friday pic.twitter.com/zgCwQqUU03

— J Λ M Ξ S (@jamesglynn) October 13, 2022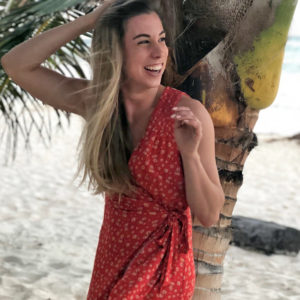 Latest posts by Hannah Rex
(see all)