Words like "geeky" and "nerdy" are becoming less intertwined with images of wedgies and swirlies, as more people admit that board games are pretty fun, and it would be really sweet to be a wizard. And with an uptick in cooking thanks to the pandemic, we've been blessed with a meshing of the two worlds: nerdy cookbooks.
It's a natural union, as there's already magic involved in cooking. Simply changing the temperature of something can bring it from salmonella hotbed to delectable dish. A bit of acid can break down cellular walls just as a good author can break down your emotional ones.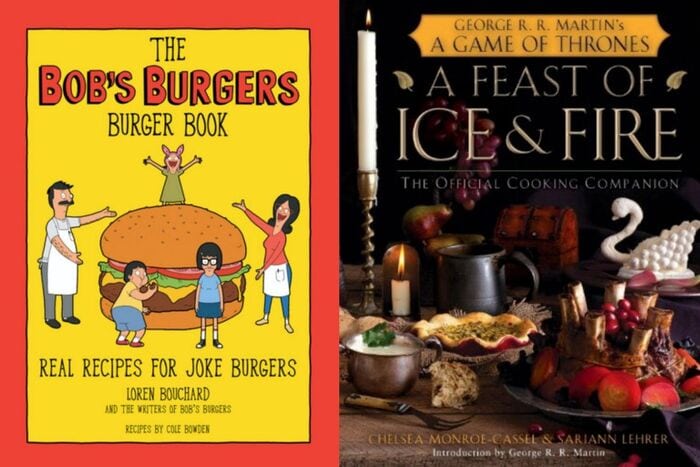 So, whether you run a kitchen with a magic staff or simply carry a magic staff, and whether your weapon of choice is a chef's knife or a wand, we invite you to explore the magic of your kitchen with these nerdy cookbooks.
Aside from how all those dirty dishes just appear out of thin air.
12 Geeky Cookbooks to Get, Even Though Your Bookshelves Are Already Full
1. The Geeky Chef Cookbook: Real-Life Recipes for Your Favorite Fantasy Foods
If you don't want to commit to only one geeky fan base, this book can help. Chef Cassandra Reeder compiled a collection of comforting cooking endeavors inspired by a variety of shows, movies, games, and books that hold a place in your nerdy heart.
Included are eats drawn from Game of Thrones, Star Trek, Doctor Who, and, of course, The Hunger Games. That series is about food, right?
With over 60 recipes across multiple fan bases, this book is perfect if you just want to dip your Tolkien-to the world of fantasy cooking. We're here all week.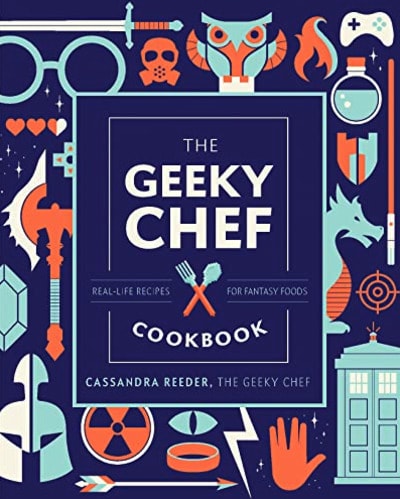 Available on Amazon.
2. An Unexpected Cookbook: The Unofficial Book of Hobbit Cookery
Written by a Hobbit-enthusiast with multiple degrees in history, there is nothing unexpected about how well-researched this book is. Proud nerd Chris-Rachael Oseland has penned this thoroughly Middle Earth cookbook, and even uses Hobbit-style writing in her recipes.
And if you think that's just normal writing, then you probably already have this book.
Here you'll find historic recipes revised to fit Tolkein's version of The Shire. It has a chapter for each traditional Hobbit meal: breakfast, luncheon, dinner, and everything in between. With 200 pages of recipes, this book will keep hobbits fed for almost a full day.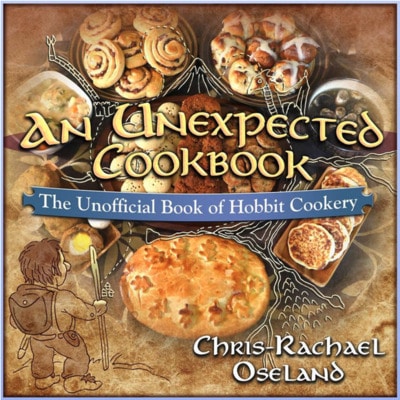 Available on Amazon.
3. A Feast of Ice and Fire: The Official Game of Thrones Companion Cookbook
For those who didn't lose their appetite after The Red Wedding, check out this cookbook. And then maybe go see a therapist. Arguably the MVP of nerdy cookbooks, Chelsea Monroe-Cassel is at it again with this Game of Thrones collection, instructing readers how to harness that fire and ice in the kitchen.
She features delectable dishes spanning the seven kingdoms, and broken up by region. There's also substitution options, just in case you're not trying to use up all of your live doves or dragon eggs before they go bad.
Having spent thousands of pages accidentally reading Targaryen as "Tarragon," and seeing "meat and mead" in every other sentence, we were more than ready to move this story into the kitchen.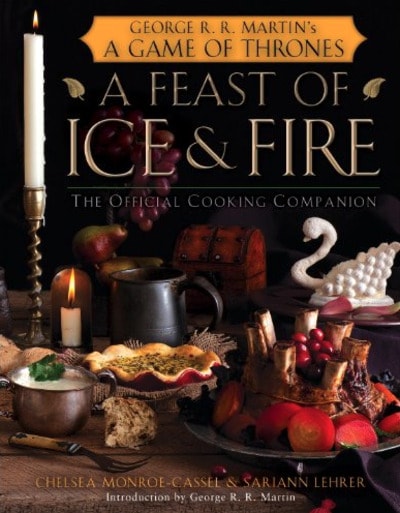 Available on Amazon.
4. The Unofficial Disney Parks Cookbook
Ashley Craft helps anyone who's a broke – er – thrifty Disney-loving foodie to enjoy the treats of the theme park without ever having to leave your home. Except to go grocery shopping. Unless you use Instacart! Although, you should probably leave your house at some point. Maybe go for a walk?
Regardless of your other life choices, this book will help you enjoy the real reason we all get excited about Disney: the food. Finally, you can indulge in Dole whip without doling out all your money.
With 100 recipes inspired by the iconic foods of the Disney Theme parks, you can channel the culinary experience from the comfort of your own kitchen. But if you happen upon human sized-mice walking around in your kitchen, we recommend you vacate the premises.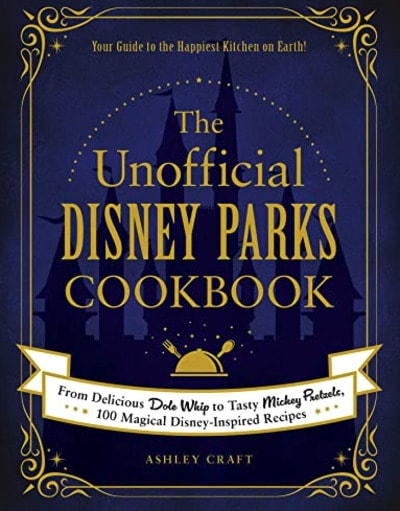 Available on Amazon.
5. The Bob's Burgers Burger Book
This book contains 75 straight-from-the-show burgers. And yes, the book description deemed necessary to clarify that these are "actually edible." How encouraging!
If puns make you lose your appetite, put this book down immediately, as some of the recipes featured include "Bleu is the Warmest Cheese," "I Know Why the Cajun Burger Sings," and the "Bruschetta-Bout-It" burgers.
In addition to being full of burgers that would make Guy Fieri don his flame shirt and escort you into Flavortown, this book is adorned with illustrations in the show's signature style. It's just you, some meat, and the beloved Belcher family. Taco 'bout a hot date night.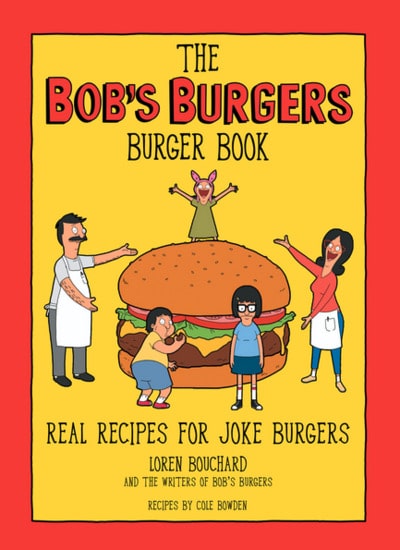 Available on Amazon.
6. The Unofficial Harry Potter Cookbook
The Unofficial Harry Potter Cookbook includes recipes drawn from the well-loved pages of the series that stars treacle tarts and pumpkin pasties. We guess that Potter kid was there, too.
Dinah Bucholz helps Hogwarts enthusiasts live the dream of partaking in Great Hall feasts and sipping on pumpkin juice with upwards of 150 magical tasting recipes. And if you burn any of your food, you can just claim you drew inspiration from the Dark Arts.
It's available in paperback, hardcover, or Kindle. But we've found the Kindle version makes us feel least like the half-blood prince when we scribble all over it.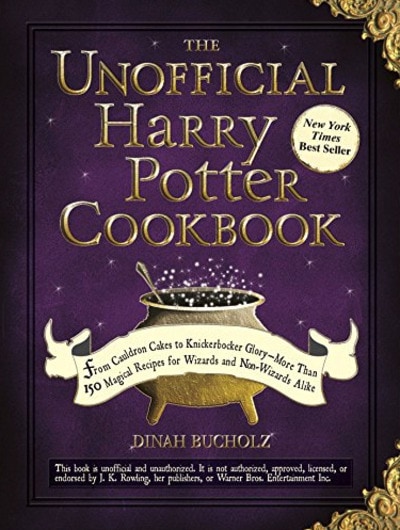 Available on Amazon.
7. The Hogwarts Express: Meals Straight from the Food-Cart
We hate to break it to the impatient folks, but the "express" here doesn't refer to how quickly the food is ready. In this book, PD Morgan focuses on the food cart of the Hogwarts Express that has shuttled countless witches and wizards to and from the school.
Although we all have a soft spot for chocolate frogs and booger-flavored beans, the ravenous teens traveling to Hogwarts have explored the full menu of appies, mains, drinks, and desserts. The collection also includes Quidditch Popcorn Brooms, Half Moon Pasties, Golden Snitch Pops, and even the Polyjuice potion.
If you want the experience of platform 9¾ without running full speed into a brick wall, try this book out. Your cranium and your taste buds will thank you.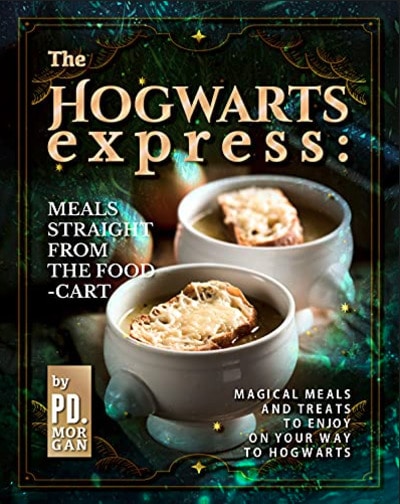 Available on Amazon.
8. World of Warcraft: The Official Cookbook
It's 2AM. The room is dark against the blinding light of your monitor. Keys are clacking so furiously you can hardly hear that rumbling of your stomach. Loose Kraft singles and a fistful of dry Cheerios won't satiate your appetite after you've been inspired by Azerothian feasts. Luckily, Chelsea Monroe-Cassel has planned for this.
She put together a cookbook to help recreate the food and drink that we've drooled over in the game, almost shorting out our gaming set-ups. There are over a hundred recipes for whatever your preference is, even if you do keep to the plant-centric druid diet.
A greasy keyboard is a small price to pay for these recipes that will have you saying W.O.W.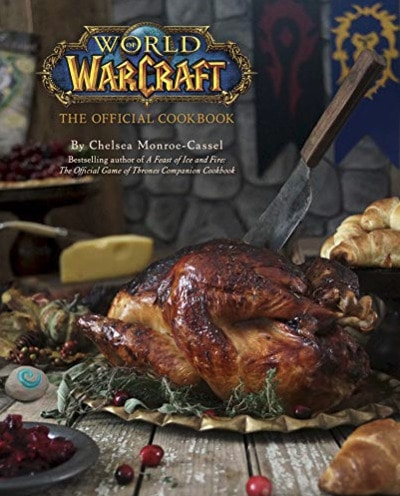 Available on Amazon.
9. Cook Anime: Eat Like Your Favorite Character—From Bento to Yakisoba (A Cookbook)
Of the many strengths that anime has, depiction of delicious food has got to be near the top. With the help of author Diana Ault, you can recreate the food porn from over 500 anime series.
That ramen you've dreamed of slurping; that onigiri you've imagined cupping tenderly in your hands; that mochi you can practically chew just thinking about…it could all be yours! Armed with these recipes, you can now recreate the food you love. Even if you still can't recreate the characters' proportions.
In addition to instructions on how to cook, this book is also full of history, culture, and mouthwatering illustrations. Just try to drool off to the side?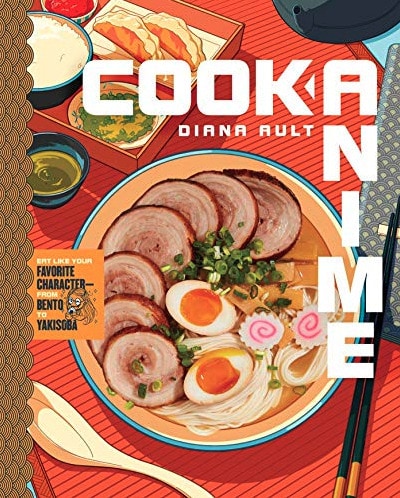 Available on Amazon.
10. Avatar The Last Airbender Cookbook
We've all been there: you just got home from a hard day of fending off the fire nation attacks. You open your fridge to find it empty. At the store you find that there's no place to park your flying bison.
Luckily, this book has 20 quick and easy recipes inspired by The Last Airbender that are perfect for relaxing in front of your favorite show. Pickled fish? Yum!
Cooking instructions for standard heating implements are included for those that are not fire-benders. As the editing team was concerned about Aang feeling obsolete, ovens are assumed to be non-convection.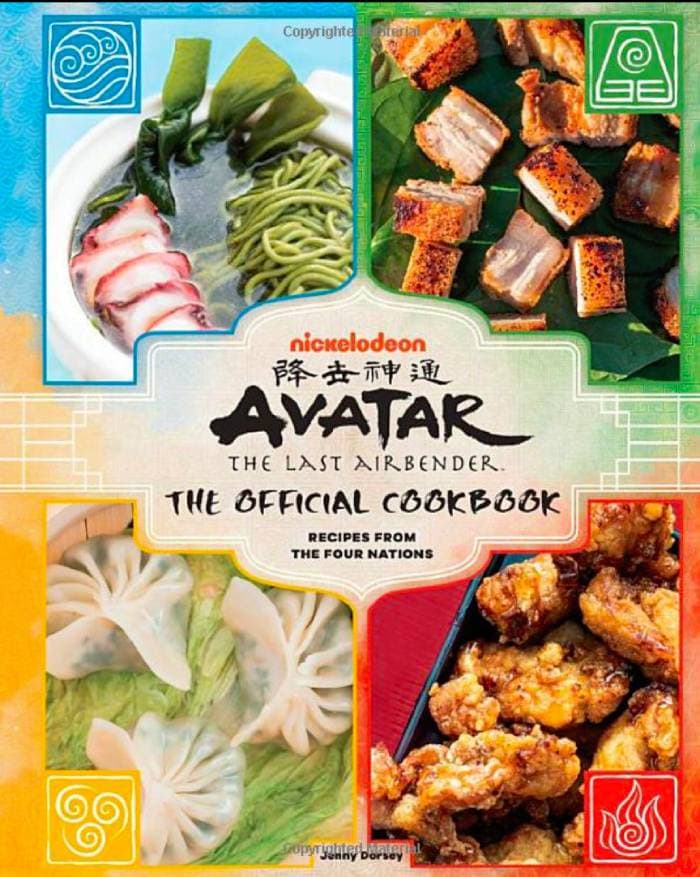 Available on Amazon.
11. The Unofficial Legend of Zelda Cookbook
Aimee Wood takes Zelda enthusiasts on a culinary journey, honoring the world that taught us all what the hell an ocarina is. The standard edition contains 195 Heroic Recipes to restore your hearts, but the Master Edition contains 200+.
That's right, just a few extra bucks can put you in a better position to survive. It seems the world of Zelda is not so different from the American Healthcare system.
This fan-made book contains at least 14 chapters of healthy, hearty meals, including over upwards of 125 vegan and 150 gluten-free friendly dishes. Which we know to be at the forefront of the Hyrulian mind. You can also discover the origin of each dish within Game Guides.
We'd say that if you're throwing a gaming party, good food would no longer be the missing link. But a missing Link would really throw a wrench into the whole thing, now wouldn't it?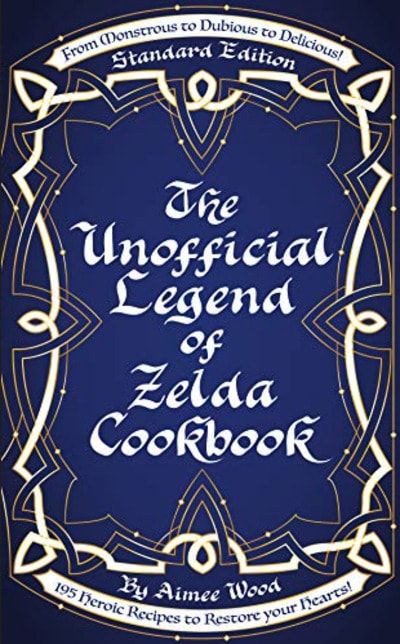 Available on Amazon.
12. The Star Wars Cookbook: Wookiee Cookies and Other Galactic Recipes
This Star Wars cookbook by Lucas Field Press is great for a fun day in the kitchen with the little ones. They feature healthy, tasty, easy recipes for the kiddos, and clean-up and grocery bills for the adults.
Rest assured: no Wookiees are harmed in the making of the cookies. They are also not (especially) hairy cookies. You win some, you lose some.
The authenticity of the cookbook has been questioned on the grounds that it's less syntactically jarring than Yoda's cooking blog. But, editors decided to cut their losses and just make sure that the food gets made and nothing gets set on fire.
To help guide little chefs, there are funny photos and safety tips for cooking. There are even sheets of shiny Star Wars stickers, which probably shouldn't go in the actual recipes. And while there are some sweet treats and decadent desserts, many of the recipes are quite light. Makes sense, considering there's no gravity in space.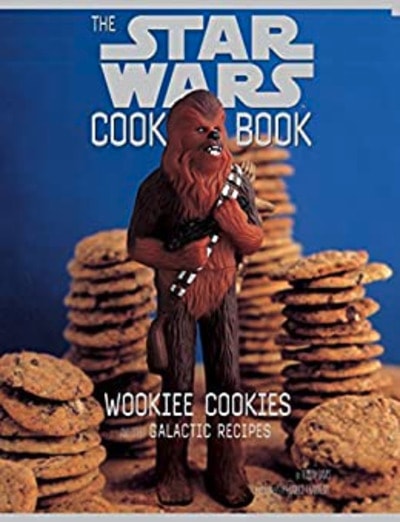 Available on Amazon.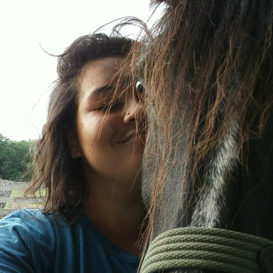 Latest posts by Hebba Gouda
(see all)