Jordan Peele's Nope hits theaters Friday July, 22. The premise of the sci-fi film centers around the idea that it's human nature to not be able to look away. Peele says "Nope it's about spectacle, and inviting people to a spectacle, and the horrors and repercussions of spectacle."
And what would be harder to look away from then the biggest life question of all: Do fish get thirsty? Also, are we alone in the universe? And, the most important question: What are the scariest alien movies?
From Alien to IT, here are the scariest alien films you'll want to watch next.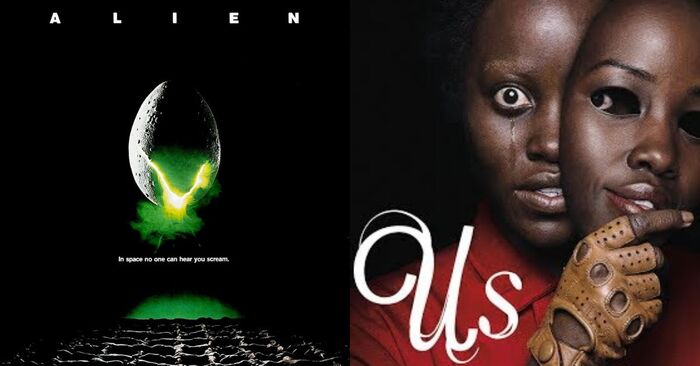 The Scariest Alien Movies
1. Us
Peele's second film Us, leaves lots to unpack. And arguably some plot holes if you're looking at it in terms of alien life. But, at the end of the day, it's still creepy in a Invasion of the Body Snatchers kind of way that we'd rather not experience.
2. Alien
Ridley Scott's 1979 film Alien may not have been the first alien movie, but it's arguably the one that put the horror sub-genre on the map. The film follows the story of the spaceship Nostromo's crew with iconic Ellen Ripley (Sigourney Weaver) as the lead. The terrorizing dread and anticipation, the pacing, and the atmosphere all make it one of the best — and scariest — alien movies.
And while we don't want this list to just turn into a love letter to the Alien franchise, the sequels are worthy of a watch. Unlike, let's say, Jaws. Also, Alien, call us.
3. Arrival
Amy Adams leads this philosophical sci-fi story of otherworldly visitors making first contact and what that looks like when it's not an outright attack. The anticipation of "what do they want" is almost as terrifying as anytime anyone asks us to make a big decision under pressure. Tom Selleck, ok? We choose Tom Selleck.
4. War of the Worlds
Orson Welles' original radio broadcast was undoubtedly the scariest version of War of the Worlds. Regardless, this version deserves a spot on this list. If only for the searing image of giant alien tripods harvesting humans. Do aliens not have food at home?
5. Invasion of the Body Snatchers
Who wants to live through an alien invasion and not know about it? In this film, anyone you know could be replaced with an emotionless alien pod person without your knowledge. We've already started a list of people we know who fit the description.
6. Signs
M. Night Shyamalan's 2002 film Signs starring Mel Gibson, Joaquin Phoenix, Abigail Breslin, and Rory Culkin follows a family that finds mysterious crop circles on their farm. To this date, the found footage scene is one of the best jump scares we've experienced and we lived through the great clown panic of 2016.
7. Annihilation
Annihilation is terrifying in an unconventional way. When biologist Lena (Natalie Portman)'s husband goes missing, she treks into an area known The Shimmer to find him. Spoiler alert: it doesn't go well. Second, spoiler alert: that's not where glitter comes from.
8. Event Horizon
What happens when you go through a rift in the space-time continuum that accidentally takes you though Hell and you end up with a haunted ship? A sci-fi horror movie that reminds us never to take Google Maps' shortcuts and an unnerving feeling when anyone talks to us without turning around their chair.
9. A Quiet Place
In A Quiet Place (and it's equally creepy sequel), aliens hunt and kill by sound. Did an introvert write this?
10. Attack the Block
When aliens crash down in South London, Moses (John Boyega) and his friends are excited to defend their neighborhood. But, that quickly devolves into a suspenseful standoff as the powerful extraterrestrials pick them off one-by-one. For a comedy horror film, it's got plenty of jump scares.
11. Dark Skies
Lacy Barrett (Keri Russell) and her husband Daniel (Josh Hamilton) live a peaceful suburb life with their sons when disturbing events start to take place. This one is less world domination and more let's abduct this specific family and take them to space. Take that, Bezos!
12. Cloverfield
You can argue about whether Cloverfield is a monster movie or an alien movie in the comments, but what can't be argued is that this found footage shaky cam film produced by J.J. Abrams made enough people motion sick it made the news.
If you don't get nauseous easily, this film about a Godzilla-like creature taking over Manhattan is a fun ride.
13. Fire in the Sky
Fire in the Sky is loosely based on a true story. In 1975, forestry worker Travis Walton went missing for five days and reappeared by the side of the road, claiming he had been abducted by aliens.
Even with its mixed reviews, most people still agree that the convincing abduction scene makes the entire movie worth watching.
14. IT
Did you know Pennywise the Dancing Clown is actually an alien? According the novel, Pennywise is an alien creature older than the known universe. He was brought to Derry during a ritual and now wakes up every 27 years to feed. So, he's basically like a really really angry bear.
15. Sea Fever
Sea Fever combines close-quarters with an infected water supply on a research boat in the middle of the ocean. There's five trigger words in that description alone and we haven't even gotten to the exploding eyeballs.
16. The Thing
The Thing. While its nondescript name causes English teachers everywhere to groan, John Carpenter's eerie, chameleon-like alien life-form capable of mimicking any existing, er, thing still sends shudders down our spine.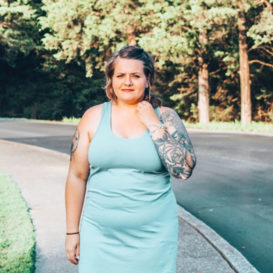 Latest posts by Ashley Hubbard
(see all)