It's January, which means in the Starbucks Cups World that it's time to get ready for Valentine's Day. Even if you are not a fan of the lovey dovey let's barf hearts over everything holiday, unlike yours truly (no, really), you have to admit the new Starbucks Valentine's Day cups and tumblers are pretty.
The new cups are supposed to arrive at Starbucks stores on January 4th, but there are some supply chain issues.
So, if you don't see the new cups on that day, know they'll arrive soon and order one of these secret menu drinks while you wait. Here's a sneak peek of the Valentine cups that are coming. Eventually.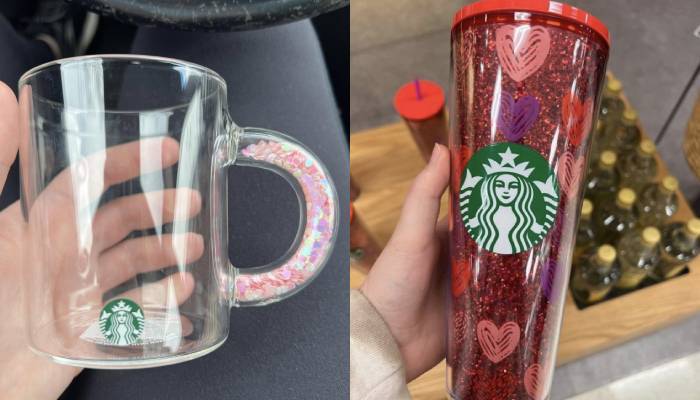 Most of the new designs are red and pink, but some seem inspired by the Aurora Borealis and feature shades of iridescent purple and blue. And, they're good-ish for the planet! Well, they're at least reusable.
Starbucks Valentine Cups and Tumblers for 2022
1. Glass Confetti Mug
You can break the handle of this clear mug in case of a Galentine's confetti emergency. Like if the guys from Magic Mike 3 show up.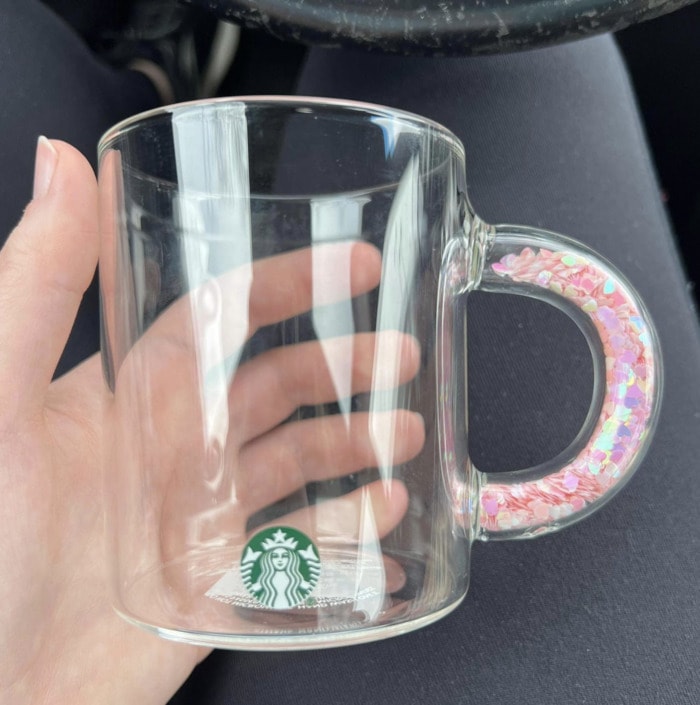 2. Ceramic Double Walled Heart Tumbler
Still in a Christmas mood? This ceramic tumbler features red and green hearts in addition to purple and pink ones and will probably last longer than the kindling in your living room.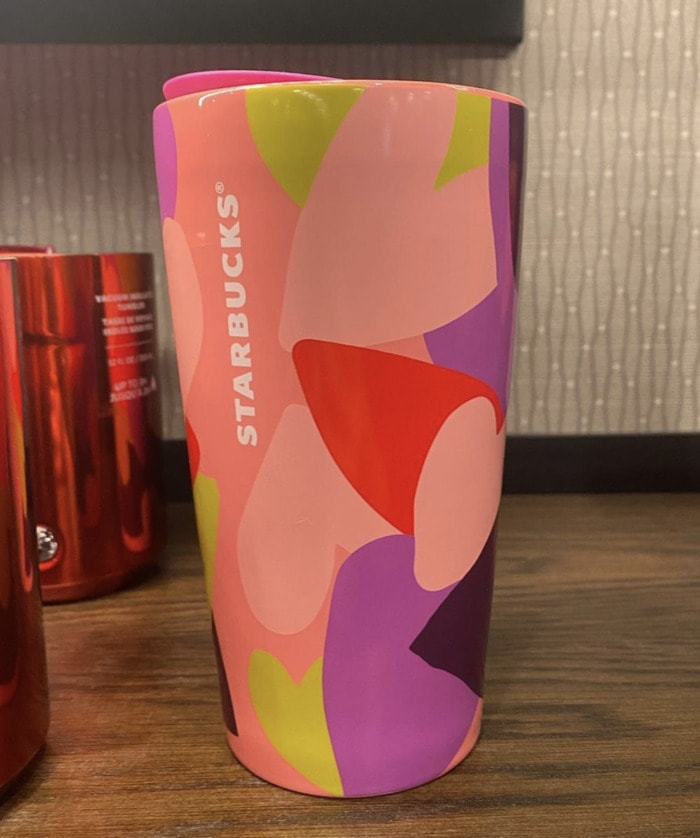 3. Pink Soft Touch Bling Cold Cup
When you need that baby pink bling tumbler for Wednesdays. You know why.
4. Dark Pink Floral Mug
We love the fact that Starbucks is putting flowers on their cups and tumblers in the middle of winter. Where do they think we live? California? Oh wait.
5. Red Kaleidoscope Cold Cup Tumbler
Forget the red dress. Just show up to your next meeting on Zoom with this bright red tumbler and capture everyone's attention. Neo, our eyes are up here.
6. Heart Ombre Tumbler
This tumbler has a clear pink ombre that transforms into red hearts. Or it's hearts that dissolve into a sea of pink? Is that how Pepto Bismol works? We should have gone to a better med school.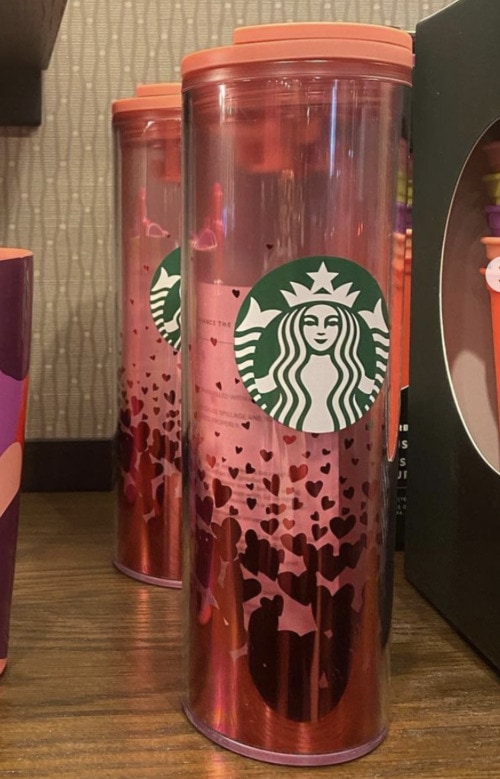 7. Reusable Pink Hot Cups
These pastel pink heart-emblazoned cups will take your coffee anywhere you need it to go. Hear that, TSA? Anywhere.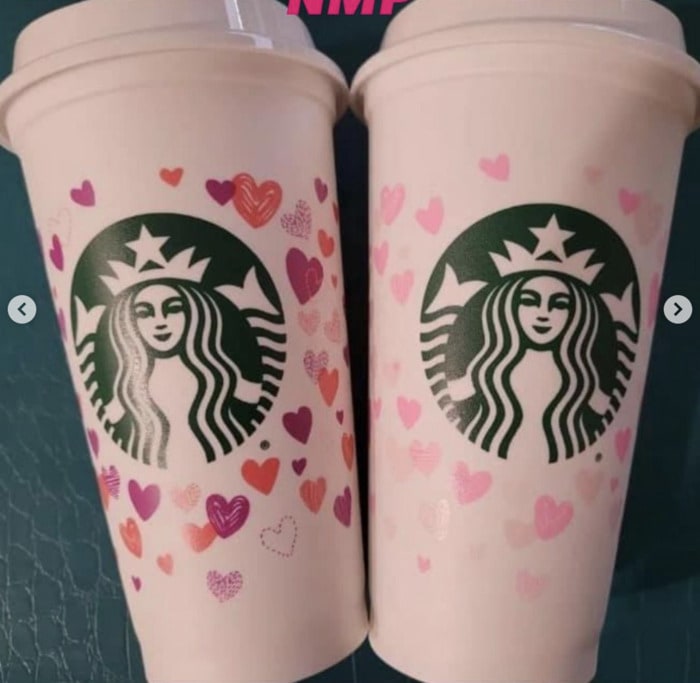 8. Pleated Double Walled Pink and Purple Mug
We can't decide if this looks like us after we've been in weather colder than 60° or like the Northern Lights. Both? Both.
9. Pleated Double Walled Luster Tumbler
This wavy iridescent blue and purple ceramic tumbler will definitely make it all the way to Sweden so we can see the Aurora, but we're leaving it there so we have more room for bottles of Glögg in our suitcase. Skål!
Starbucks' Target Exclusive Valentine Cups
10. Ceramic Heart Mug
Warm up your cold cold heart with this mug featuring hearts that look like they've seen some stuff. Er, we mean your hands and apparently those hearts are "embossed."
11. Red Cold Cup Hearts Tumbler
Nothing says Valentine's Day like lots and lots of glitter. (The Starbucks mermaid says it too depending on what you ate beforehand.)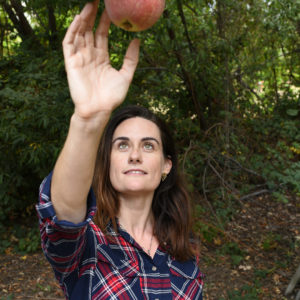 Latest posts by Rebecca Swanner
(see all)