If you're looking for a Halloween idea that says, "I keep up with pop culture," and also, "I haven't updated my closet since the '80s," then these Stranger Things costumes are for you!
We've created 15 complete costume guides for all your favorite Stranger Things characters from season four. There's Eddie Munson's rocker look, Mike's questionable Spring Break getup, Eleven's mix-and-match prints, and the horror that is Vecna.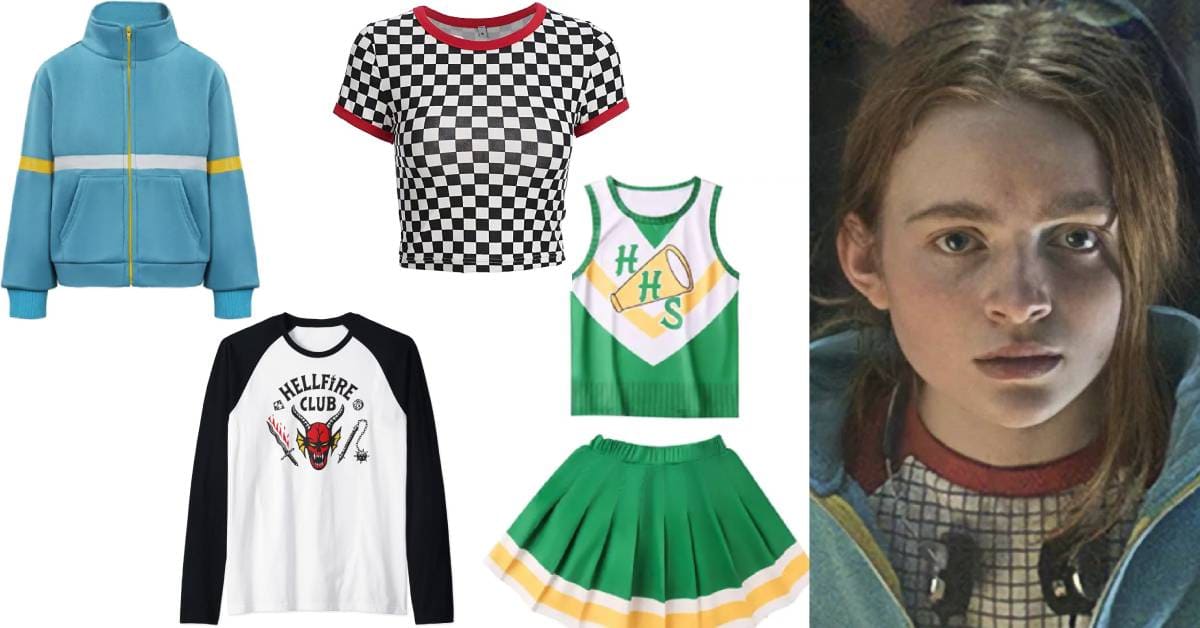 These ideas are perfect for solo looks, group costumes, or duos. Most of them are incredibly comfortable (looking at you, Argyle's hammer pants), versatile for cold or warm weather, and only require a few Amazon purchases.
Or, a rummage through your mom's wardrobe. Who knew that's where Nancy and Robin got the inspiration for their undercover look!
So, take a trip to Hawkins this Halloween and impress everyone with your on point Stranger Things costume.
15 Stranger Things Costumes From Season Four
1. Eddie Munson
The breakout star of season four, this Eddie Munson costume will let you live your all your rocker fantasies. Sick guitar skills not included.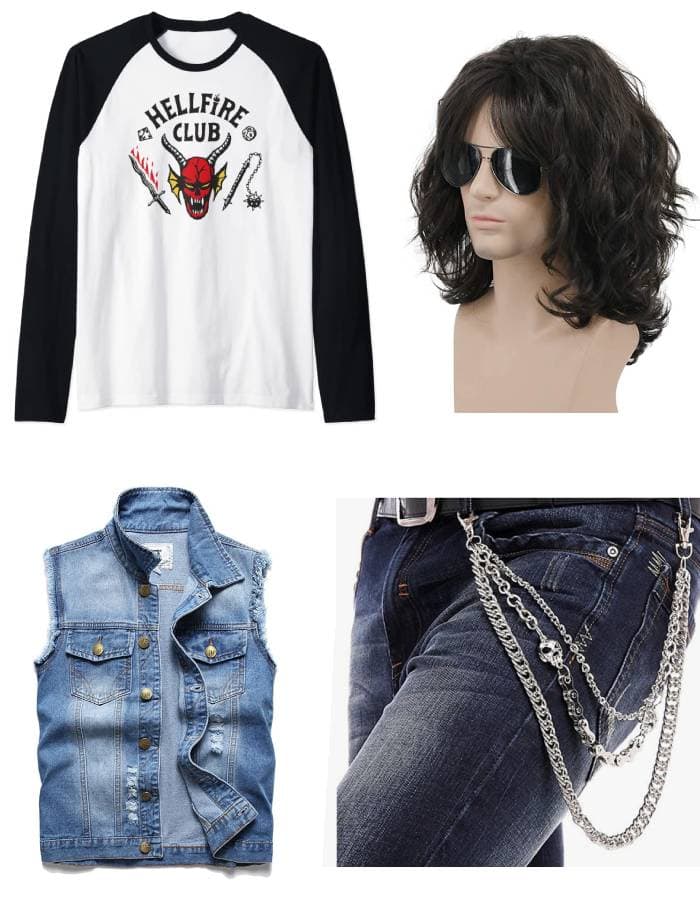 2. Chrissy/Hawkins High Cheerleader
Feeling like a misunderstood, rebellious cheerleader? Cue up the Chrissy costume! And subsequently, the "Chrissy Wake Up" song that people will be singing to you all night.
If you live somewhere warm, you can get by with just the cheer outfit and pom poms. If you're trick-or-treating in the arctic, it's probably a good idea to throw on the Hawkins High sports jacket into the mix. And possibly a parka. On second thought, are you sure you don't want to just stay in?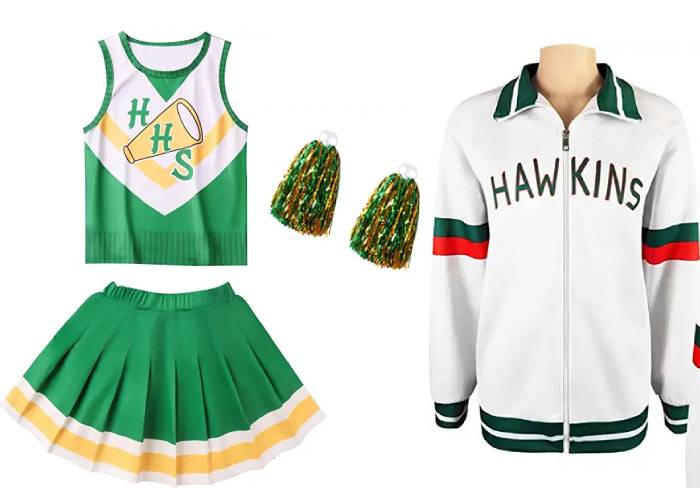 3. Max
The whole Hawkins gang had tons of great looks in season four, and Max is no exception. But for Halloween, go for the most iconic look: her levitation outfit.
All you really need to get the point across is the blue zip-up and black, over the ear headphones. And, "Running Up That Hill" playing on a loop wherever you go.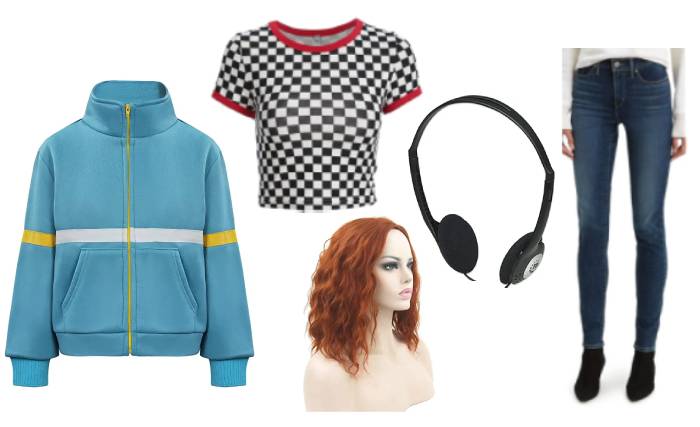 4. Eleven
Remember that thing we just said about the kids having great looks this season? That may have been a slight overstatement as we take a look at Eleven's outfits. There's the iconic dress and shirt combo she wears roller skating, and the white bodysuit she wears in Nevada.
These may not make the list of hottest styles of the '80s, but they will have people asking if your bloody nose is part of the costume or not.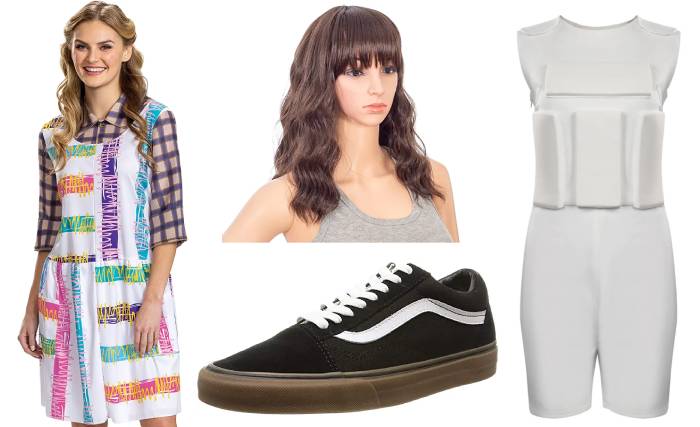 5. Dustin
You don't have to think very hard to put together this Dustin costume. Just put on your thinking cap! Literally.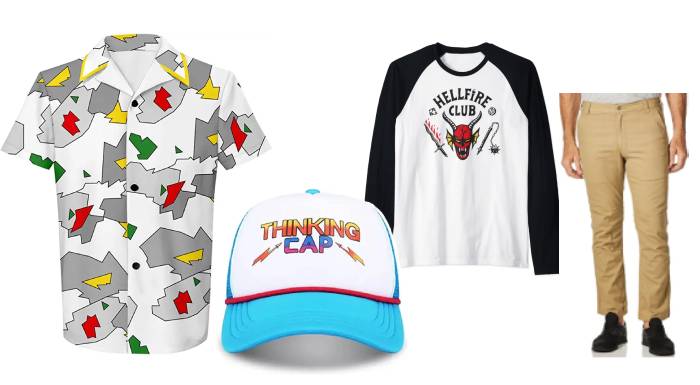 6. Mike (On Spring Break)
Who can really blame Mike for going into full Cali mode when he goes out to visit Eleven and Will for spring break? He was coming from cold, barren, Indiana!
Quicksilver actually did a collab with Stranger Things to create this original orange shirt. So yes, you can brag to all your friends that your Halloween costume is designer. Watch out, Paris Fashion Week.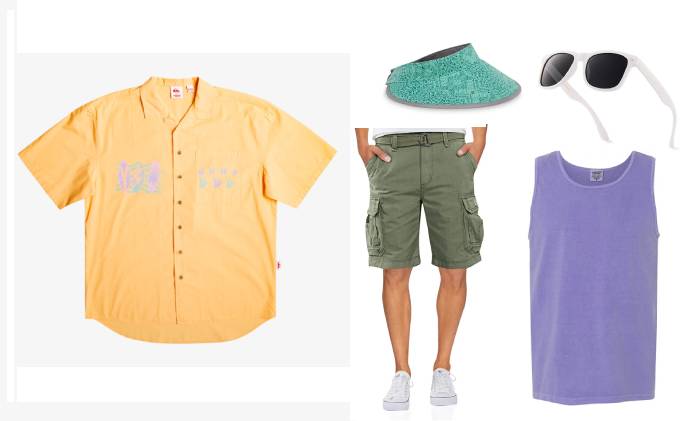 7. Lucas/The Hawkins High Basketball Team
In season four we see Lucas go from battling demogorgons to battling basketballs. Well, and a few other more terrifying things. But aside from all that, you can rock this sporty look as you pretend to be part of the Hawkins High basketball team for a night.
Or a month, depending on how long you like to celebrate Halloween. No judgement!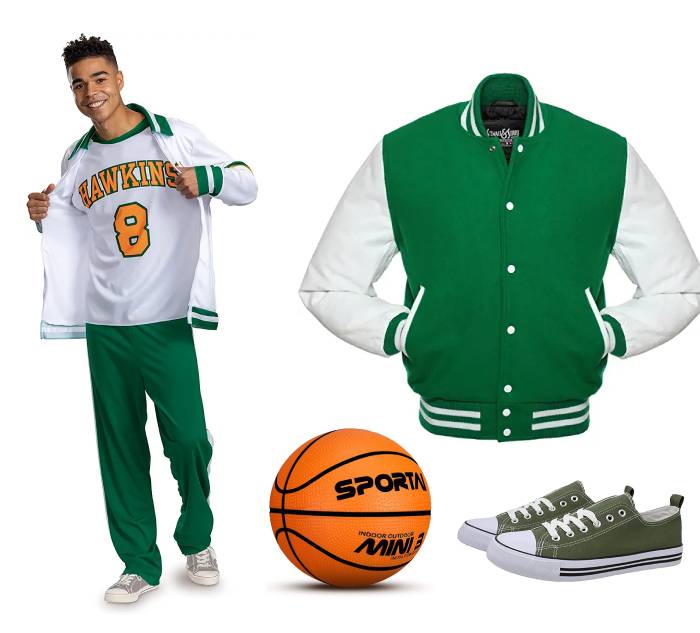 8. Will
Ahhh Will. Poor, sweet Will. We don't only feel sorry for him because of how Eleven and Mike treat him all season. But also – and mostly – because of his mushroom haircut that the producers just won't let him get rid of!
Unfortunate wig aside, Will's costume is extremely easy to put together. Opt for his blue button up look from the roller rink, or his school outfit featuring a striped shirt and backpack. All paired with timeless khakis, of course!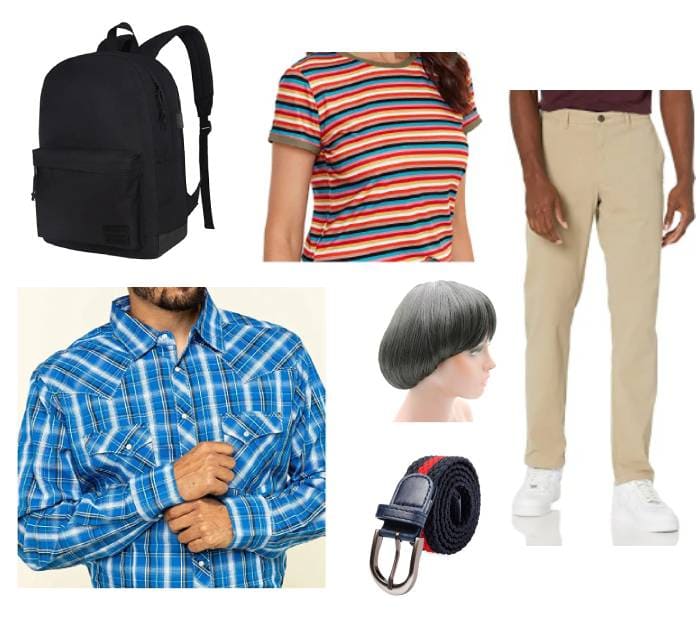 9. Robin and Nancy Undercover
These costumes might not look badass at first glance, but anyone who's a true Stranger Things fan will know the true meaning of these looks. Behind these frills are two detectives at work!
Robin and Nancy may have been searching for a way to defeat Vecna, but your Instagram sleuthing skills are just as impressive. Or at least close.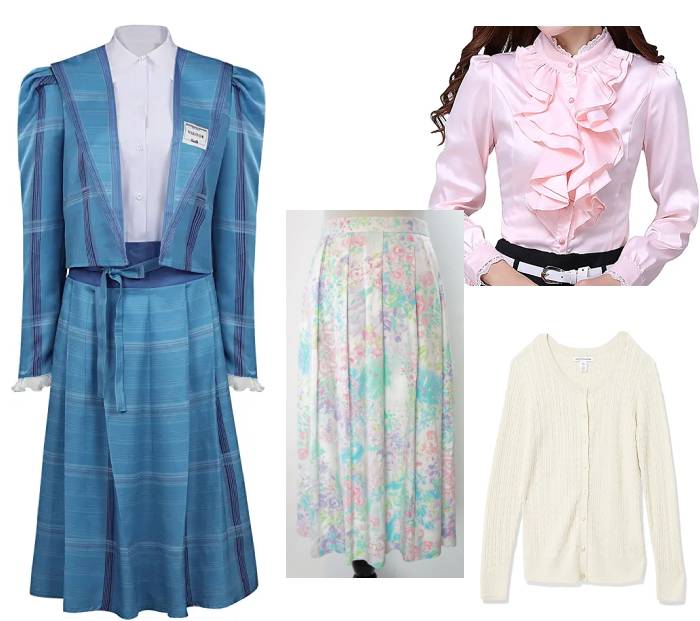 10. Argyle
We don't want to play favorites…but this is definitely our favorite Stranger Things costume from season four. Not only is it super comfy, but it also gives you full permission to walk around with pizza all night. And no, you don't have to share.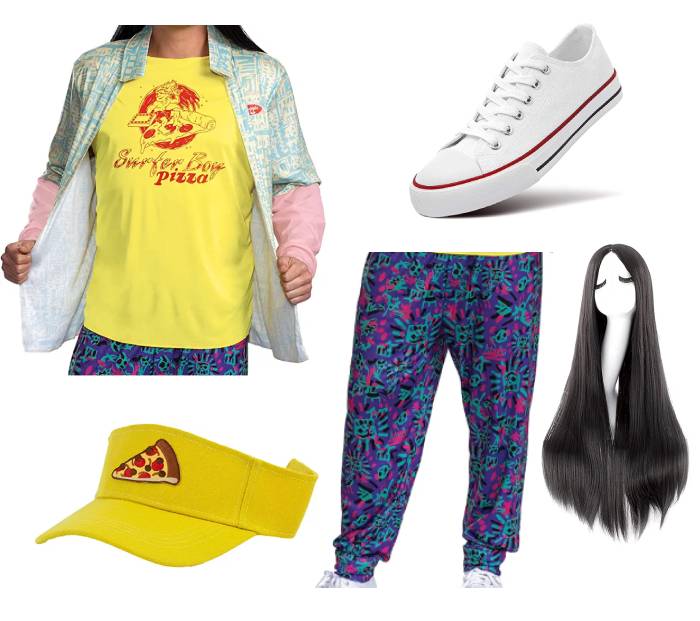 11. Family Video Robin and Steve
Robin and Steve are back at it with another career! Or, job. Or…way to pay the bills? Whatever their motivation is, this season gave us a new Robin and Steve work uniform to replicate for Halloween.
If you don't want to buy a video store green vest, you could probably make your old Girl Scouts vest work instead. Just don't be alarmed when people start asking you for cookies.
12. Scoops Ahoy Robin and Steve
We know that this outfit is from season three of Stranger Things, but we had to keep it on this list because it's just so good for a couples costume. If you want to get really meta, partner up with another couple and they can go as "Family Video" Robin and Steve. Did someone say multiverse?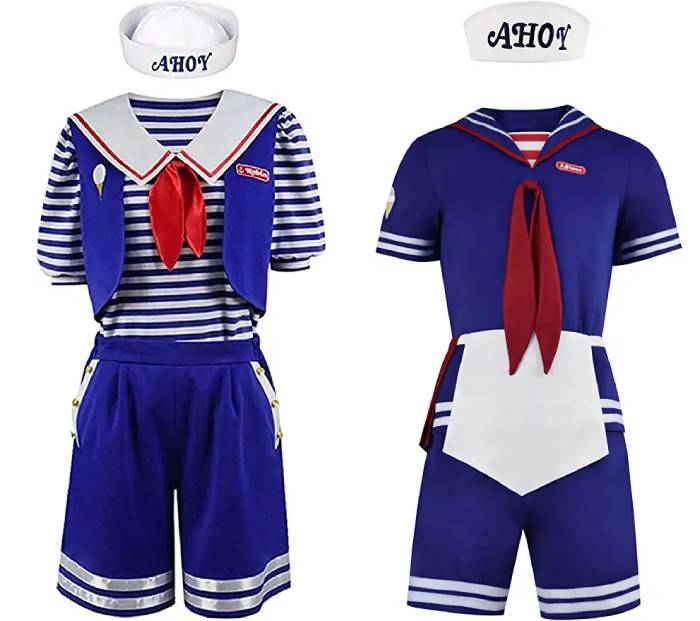 13. Joyce and Hopper
We can't help but tear up slightly when we think about Hopper and Joyce. Season four was not easy on either of them. Actually, none of the seasons have exactly been a breeze. But aside from all that, you can choose from Tropical Hopper and Casual Joyce, or throw on a puffer jacket to mimic their time in Russia. Shaved head is optional.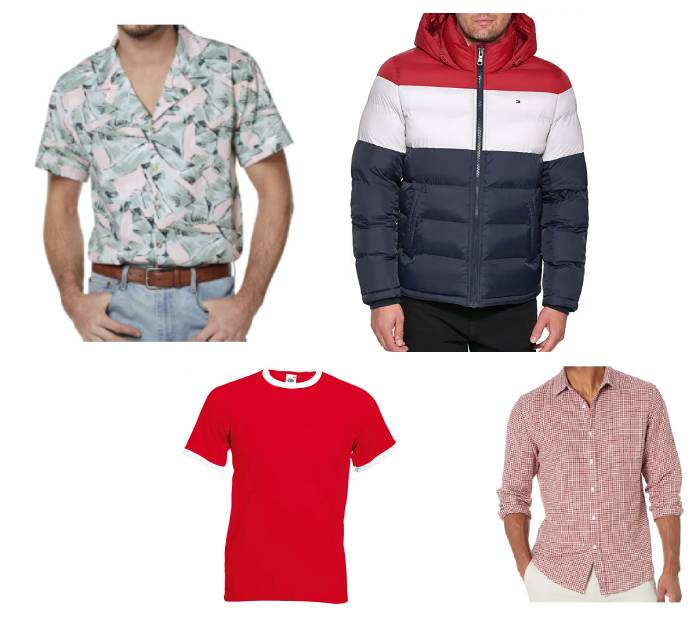 14. Angela and Friends
Vecna may have been the season's villain, but Angela and Co. weren't exactly protagonists. But that doesn't mean they didn't rock an '80s outfit with the best of them.
Take inspiration from the roller rink scene with an acid wash jacket, short shorts, and of course, scrunchies. One of the hair, and at least 10 for the wrist.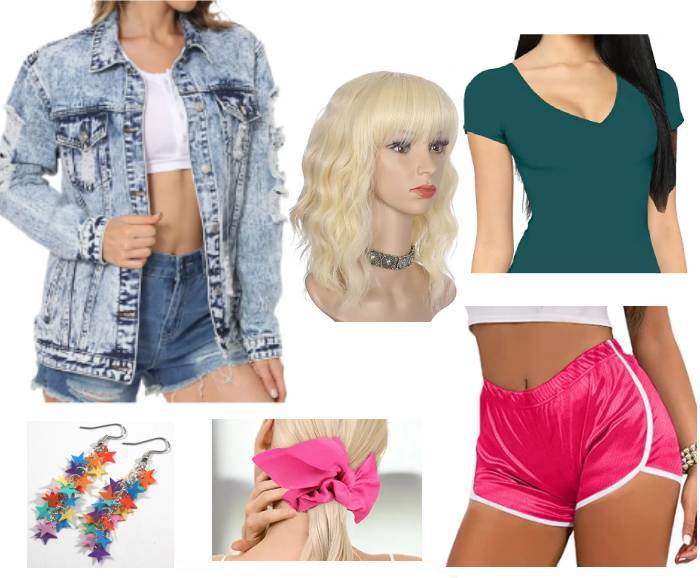 15. Vecna
Finally, we get to the final Stranger Things costume: Vecna. It's the easiest costume out of the lot, and definitely the most terrifying. We recommend staying away from mirrors while you wear this look. And hot places. That bodysuit may depict your innards, but there is no airflow in that Upside Down!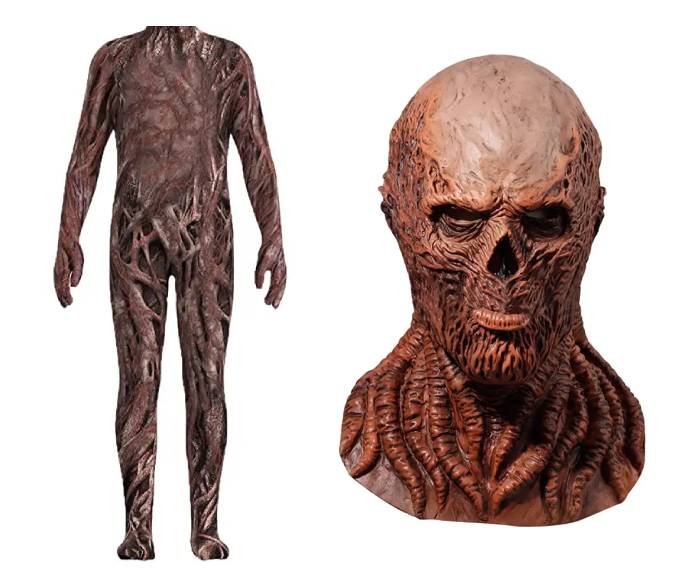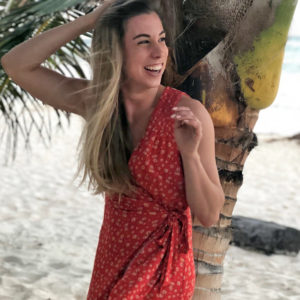 Latest posts by Hannah Rex
(see all)