Guys say that it's hard to shop for women, but we've found that the men in our lives are nearly impossible to buy gifts for. So, we put together a list of stocking stuffer ideas for men that will save you from tearing your hair out.
Because even though we would love to just give coal to everyone this year, you might be feeling a little more generous.
From the weird to the wonderful, the funny to the fundamental, these stocking stuffers range wildly in practicality. But still, they're all sure to do one thing — turn that coal-induced frown upside down. What? The Black Friday coal deals were insane!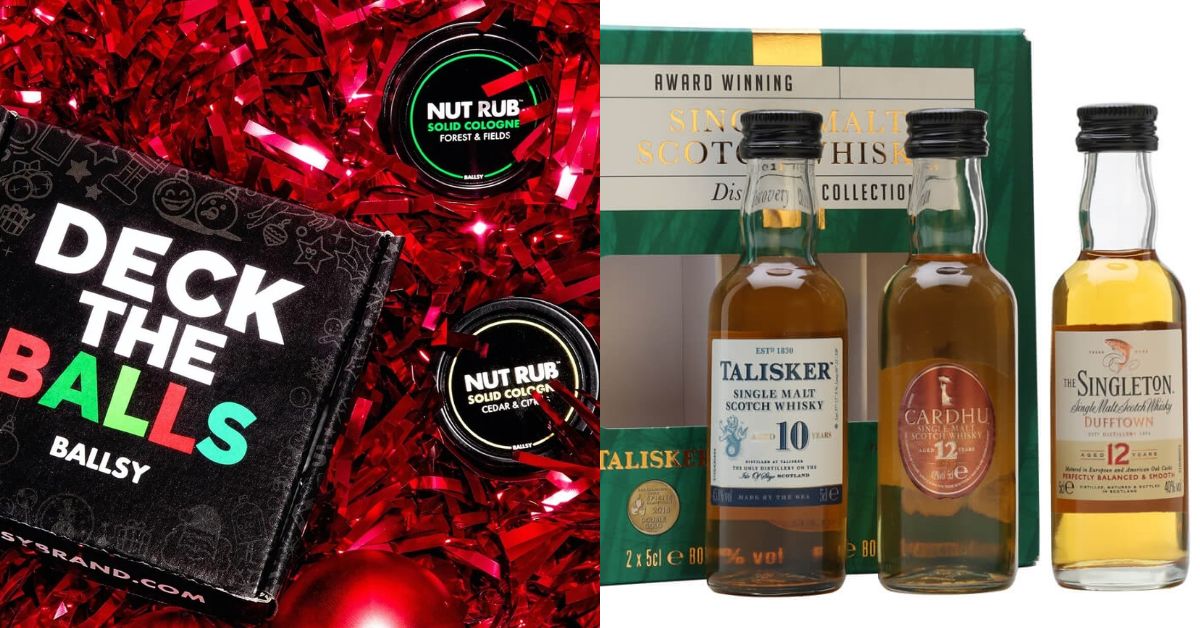 19 Stocking Stuffer Ideas for Men in Your Life Who Are Hard to Shop for
1. Deck the Balls Nut Rub Gift Set, $40
Be honest — is this a gift for your man? Or is it really for you? This nut rub gift set will keep his you-know-whats nice and clean. Because when the chestnuts get to roasting, even the most delightful candle won't help.
Available at Ballsy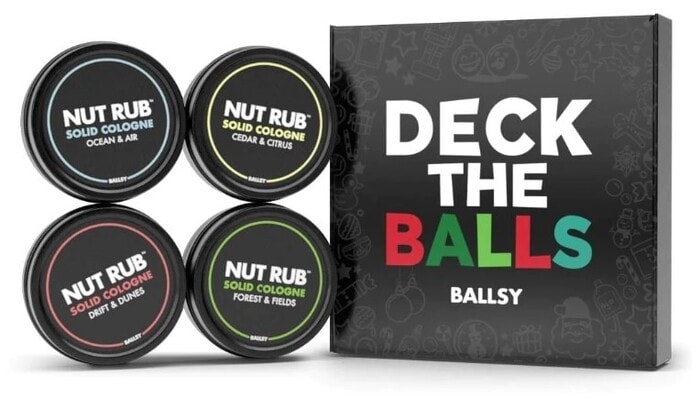 2. Single Malts Discovery Mini Pack, $20.25
We think whiskey's neat! If that dad joke would land with your pops, he'll love this single malt Scotch whiskey sampler pack. Spiked hot cocoa, anyone?
Available at The Whisky Exchange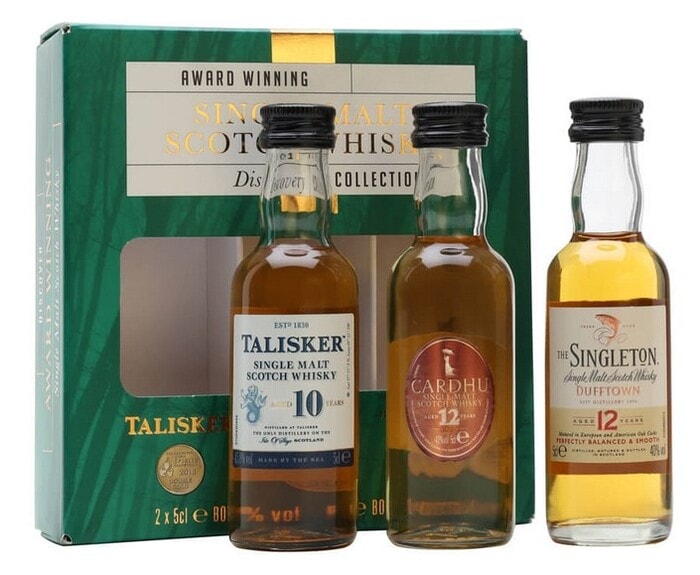 3. USB BBQ Grill Lighter with Bottle Opener, $25
As Hollywood has taught us, it's that men love lighting things on fire and drinking beer. As long as they don't try to do both at the same time, this BBQ grill lighter and bottle opener is a pretty cool gift. And definitely not a fire hazard. No, that's not a challenge.
Available on Uncommon Goods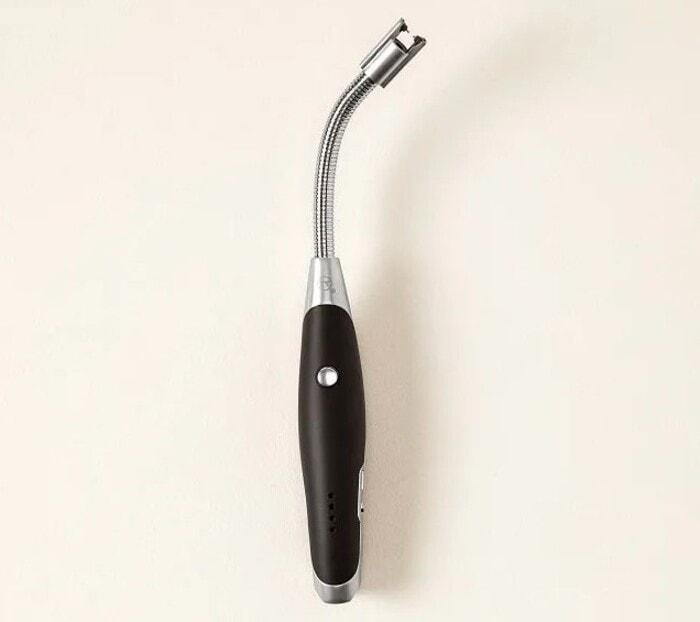 4. Fix-It Kit, $30
For the not-so-handy man, this Fix-It Kit is filled with everything he needs to do all the small jobs around the house. Alternatively, an upgraded phone line he can use to call the electrician works, too.
Available on Uncommon Goods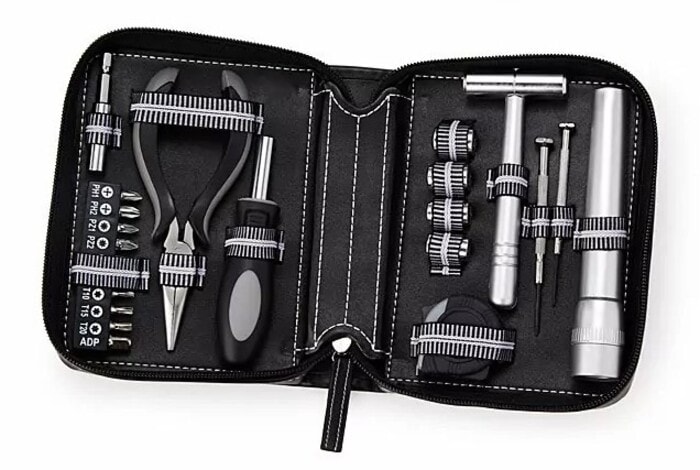 5. Uranus Soap, $3.59
This affordable Uranus soap stocking stuffer is sure to give everyone the giggles. Personal hygiene is not a joke, Jim!
Available at Off the Wagon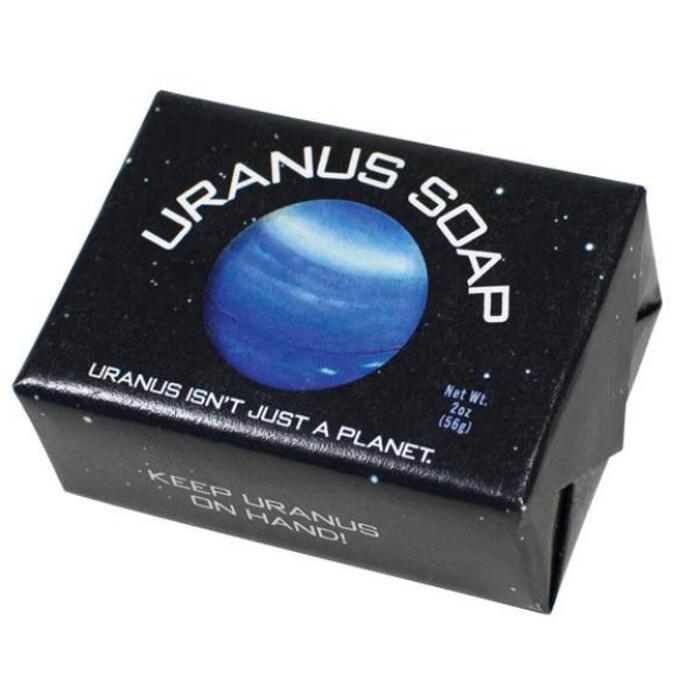 6. Golf Ball Whiskey Chillers, $25
It's hard to stay calm on the golf course, especially if your aim is terrible. And sometimes, pretending to be interested in it is even harder. Whichever is the case for your dude, these golf ball chillers will help him chill out.
Available on Uncommon Goods

7. Craft Beer Lollipops, $10.99
Some people like beer for the flavor. And these folks will surely devour these craft beer lollipops. Can we get another pour – er, lick?
Available at Off the Wagon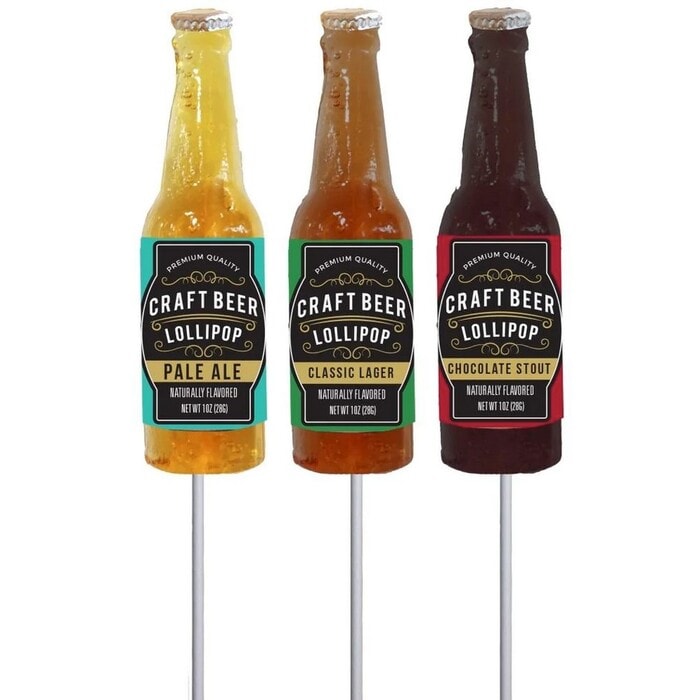 8. Jack Black Beard Grooming Kit, $35
Look, we're disappointed that the beard-product-making Jack Black and the talented-comedian-and-criminally-underrated-dramatic-actor Jack Black aren't the same person too. But the first Jack Black's beard grooming kit makes for a great gift. We'll be here waiting for the School of Rock collab.
Available at Jack Black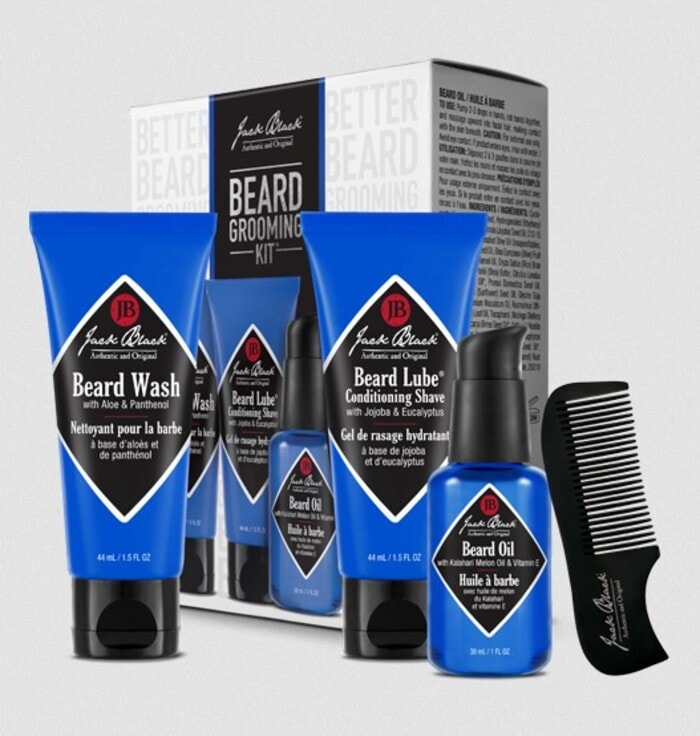 9. Dad & Me Activity Bucket List, $50
Got a new dad in your life? Give him some more ideas of what to do with his kid with this bucket list of bonding activities. We swear that teaching your dad a TikTok dance is fun for the whole family! And even more entertainment for TikTok.
Available on Uncommon Goods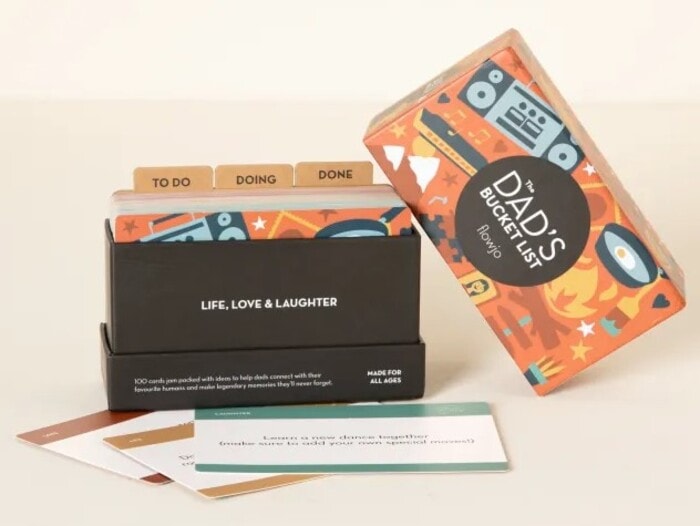 10. Johnnie Walker Taster Pack, $12.64
Be adventurous this holiday season with a Johnnie Walker taster pack. It's filled with three of the brand's labels in red, black, and gold. What? No periwinkle label? Be on the lookout for our pitch deck, Mr. Walker.
Available at The Whisky Exchange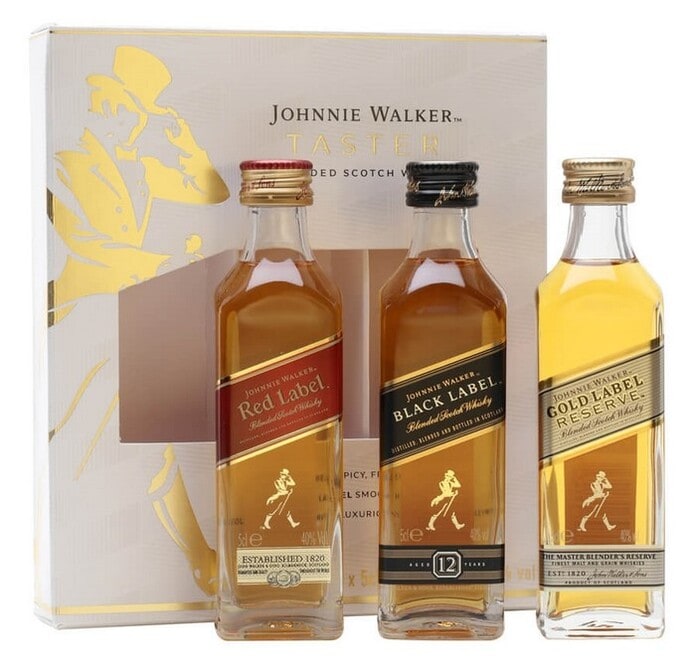 11. Beer Foaming Stones, $28
Is there anything worse than flat beer? Well…yes. But these beer foaming stones will give a sad drink a kick. No Christmas donkey required.
Available on Uncommon Goods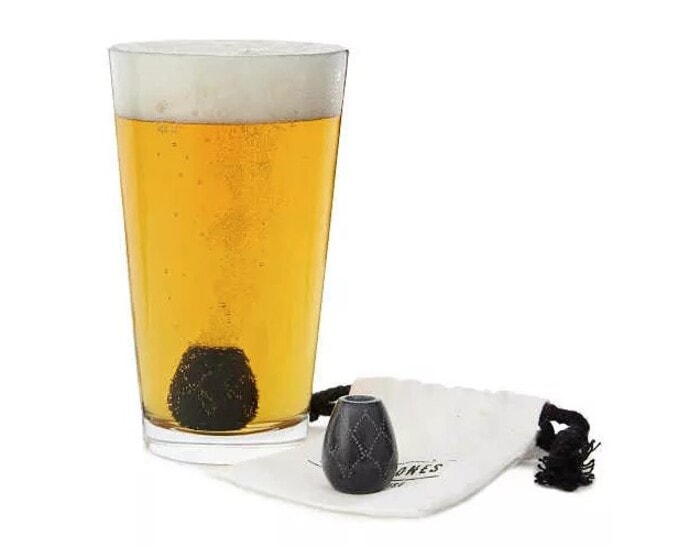 12. Hockey Stick BBQ Set, $45
We watch hockey for the sport like we watch Michael Bay movies for the plot. (We're in it for the fights.) But if you have an actual hockey fan in your life, they'll love these hockey stick BBQ utensils. Money just can't buy good taste.
Available on Uncommon Goods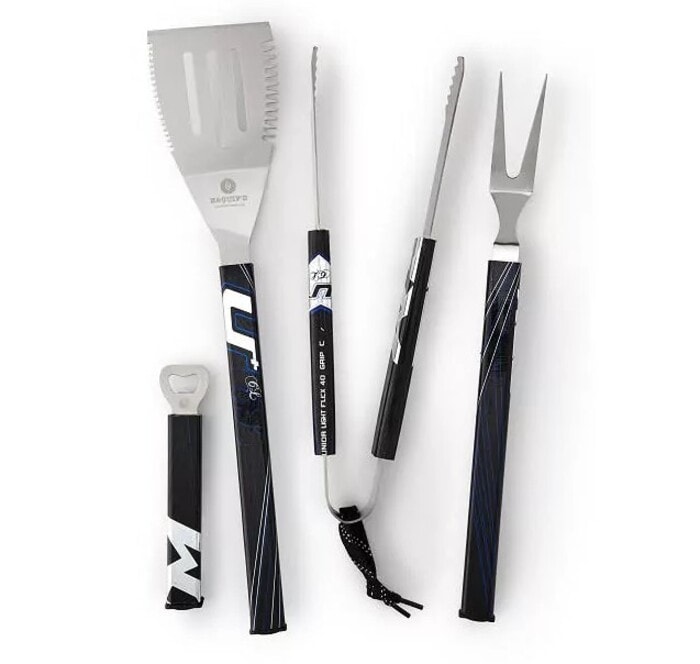 13. 52 Farts Playing Cards, $8.99
The gift you never knew anyone needed. This playing card set includes the name and definition of every type of fart on each card. Because we all know cheese farts are in a league of their own.
Available at Off the Wagon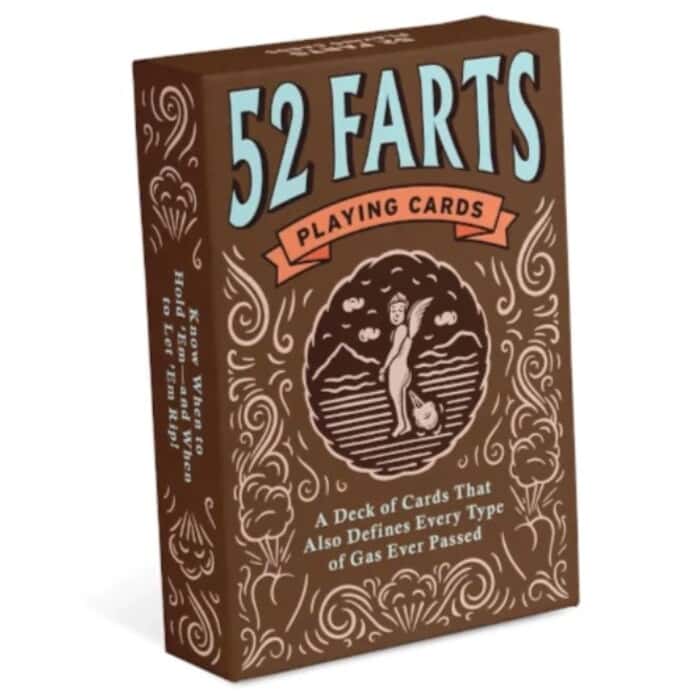 14. Grill & BBQ Spice Collection, $38
This BBQ spice collection comes from Alchemy Spice Co., so if you know any grill wizards, this gift is for them. While you're at it, ask if they could help you turn granite into gold. Oh, and this slice of pie into a bigger piece.
Available on Uncommon Goods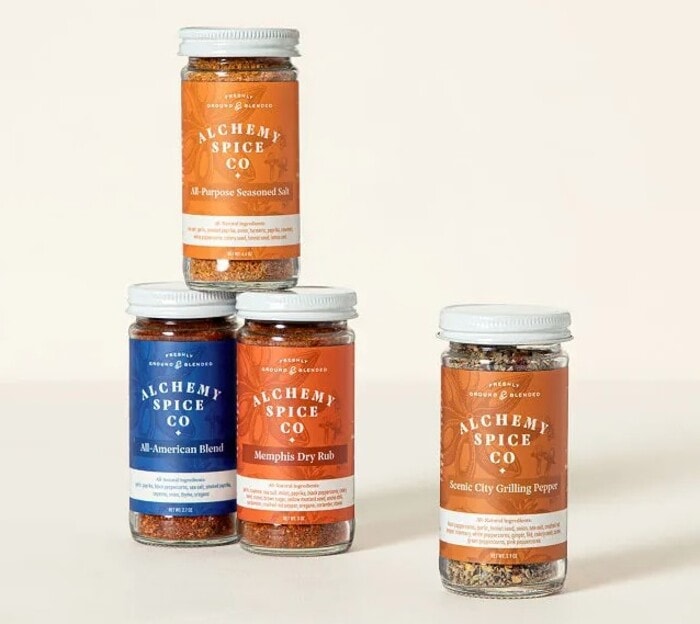 15. Campfire Beer Caramelizer, $35
In Germany, they plunge hot pokers into strong lagers to create warm, sweet flavors. In America, we drink PBR out of a can.
For those who appreciate the finer beers in life, this beer caramelizer will allow them to follow the German tradition. For those who don't care, here's a 12-pack of Pabst.
Available on Uncommon Goods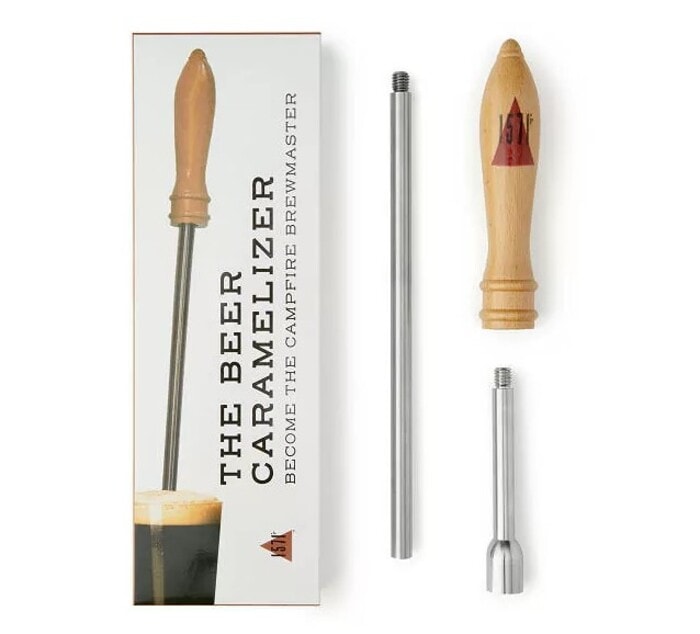 16. Cheesy Jokes, $7.99
Are your dad's dad jokes lacking? Help him fulfill his civic duty with these cheesy jokes printed on sliced cheese. And while you're at it, you might as well grab some real cheddar. All this writing is making us hungry.
Available at Off the Wagon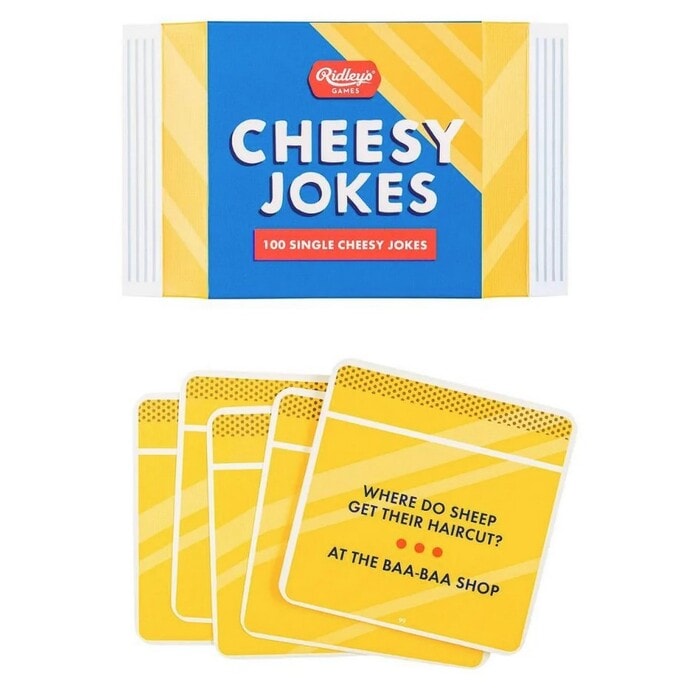 17. Custom Engraved Beard Comb and Case, $16.99
If your man is still rocking his pandemic beard, give him a gift that says, "Honey, you ate a Reuben three days ago, and it's still in your beard. Oh, and the shower is upstairs." It doesn't say that last part, but you probably should.
Available on Etsy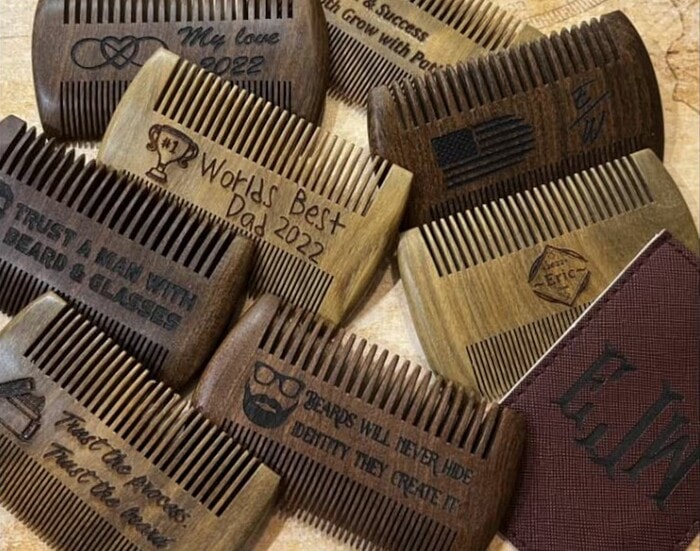 18. Soap for the Trophy Husband, $11.95
While your husband supports you as you bring home the bacon, let him know he looks darn good doing it with this trophy husband soap. Sadly, it doesn't actually smell like bacon.
Available at Whiskey River Soap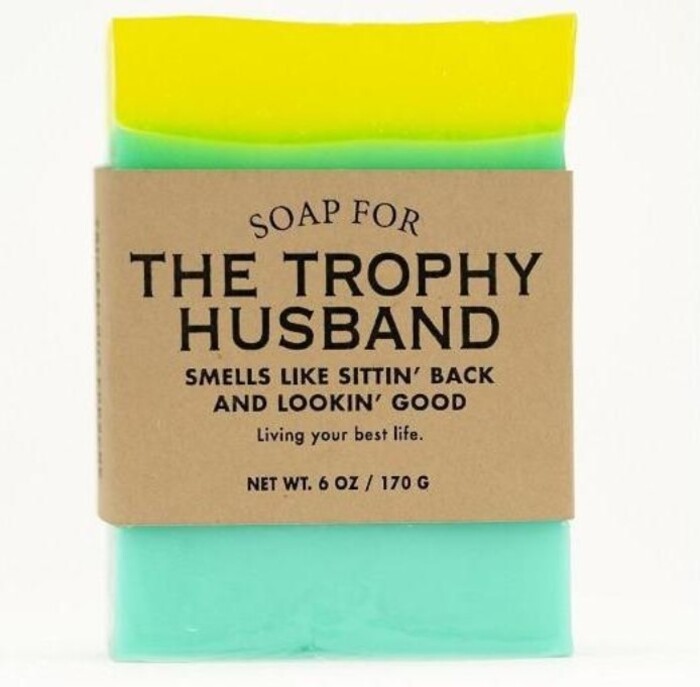 19. Beer-Infused BBQ Sauce, $35
Why drink beer when you can eat it? Sorry, let us rephrase that. Why *just* drink beer when you can *also* eat it? This beer-infused BBQ sauce gift set is just right for the grill master who can always be found with a brew in hand.
Available on Uncommon Goods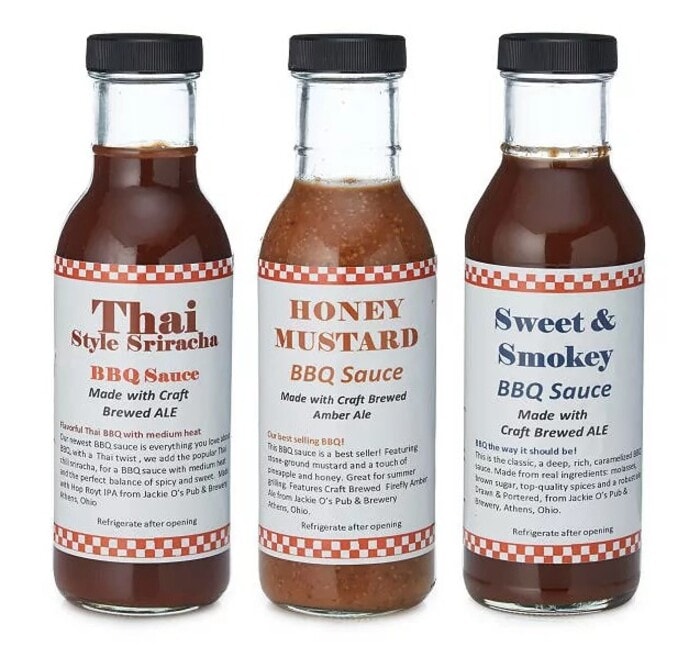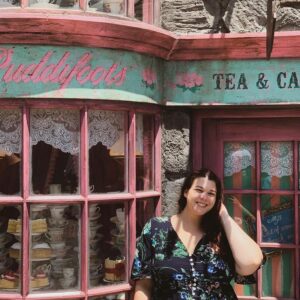 Latest posts by Jacqueline Gualtieri
(see all)