For a long time, I thought I was the only one who ate meals of ingredients. By which I don't mean put ingredients together to make a recipe. I mean grabbing some pickles, a hunk of cheese, some crackers (maybe), and a few berries and calling it a meal. But, within the last week, this has become known as "girl dinner" and become a hot trend on TikTok.
But, we've all been doing it for a long time. It's just now coming out in the open as "oh, you also do that? Cool."
They're great for the days when you're too exhausted after work to cook something from scratch. Girl dinners are comforting and easy and usually full of your favorite foods. Are they healthy? It depends. Are you consuming chocolate and peanut butter as the main two ingredients?
But, one thing they are without a doubt, is tasty. So, what's your favorite girl dinner? Tell us in the comments.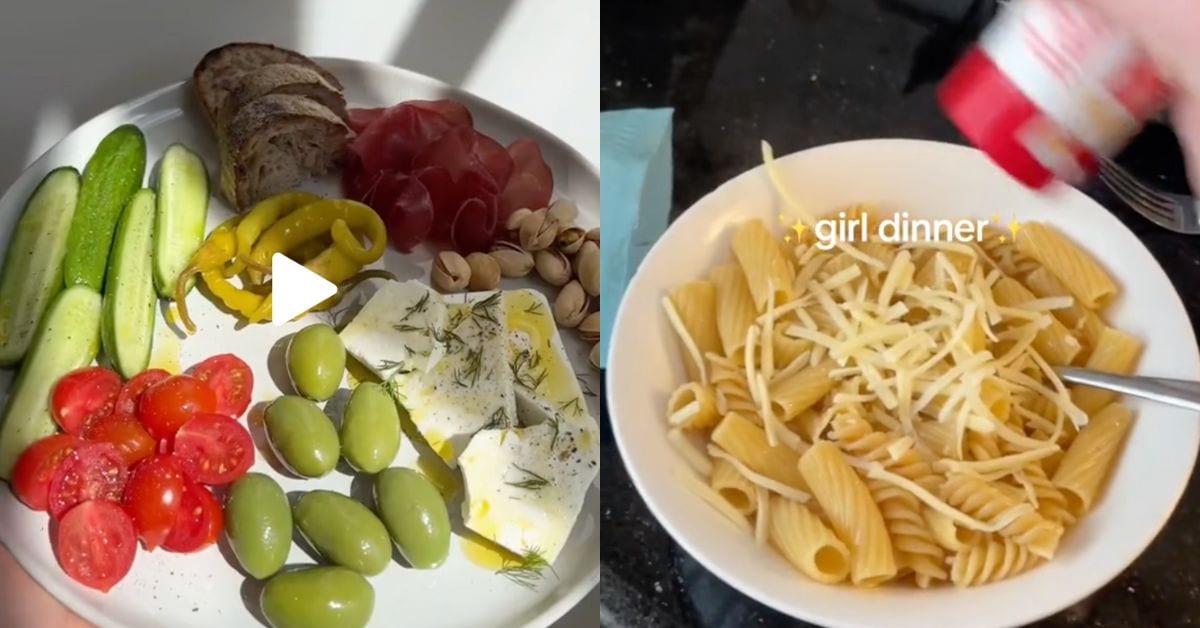 What Is Girl Dinner (According to TikTok)?
On TikTok, the latest trend features women posting videos saying "This is my meal, I call it girl dinner" and then showcasing their simple meal for the evening.
Essentially, it's a sampling of the best ingredients from the fridge, but not plated in any extravagant way like one would with a charcuterie board. In fact, they're usually just eaten directly out of the container.
The trend kicked off on TikTok about a week ago after Alana Laverty, a 28-year-old living in London posted a plate of olive-oil drizzled cheese, tomatoes, olives, pistachios, and other snacks on a plate.
They've also been called picky bits and adult Lunchables and chaos plates, but the concept of girl dinner is relatable.
So, it stuck.
Girl Dinner Examples
I'm sure you already have your own go-to (one of mine is Trader Joe's frozen potstickers plus soy sauce). But, in case you don't, here are some girl dinner ideas. Girl dinner is unpretentious. It's simple. It's easy. And, it gets the job done.
Do we want to do it every night? No. But that's what GrubHub is for. And cooking with our partners and friends.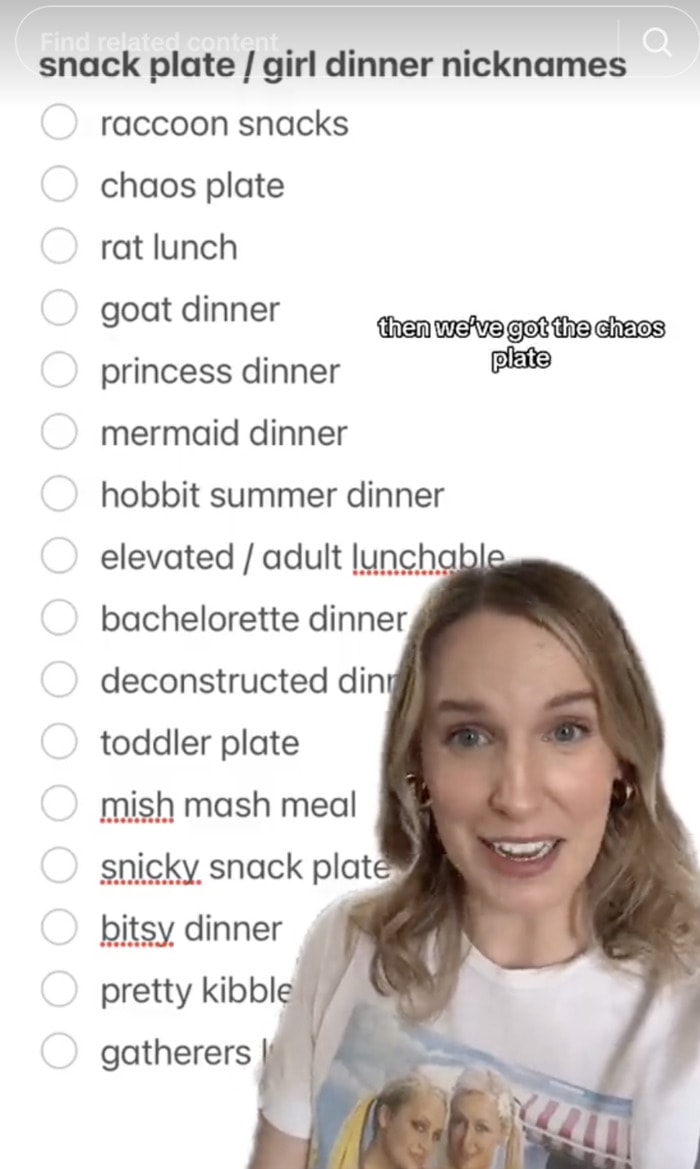 1. Veggies and Snacks
KarmaPilled put together a carrot with peanut butter, some hot chocolate, and what appears to be a veggie rice bowl.
@karmapilled

man i wish i had professional editing software for these anyway here it is(alt: @karma (´◠ω◠`) ) also @Arkane Skye              🪳 you completely inspired me here the boy dinner is beautiful
2. Deconstructed Charcuterie Plate
For her girl dinner, Avocale enjoyed some bagel chips, pickles, sliced salami with provolone cheese, guacamole, and strawberries.
3. Pasta
Gracestamaria steps it up a little bit by boiling water and cooking two different types of pasta (presumably because she was mostly out of one), which she tops with a drizzle of olive oil and cheese.
What About Boy Dinner?
If girl dinner is snacks, what about boy dinner? Reddit suggested the following for boy dinner / guy dinner:
Beef jerky and cereal
"Bro dip" (layered beans/meat/sour cream/guac/etc. in a casserole container) also known as seven-layer dip.
Steak
Taco Bell
Pizza
Beer
Cold can of Chef Boyardee and beer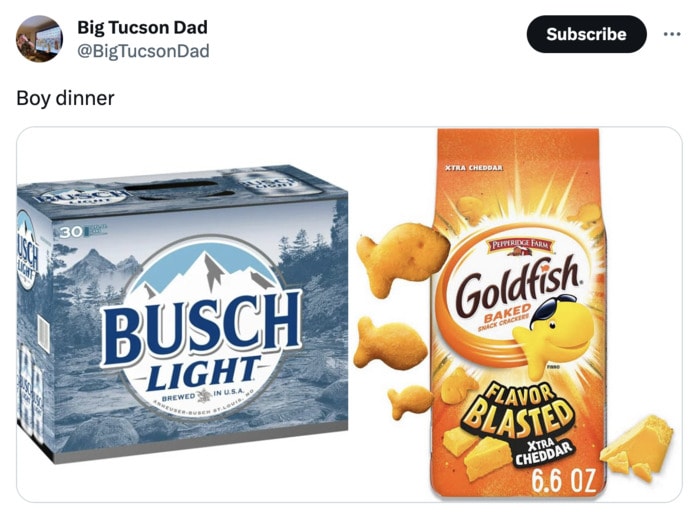 Some Funny Girl Dinner Memes
1.

2.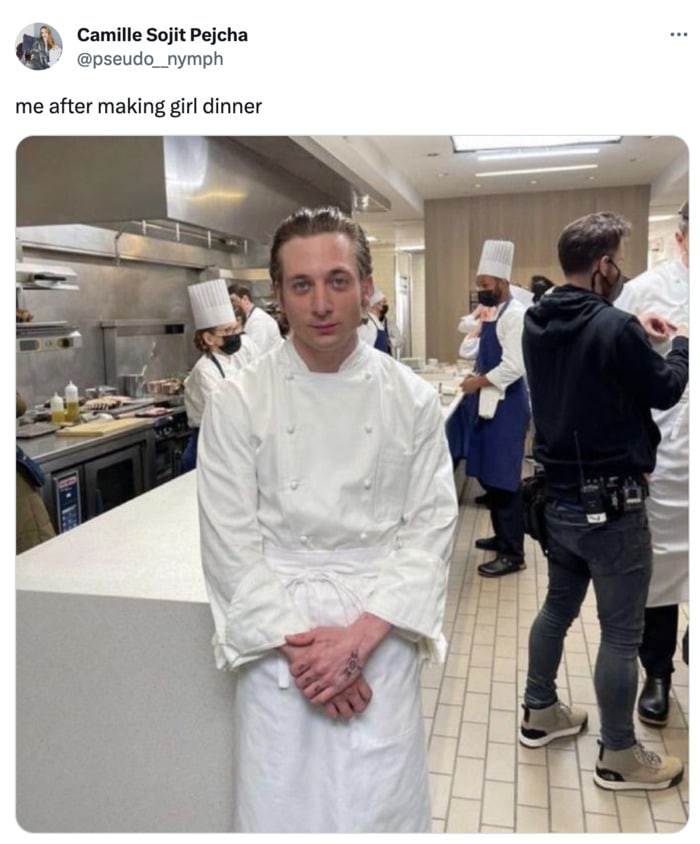 3.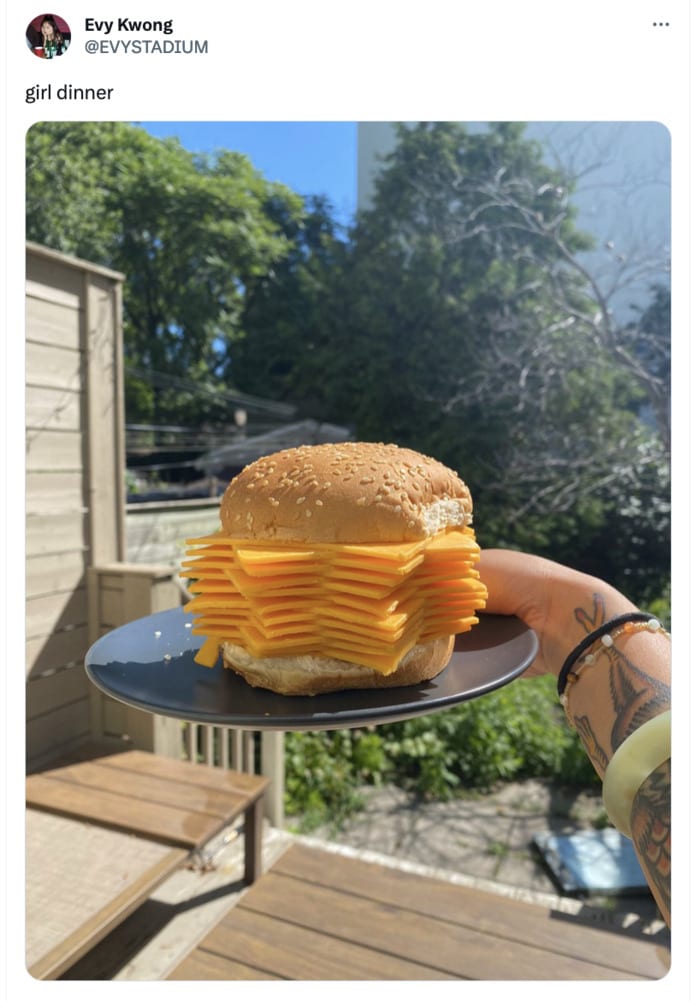 4.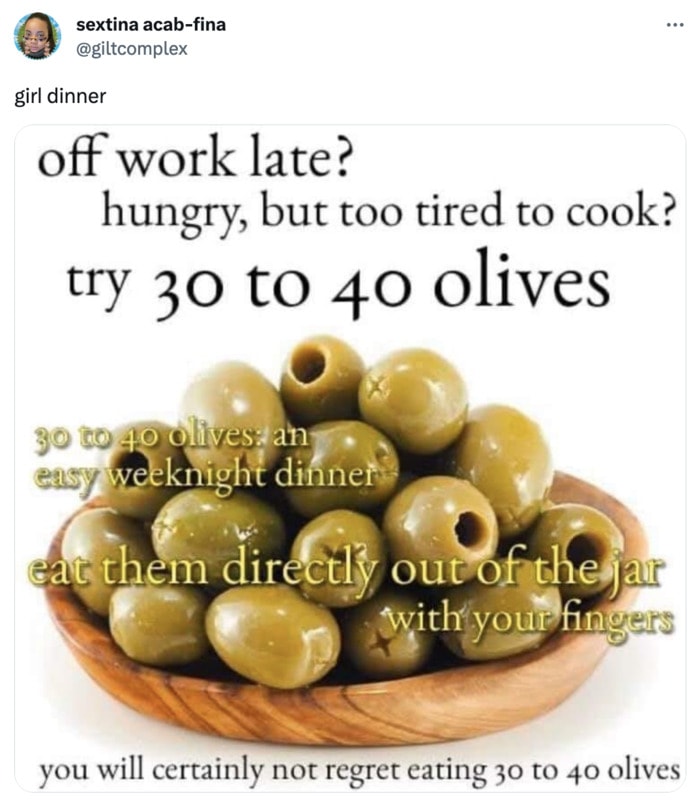 5.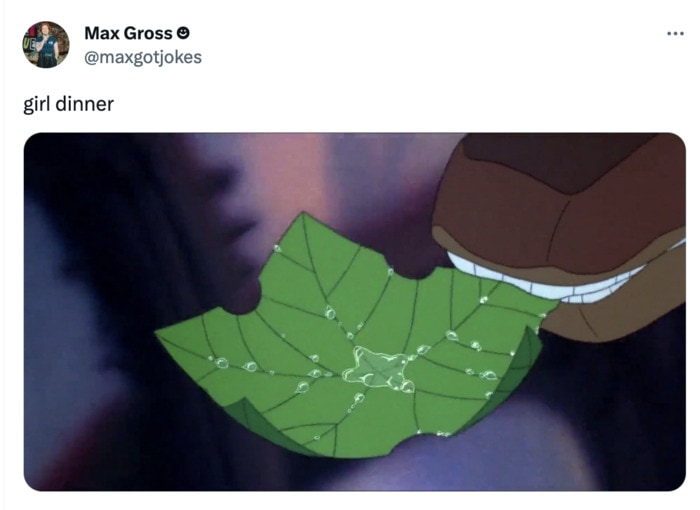 6.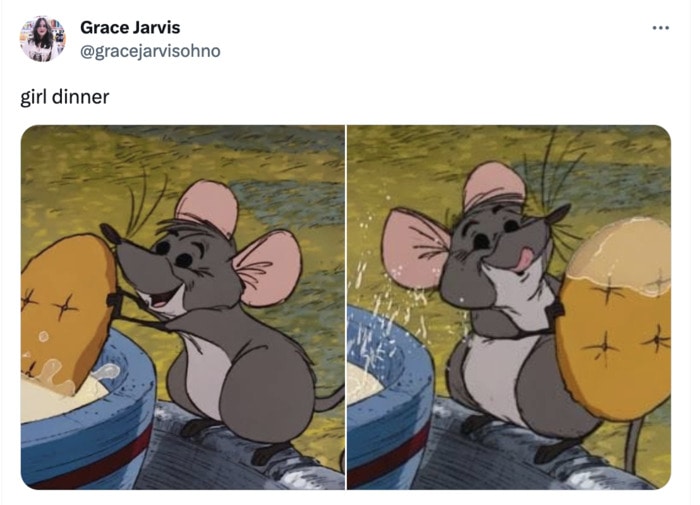 7.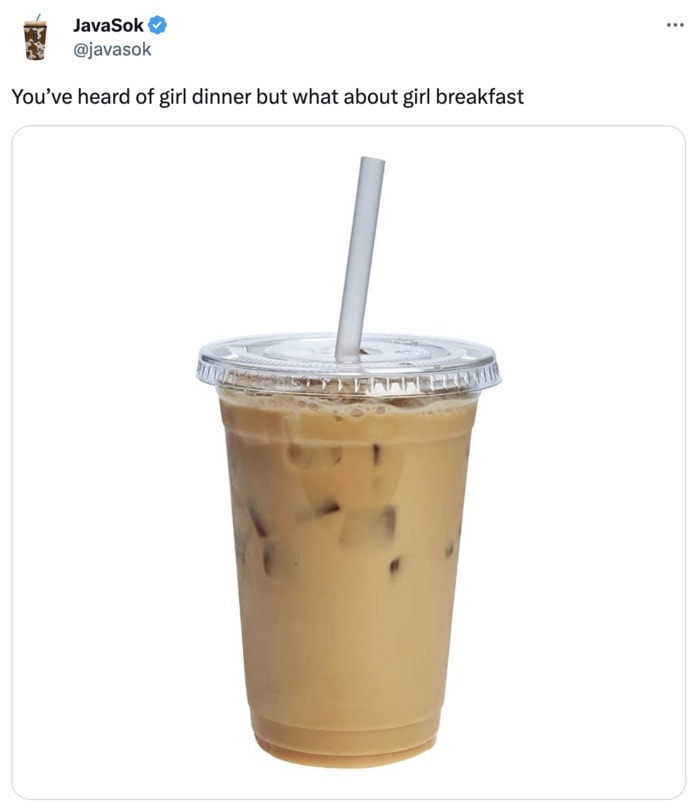 8.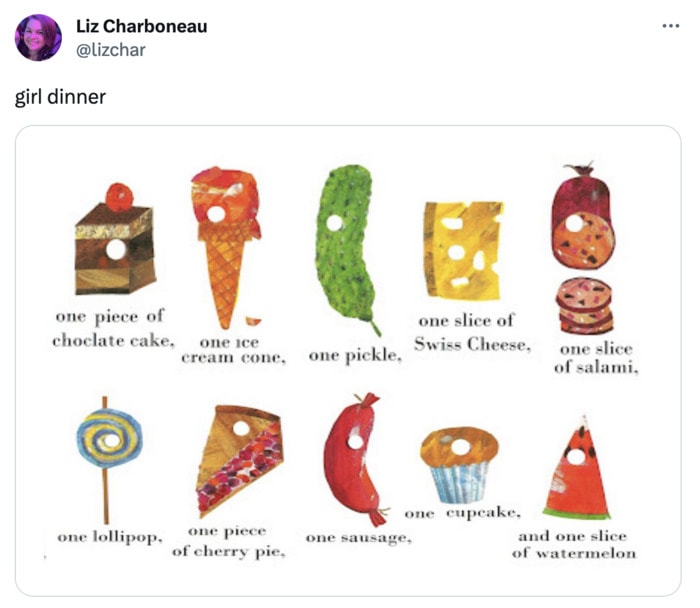 9.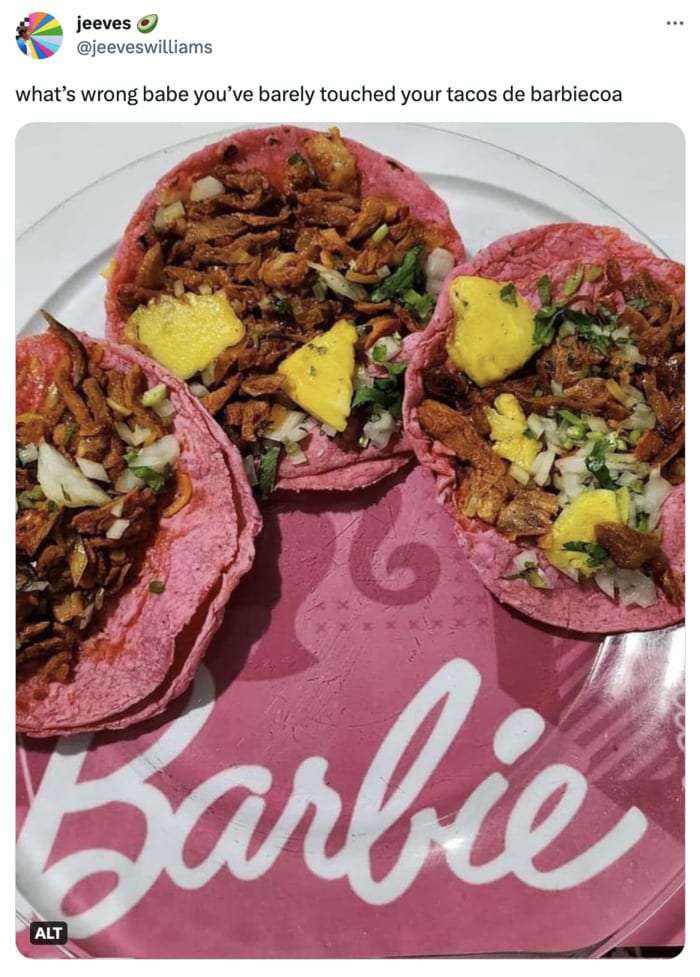 10.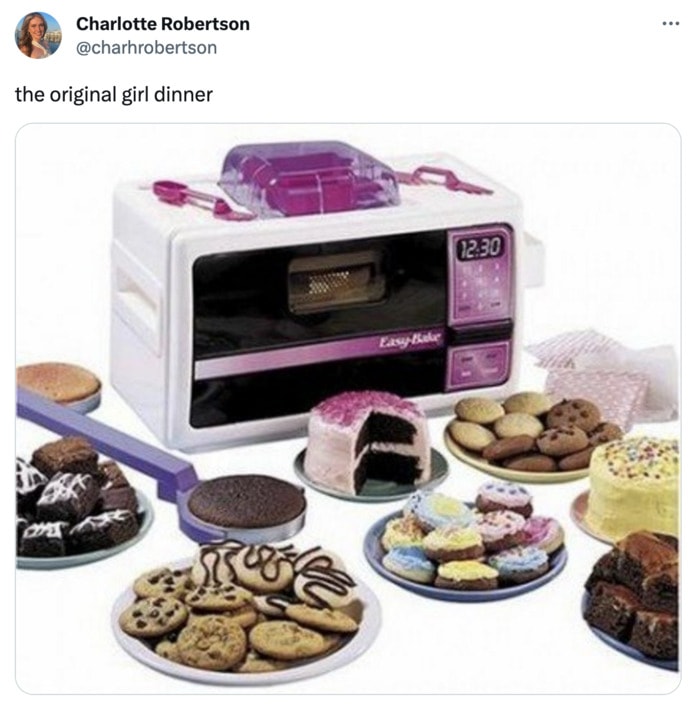 11.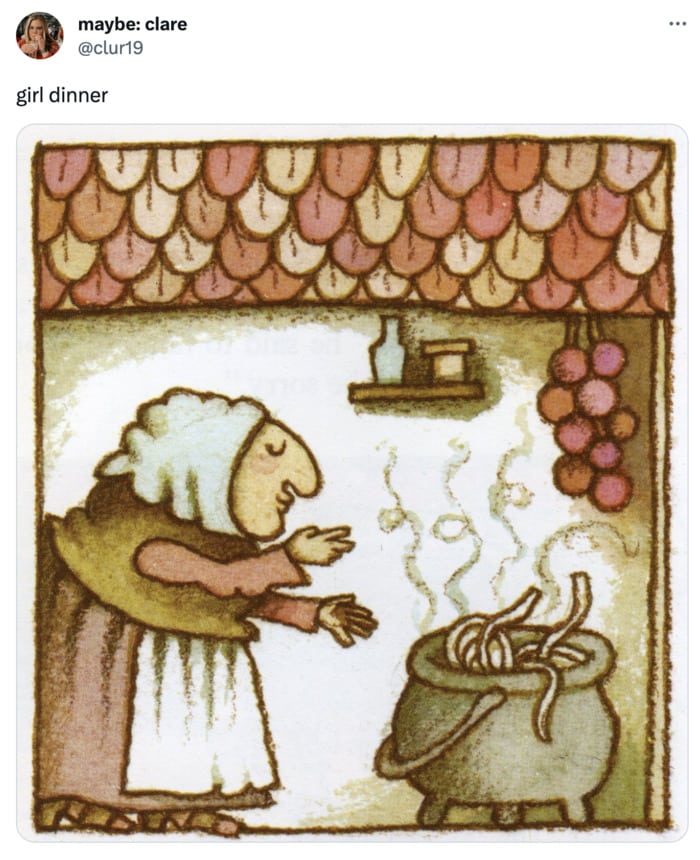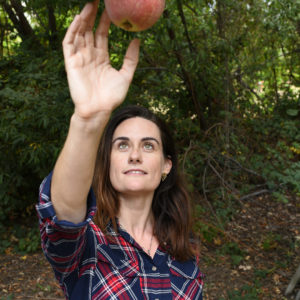 Latest posts by Rebecca Swanner
(see all)