Everything's coming up roses because Barbiecore has officially taken over our entire lives. In preparation for the Greta Gerwig-directed Barbie film, we're throwing out everything that's not pink and replacing it with everything that is. So, we pulled together a list of Barbie kitchen products to help with that endeavor.
Never has a trend so perfectly captured the desires of our heart. Growing up, we were the sister in pink, not the one in blue. We're ten times more likely to purchase anything if it comes in pink. So naturally, we are tickled…our favorite color…about the utter explosion of hot pink and pastel-toned products these days.
From dishes to cookware to a KitchenAid mixer, here are all the items you need to make your house look like Barbie threw up in it. In a totally fun, not at all gross way.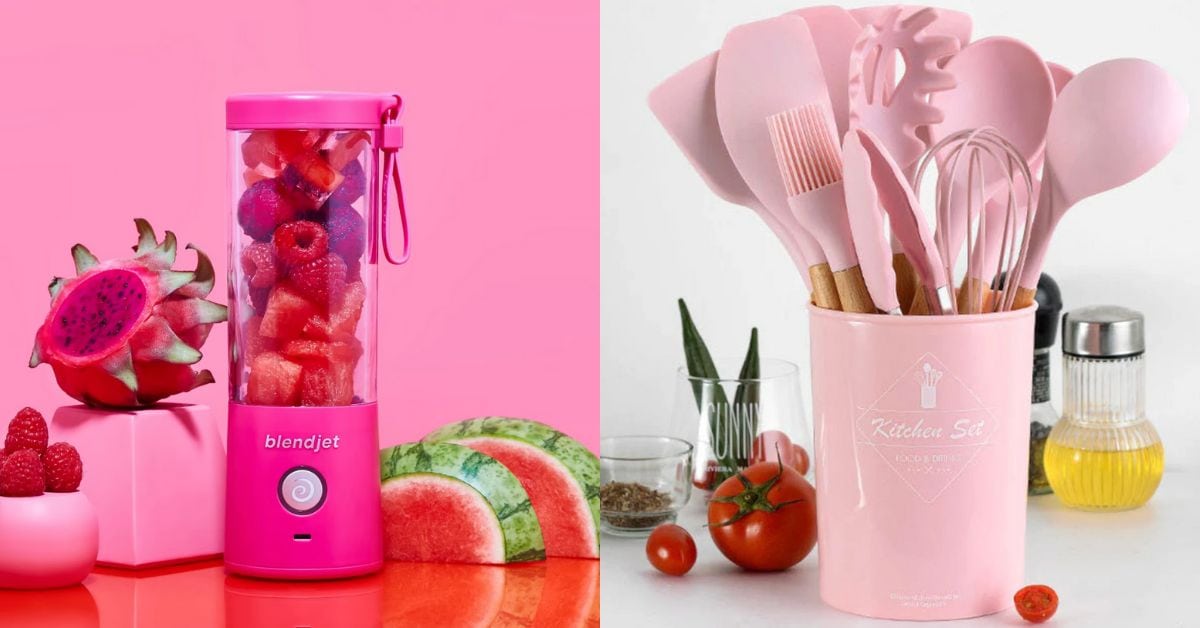 25 Barbie-Inspired Products For a Perfectly Pink Kitchen
1. Greta Gerwig Coffee Mug, $18.00
Ryan Gosling wore a Greta Gerwig shirt in honor of his director for the upcoming Barbie film, so of course we had to recreate the moment with this mug. As long as she doesn't get canceled like so many of your other former favorite celebs, it'll last a lifetime.
Available on Etsy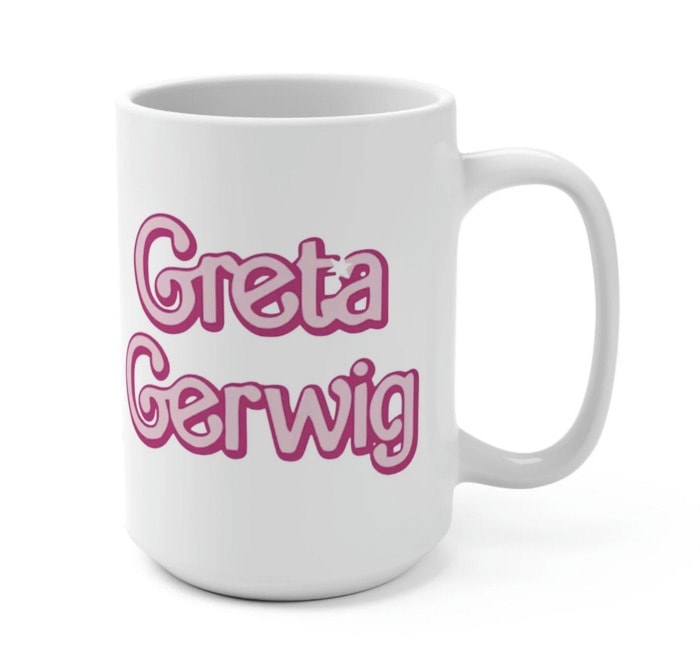 2. Dragon Glassware x Barbie Martini Glasses
Dragon Glassware paired up with the Barbie brand to put out a line of glassware in the iconic hot pink. This set comes with two martini glasses, in human size, not Barbie size. We're going to need more than a thimble-full of vodka, thank you very much.
Available on Amazon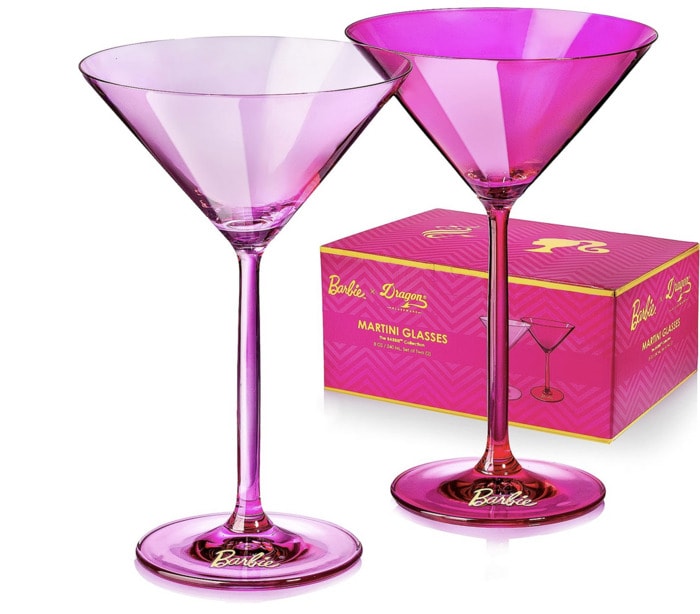 3. Dragon Glassware x Barbie Glass Coasters
We're not totally convinced about how good these coasters would be at absorbing moisture. But we suppose if your house is plastic, it's a non-issue.
Available on Amazon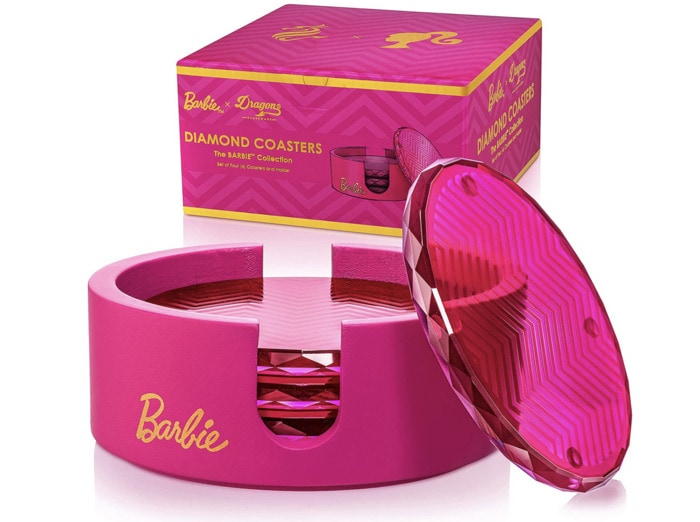 4. Dragon Glassware x Barbie Coffee Mugs
No one told Barbie about iced coffee yet, huh?
Available on Amazon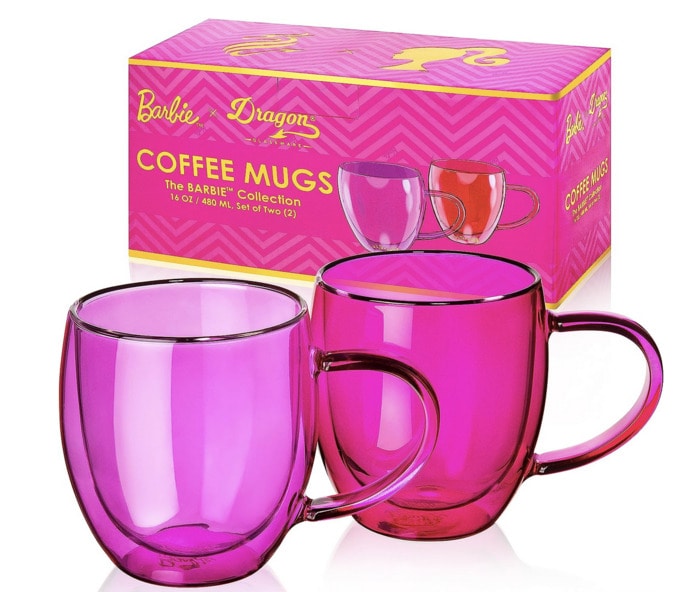 5. Dragon Glassware x Barbie Wine Glasses
She might have participated in Dry January, but the Barbie we know can get down like the rest of us. Have you seen those 21st birthday Barbie cakes?
Available on Amazon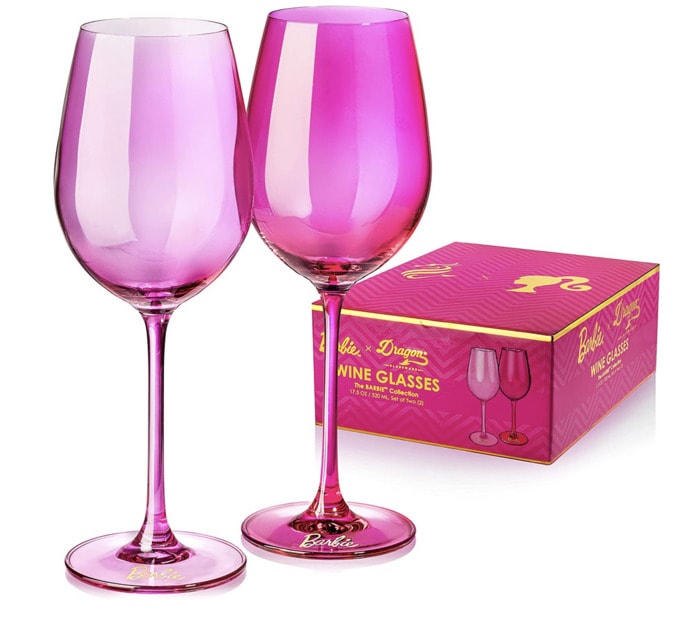 6. KitchenAid Artisan Series Mixer in Hibiscus, $499.95
This hot pink hibiscus KitchenAid mixer was the brand's color of the year. They say the choice was inspired by vibrant flowers, but we know they're really embracing Barbiecore without having to pay royalties. Business savvy bakers!
Available at Crate & Barrel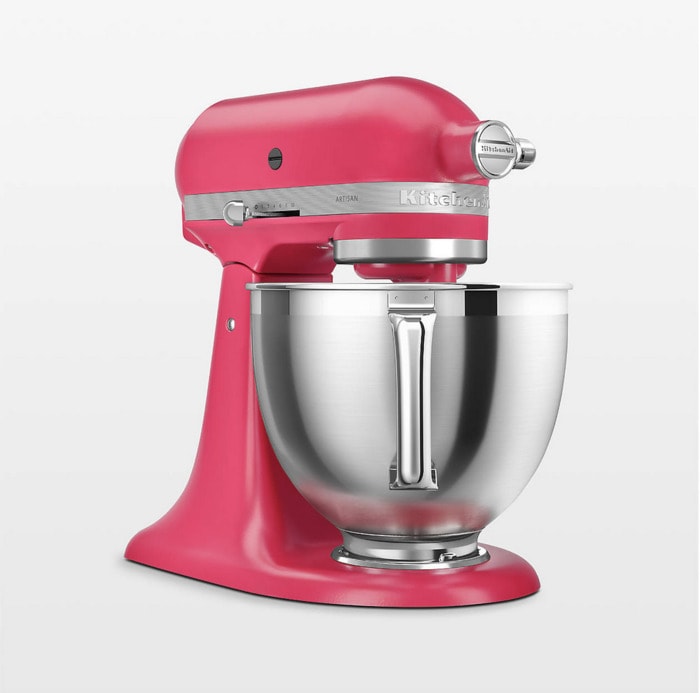 7. Smeg Espresso Machine in Pink, $529.95
Smeg has an entire line of appliances in bubblegum pink, which is perfect if you're looking to Barbie-fy your home. This espresso machine comes with a hefty price tag, but maybe if you commit to the toy bit, they'll let you pay with Monopoly money.
Available at Williams Sonoma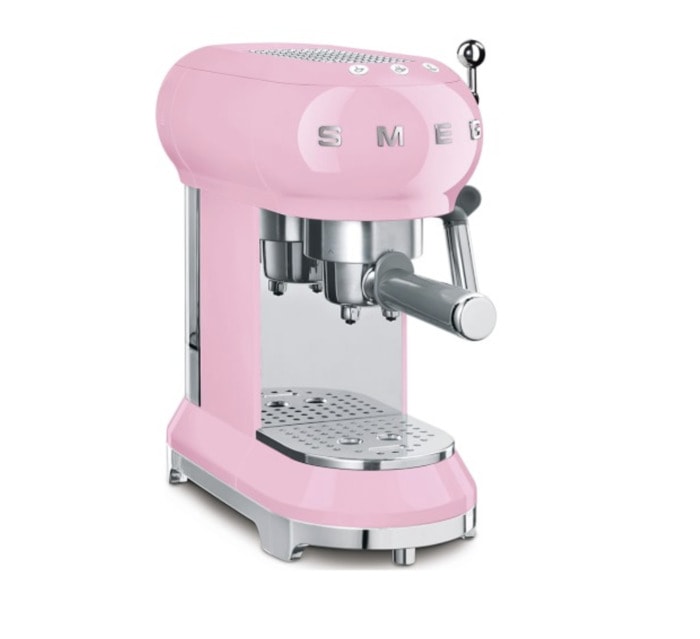 8. Frigidaire Retro Mini Fridge with Freezer, $244.99
Yeah, we know you're not in college anymore. This mini fridge is meant to go beside your bed. Who doesn't want a cool little midnight snacky encased in pink?
Available at Home Depot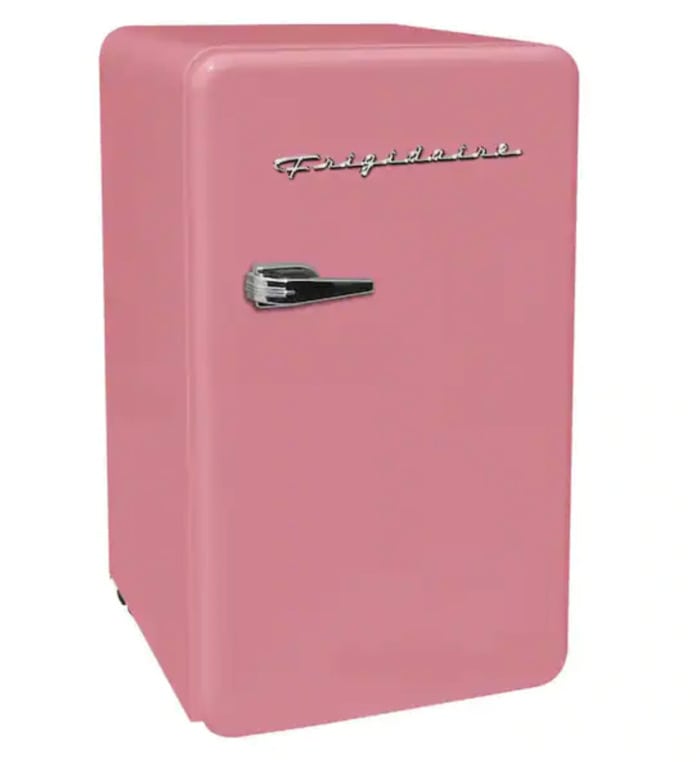 9. BlendJet 2 Portable Blender in Hot Pink, $49.95
This blender comes in a plethora of cool colors and designs. There's this hot pink one, multiple Disney-themed options designed like Woody and Buzz Lightyear, and even a Lisa Frank one.
Now that we've discovered this brand, our lives will never be the same. We're going to have one of these in every corner of our apartment. We don't even like smoothies! Margaritas, though…
Available at BlendJet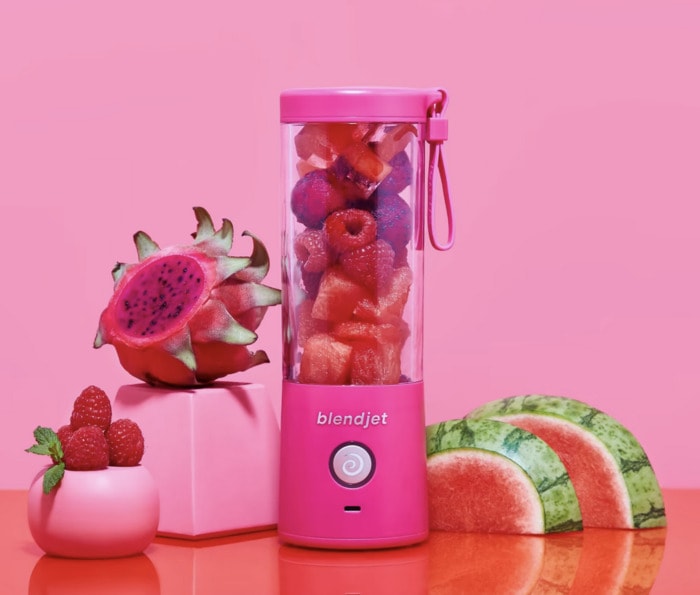 10. Glass Electric Water Kettle in Hot Pink
Enjoy your tea Barbie-style. So, uh, plastic and not real. Or just buy this and make actual tea instead. Totally your call, friend.
Available on Amazon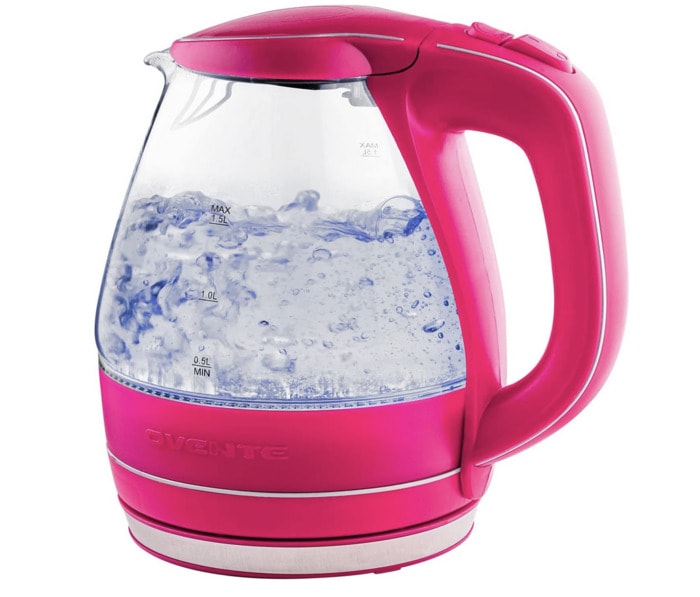 11. Barbie Polka Dot Retro Apron, $90.00
You didn't expect us to pop off this hard, did you? This old school apron is so fun that you might even find yourself scared to cook in it. If that happens, put a different apron on top. Can you believe we didn't get into Harvard?
Available on Etsy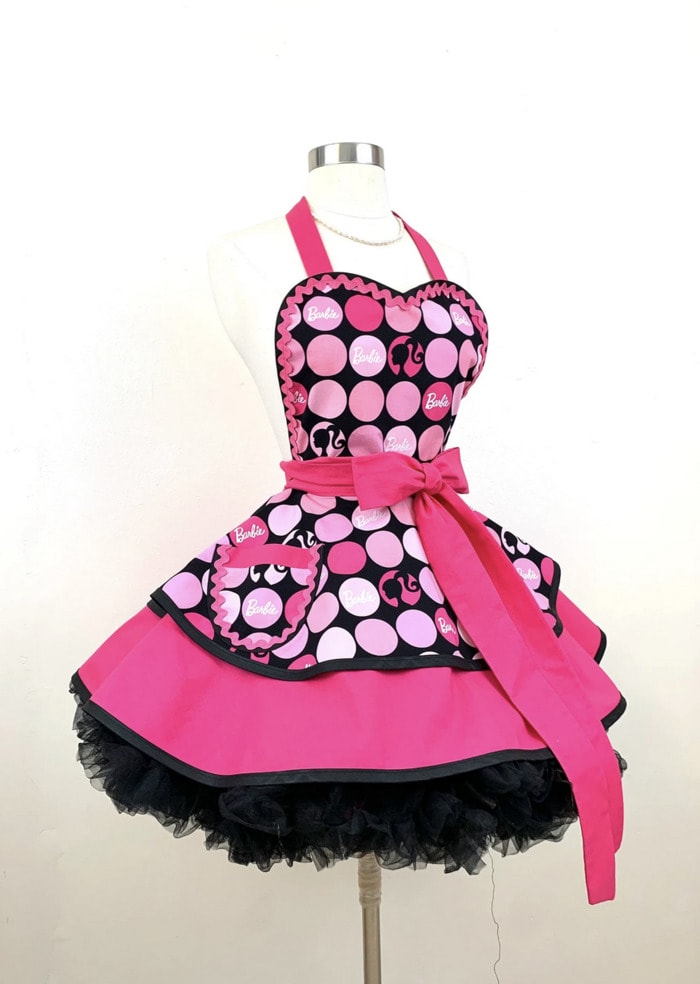 12. Let's Go Party Hot Pink Coffee Cup, $21.24
Anyone else just breathe a huge breath of relief knowing that Barbie actually *does* know about iced coffee?
Available on Etsy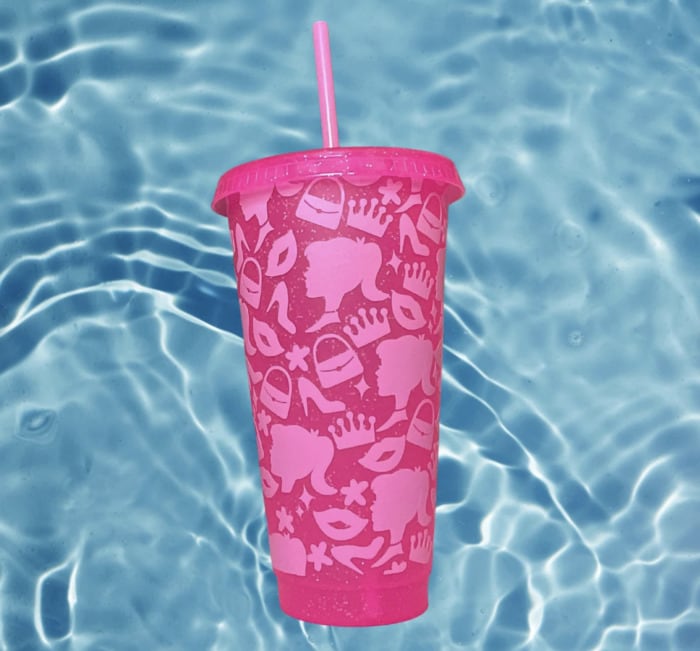 13. What's Cookin Good Lookin Wall Art, $4.20
Add a splash of pink to your kitchen without overhauling the whole thing with this cute sign. We'd like it even better if it said "who's cookin," because the answer is certainly not us.
Available on Etsy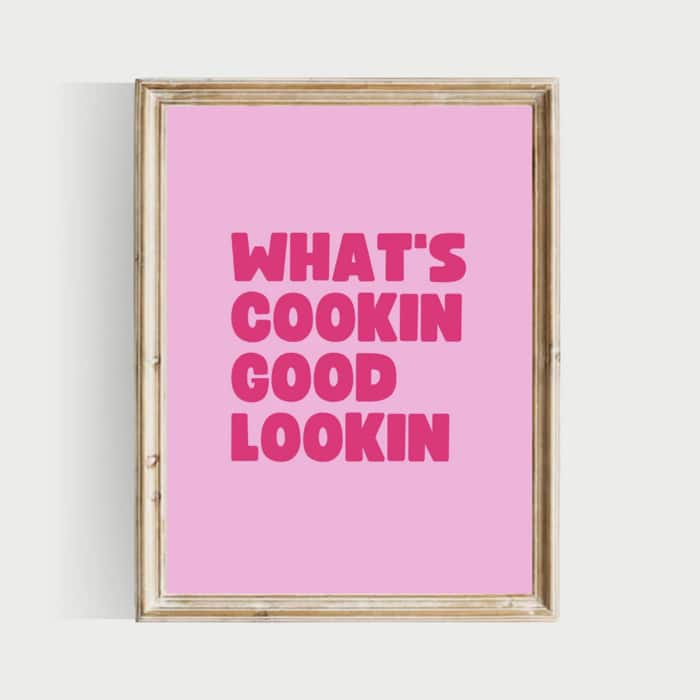 14. Pink Silicone Kitchen Utensils, $65.16
Turning all your food pink might be unappetizing. So instead, turn your food with pink. Although we will accept a strawberry milkshake any day of the week.
Available on Etsy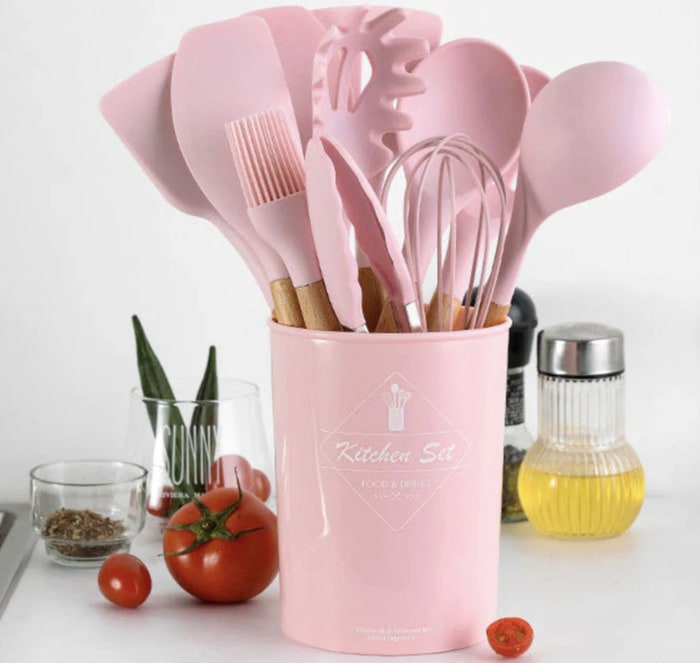 15. Stone Lain Tom 16-Piece Dinner Set
These dishes are somehow both earthy and preppy, and we're sure that Barbie would love them. When your people pleasing has risen to the level of doll pleasing, you might have a problem.
Available on Amazon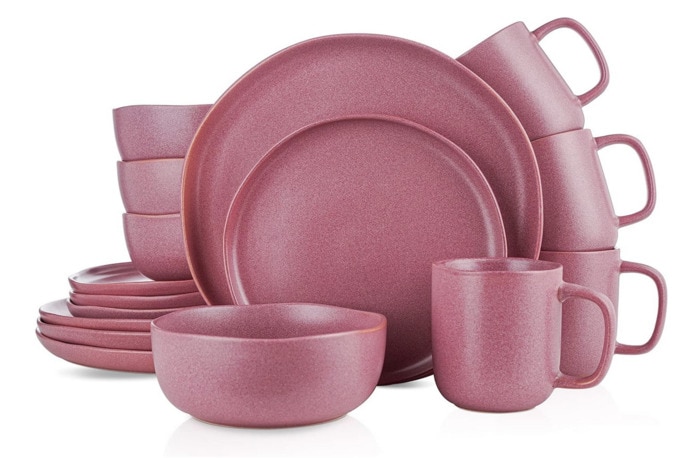 16. Pink Metal Bread Box
Sure, this is technically a bread box, but you can put anything in here if you use your imagination. Bagels, rolls, muffins, government secrets. Any and all of the above.
Available on Amazon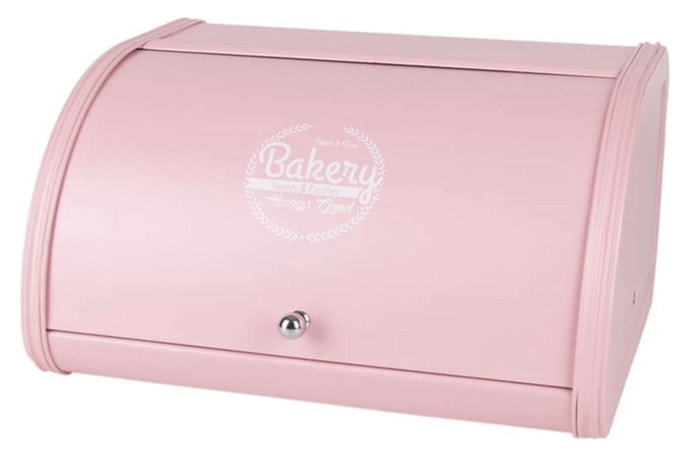 17. Lucia Acrylic Goblet Wine Glasses, Set of 4, $40.00
We are personally thrilled that as a society, we've exited the Millennial Gray era and come into our bright and colorful era. No one puts ba(r)by in a corner.
Available at Anthropologie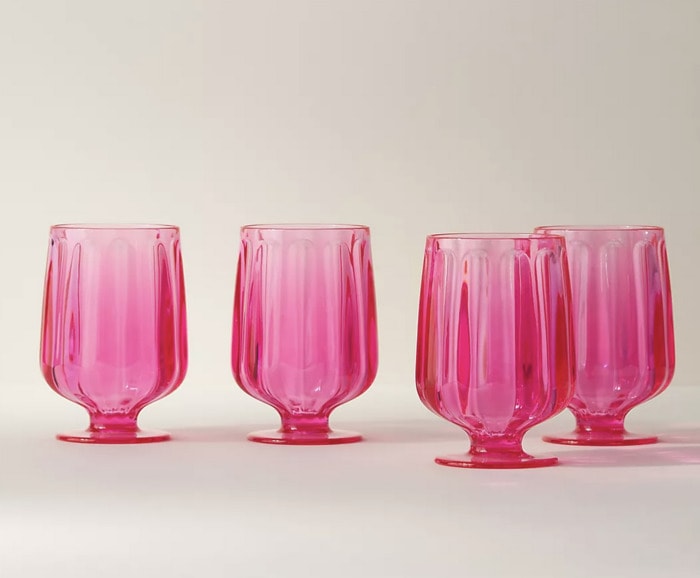 18. Lucia Acrylic Pitcher, $28.00
If you love the bright pink goblets, you can get them a matching pitcher. They might not say thank you, but it's only because they're shy.
Available at Anthropologie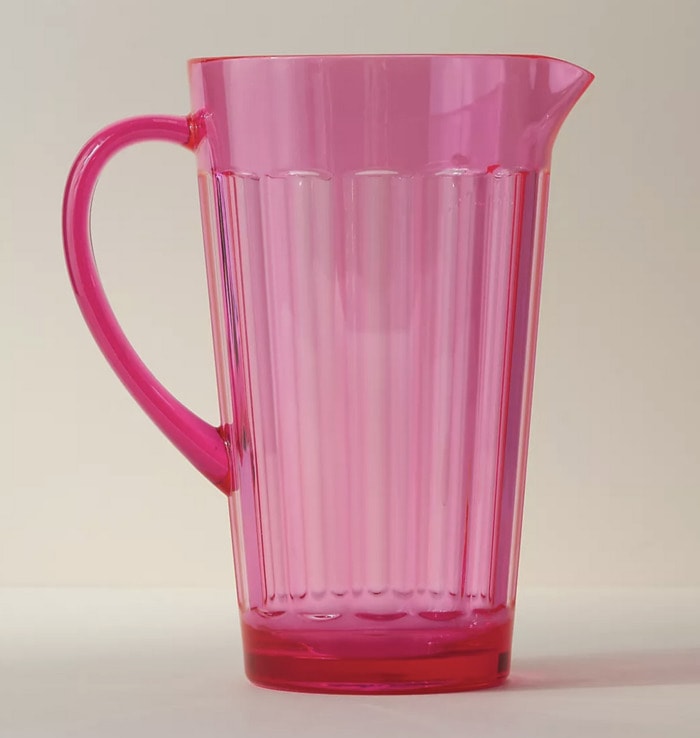 19. Two Tone Alabaster Serving Board, $88.00
Not gonna lie, this thing is kinda useless. You can't use it as a cutting board and it's not suitable for dishwashers or to host wet, sticky foods. But it is so pleasing on the eye that we're going to buy it anyway, and then we're going to be super nervous whenever our guests go near it.
Available at Anthropologie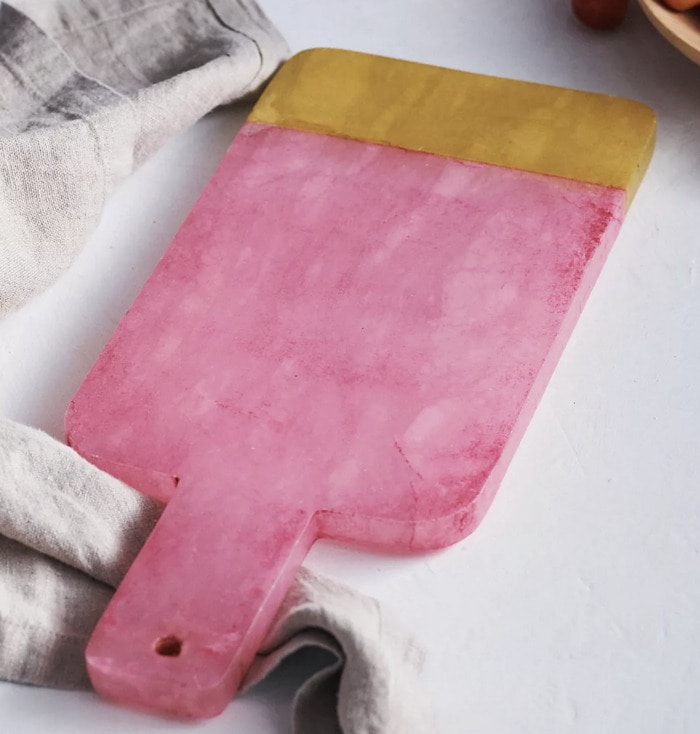 20. Ceramic Cookware Set in Bright Pink
Want to throw everything out and start over with this bright pink cookware? Don't listen to the voices in your head saying, "it's just a trend and then these will go out of style." The voices didn't graduate from interior design school. Neither did you, but that's besides the point.
Available on Amazon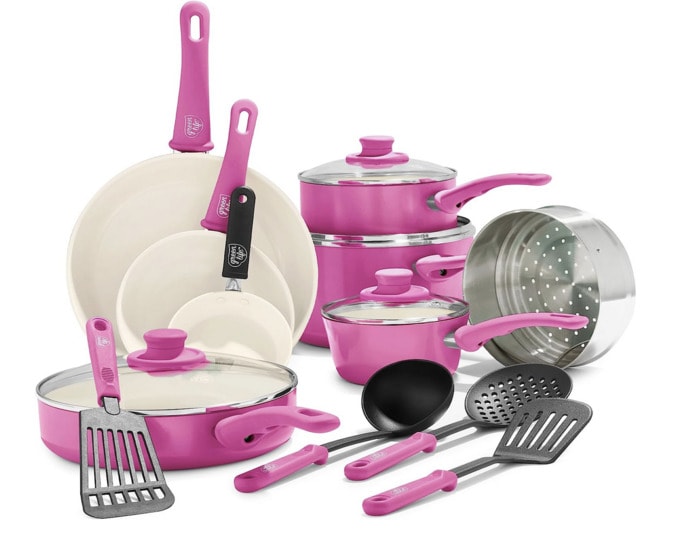 21. Redmond Retro Pink Toaster
This retro looking toaster can toast up just about anything, as long as it's bread-based and not an actual Barbie. They do melt. Or so we hear.
Available on Amazon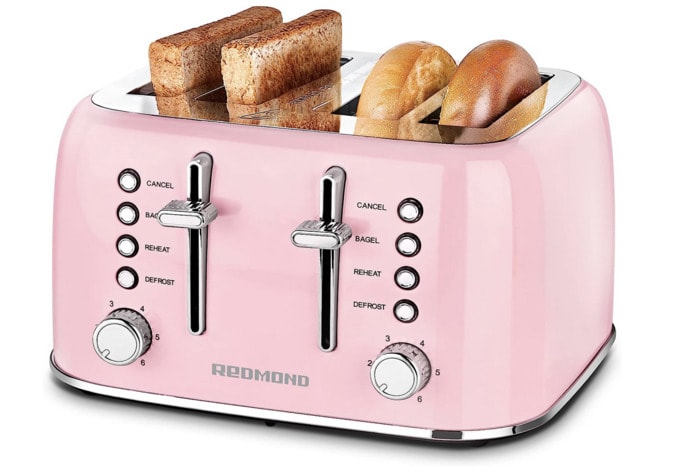 22. Pink Hearts Oven Mitts, $7.99
It's not a Barbie Dream House without the finishing touches, like these pretty in pink oven mitts with hearts all over. You don't even need to bake anything, just light a cookie dough scented candle and put these out. And then order Crumbl Cookies when you can't stand the tease anymore.
Available on Etsy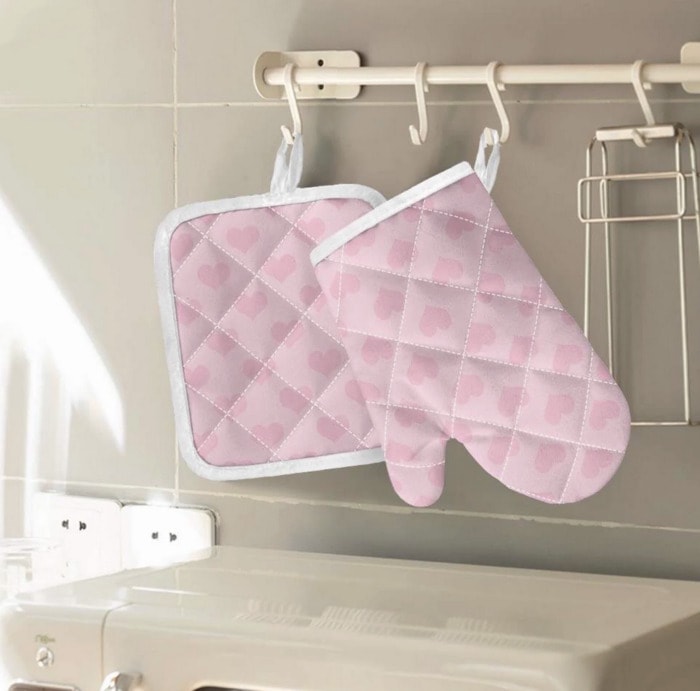 23. Hot Pink Tea Towels with Hearts, $36.80
Celebrate the Barbie movie with some afternoon tea, featuring these tea towels. A fun party game would be to talk about your favorite childhood toy. Your little brother counts.
Available on Etsy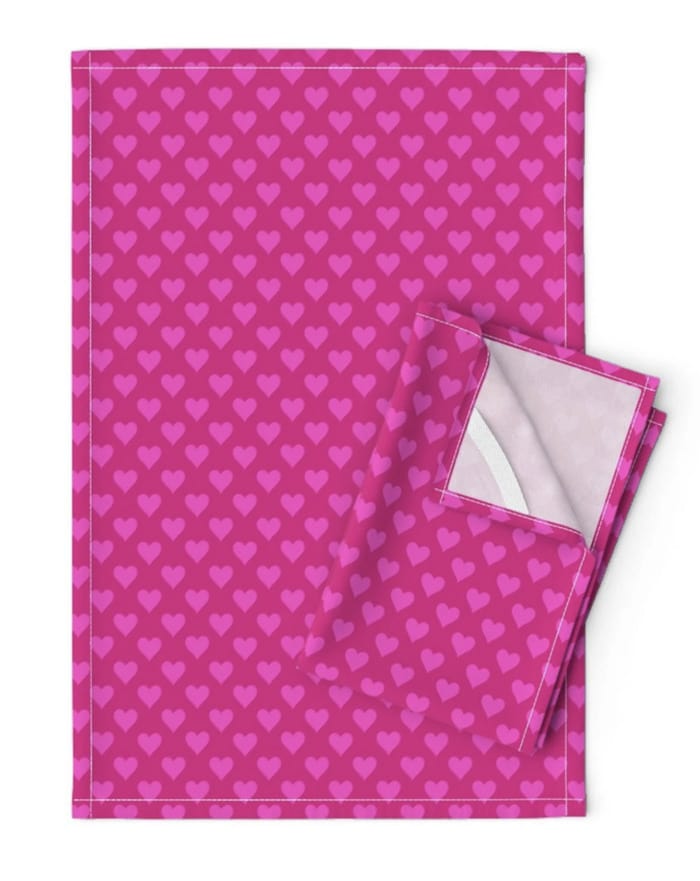 24. Bed Threads Scalloped Linen Placemats in Pink Clay/Turmeric, $80.00
Instead of getting a brand new pink kitchen table, you can adorn the one you already have with these placemats. Practicality for the win.
Available at Anthropologie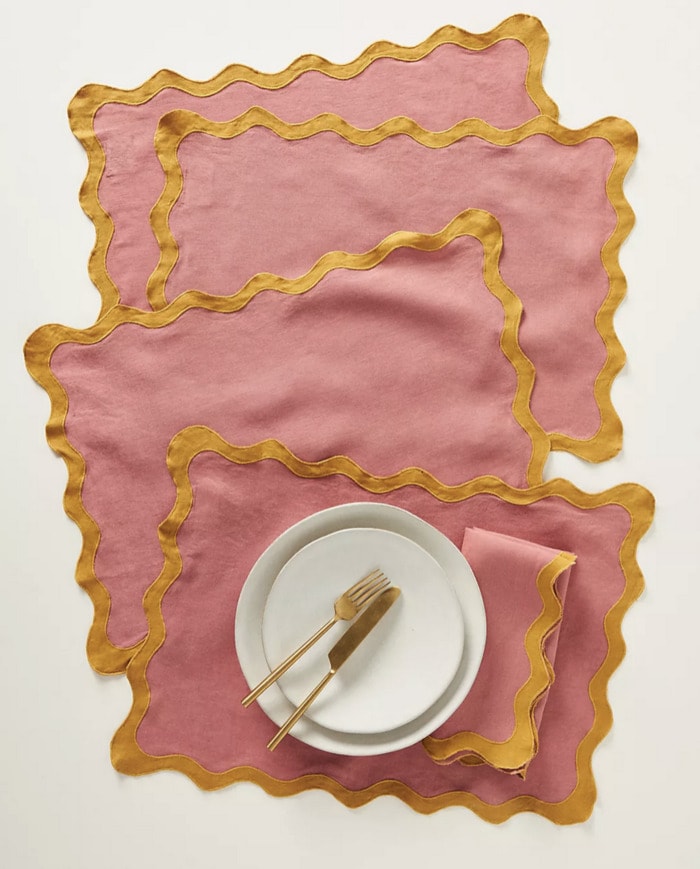 25. Great Jones Casserole Hot Dish in Taffy, $75.00
The Wall Street Journal called this pan "eminently practical," so you don't even have to feel guilty about buying it. That's like if your mom said your choices were okay.
Available at Great Jones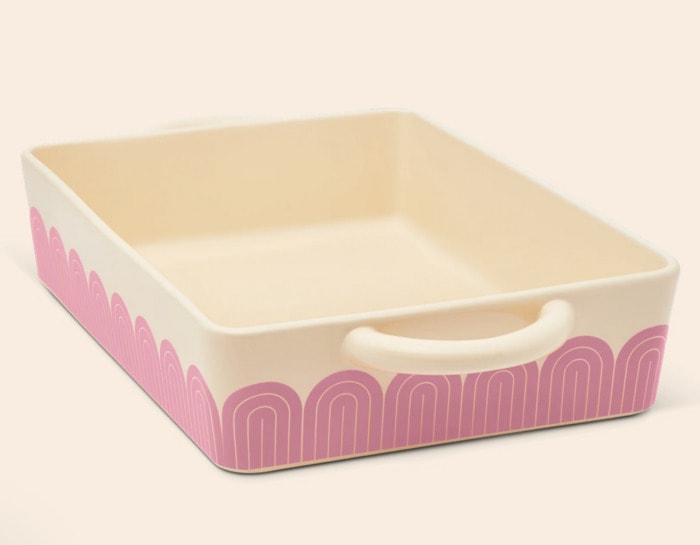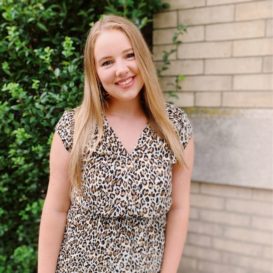 Latest posts by Laura Davis
(see all)