It's a Barbie world and we're all just living in it. At least that's the way this summer feels in the lead up to the highly-anticipated Greta Gerwig Barbie movie starring Margot Robbie and Ken, er, Ryan Gosling. There's Barbie-themed everything out there from fantastic bags, shoes, and cakes to Cold Stone's Barbie ice cream.
But, having her own flavor (and ice cream cake) wasn't enough for TikTok, so they created a whole Barbie Shake trend. Come on Barbie (and, you, dear reader), let's go party. Complete with sugar high.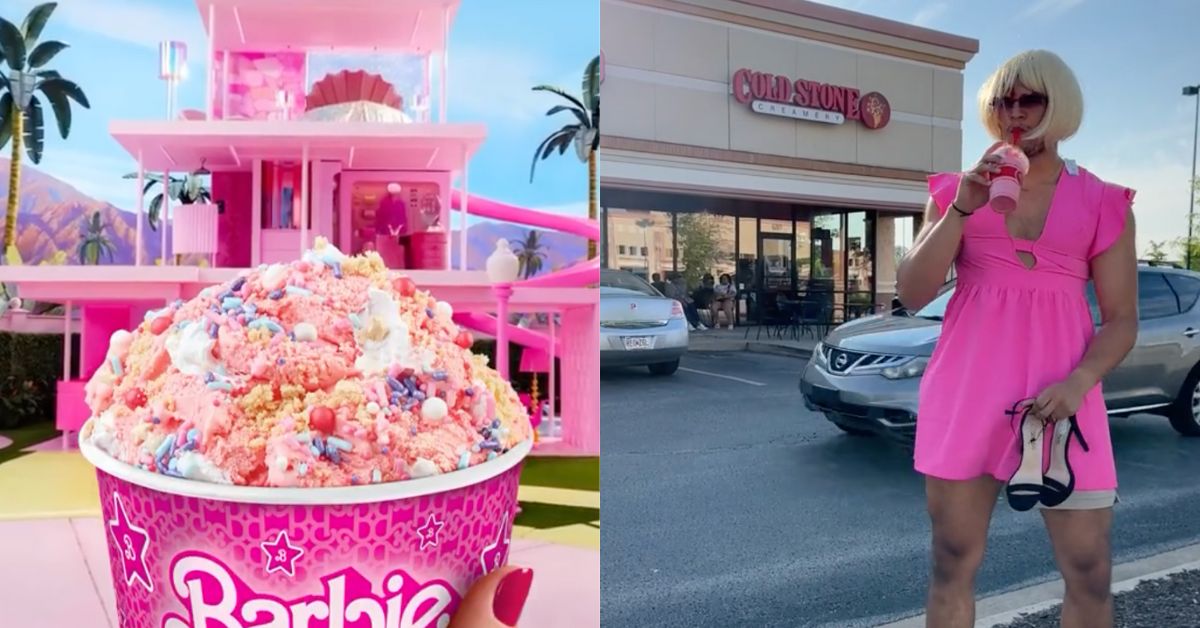 What Does the Cold Stone Barbie Flavor Taste Like?
Unicorns? Magic? Magical unicorns that definitely don't remind us of Atreyu. Sorry, tangent. Anywho… Cold Stone's All That Glitters Is Pink Creation flavor features Pink Cotton Candy Ice Cream with Graham Cracker Pie Crust, Dance Party Sprinkles and Whipped Topping.
If you're like me and your favorite Oreo cookie flavor is Cotton Candy, you'll probably love it. If the idea of "Dance Party Sprinkles" causes you to raise an eyebrow, it's time to consider your inner child is lost somewhere in your psyche and it's time to go find them before you become one of those people yelling at clouds. Or servers. Or your poor barista.
It's a delightfully sweet blend of textures and bright neon colors meant to be eaten in your Barbie Dream House. Preferably next to the pool while wearing a glorious black and white vintage one-piece.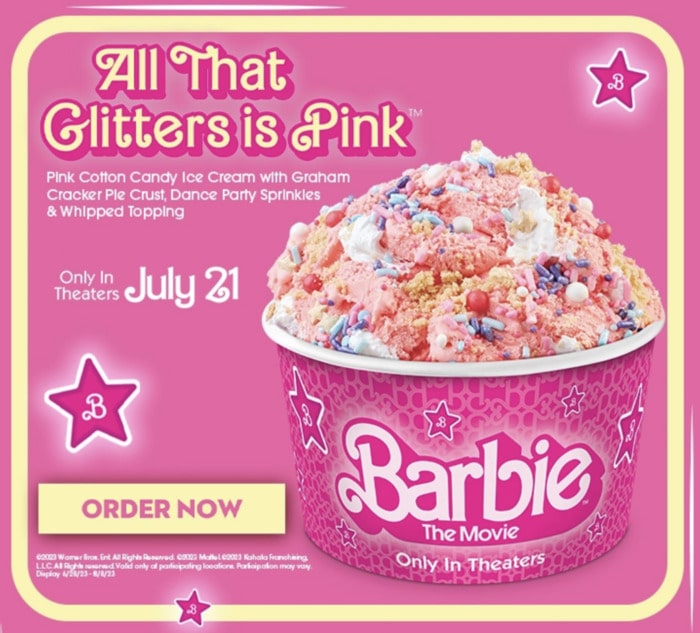 Wait, There's Also an Ice Cream Cake?
There is always cake. In fact, this website is mostly cake! (Don't cut into your screen and blame us, tho.) As food reviewer Suzy Vista attests, the Best Cake Ever lives up to the name.
We've always been a fan of Cold Stone's ice cream cakes, and this one features layers of yellow cake and cotton candy ice cream. It's topped with a buttercream frosting and decorated with those Dance Party sprinkles.
If you didn't know Barbie was a 90s rave girl, the cat is out of the bag now. And, her pacifier and blue eyeshadow and butterfly clips and seriously how much stuff is in her tiny plastic purse?
How to Order a Barbie Shake
Now that you're all caught on on all official things Barbie that are at Cold Stone this summer, it's time to meet the Barbie Shake. To order the milkshake, simply choose a size (Like It or Love It), then use the Pink Cotton Candy ice cream as the base. Top with Dance Party Sprinkles, whipped topping, and any other mix-ins that feel appropriate.
Feel like blending in some yellow cake or strawberries? Go for it. The world is your oyster. (Not a recommended mix-in.)
What's the Barbie Shake Trend?
The milkshake trend is a riff on the purple Grimace shake. Instead of passing out after drinking it, men on TikTok are taking a sip, doing a twirl, and embracing their inner Barbie girl and transforming into the bombshell. Sometimes complete with a blonde wig, heels, a pink Barbiecore outfit, and a sunny view on life.
After all, who wouldn't want to be Barbie?
Here's a few of our favorites: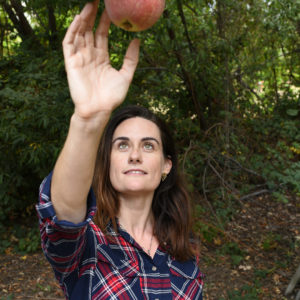 Latest posts by Rebecca Swanner
(see all)