Amazon Prime's The Rings of Power takes us to the Second Age of Middle-earth – 3,000 years before the Lord of the Rings trilogy. Based on the Lord of the Rings appendices written by Tolkien, it explores a time when Middle-earth was at peace…right before all hell broke loose.
And if you think they got through centuries of war without some caffeine, you got another thing coming. We did the grunt work of an unpaid intern and memorized all of their Starbucks orders just in case you find yourself needing to do a coffee run for Sauron.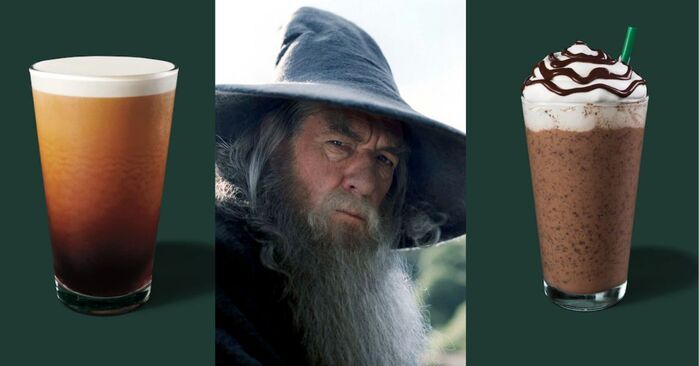 What These LOTR Characters Would Order At Starbucks
1. Elrond
In the Jackson trilogy, we knew Elrond (Hugo Weaving) as the half-elven Lord of Rivendell and Arwen's (Liv Tyler) father. In The Rings of Power, Elrond is the holder of one of the Elven Rings of Power: Vilya, the Ring of Air. He's also an ambitious and nerdy young politician with a powerful family legacy to live up to.
Elrond would order a simple black coffee because he can't be corrupted. No sugar, no ring, no problems.

2. Galadriel
Galadriel (Morfydd Clark) is the golden-haired immortal elf. Don't let the youthful face fool you, though. Galadriel is already around 5,000 years old by the Second Age. Finally, someone with a skin routine more effective than Paul Rudd's.
Galadriel is wise, powerful, and tasked with keeping one of the Elven Rings of Power: Nenya, the Ring of Water. She's definitely ordering an Emperor's Clouds and Mist tea. This smoky and sweet tea is cultivated at 3,500 feet and "shrouded in ethereal clouds and mist." Kind of like that elusive A in physics.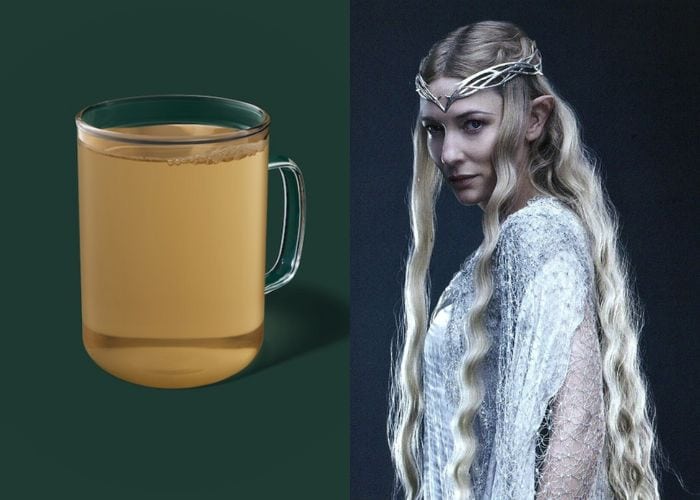 3. Gil-galad
Gil-galad (Benjamin Walker) makes a lateral appearance in the original Lord of the Rings when Samwise Gamgee sings "The Fall of Gil-galad."
In the Rings of Power, he's the last High King of the Ñoldor Elves who value the preservation of peace. He feels something amiss in Middle-earth before anyone else and forms the Last Alliance of Elves and Men with Elendil to battle Sauron.
Stressed out dudes like him could use a sweet beverage like the Caramel Frappuccino to take the edge off.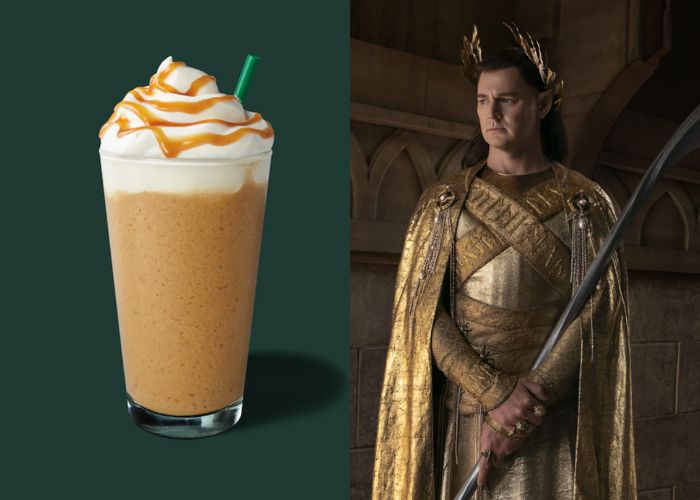 4. Isildur
In the original triology, Isildur (Maxim Baldry) helps find the kingdom of Gondor and sliced the One Ring from Sauron's hand. But he then refuses to destroy the Ring. Years later, Gollum picks it up and the rest is history.
In The Rings of Power, we'll see him as he's still a young man living in Númenor trying to find himself before he leaves the island to become a Middle-earth king.
Isildur would order a Dirty Chai Tea Latte. He wants the best of both worlds, but is torn. On one hand, he helps take down Sauron and understands the danger of the One Ring. On the other, he couldn't part with the ring, which ultimately led to his demise. And on the other? Oh, sorry, that's just our tail.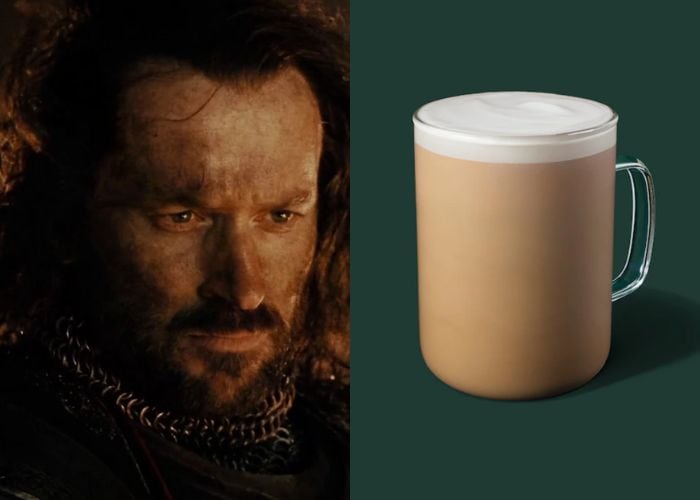 5. Sauron
Sauron spends the Second Age attempting to seduce the Elves and forging his ring in secret.
He can't really be bothered to take a break from all his evil-doing and go to Starbucks, so you'll find him just scooping coffee grounds into his mouth in the corner. Nom nom nom.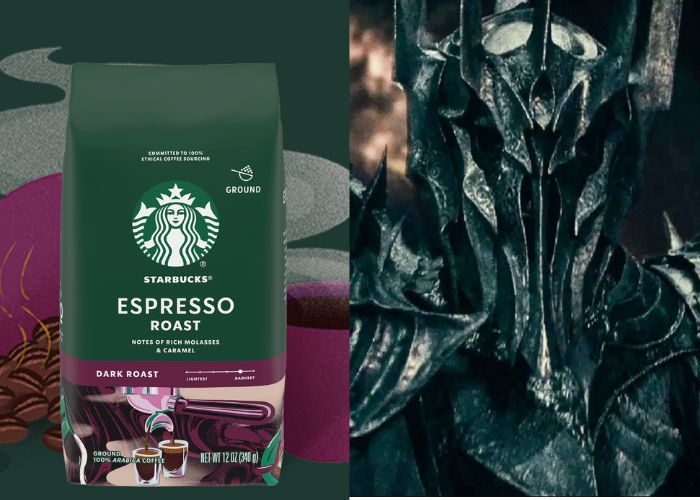 6. Gandalf
Considering Gandalf has existed since the beginning of Time, he technically could be around during The Rings of Power, but we wouldn't count on it. Gandalf isn't even known as Gandalf until the Third Age. He's originally called Olórin.
In between shooting fireworks and slaying Balrogs, Gandalf/wine mom in disguise enjoys a Double Chocolaty Chip Crème Frappuccino. Or a hearty glass of Cabernet.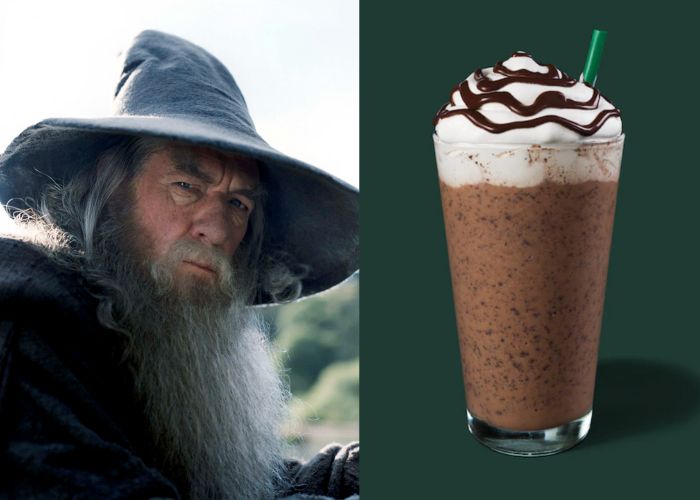 7. Legolas
Legolas (Orlando Bloom) was a prince, a master archer, and a heartthrob in Lord of the Rings.
Legolas is a bit pretentious but also loyal and rooted in tradition. He's going to get the same thing every time, and that's a Starbucks Reserve Latte. It's because of him you have to travel all the way to Middle-earth to complete your Starbucks Reserve store bingo card.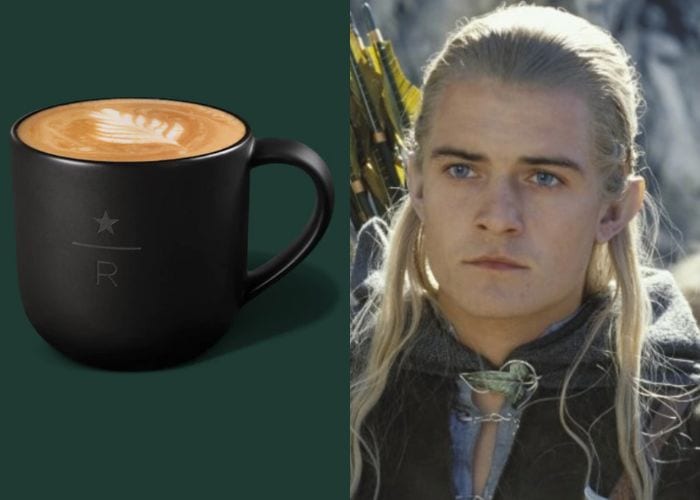 8. Orcs
Orcs are present in both the original trilogy and the new series. They're known for being aggressive and malevolent, likely because they're tortued and cursed elves.
They're definitely keeping kegs of Nitro Cold Brew on hand. It's the closest thing to their actual drink of choice, Orc Draught.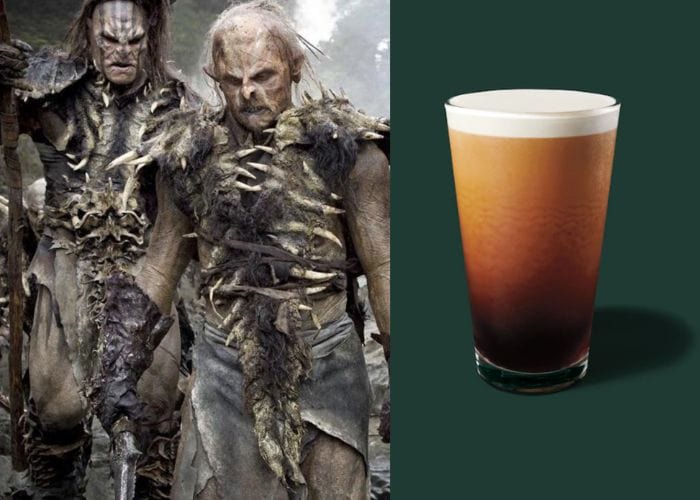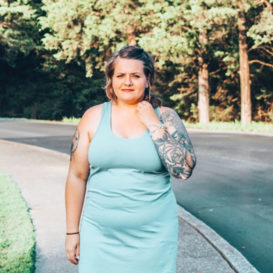 Latest posts by Ashley Hubbard
(see all)