We're nowhere near Summer, but that isn't stopping Dunkin'. This week, Dunkin' revealed their summer menu for 2023 which includes some pretty tasty looking blended drinks. We haven't spied any new donuts yet, but there are some other items you might be excited about.
According to Markie Devo's Instagram and Reddit, Dunkin's summer menu includes a new Raspberry Watermelon Dunkin' Refresher, the return of the Butter Pecan Crunch Frozen Coffee, and more. It's all set to arrive reportedly on April 26.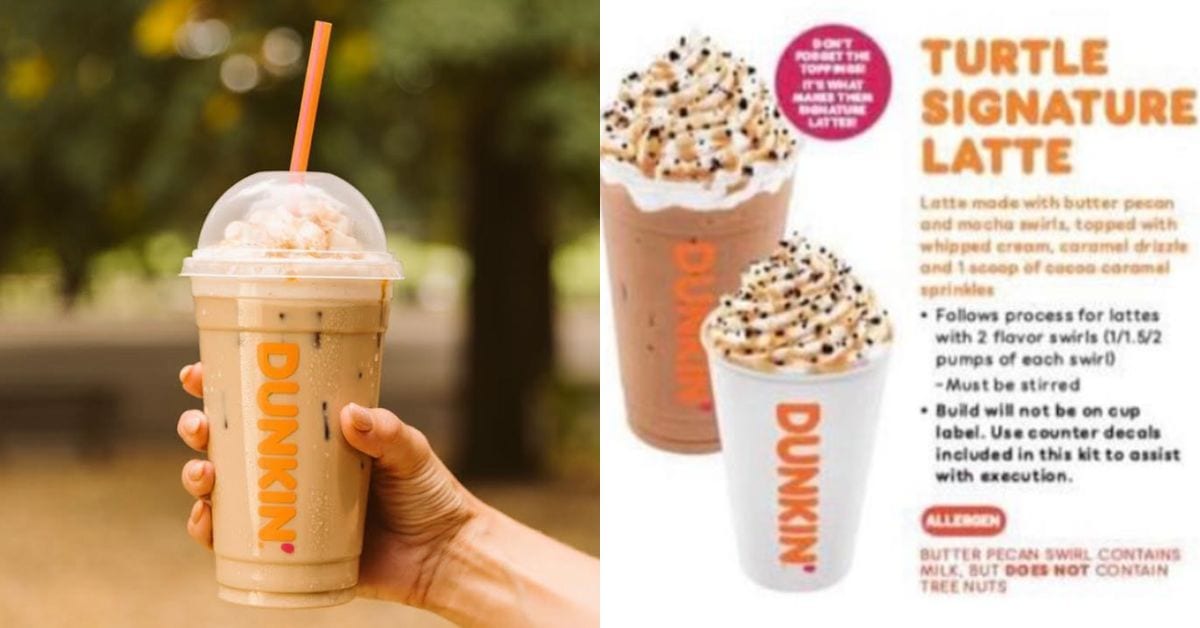 What Will Dunkin's Early Summer Menu Include?
If you read everything you believe on the Internet (and who doesn't?), Dunkin's first summer menu for 2023 will launch in stores on April 26th. The menu will include:
Raspberry Watermelon Dunkin' Refresher
Strawberry Dragonfruit Lemonade Refresher
Mango Pineapple Lemonade Refresher
Lemonade
Butter Pecan Crunch Frozen Coffee
Turtle Signature Latte
Butter Pecan Swirl
Last year, Dunkin's summer menu hit on April 27th, so it's coming a day early this year. Not yet confirmed — but according to Reddit, it might also include:
Butter Pecan Donut
Iced Lemon Loaf
Pineapple Coolata (available only in some regions)
Blueberry Cobbler Iced Coffee and Frozen Coffee
Chocolate Hazelnut Truffle Iced Coffee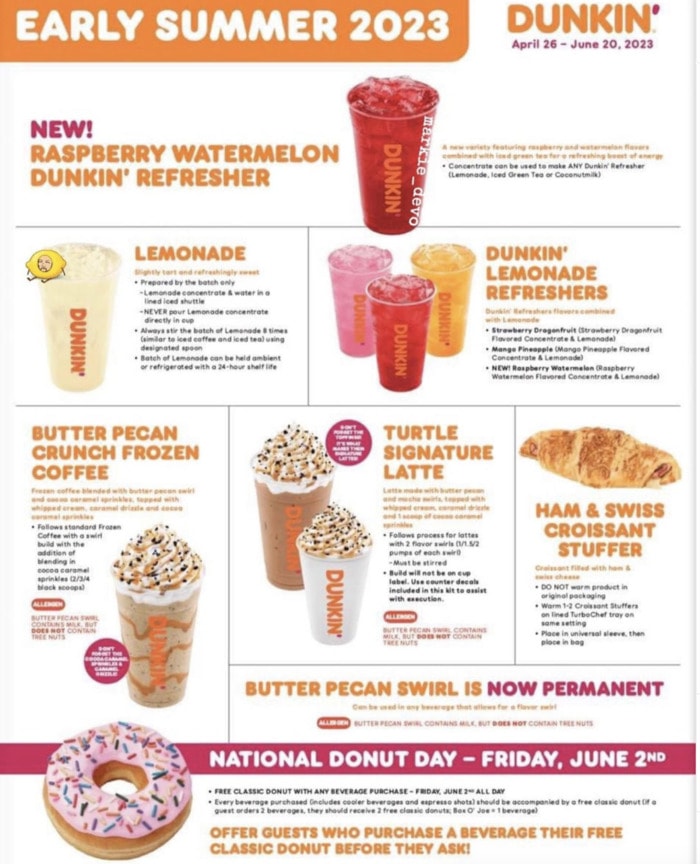 Dunkin' Summer Menu for 2023
1. New Raspberry Watermelon Dunkin' Refresher
Starbucks, you had your chance. Now it's Dunkin's turn to reign supreme as the raspberry drink king. Or queen. We don't care as long as you lower the price of eggs. Oh, they can't do that? Pity. Well, we're sure this tangy and sweet refresher will still be tasty.
2. New Raspberry Watermelon Dunkin' Lemonade Refresher
There are three Lemonade Refreshers on Dunks' early summer menu. This one is brand new, while the other two are similar to the ones they had last year, but this year, they've gotten a little sharper thanks to the addition of lemonade.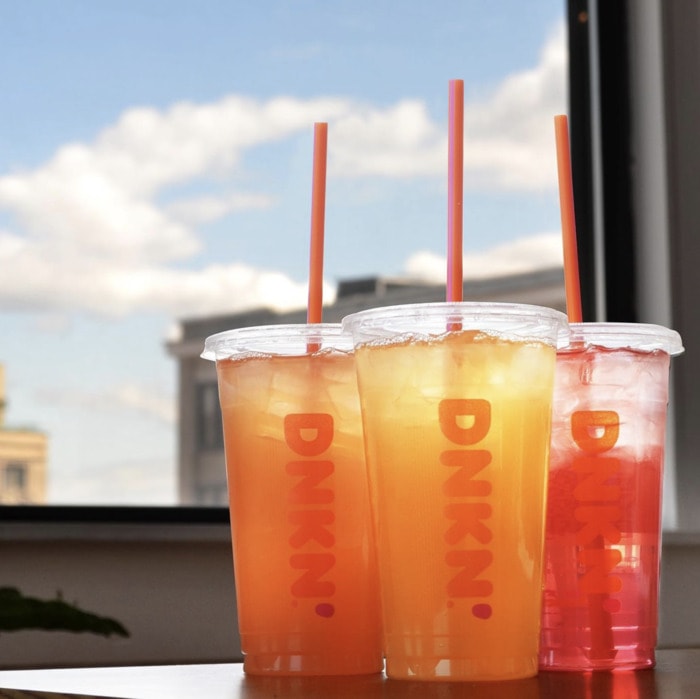 3. Strawberry Dragonfruit Lemonade Refresher
Is it just us or does dragonfruit not really taste like much? It's pretty, but unless you pick it just right, it rarely as much flavor. Or, maybe our taste buds are broken from eating so much hot sauce. And, we'd do it again!
4. Mango Pineapple Lemonade Refresher
Last year, pineapple seemed to be the summer drink flavor. Starbucks had their two pineapple drinks and we had everything you could add rum to.
5. Lemonade
It's lemonade. Do you need us to say more? Ok, more.
6. Butter Pecan Crunch Frozen Coffee
This blended iced coffee combines the Butter Pecan Swirl with cocoa caramel sprinkles and is topped with whipped cream, caramel drizzle, and more cocoa caramel sprinkles. We're on a sugar high just writing that.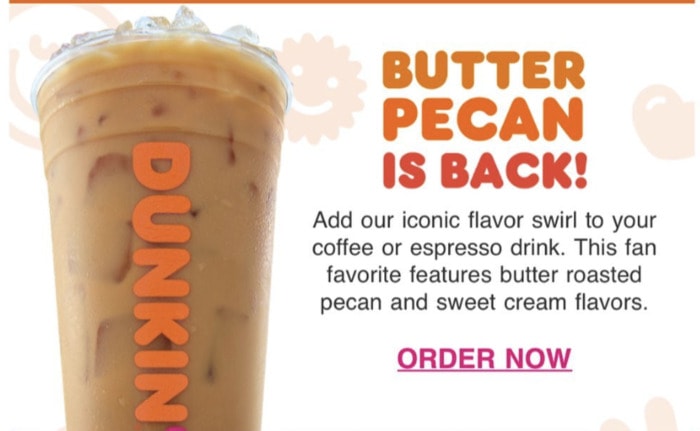 6. Turtle Signature Latte
Last year the spring menu featured a Cake Batter Signature Latte. This year, they're going all in on butter pecan. The Turtle Signature Latte is "made with butter pecan and mocha swirls, topped with whipped cream, caramel drizzle, and one scoop of cocoa caramel sprinkles."
7. Butter Pecan Swirl
Last year's summer flavor has now been added to the permanent menu so you can add it to any drink. But remember, with great power comes great responsibility, so don't go adding it to a Refresher.
8. Ham and Cheese Croissant Stuffer
Look, Dunkin' is great at making sweet drinks and solid donuts, but we're not going to them for proper French pastries, like croissants. New Yorkers, just walk across the street to Pret a Manger or Le Pain Quotidian. Or, better yet, to a proper French bakery.
What Was On Dunkin's 2022 Summer Menu?
While we don't know what will be on Dunkin's menu for the second half of summer, we do know what was on last year's early menu. It's possible that — like the Butter Pecan Swirl — some of these will also make a return.
Mango Pineapple Dunkin' Refresher
Cake Batter Iced Signature Latte
Tomato Pesto Grilled Cheese
Butter Pecan Swirl
Sunrise Batch Iced Coffee
Lemonade and Dunkin' Lemonade Refreshers
Cornbread Donut and Munchkins Donut Hole Treats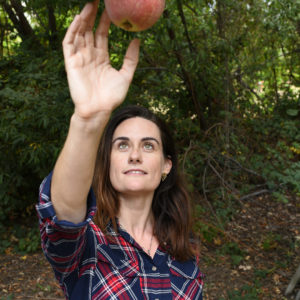 Latest posts by Rebecca Swanner
(see all)