When we were kids, the pinnacle of Easter was diving into the basket full of chocolate, jelly beans, and those Reese's Peanut Butter Eggs. If you're feeling nostalgic, these Starbucks secret menu Easter drinks are a fun way to quench that thirst.
Of course, you could just order a venti water and drop a Peep in it. But we feel like that's just one of those "grow a boyfriend" things and then you've got a giant Peep for a boyfriend and you still don't have a drink.
To help you avoid that very confusing situation, we found the best pastel-hued Refreshers, candy-themed and Easter Bunny Frappuccinos, and more stunning springtime secret menu drinks. Stop by a Starbucks and pick one up on the way to an Easter egg hunt.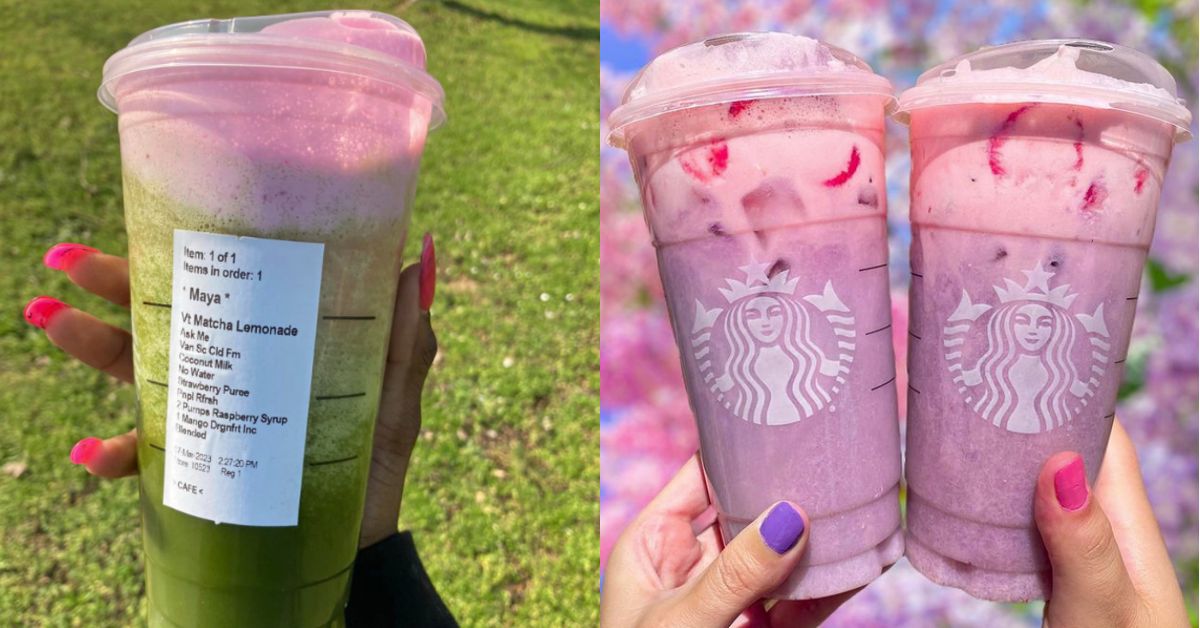 The only tricky part about these Easter drinks is that a bunch of them feature the raspberry syrup which Starbucks is discontinuing soon. So, hop to it and order these now before they do!
20 Starbucks Secret Menu Easter Drinks
1. Cadbury Creme Egg Frappuccino
Order a Java Chip Frappuccino
Add vanilla syrup, Frappuccino Roast, and caramel syrup
Add vanilla bean powder
Top with whipped cream and extra caramel drizzle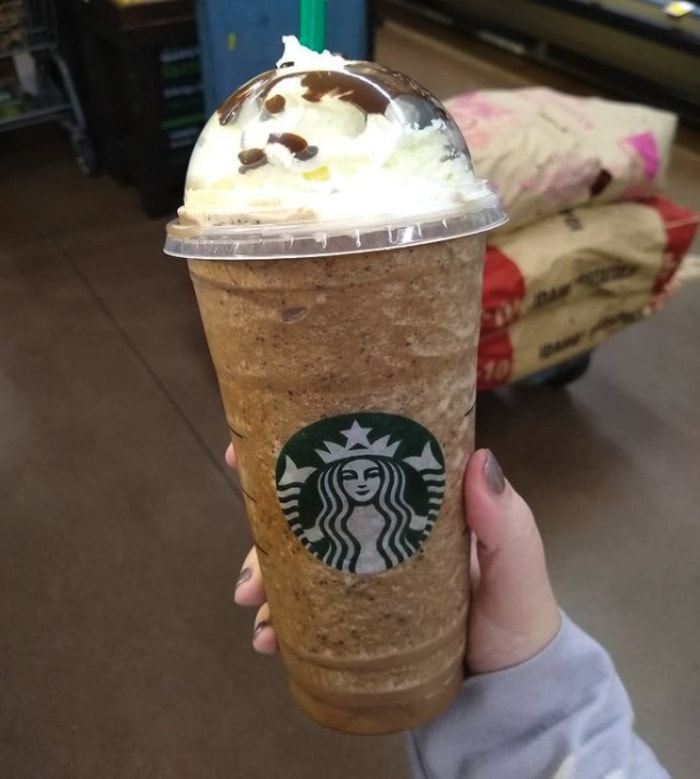 2. Easter Bunny Frappuccino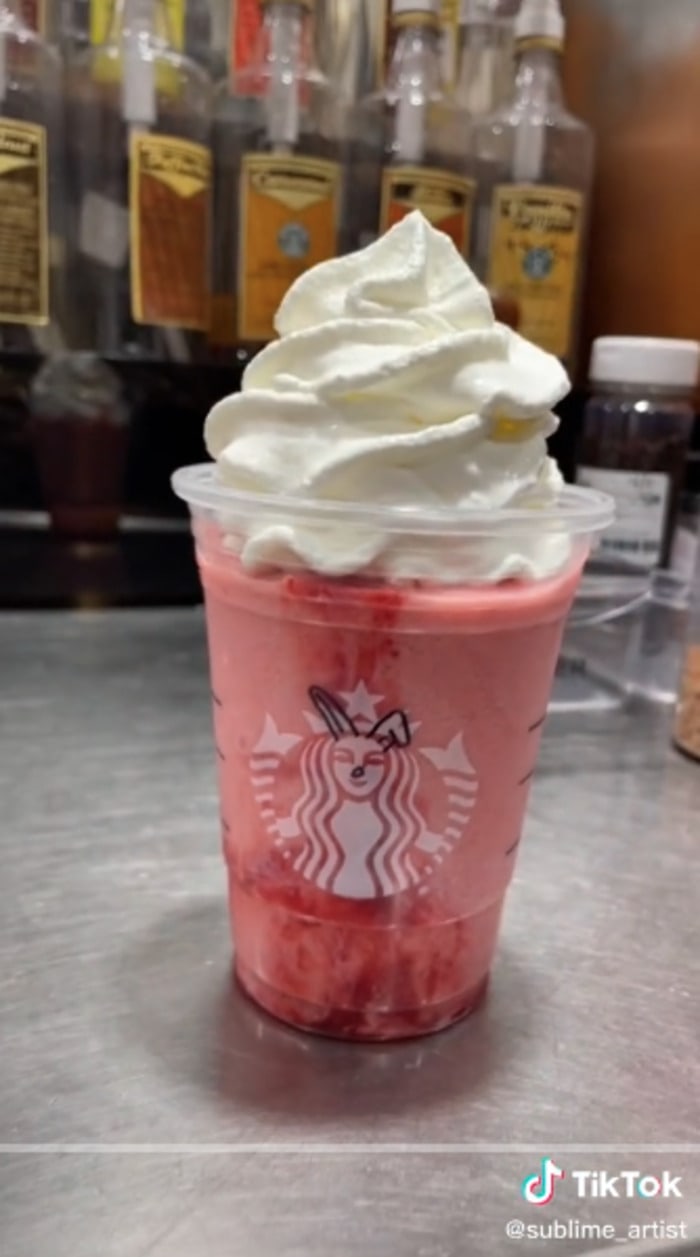 3. Spring Blossom Refresher
Order a venti Pink Drink
Add 2 pumps of vanilla syrup
Ask for sweet cream cold foam with one scoop of matcha and one pump of raspberry syrup blended in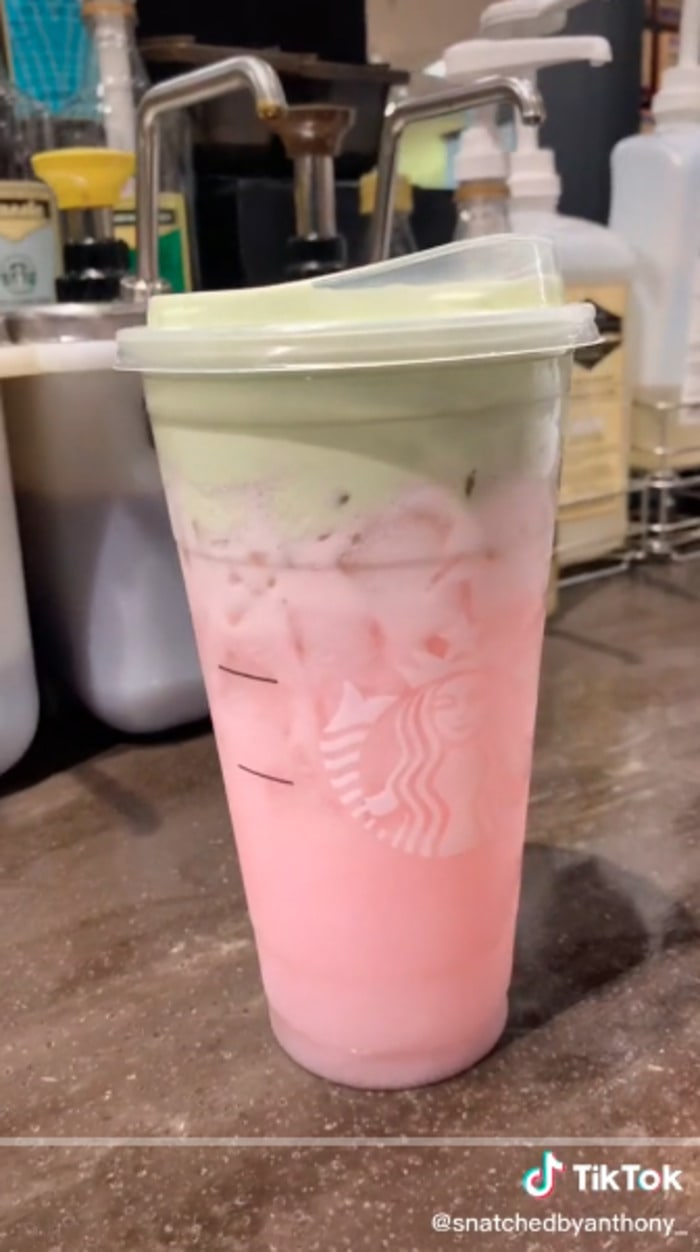 4. Cherry Blossom Iced Latte
Order an Iced White Chocolate Mocha
Ask for raspberry syrup
Top with vanilla sweet cream cold foam
Ask for strawberry puree and 2 scoops of vanilla bean powder to be mixed into the foam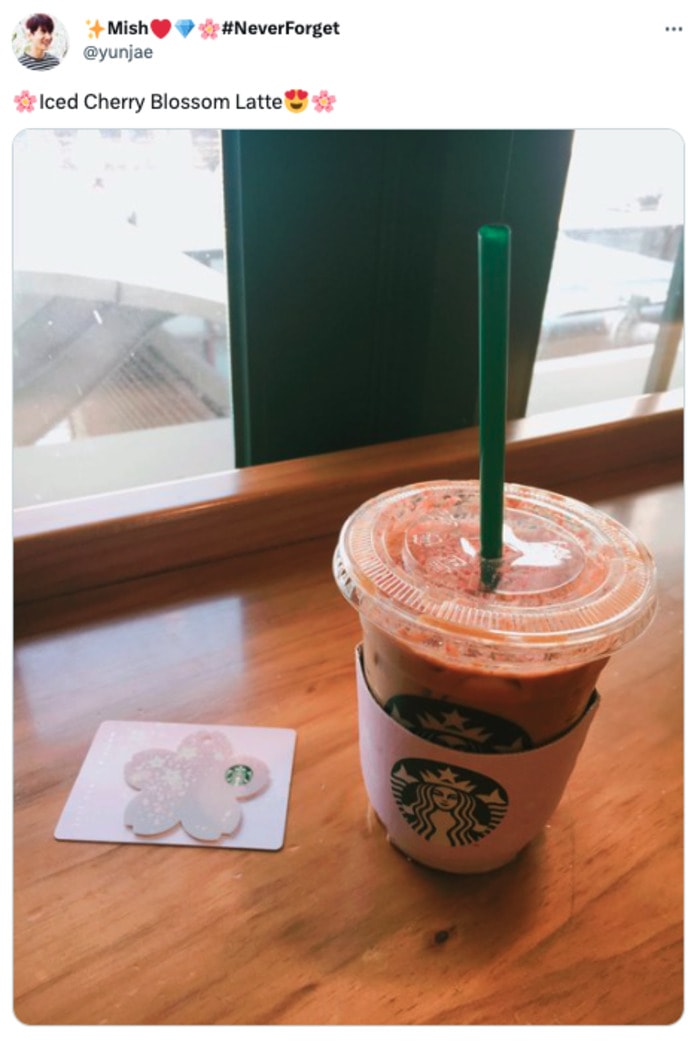 5. Easter Egg Refresher
Order a Pink Drink with ½ pumps of white mocha and raspberry syrup
Replace strawberry inclusions with dragonfruit inclusions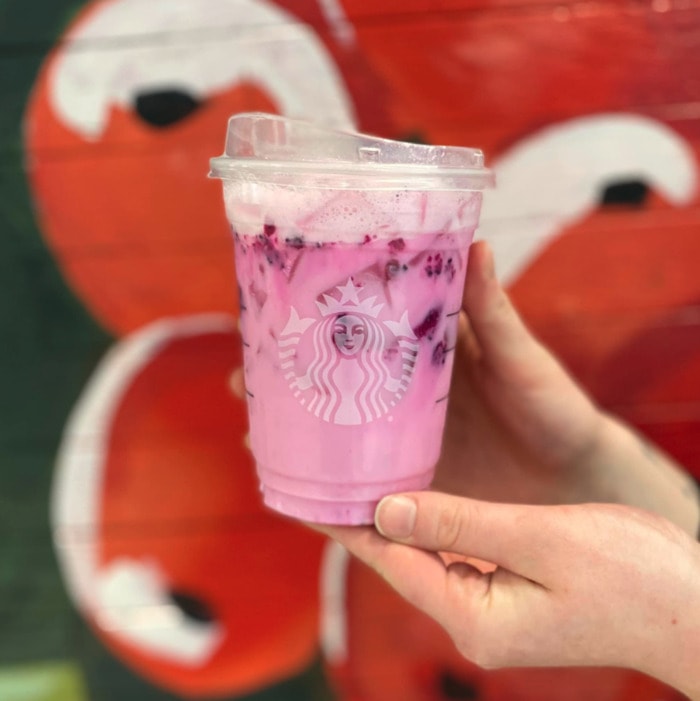 6. Bunny Juice Frappuccino
Order a venti Vanilla Bean Creme Frappuccino
Ask barista to blend the Frappuccino with half bottle of orange juice (from the Grab and Go section of the store)
Top with whipped cream
Sprinkle with matcha powder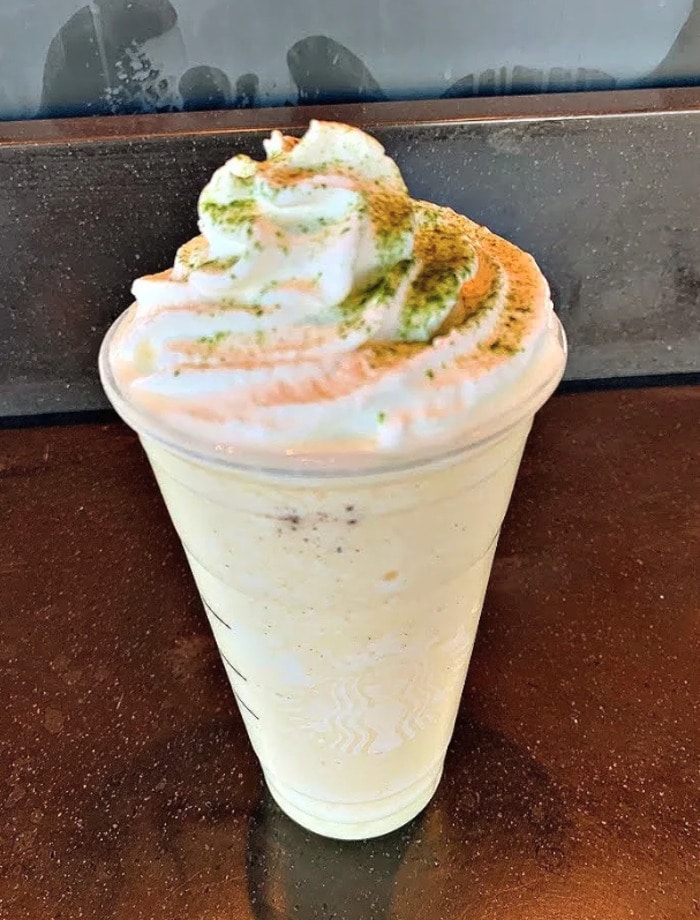 7. Spring Slush
Order a venti Iced Matcha Lemonade, blended
Ask barista to fill the cup halfway
Add blended strawberry puree, a splash of coconut milk, and 2 pumps of raspberry syrup
Top with sweet cream cold foam with dragonfruit inclusions blended in
8. Gummy Bear Refresher
Order a venti Strawberry Acai Refresher with peach juice instead of water
Add two pumps of raspberry syrup
Top with dried strawberries if they're not included
9. Pink and Purple Drink
Order an Iced Passion Tango Tea
Add almond milk
Add three scoops of strawberries
Add vanilla sweet cream cold foam with strawberry puree blended into foam
10. Orange Lemonade
Order a venti Lemonade
Add 2 pumps raspberry syrup
Top with strawberry açaí base
11. Peanut Butter Cup Frappuccino
Order a Mocha Frappuccino
Substitute soy milk for whole milk
Add toffee nut syrup
Top with whipped cream and a mocha drizzle
12. Orange Drink
13. Sour Patch Kids Refresher
Order a venti Strawberry Açaí Lemonade
Ask for 3 pumps classic syrup and 3 pumps raspberry syrup
Ask for a splash of Passion Tango Tea
14. Cadbury Egg Cold Brew
Order a venti Cold Brew
Add 2 pumps of mocha, white mocha, and hazelnut
Ask for vanilla sweet cream cold foam with caramel blended in
Top with caramel drizzle
15. Strawberry Cold Brew
Order a Grande Cold Brew
Add one pump each of raspberry syrup and white mocha
Ask for sweet cream foam with strawberry puree blended in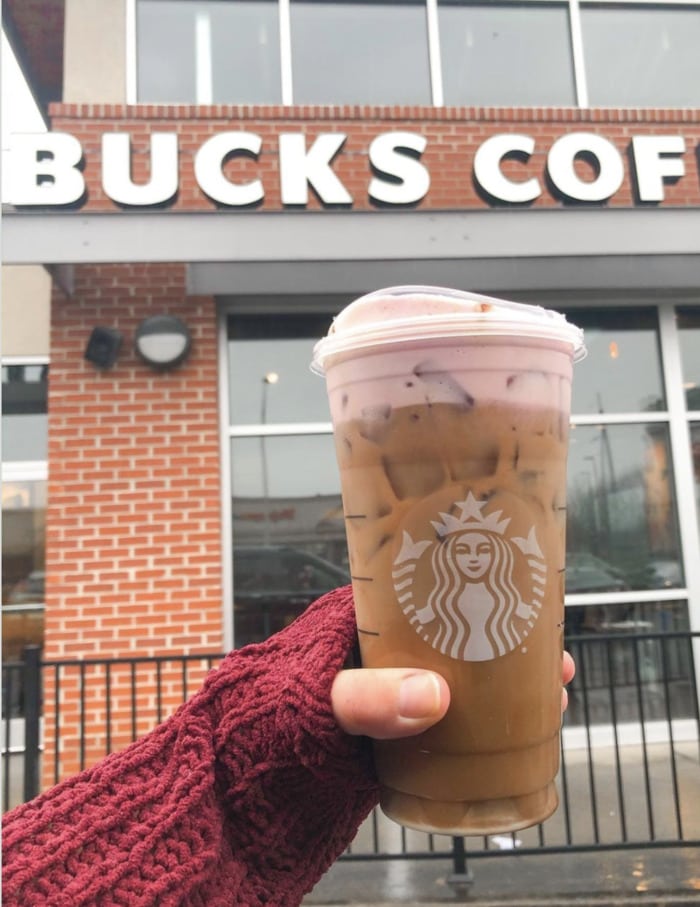 16. Rose Gold Refresher
17. Blue Drink
Order a Iced Passion Tango Tea with soy milk instead of water
Add vanilla syrup instead of liquid cane sugar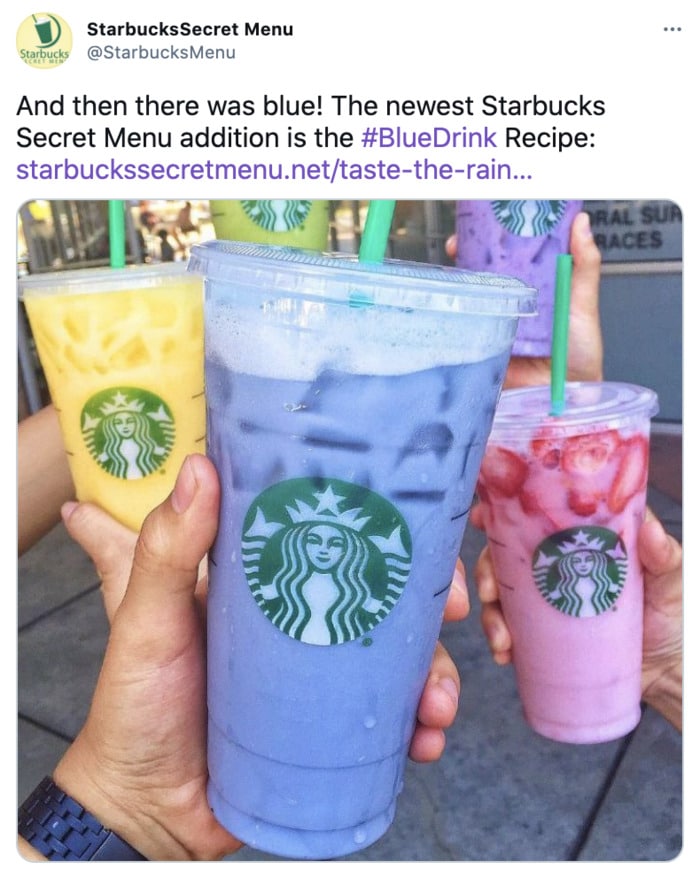 18. Fruity Pebbles Frappuccino
Order a Grande Strawberry Crème Frappuccino with no classic syrup
Ask for peach juice to the second line of the cup
Add two pumps each of vanilla and raspberry syrup
Ask for one scoop of strawberry inclusions to be blended in
Top with whipped cream and dragonfruit inclusions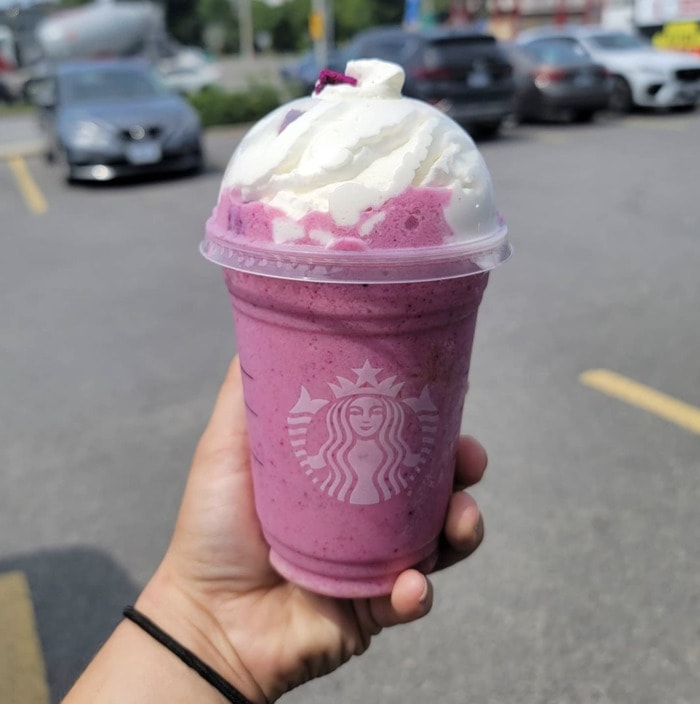 19. Pink Starburst Refresher
Order a Venti Pink Drink
Add two pumps each of white mocha and vanilla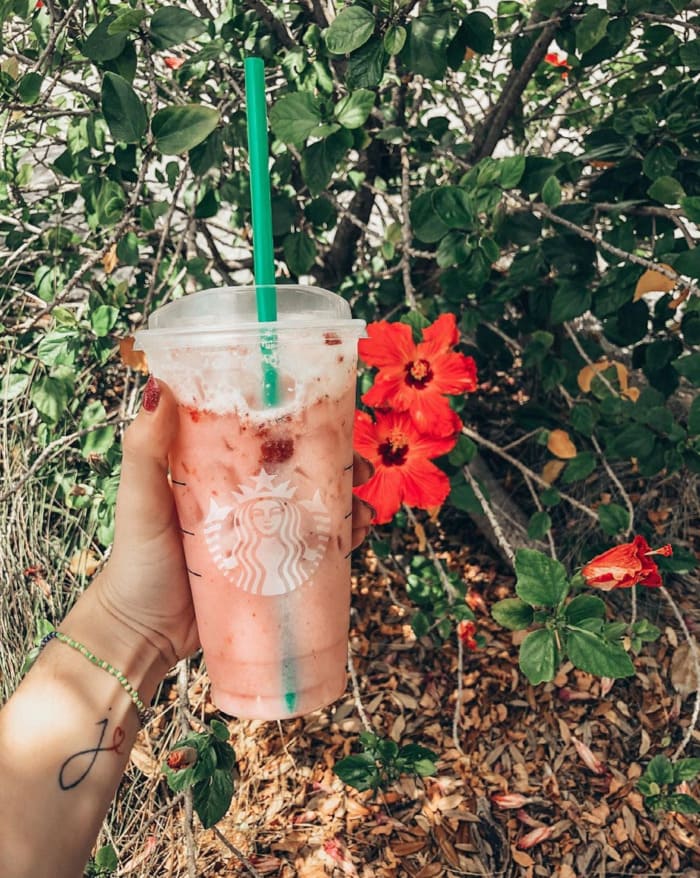 20. Skittles Frappuccino
Order a Grande Strawberry Crème Frappuccino
Add three pumps each of vanilla syrup
Add two pumps each of raspberry syrup and pineapple-ginger syrup
Top with whipped cream and strawberry drizzle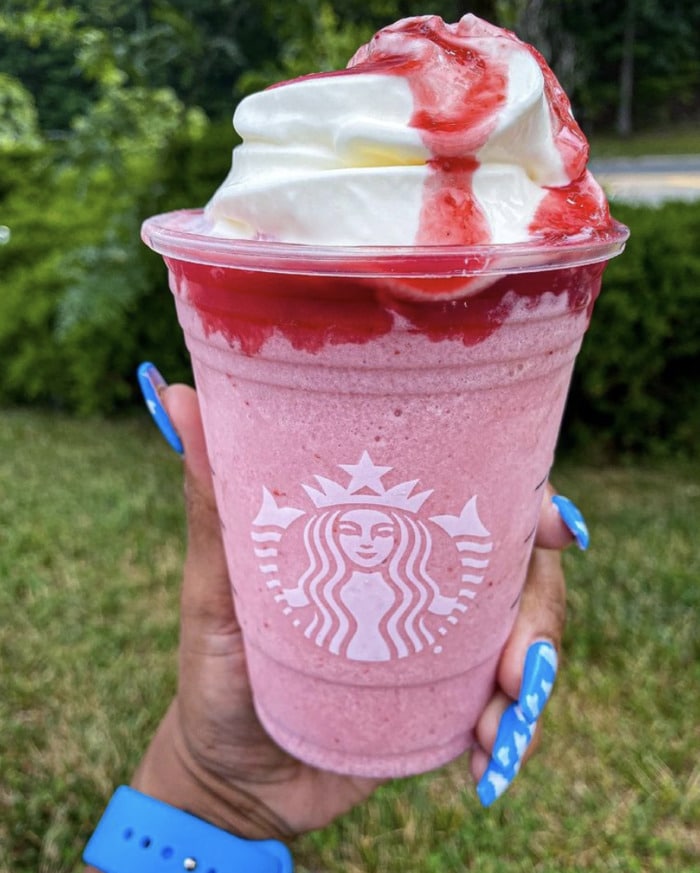 21. Starbucks Green Drink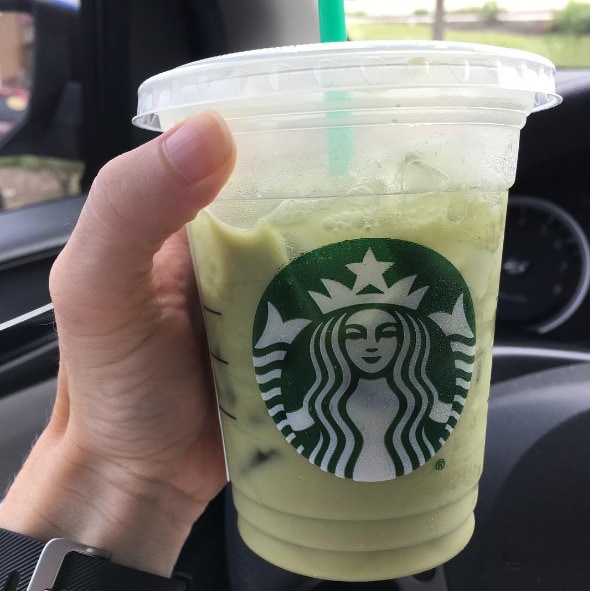 22. Spring Blossom Frappuccino
Order a Vanilla Bean Crème Frappuccino with whipped cream
Ask for a splash of Passion Tango Tea
Ask for a pump of white mocha and raspberry syrup
Ask for matcha around the cup and on top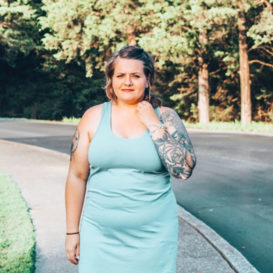 Latest posts by Ashley Hubbard
(see all)