If you needed another reason to fly around the world trying great food, this list of queer chefs is a great excuse.
It's no secret that the culinary world is pretty male-dominated, and the trope of the kind-of-hot-but-super-mean cis-het white male chef plays out in so many movies and TVs shows is getting a little old. Since we like fresh takes as much as we love fresh food, we're here to shine a light on the queer kitchen wizards changing the culinary game. And, making fire food while they're at it.
From Top Chef Queen Melissa King to up-and-coming chefs like Ashleigh Shanti, this list of queer chefs you need to know about will introduce you to great cuisiniers, delicious food, and maybe even your new culinary crush.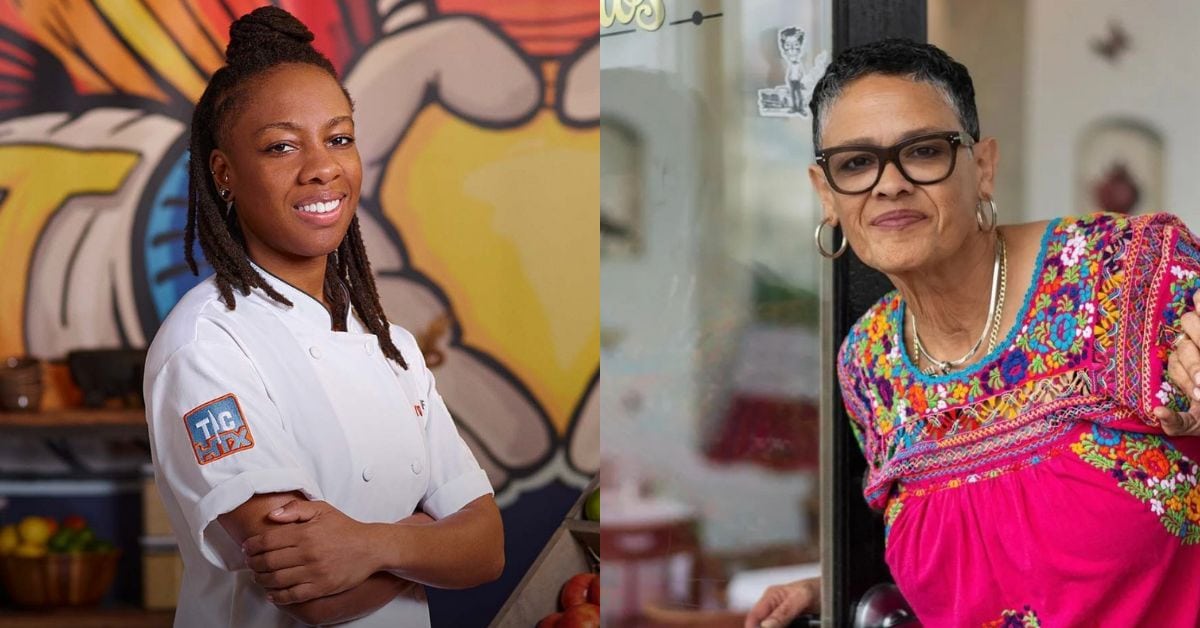 13 Queer Chefs You Need To Know About
1. Silvana Salcido Esparza
Known for her mastery of regional Mexican cuisine, Chef Silvana Salcido Esparza opened Barrio Cafe in Phoenix, Arizona with her life partner in 2002. And, it's still going strong with a menu that features mouthwatering dishes like smoked mole-topped enchiladas and Yucatan cochinita pibil.
The cafe's website says it all: "Do not be fooled by copies. There is only one Barrio Cafe." Take that, Kinkos.
2. Melissa King
Chef Melissa King, winner of Top Chef All Stars Season 17, is simply everything. She is the host of Hulu's Tasting Wild and is known for combining traditionally Asian flavors with California cuisine.
King was also the chef for the 2023 Met Gala, and served up an outfit that was as immaculate as her cooking. Fashion and food? Some people really can do it all.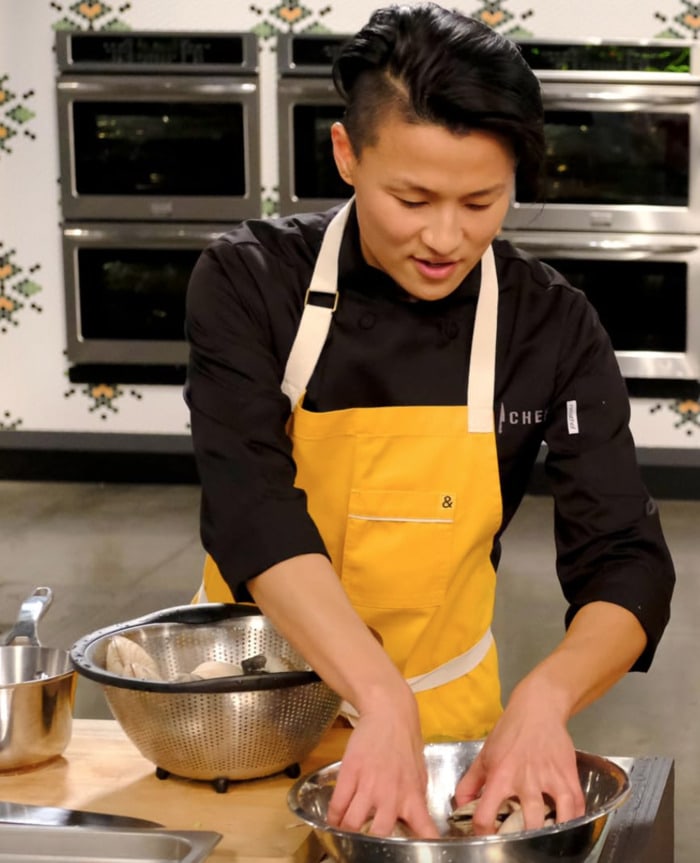 3. Surbhi Sahni
After working in some of Manhattan's most upscale Indian restaurants, Chef Surbhi Sahni now owns and runs her own home-style Indian spot, TAGMO. Oh, and it's a Michelin-listed restaurant, by the way. Those tire people really know what they're talking about.
4. Kristen Kish
Chef Kristen Kish was the first woman of color to win Top Chef when she took the title in season 10. From there, she hosted Fast Foodies and Iron Chef, became the mastermind behind the Austin, Texas restaurant Arlo Grey, and published a cookbook. And we can barely get out of bed in the morning.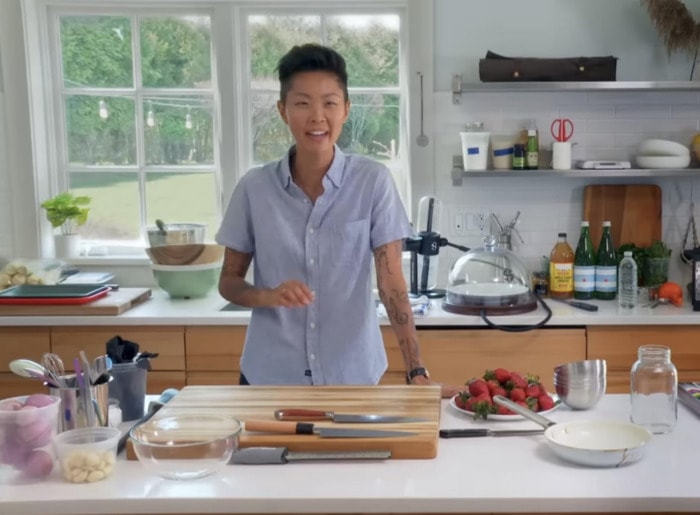 5. Lazarus Lynch
This two-time Chopped champion has culinary excellence in his blood. Chef Lazarus Lynch grew up around soul food at his father's Queens, New York restaurant, Baby Sister's Soul Food. That inspired his cookbook, and continuing passion to support the next generation of chefs.
Chefs supporting chefs, with a side of soul food? We'll take a plate of that.
6. Dominique Crenn
In 2018, Chef Dominique Crenn became the first woman chef in the U.S. to earn three Michelin stars (um, whoa), and runs Petit Crenn and Atelier Crenn in San Francisco. She also uses her voice to speak out about the discrimination women face in the field, and celebrate the contributions of marginalized communities. Watch your step from all that shattered glass.
7. Ashleigh Shanti
Chef Ashleigh Shanti is on her way up, so keep an eye on this one. At only 30, she's already a Top Chef alum, and was a 2020 finalist for the James Beard "Rising Star Chef of the Year." award. She runs a fish fry popup in Good Hot Fish in Asheville, North Carolina, and we've already booked our table, so see you there?
8. Gregory Gourdet
This guy is up to some cool stuff. Chef Gregory Gourdet (you might recognize him from Top Chef, too…) runs Kann in Portland, Oregon, a restaurant that honors his Haitian heritage. He's also authored a cookbook, Everyone's Table: Global Recipes for Modern Health, which he hopes will make healthy eating more accessible to all.
If anyone can make us eat our veggies, it's Gourdet. Anything for Daddy.
9. Laine Myers
After starting her big-time career at Nota Bene in Richmond, Virginia, Chef Laine Myers opened a popup called Oro. She now runs Oro full-time with her partner, where pasta, fresh produce, and queerness is integral to how they do things. Now if only her cooking could be integral to our life, we would be set.
10. Yotam Ottolenghi
Icon doesn't begin to cover it. Chef Yotam Ottolenghi's cookbooks are wildly successful, and his influence is felt across the North American and European culinary scenes. He also runs several delis in London, so that's one more reason to book your ticket. (Stopping at the Ted Lasso bar is another reason.)
11. Ritu Dalmia
Though Chef Ritu Dalmia is a powerhouse in the kitchen, cooking inventive Indian and Italian cuisine for years, she's also making social justice moves. In 2016, Dalmia joined four others petitioning India's Supreme Court to overturn a law which made being LGBTQ illegal, and in 2018 the law was declared unconstitutional. We can only imagine what that celebratory dinner was like.
12. Niki Nakayama
Male chefs may dominate the world of Japanese cuisine, but that didn't stop Chef Niki Nakayama from joining their ranks. Her restaurant, n/naka, has two Michelin stars, and her wife, Carol Iida-Nakayama is her sous chef. We can taste the love.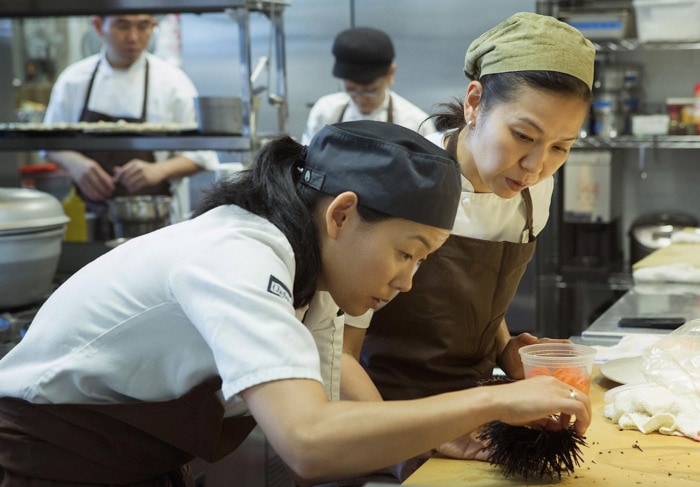 13. James Beard
The man himself! Today, the most prestigious culinary awards carry Chef James Beard's name. He wrote many cookbooks, and shared his rich experience with up-and-coming chefs at culinary schools across the country before he passed in 1985.
Beard was gay, but quite private about this given it was not widely accepted at the time. So, let's celebrate his legacy a little extra for not only pioneering excellent cuisine but also being the ultimate queer representation in the culinary world. Go Chef Beard!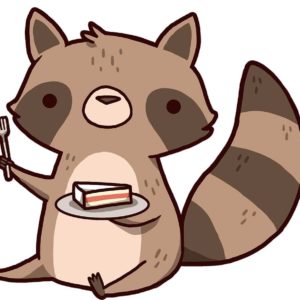 Latest posts by Julia Taliesin
(see all)