It's almost the jolliest season of the year. And no, we don't mean pumpkin spice season. We're talking about the holiday season. And all the holiday spirits that come with it. What better way to hold those holiday spirits than with one of these Christmas mugs?
From pun mugs to references to your favorite movies and pop culture, these Christmas mugs are perfect.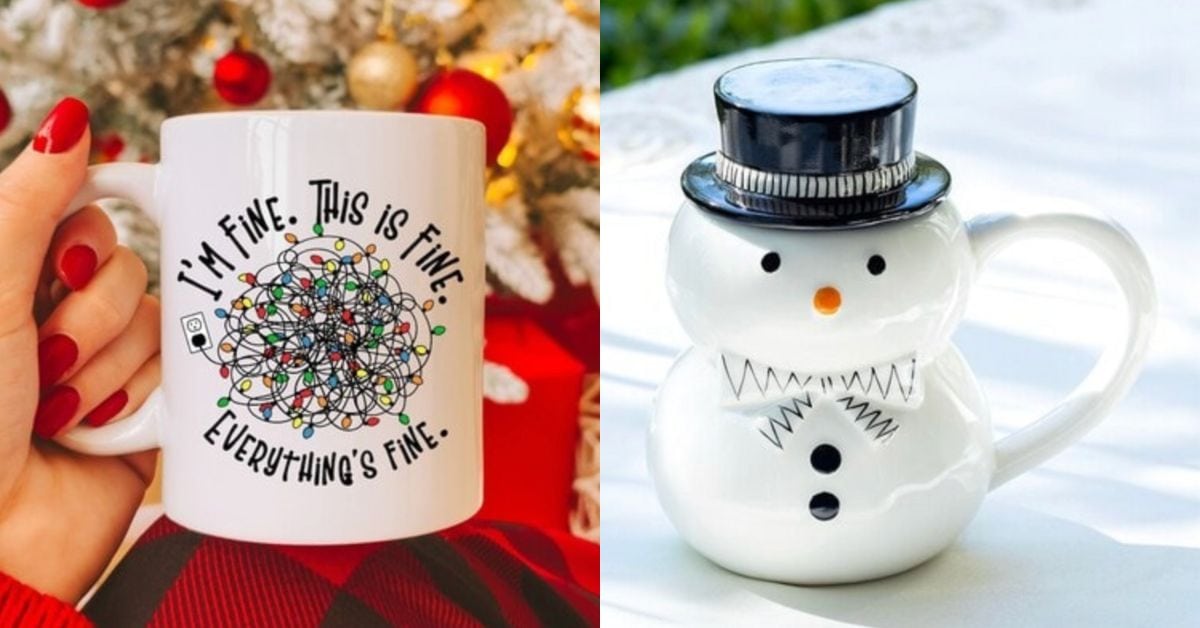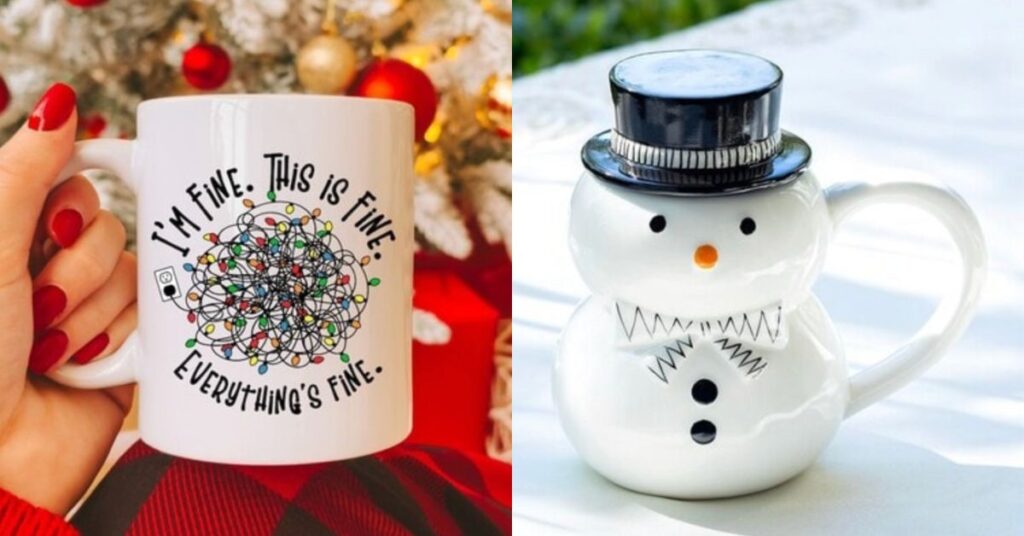 These jolly glasses are fit for hunkering down for your annual rewatch of National Lampoon's Christmas Vacation with hot cocoa, and ignoring your aunt's nosy questions about your love life with a fourth cup of eggnog.
Just remember: eggnog before cocoa, never been sicker. Cocoa before eggnog, you're in the clear. We know it doesn't rhyme, but we're still right.
25 Funny and Festive Christmas Mugs
1. Taylor Swift Christmas Mug, $31.73
All we know is our Christmas era begins on November 1 every year. Tour dates tbd.
Available on Etsy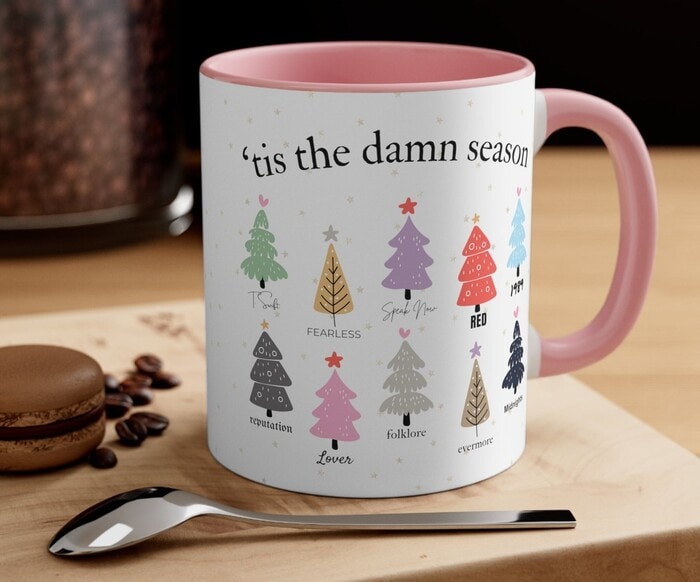 2. Gingerbread House Lidded Ceramic Mug, $12.99
Some of us make whole gingerbread villages every Christmas. Others end up chucking their gingerbread house against a wall because the icing. Will. Not. Dry! For those people, there's this mug.
Available on Etsy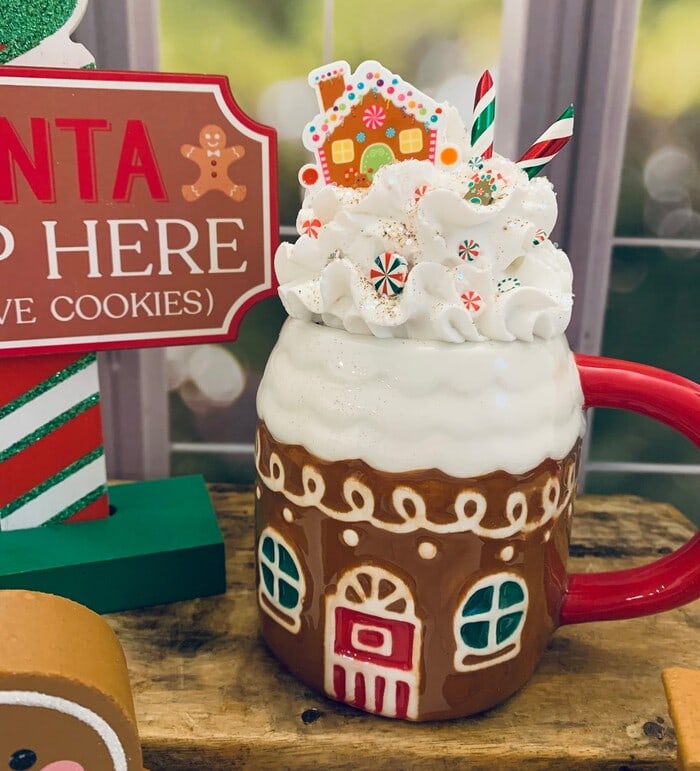 3. Colorful Vintage Mug, $10.99+
This mug gives us major Christmas-witch vibes. Can someone cast a spell to make Christmas last forever? Or at least the vacation time?
Available on Etsy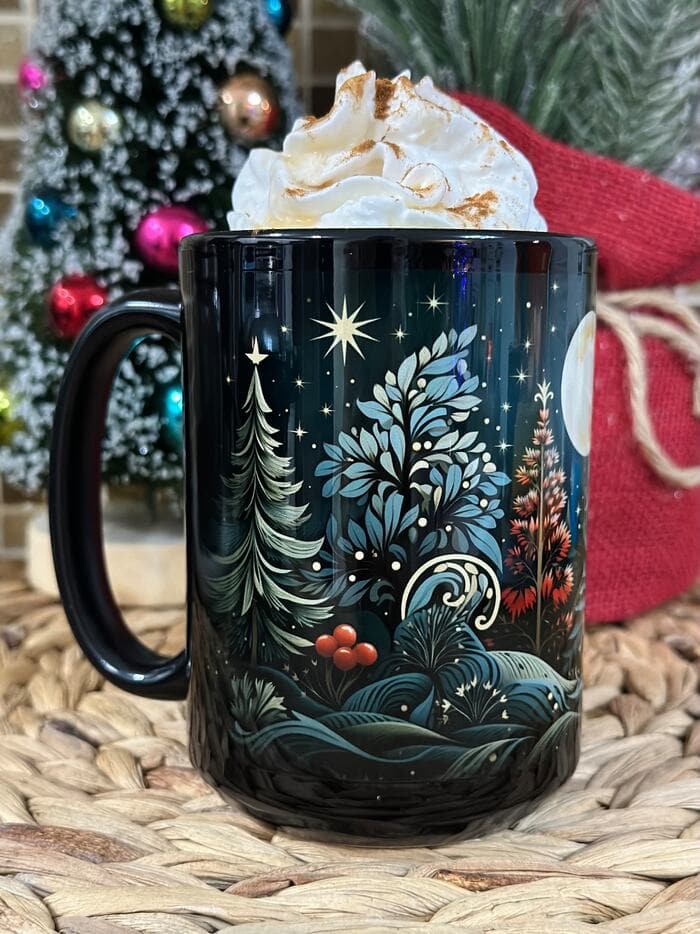 4. Christmas Chicken Light Mug, $14.99+
What's the official animal of Christmas? If you said reindeer, you clearly haven't seen a chicken wrapped in Christmas lights before.
Available on Etsy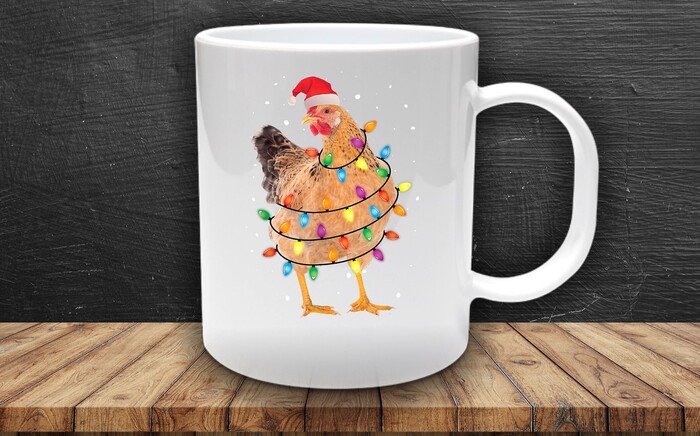 5 .Whoville Drip Mug, $35.00
This Grinch mug is, dare we say, as good as roast beast. Or maybe better, depending on what's in it. Peppermint Mocha?
Available on Etsy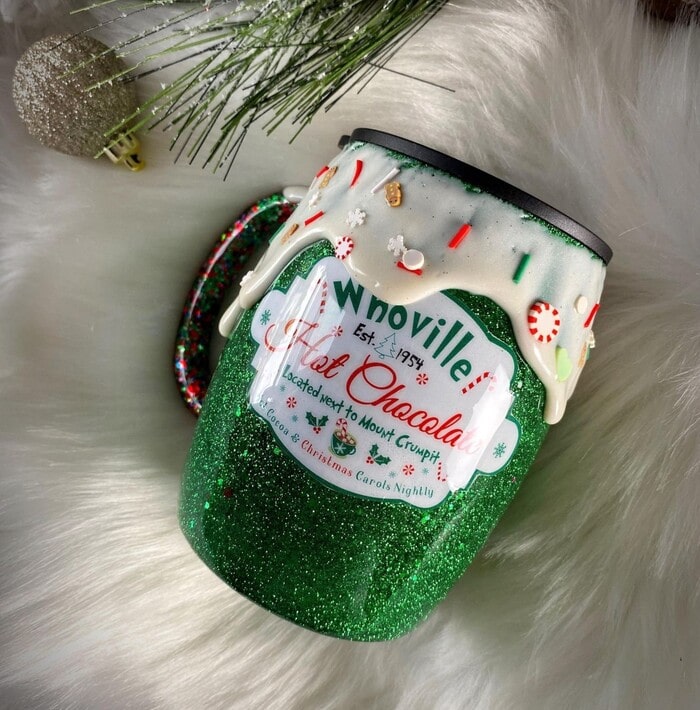 6. Christmas Houses Mug, $10.99
You see a peaceful Christmas scene. But we all know that inside those houses is someone's uncle telling them why their generation sucks. Thankfully, this mug also can hold alcohol.
Available on Etsy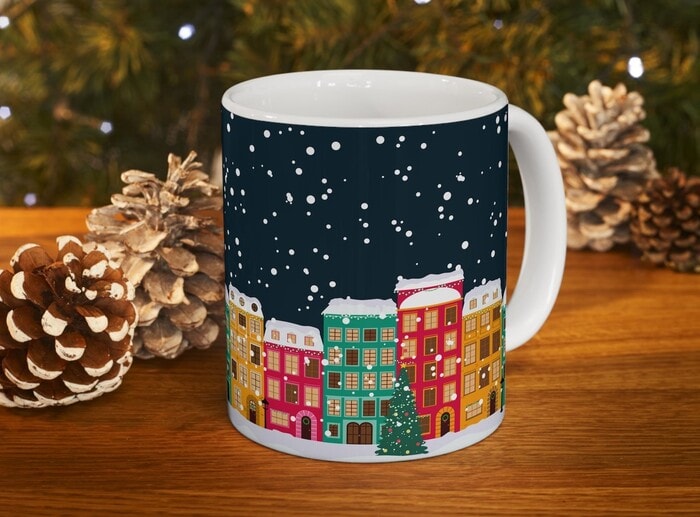 7. Filthy Animal Coffee Mug
Macaulay Culkin may be 43, but the spirit of Home Alone lasts forever…wait, Macaulay Culkin is 43? We need to go lie down.
Available on Etsy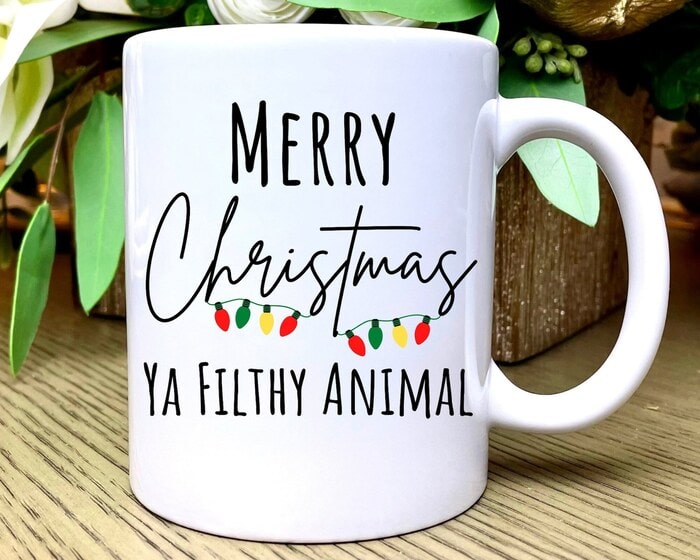 8. Jolliest Bunch of A-Holes This Side of the Nuthouse Mug, $12.99+
If you say, "Hallelujah! Holy s–t! Where's the Tylenol?" every Christmas, this mug is for you. Here's hoping you have the hap-hap-happiest Christmas since Bing Crosby tap-danced with Danny effing Kaye.
Available on Etsy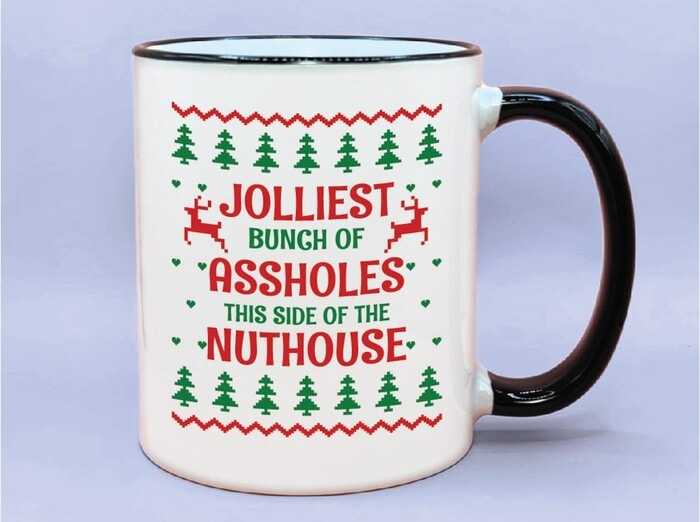 9. Grinch I'm Booked Mug, $25.98+
Canceling dinner with yourself? You can't do that again. Plus, it's the perfect excuse to get out of Christmas dinner with the in-laws.
Available on Etsy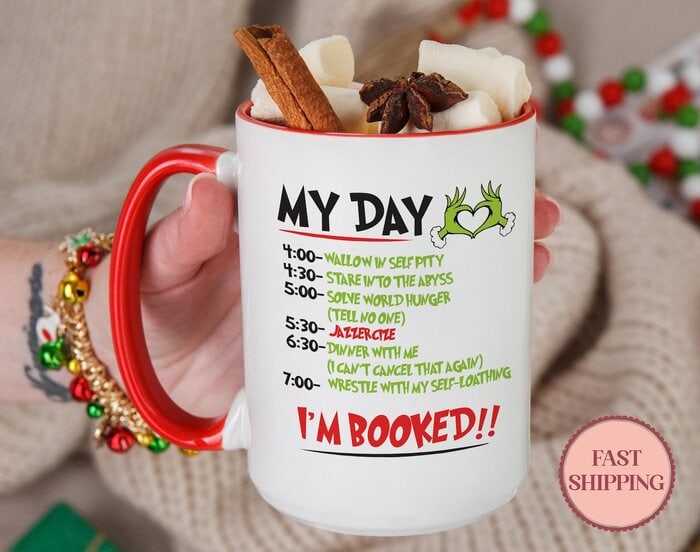 10. Peppermint Swirl Christmas Mug, $40.00+
All that glitters isn't gold. Sometimes, it's peppermint swirl.
Available on Etsy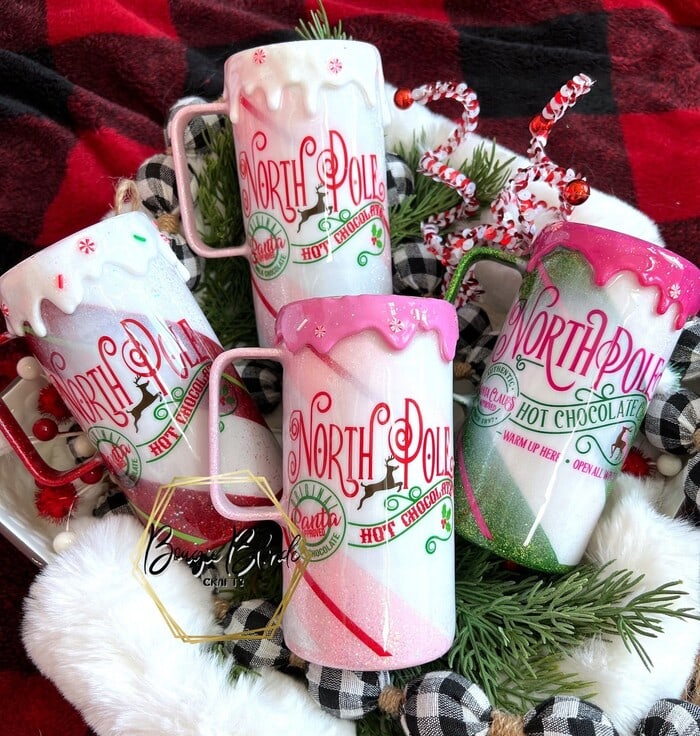 11. Griswold's Tree Farm Mug, $15.59+
If you recall the good ol' days when your father made you chop down the family Christmas tree despite your eyes being frozen, you should get this mug for him for Christmas. And maybe some family therapy for all of you.
Available on Etsy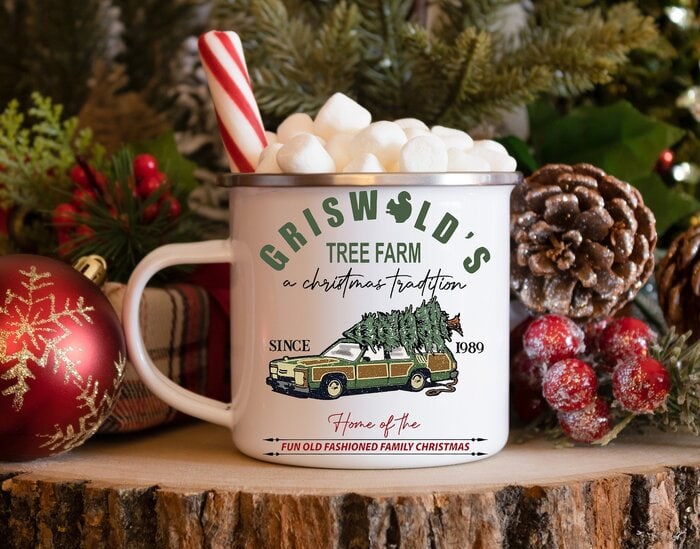 12. Bye, Buddy, Hope You Find Your Dad Mug, $20.99+
May you have a Christmas as magical as Mr. Narwhal. And, if not, at least you have this neat mug.
Available on Etsy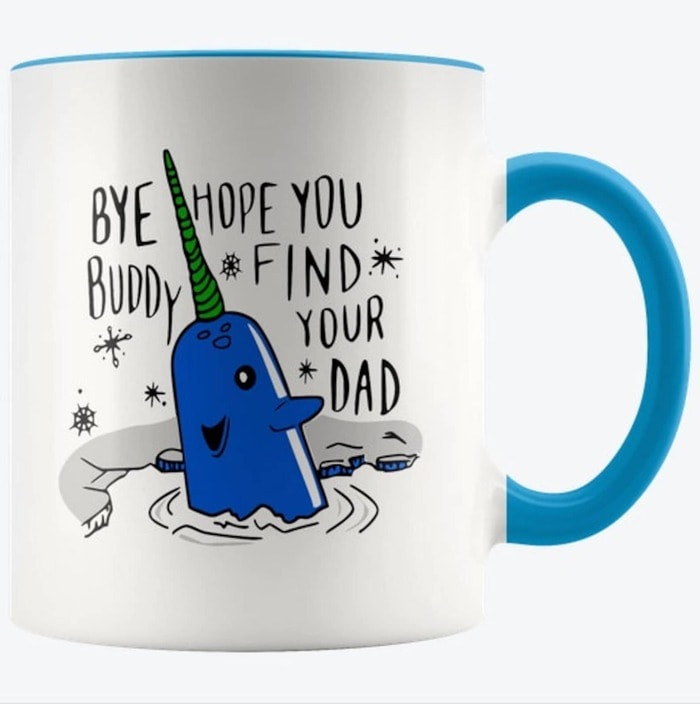 13. Town Square Christmas Mug, $14.95
There's a certain old school charm about this mug. You know, like elder Millennials.
Available at Williams Sonoma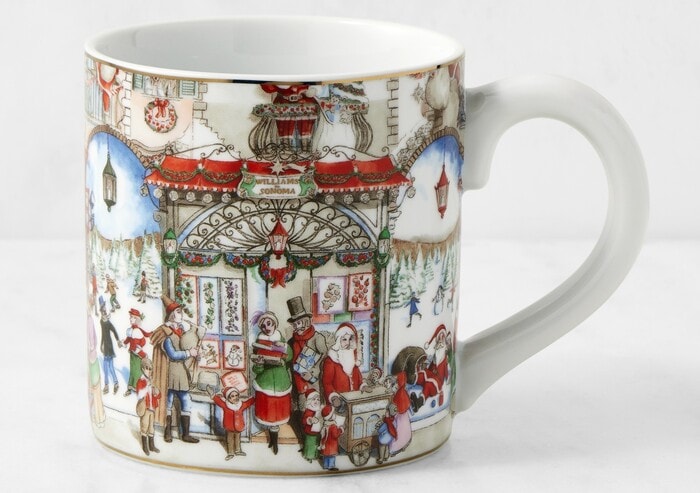 14. National Lampoon's Christmas Vacation Quotes Mug, $15.00+
This gift is perfect for those who know that it's the holidays and we're all in misery. Just don't buy this mug for Grace.
Available on Etsy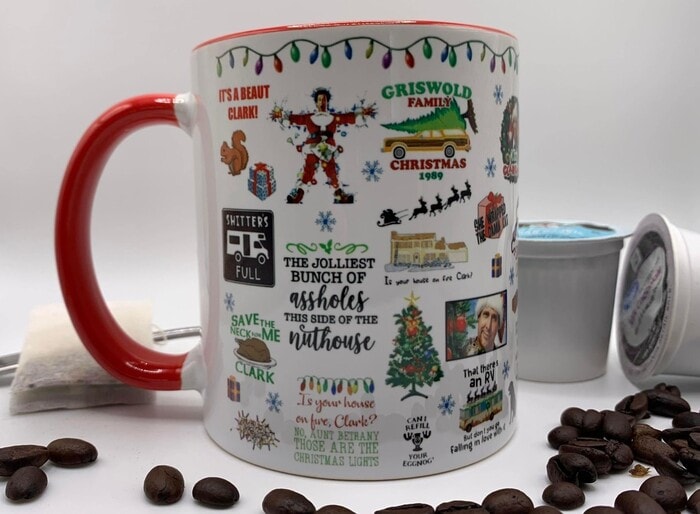 15. Elf Quotes Mug, $19.89
Look, we're not big on swearing, but if you don't like this mug, you're a cotton-headed ninny muggin. There, we said it.
Available on Etsy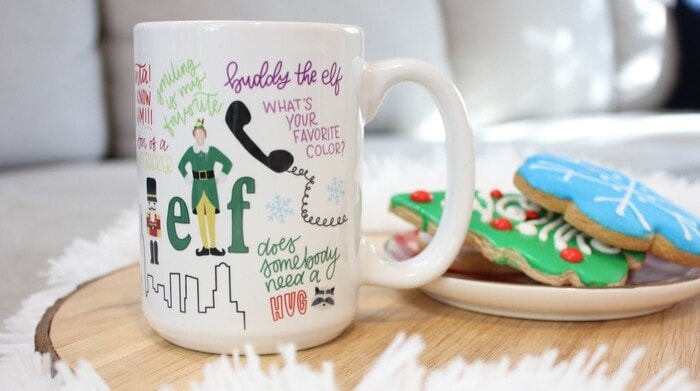 16. Nakatomi Corporation Christmas Party Mug, $18.35+
We don't want to hear anything about Die Hard not being a Christmas movie. If you argue with us about it, we only have one thing to say: "Yippee-ki-yay, you ninny muggins."
There, that's two Christmas movies in one quote. Welcome to the party, pal.
Available on Etsy

17. Sugarplum Nutcracker Handle Ceramic Mug, $8.99
Nutcracker is both our favorite Japanese game show (Supernatural fans know) and one of our favorite Christmas decorations. But we'll admit the game show is more fun.
Available at World Market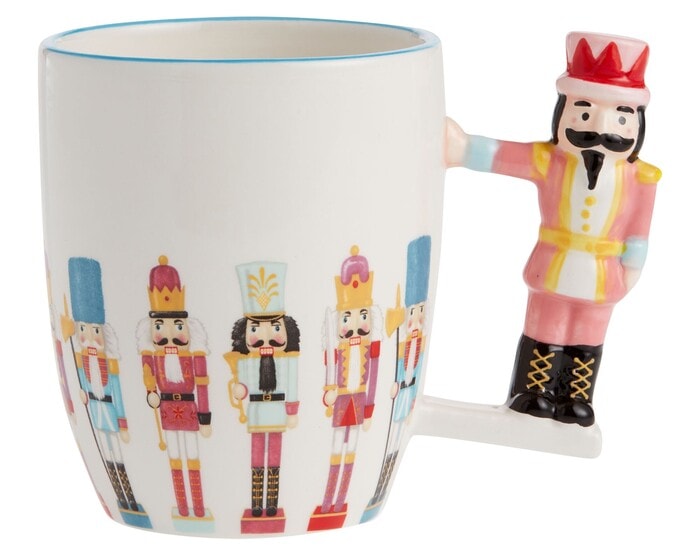 18. Charlie Brown Christmas Mug, $11.24
We're all the little tree from the Charlie Brown Christmas special sometimes. We're misunderstood, unappreciated, and need a little help standing up. Particularly after too many eggnogs.
Available on Etsy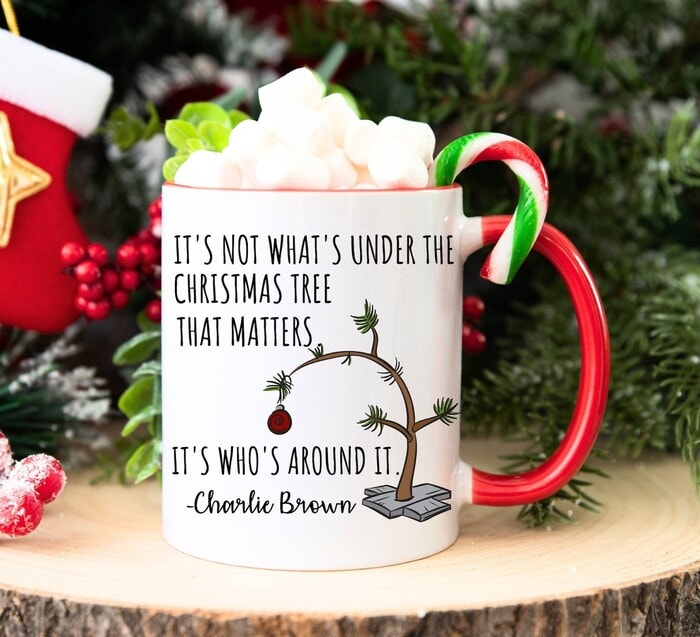 19. Polar Bear Christmas Mug, $16.95
Just try not to think about the fact that in about 50 years, your grandkids are gonna ask what the heck a polar bear is when they see this mug. Fa-la-la-la-la.
Available at Williams Sonoma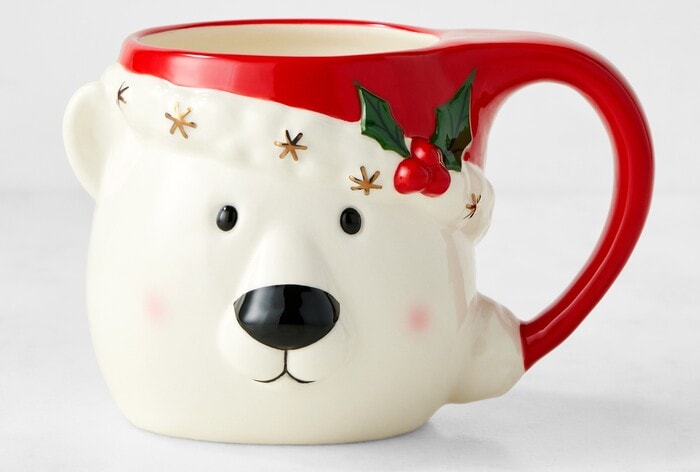 20. Disney Main Street Sleigh Ride Mug, $23.00+
They'd kick us out of Walt Disney World if we attempted to sleigh down Main Street. But what a way to go.
Available on Etsy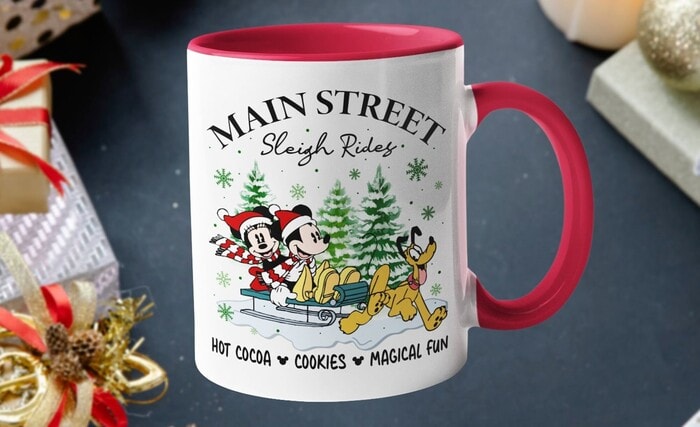 21. Gingerbread Cookies Ceramic Mug, $100.22+
Run, run, as fast as you can. You can't catch me because we're on my twelfth cup of coffee today and we can currently taste colors.
Available on Etsy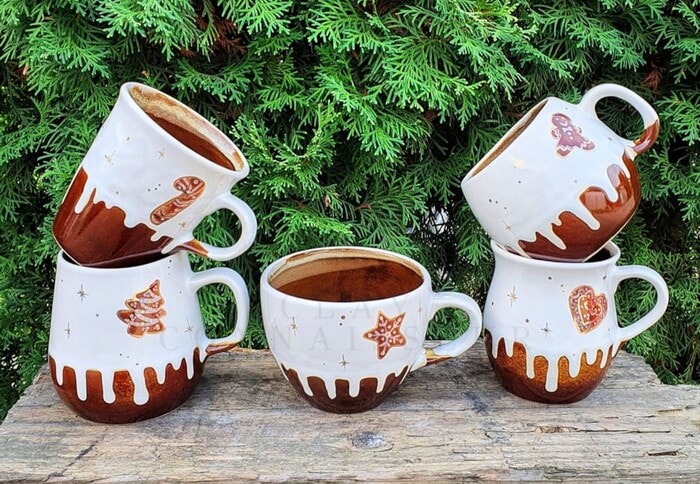 22. Tangled Christmas Lights Mug, $20.99
Does anyone else think Krampus sneaks into people's houses after Christmas just to tangle their lights up for next year?
Available on Etsy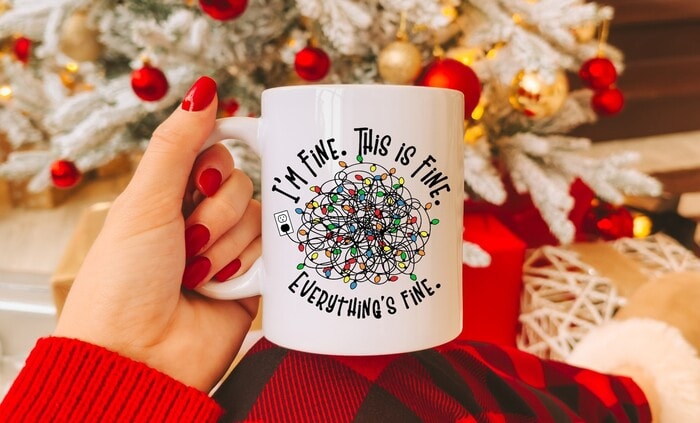 23. Lidded Snowman Mug, $15.00+
This snowman is the coolest guy around. We can't believe you didn't laugh at that. Snow wonder you're gonna get coal this Christmas.
Available on Etsy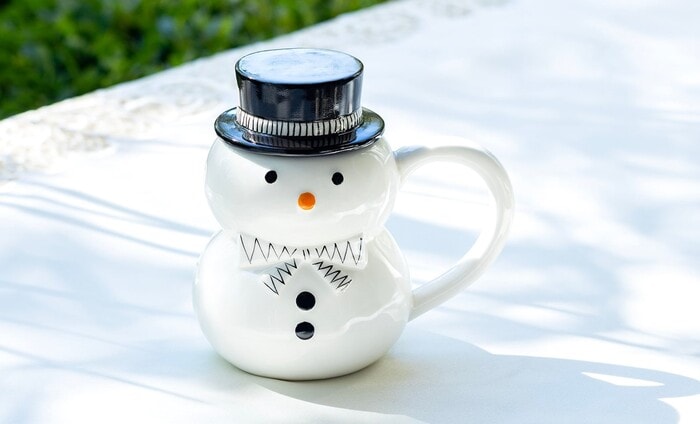 24. Skeleton Christmas Mug, $14.99+
Does the idea of hanging up Christmas lights make you feel dead inside? You should get that checked out. Also, here's a mug.
Available on Etsy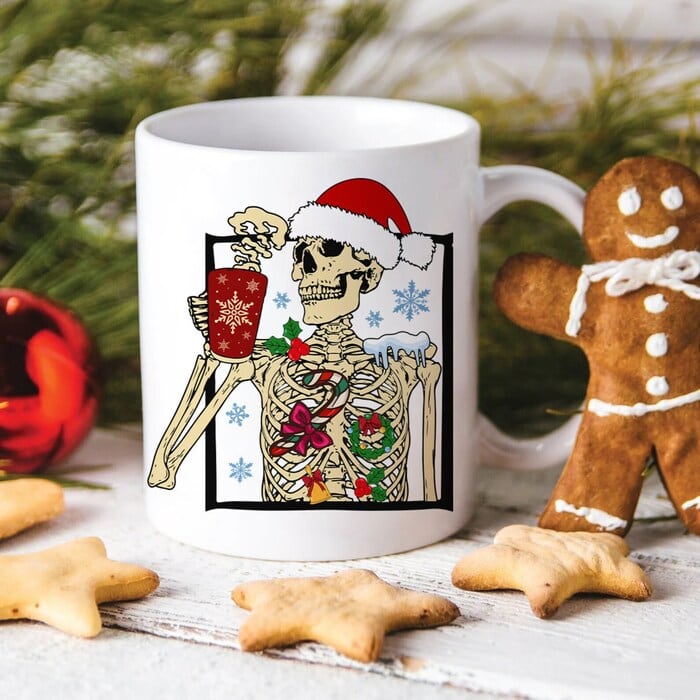 25. Disney Classics Mug and Coaster Set, $29.99
If seeing Stitch on Christmas doesn't fill you with joy, you're probably a Universal Studios fan.
Available at Shop Disney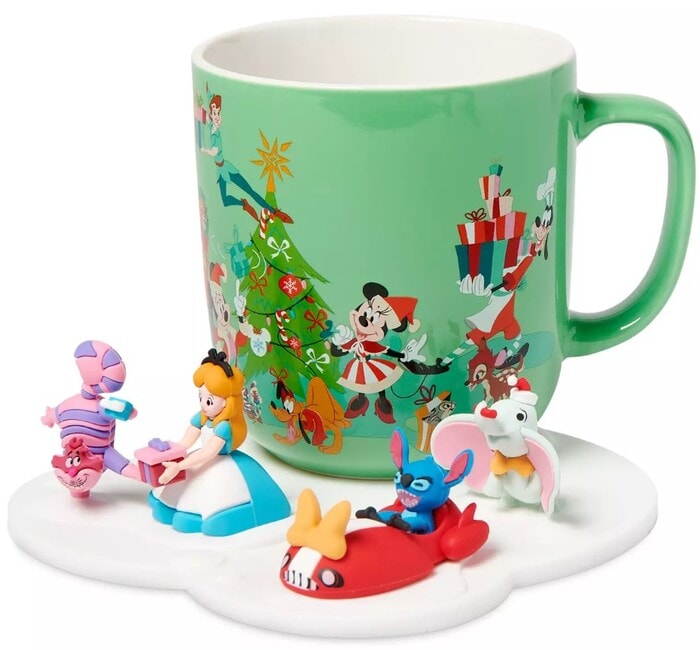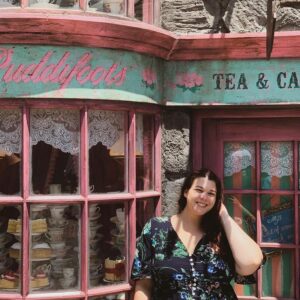 Latest posts by Jacqueline Gualtieri
(see all)