This spooky season, all your favorite ice cream shops are dusting off the cobwebs of their special Halloween ice cream flavors. Some are even creating new ones for 2023.
From Cold Stone's frightfully nostalgic black Cookie Dough Ice Cream with bits of Halloween candy to the Dia de Los Muertos-inspired scoops at Salt & Straw made with tamales, all the options will delight you.
Except maybe the ice cream made with bugs. That one depends entirely on your personal palate. Here's a look at some of our favorites.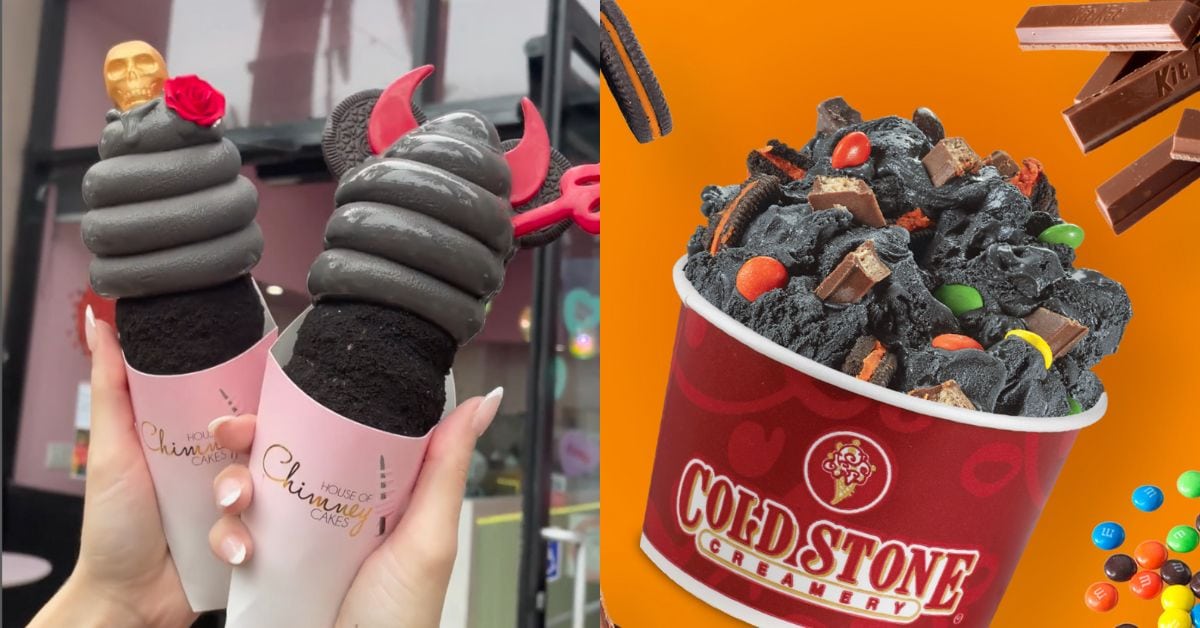 Where to Go For Halloween Ice Cream This October
1. Baskin Robbins: Apple Cider Donut Ice Cream
What screams scary time more than apple cider? Er, a lot of things. Anyway, Baskin Robbins' Apple Cider Donut ice cream has a base of apple cider then has Apple Cider flavored donut pieces and cinnamon sugar swirls mixed in.
Unlike poison apples, these scoops aren't going to harm you unless you eat about a dozen like we did.
2. Baskin Robbins: Pumpkin Cheesecake
Pumpkin and cheesecake are a match made in heaven. For this fall ice cream, Baskin also added chunks of ginger snap cookies and warming cinnamon and you've got something to die for. Just make sure you can come back from the dead to eat more, of course.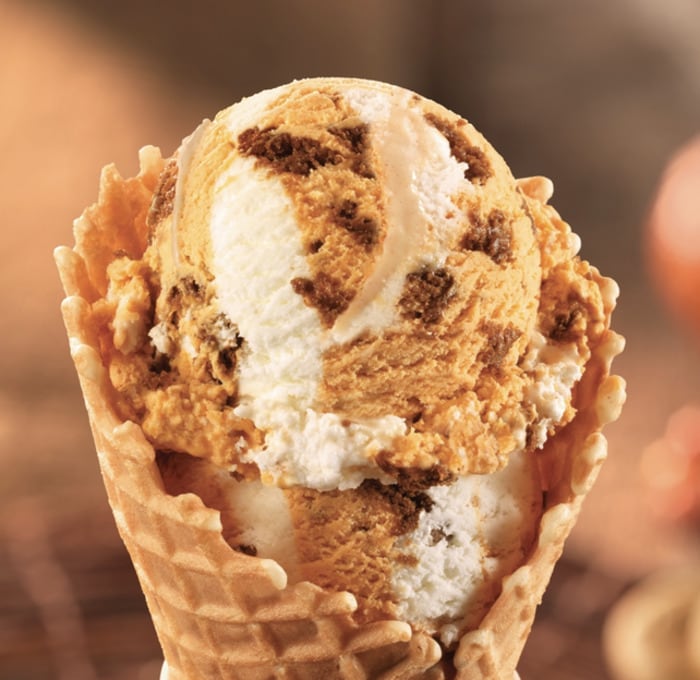 3. Cold Stone Creamery: Boo Batter Ice Cream
What can be better than having your favorite Halloween candies, such as Oreos, M&M's, and Kit Kats mixed into delectable black cookie dough ice cream called Boo Batter?
Practically nothing else on Earth, though trick or treating in a space suit comes close.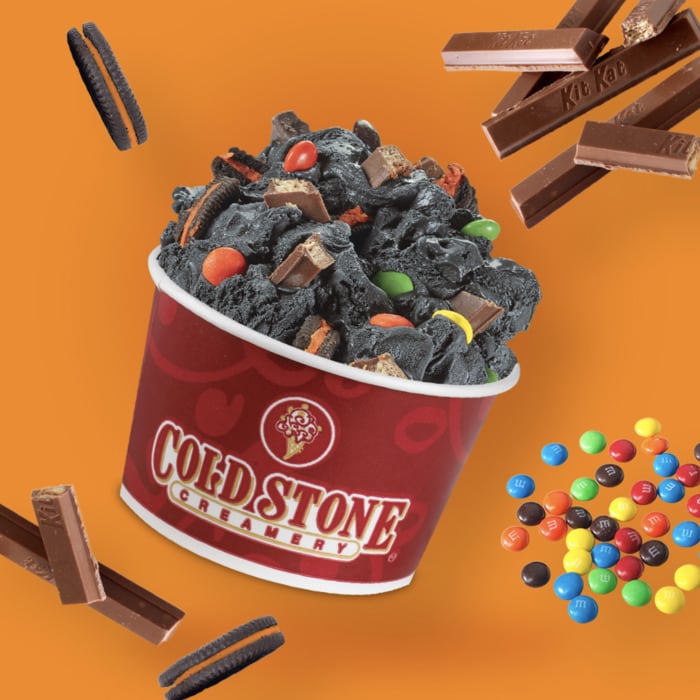 4. Salt & Straw: Scoops And Skulls Ice Cream Series
This spooky season just got spookier with the new Scoops And Skulls series by Salt & Straw. This year, they've introduced two brand new flavors inspired by Dia de Los Muertos.
The Great Candycopia: Imagine a combination of Reese's, Kit Kats, Snickers, and Heath bars mixed in with butterscotch ice cream. This flavor is off the charts!
Jack o' Lantern Pumpkin Bread: With cream cheese frosting, bits of pumpkin bread, and a lot of holiday spice, this flavor will enchant you until it turns into, no, wait, nevermind it's already a pumpkin.
Don Bugito's Creepy Crawly Critters: Inspired by Prehispanic flavors, Don Bugito's Creepy Crawly Critters flavor is made with mealworms and matcha. Mmmm. Real matcha.
Chocolate Champurrado w/ Sesame Toffee: Inspired by the Mexican holiday Dia de los Muertos (Day of the Dead), this flavor will have you drowning in chocolate and sesame toffee. In a good way.
Blackberry Tamales: This vegan flavor is another tip of the hat to Dia de los Muertos and packs rich masa (cornmeal), coconut cream sherbet, and tart marionberry sherbet. If you love tamales, or great ice cream, you'll really dig this flavor. If not, might we recommend Superman?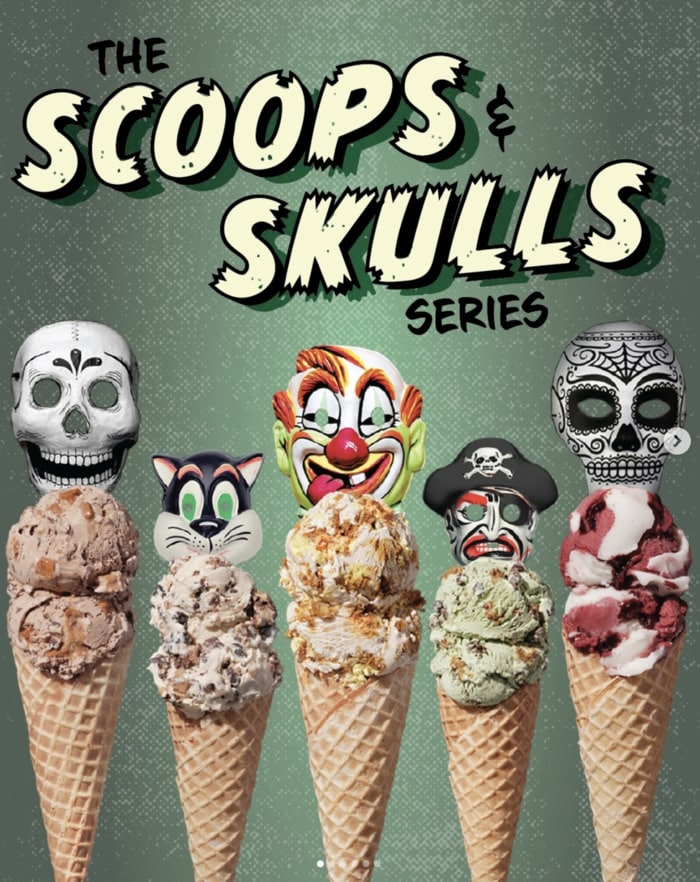 5. Museum of Ice Cream's Museum of I Scream
Visit New York's Museum of Ice Cream this October and enjoy one of their spooky treats. The clever and inspiring space and its famous sprinkle pool is at it again this year with eyeballs, bats, and edible coffins toppings.
Here's a reminder for the uninitiated. You can eat unlimited ice cream at the Museum of Ice Cream as long as you buy that magic entry ticket. If you don't know, now you know. And knowing is half the battle (the other is remembering to bring your Lactaid).
6. Disney
If you're visiting Disney World this during Halloween Time try one of each of these flavors at Plaza Ice Cream Parlor, the park's most popular place for ice cream.
Ice Cream Cookie Sandwich: Jet-black cookies come doused in sprinkles with your choice of ice cream flavor smashed in between. Well, any ice cream flavor they have.
Apple Fritter Sundae: Tasty apple fritters covered in your favorite ice cream? And whipped cream and sprinkles? We're getting some Halloween party ideas.
7. Chimney Cakes
Wow! What screams Halloween more than the House of Chimney Cakes' build-your-own Halloween ice creams? This ice cream chain, with locations in Anaheim, Dearborn, and Houston lets you choose your flavor and add your favorite ghoulish toppings like devil horns, wings, and skulls.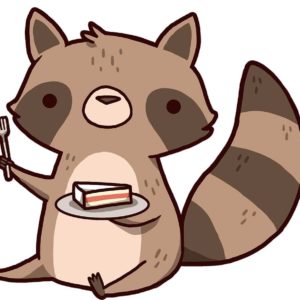 Latest posts by Matthew Dursum
(see all)