We don't always get excited about cooking and baking, but when it's Halloween party food, we are into it. We live for a theme, so we especially love food that is basically in costume. It's an indisputable fact that when a meal is either cute or scary, it tastes better.
We still prefer the chicken nuggets shaped like dinosaurs, why do you ask?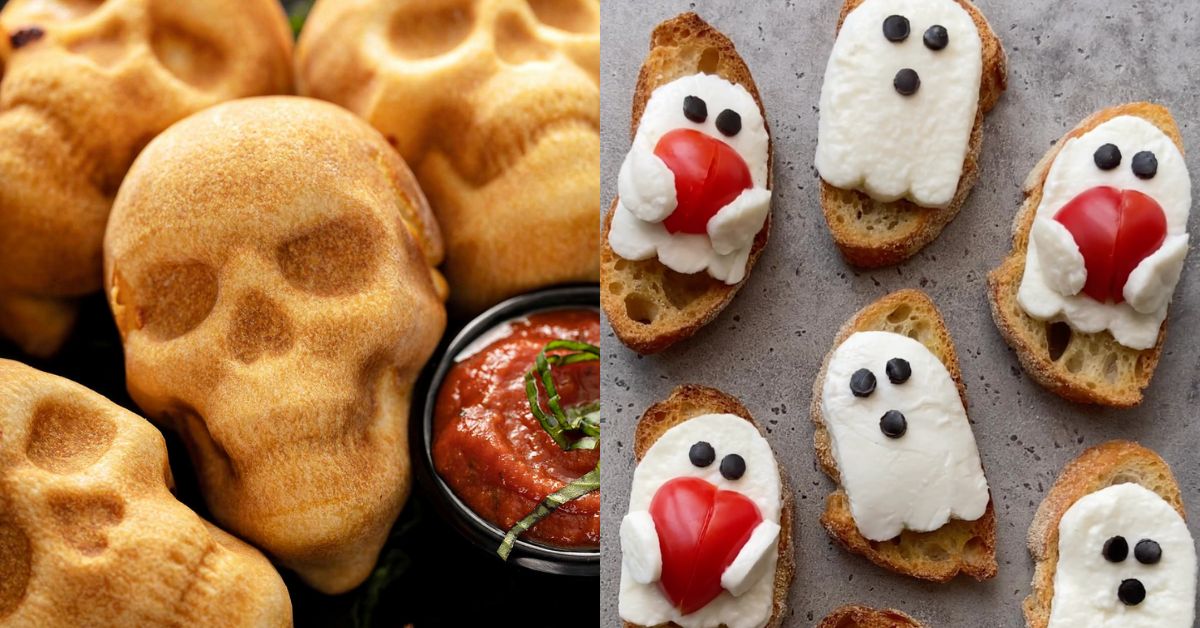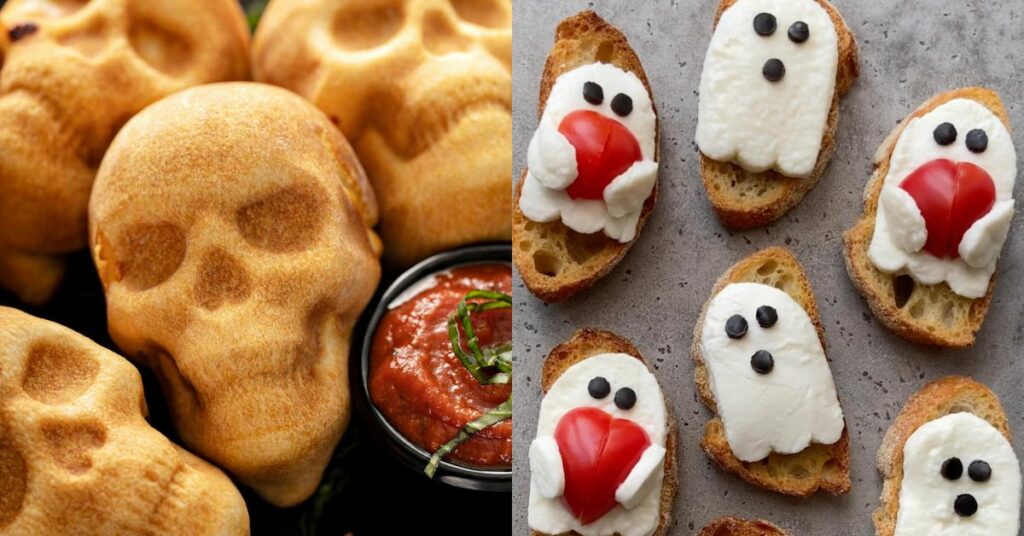 As we get older, we become even more appreciative of the little things, and your party guests are sure to love these Halloween party food recipes. Hey, you might even inspire a friend to eat their veggies with zucchini shaped like skeletons and carrots with ghostly googly eyes.
Unless you also bake the Halloween cupcakes. Then all bets are off.
50 Halloween Party Food Ideas
1. Halloween Puppy Chow
Chex Mix is already a party fave, but getting to smear it all with chocolate and peanut butter? Now that's an party.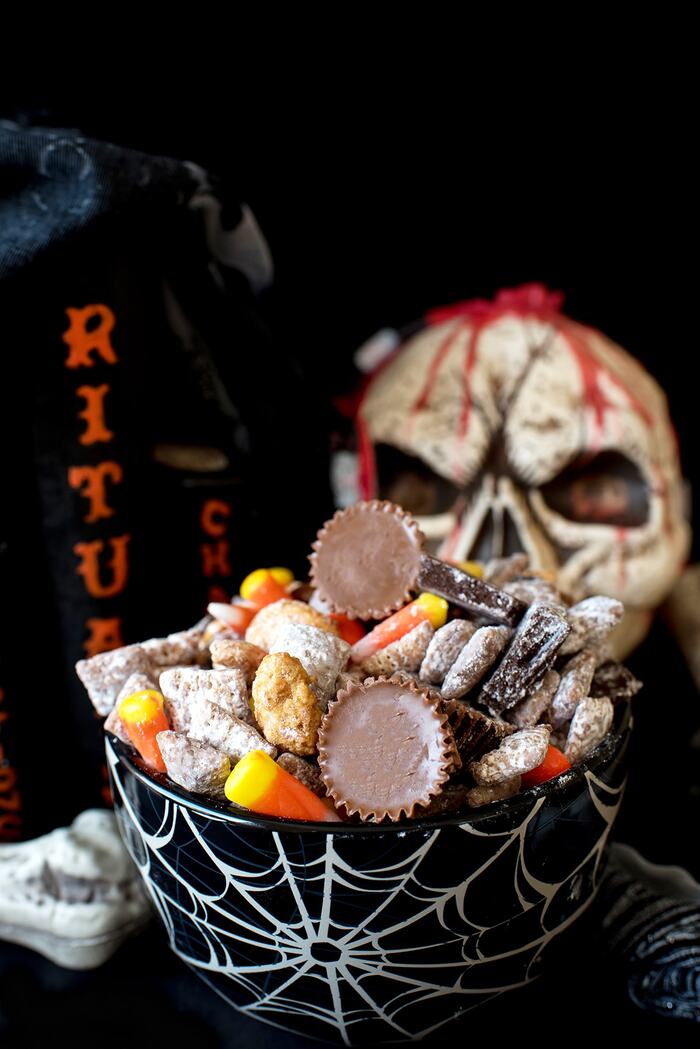 2. Pizza Skulls
These pizza skulls look tricky to make, but the only trick is using this Skull cakelet pan. And the recipe is the same as a pizza, except with the toppings on the inside. So we'll call them "middlings." Get Merriam-Webster on the phone.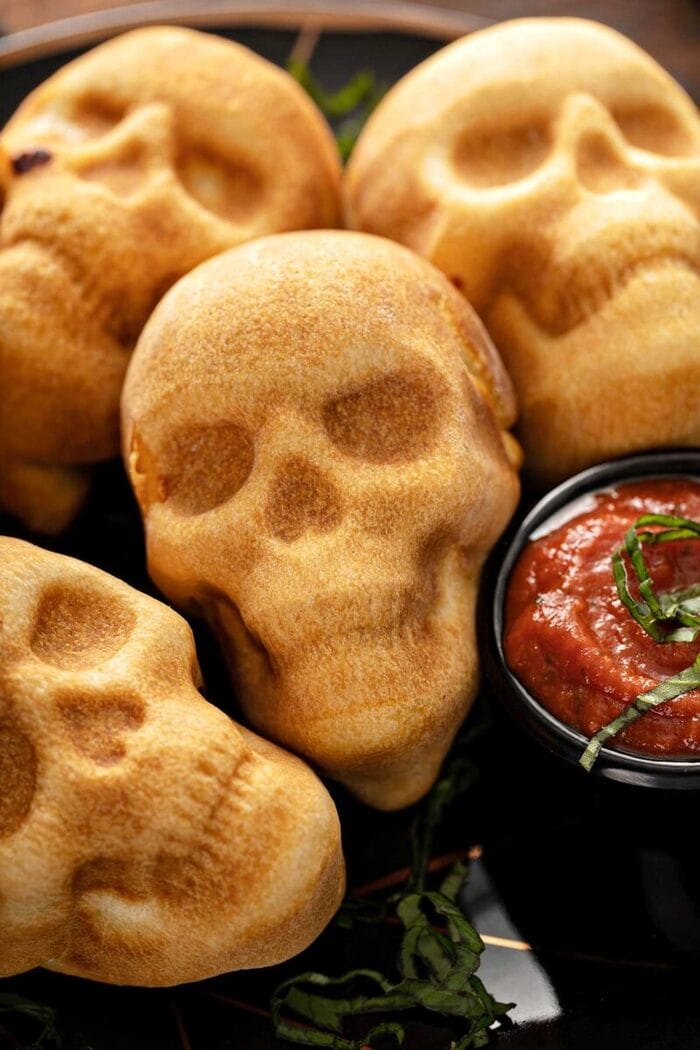 3. Ghost Crostini
These ghosts are definitely the most—the ones we most want to take big cheesy bites out of, that is.
If we eat enough crostinis, it's a meal, right? We'll make them disappear as we whisper "girl dinner" into the abyss.
4. Barbiecore Halloween Apples
Since you know most of your party guests will be dressing as Barbies and Kens, you may as well plan ahead and serve these Barbie pink apples. Just make sure to save one for Allan. You can give him Ken's, tbh.
https://www.instagram.com/p/CxVjWx5sdUC/
5. Halloween Party Cake Pops
Everyone loves a cake pop. Especially that one guy who dressed as Harry Potter but forgot his magic wand. Rookie move.
6. Halloween Oreo Bat Truffles
Eating bats is generally not a great idea, but we'll allow it for these chocolatey creatures of the night. Just rush your fangs when you're done.
7. S'mores Monster Treats Cupcakes
These monsters are so colorful and cheerful they're more like muppets than boogeymen. Although we were always a little scared of Dr. Teeth.
8. Scream Cheese Board
There are certain rules that one must abide by in order to create a successful cheese board. And we'll follow all of them if it means we get to stuff our Ghostface with brie.
9. Halloween Charcuterie Boards
This Halloween charcuterie board showcases a ton of spooky grazing boards, and we want to try all of them. The guacamole witch is our favorite, although the last time we dipped our chips in a witch's face we ended up cursed for all eternity. Eh, worth it.
10. Evil Spooky Eye Appetizers
We've always wanted a snack that reminds us of the cow eyes we skipped class to avoid dissecting in school. It was either that or suffer through Jake throwing one down our shirt, saying, "I see your boobies!" He's a CEO now.
11. Zucchini Skull Pasta
Even your picky little nephew will gleefully eat his veggies if they're shaped like skulls. It works on us. Can someone make some skull-shaped Brussels sprouts?
12. Mushroom Dessert Terrarium
We want to put this on the windowsill and wait for faeries and frogs to move into it. Actually, we want to move into it. Back off with that spoon.
13. Mummy Hot Dogs
Watch out for the Mummy's curse. Which is a tummy ache, after eating too many hot dogs. We can't help it, they give us cute aggression.
14. Deviled Spider Eggs
Deviled eggs are our easy go-to for a potluck, so look for these on our menu. After we've spent four hours meticulously slicing olives, that is. That's not paprika, that's our blood.
15. Scary Green Apple Slices
These goofy guys look like they just sucked on green apple Jolly Ranchers. We've made that face many times, and are making it right now. We might be stuck like this.
16. Spooky Chocolate Strawberries
Can you hear it? You can hear it, can't you? "Cause I'm an Island Boy …"
17. Creepy Cheesy Witches Fingers
We love cheese, but we're not sure we can get over our onuxophobia fast enough to actually try these.
18. Frankenstein and Bride of Frankenstein Madeline Cookies
Madelines used to remind us of Proust, but we're perfectly happy to swap that association for these horrifyingly cute monsters. As long as they don't smell like a creature made of sewn together body parts. Um, nom?
19. Skull French Dip Sandwiches
We love this recipe because these fun skulls don't need to be confined to partnering with a French dip. Once you've mastered making them, you can dip them into any damn thing you please. Well, not anything. Leave our margarita alone.
20. Halloween Veggie Plate
These veggies are all adorable, but we especially love the jack o'lantern peppers. We're going to try that for our tiny house porch this year, with a birthday candle inside each one. Nah, it's not our birthday. Why?
21. Halloween Monster Donuts
What's the word for that feeling when you see something awesome and it turns out to be so easy. So then you're like "why didn't I think of that?" That word is how we feel about these Halloween donuts.
22. Spooky Fridge Cake
This fridge cake is lovely and spooky in the best ways, but good luck explaining to an American what a "digestive biscuit" is, and that yes, they are actually yummy.
23. Witches Broom Puff Pastries
These puff pastries make delightful little brooms, be we see them as being versatile. Throw a couple googly eyes on there, and you've got some tentacle-brandishing Cthulhuoid nightmares to chomp on. Which is…a good thing?
24. Monster Rice Krispies
Little ones will devour these, if they don't devour them first. What's Halloween without a little danger?
25. Halloween Bark
All you need for this Halloween bark recipe is some leftover candy and lots of chocolate. Perfect excuse to pretend you're not home on Halloween and hoard all the candy for yourself.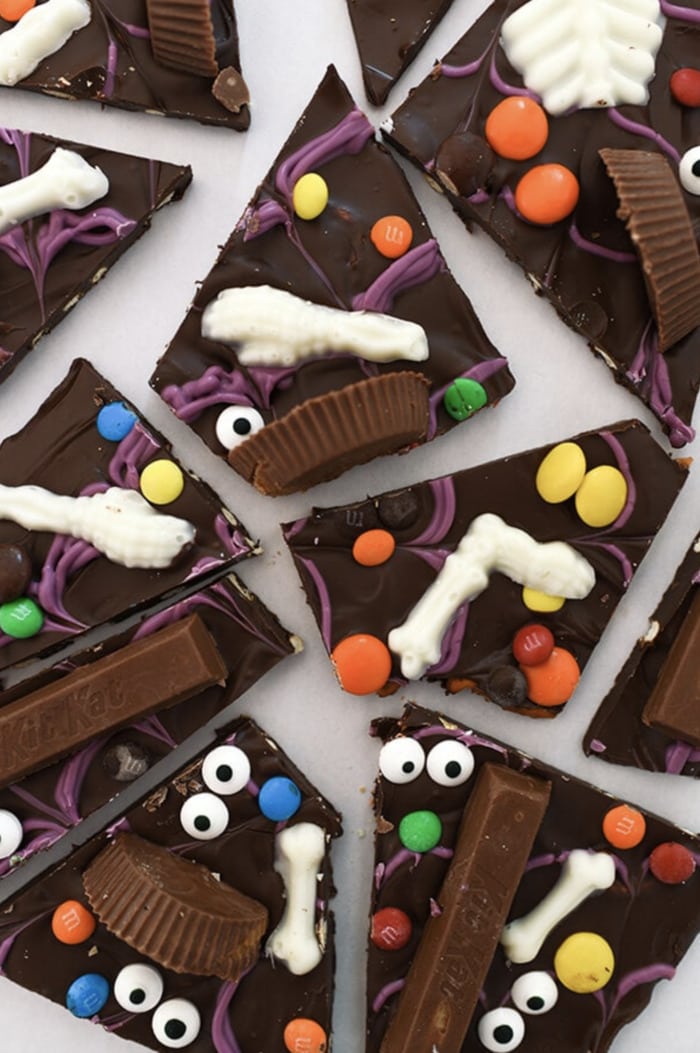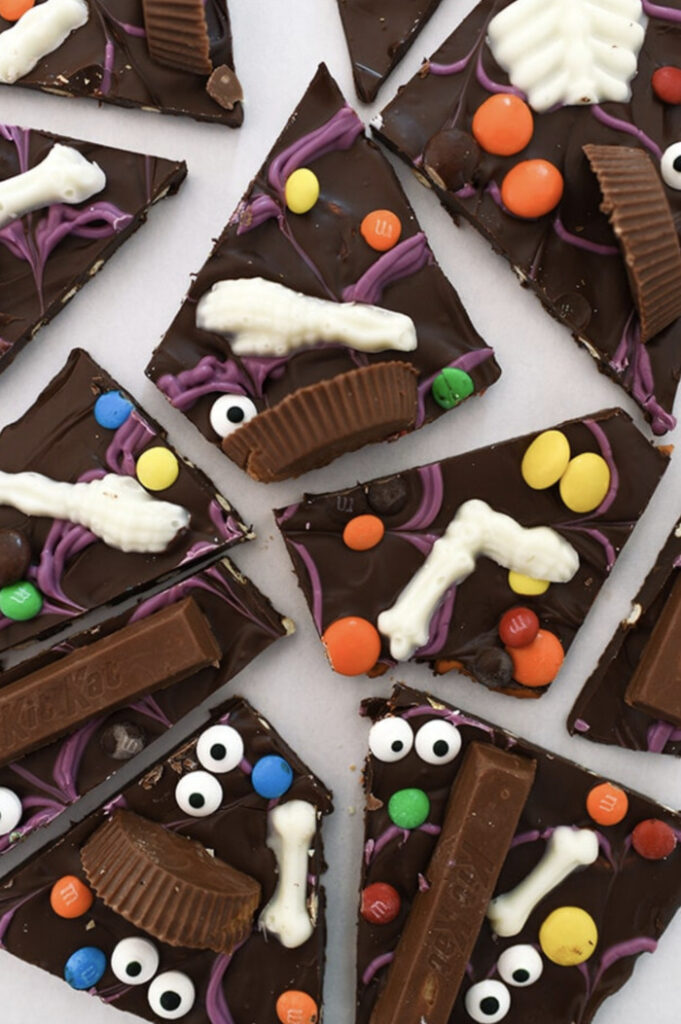 26. Chocolate Spider Webs
These can't be as easy as they look, can they? If so, we're just going to be eating them every day. Spiders exist every day, they don't just come out on Halloween. We're fine. It's fine. Coping mechanism who?
27. Frankenstein Chips and Guac
This is the first Halloween recipe we've found that just uses a Sharpie, and we're impressed by how clever it is. And imagining so many other options. Like, banana pudding with a Minion face? DM us if you want the list.
28. Boo! Carrot Plate
We totally support spooky healthy snacks at home, but just don't be that person who gives out bags of baby carrots to trick-or-treaters. They know where you live.
29. Skeleton Elote Platter
Skeleton? Elote? Two of our favorite things. But this looks actually terrifying. Perfect for any vegetarians who want to indulge a cannibal fantasy. They're obvious candidates for those.
30. Spiderweb Brownies
There is basically nothing you can do to a brownie to make it bad. It's like bad pizza—still pizza. And these ethereal little cobwebs only make them better.
31. Jason Taco Pie
We are definitely going to try this tortilla slasher tribute. But remember, all those beans can and will come back to haunt you at least as many times as Jason returns.
32. Spooky Peanut Butter Cookies
We may not be able to source the Australian cookies used in this recipe, but we think we can make it work with other cookies. Send the Girl Scouts our way until we find a connection Down Under. And, just because.
33. Frankenstein's Bakery Halloween Cookies
These patchwork cookies manage to invoke Frankenstein's monster without being too exacting. We'll save this recipe for those days when we can't find our glasses.
34. Pumpkin Pepperoni Pizza
We've been making pepperoni pizza practically our whole lives and have never thought to use the topping in an artistic way. Clearly we took it to heart when our parents told us not to play with our food. Add that to the therapy agenda.
35. Halloween Swiss Roll Cake
We don't even know what's happening here. While this recipe might to be too technical for us to figure out, we're happy for the smartypants out there who can make this happen. And we'll be right over.
36. IT Clown Charcuterie Board
As lactose intolerants, we're grateful that someone has finally figured out a way to keep us far away from that cheese board at parties. It's the veggies. *shudder*
37. Blueberry Ghosts
You know that old vampire folklore that they have a counting compulsion and can be stopped in their tracks if you scatter rice or seeds in their path? We feel like they would also find this recipe very satisfying.
You don't know it? What kind of childhood stories did you read?
38. Rocky Horror Road
We were disappointed that we didn't see a bowl of glittery ice cream with a raised Tim Curry eyebrow when we saw the name of this. But this baked dessert made up for it with deliciousness.
39. Mushroom Skull Focaccia
Don't mind us, we're just changing into our flowy maxi dress and layering with a crocheted shawl before cutting into this fairy tale of a focaccia. And we lived happily ever after. Until the mushroom skull hit.
40. Eyeball Spaghetti and Meatballs
All hail the Flying Spaghetti Monster! And then let's all eat them.
41. Halloween Hand Pies
These fruity pies have "BOO" cut into them, which is perfect for a Halloween gathering, or for asking your new Hinge match if he wants to make things official.
42. Ghostie Guacamole Plate
The only trick to this treat is making your own tortilla chips, which we've been wanting to do anyway. Or maybe we'll just go to Trader Joe's.
43. Pumpkin Cheesecake Truffles
Is there anything cream cheese can't do? From the perfect schmear to California rolls, we love the versatility. But these sparkly, fancy pumpkins are the cutest we've seen. Uh oh, our cat just got mad again.
44. Spooky Truffle Butter Board
We get a kick out of Halloween food that looks gross but is deceptively delicious. Especially since we don't have to battle the other party guests for a bite.
45. Apple Tart
Apples are our go-to dessert ingredient when we want something a little more tart than sweet. We'll be keeping our doctor faaaaaaaaaar away by eating a metric tonne of these.
46. Snake Salad
"Salad" may be a sssstretch here, as it's really only cucumber. But sssserve this sssserpent on a bed of lettuce, and we'll allow it.
47. Skeleton Ribs
When is the next season of Yellowjackets dropping? We know what we're serving at the viewing party. Too morbid?
48. Frankenstein Brownies
All Frank wanted was to be loved and have friends. And we can do that, if he looks (and tastes) like this. The flavor is paramount. Sorry, Frank.
49. Scalped Meat Skull
Now we know what to bring when Gunter von Hagens invites us to his house-warming party.
50. Spooky Pumpkin Madeleines
When we realized 90 percent of baking is coming up with cute creative ideas, we bought a stand mixer to try some of these ourselves. And then we realized that last 10 percent is critical. Sigh.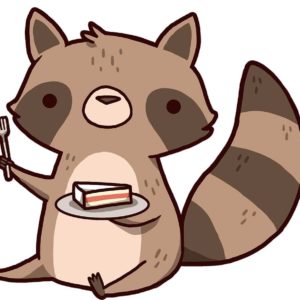 Latest posts by Christine Colby
(see all)