We were charmed when Le Creuset released their cozy orange pumpkin cocotte in years past, and saved our pennies to snap it up. Now the company has caught on that people take Halloween seriously, and the Le Creuset Autumn Collection for 2023 is overflowing with other must-have spooky options.
If you're not goth enough to need the bat stockpot or the cakelet pan with ghosts, you can still indulge your seasonal whims. Check out the apple-shaped tart dishes and the pumpkin butter dish that scratch that Fall itch without being too Monster Mash. For others (us), that limit does not exist.
Le Creuset is known for their quality and durability, which of course translates to lots of Benjamins. But the collection thankfully includes some smaller, more affordable spooky treats as well. We would say it's fine if you blow your whole paycheck on this, but then who's buying us Halloween candy?

Le Creuset Autumn Collection 2023
1. Pumpkin Cocotte, $294.99 – $368.00
This glam harvest gourd is similar to the pumpkin cocotte released previously, but the knob is shaped like a real pumpkin stem this time. It comes in classic orange as well as such colors as white, sea salt, ganache, and artichaut, whatever that is.
The price varies by color. This is why we can't have nice things (unless we have 68 extra dollars).
Available on Le Creuset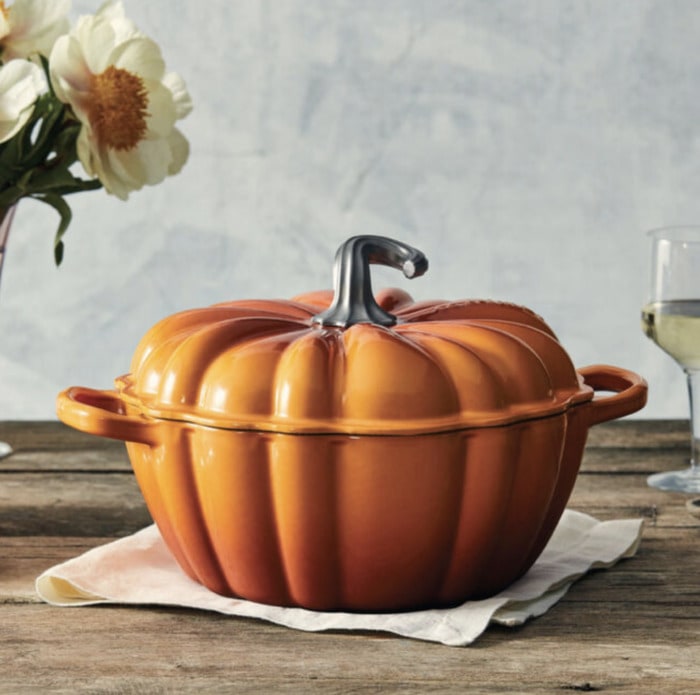 2. Pumpkin Casserole, $125
This casserole dish is the same idea as the coquette, with the same color range and realistic stem knob, but someone sat on the pumpkin and flattened it. It might have been us. Weird night last night.
You can bake casseroles in it, but it's also ideal for quiches and pies—pumpkin, of course. Is it OK to make a Key Lime pie in a pumpkin dish?
Available on Le Creuset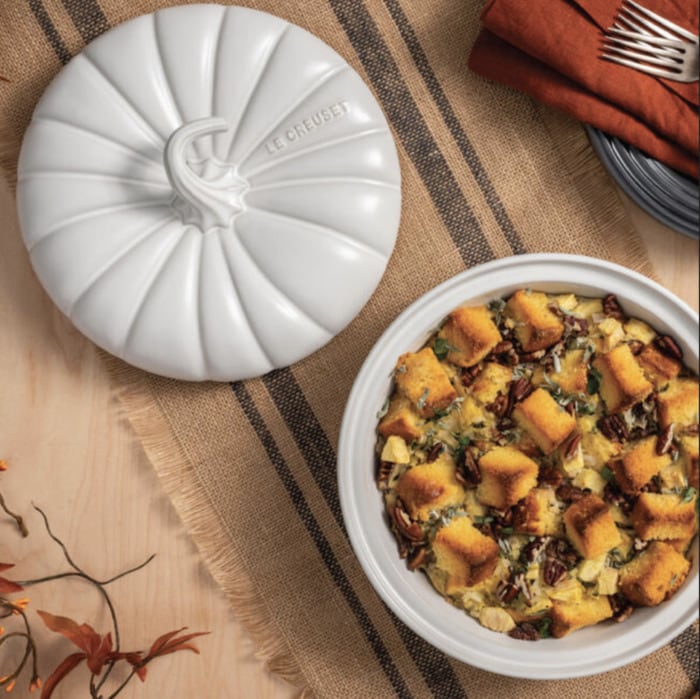 3. Pumpkin Mini Cocotte, $50
It's no surprise that this Mini Cocotte is sold out on the Le Creuset site, as the $50 price point is more affordable than most of the other pumpkin options. The single-serving size is great if you live alone.
Pumpkin cuteness for one, please. Uhh, sorry, guests.
Available on Williams-Sonoma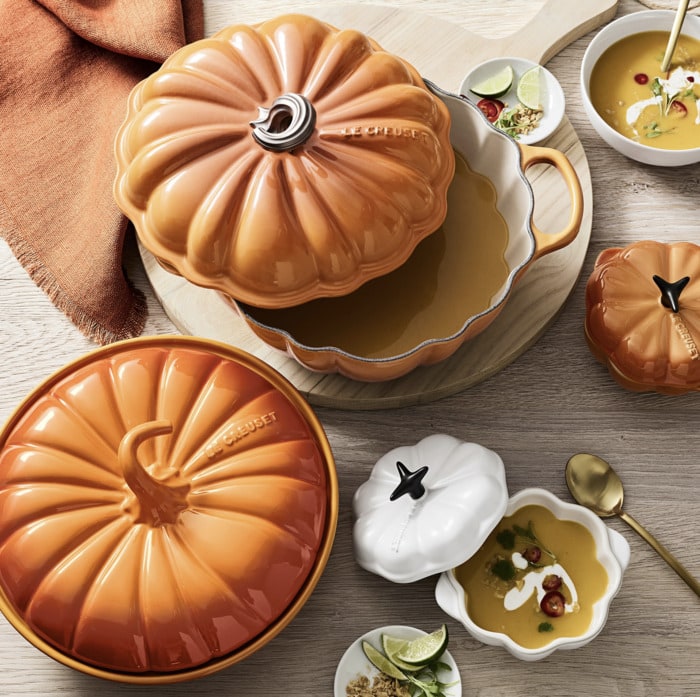 4. Pumpkin Butter Dish, $70
At the time of writing, the Persimmon color is sold out, but the White and Sea Salt are still available. This fairy tale pumpkin can also be used to bake cheese and side dishes, or to serve mousses and other desserts.
We'd never thought of using our butter dish for side quests, but now we totally will. Can it wash the dishes, too?
Available at Le Creuset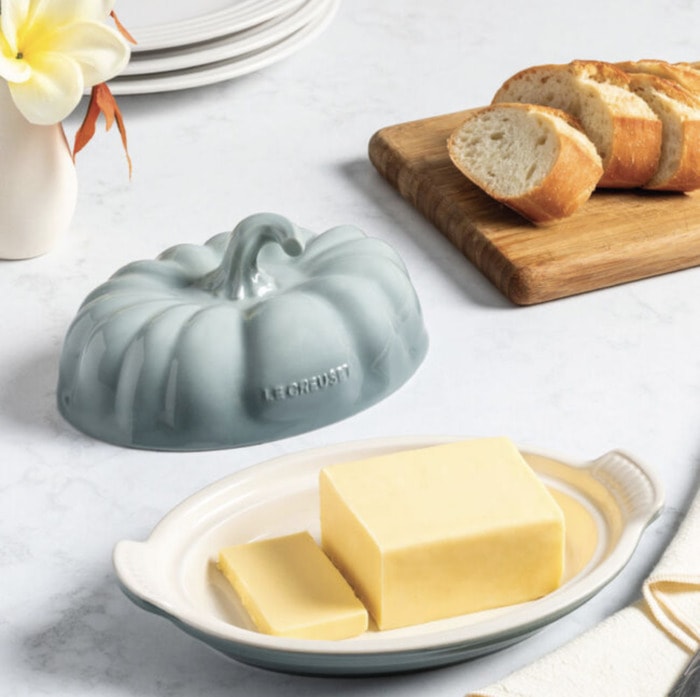 5. Bat Stockpot, $120
We don't know about you, but this enamel-coated steel Bat Stockpot is the piece de resistance of the 2023 Le Creuset Autumn Collection for us. And it's not even that expensive—for Le Creuset.
Get it on eBay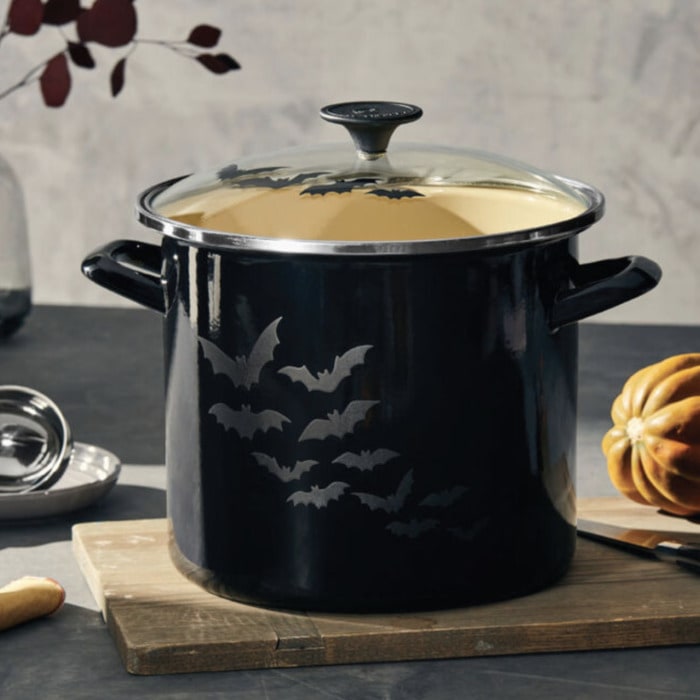 6. Bat Mini Cocotte, $32
The matte black with shiny black bats design is basically our dream for anything. Yes, we said anything, and we stand by it. …Why do you ask?
Available on eBay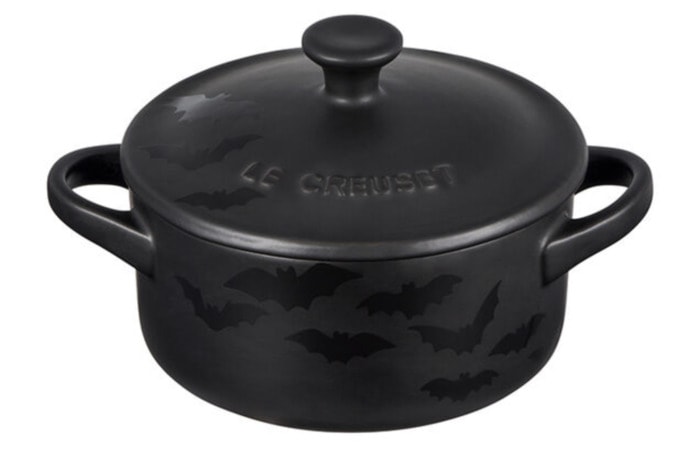 7. Bat Mug, $24
The dreamy Bat Mug is sold out on the site for now. But, you can buy it on the resale market. The best thing about these stoneware mugs (aside from the cloud of bats on the side) is that it is oven- and broiler-safe, so can be used for desserts, too.
Our special power is falling asleep within five minutes of picking a movie to watch. Impressed?
Available on Mercari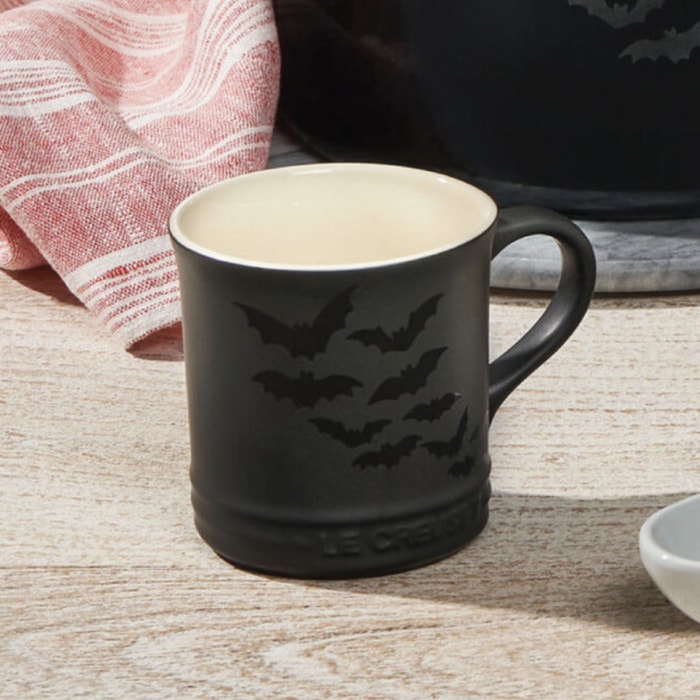 8. Apple Baker, $134.99
This perfect Apple Baker is not only still available, but it's even on sale. The low, apple-shaped dish is perfect for any Fall pies, tarts, cobblers, or anything else you can shove apples into. If you're feeling crazy, you can even bake something apple-less in it. Go…bananas.
Available on Le Creuset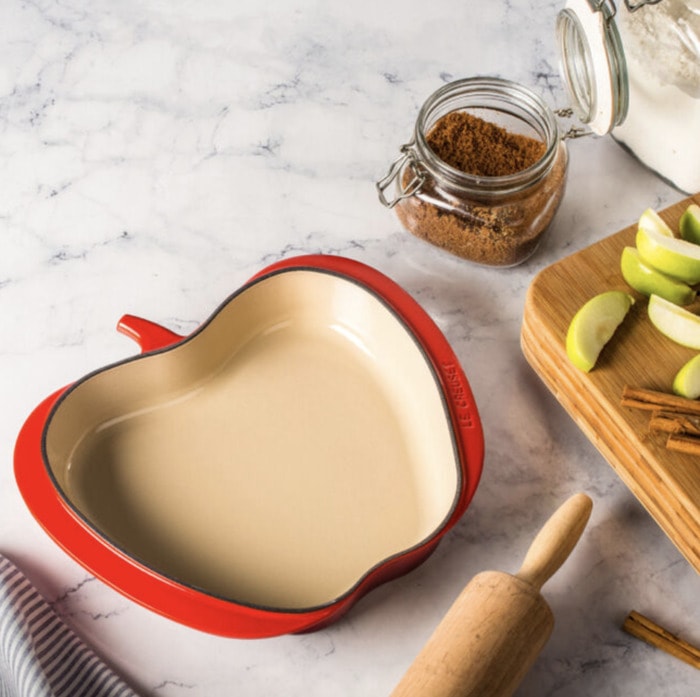 9. Apple Cocotte, $275
This shiny red apple with a perfect sculptural stem knob is so satisfying to look at, we may never actually bake with it. We'll just stare at it, get hungry, and order DoorDash. We see nothing wrong with this plan.
Available on Le Creuset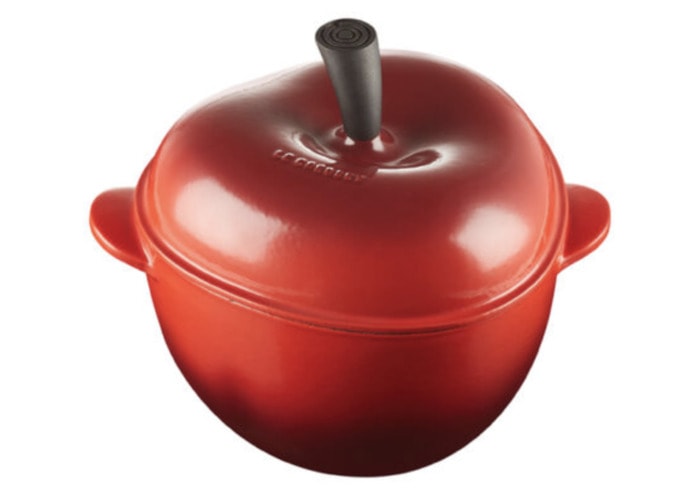 10. Set of 2 Mini Apple Tart Dishes, $43.40
If, like us, you can't spring for the Apple Cocotte, this cute set of two apple dishes is on sale right now. Nothing to be tart about. Unless you bit into a Granny Smith and thought it was a Red Delicious.
Available on Le Creuset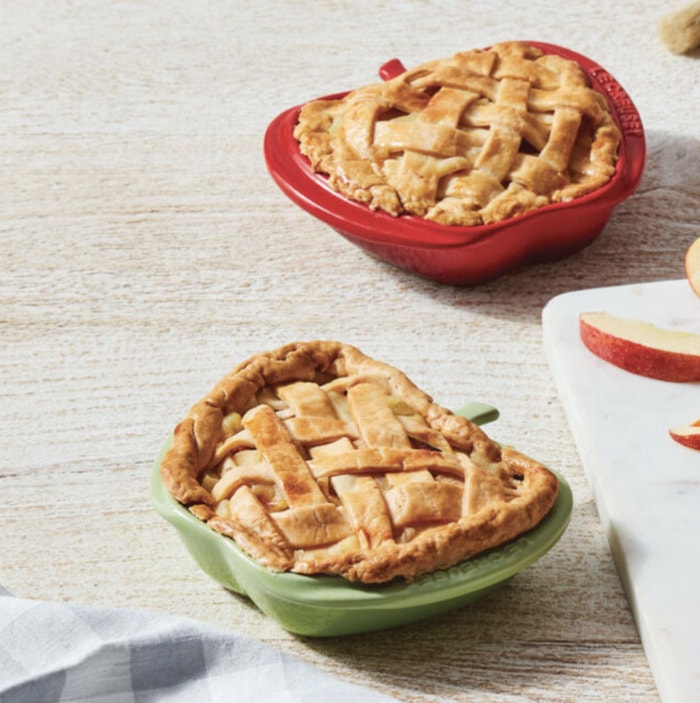 11. Halloween Mini Bowls, $50
This set of mini candy bowls features an owl, cat, moon, and pumpkin. And just think about how they'll look even cuter with chocolate in them? Yeah, we know that won't last very long, but a girl can dream.
Available on Mercari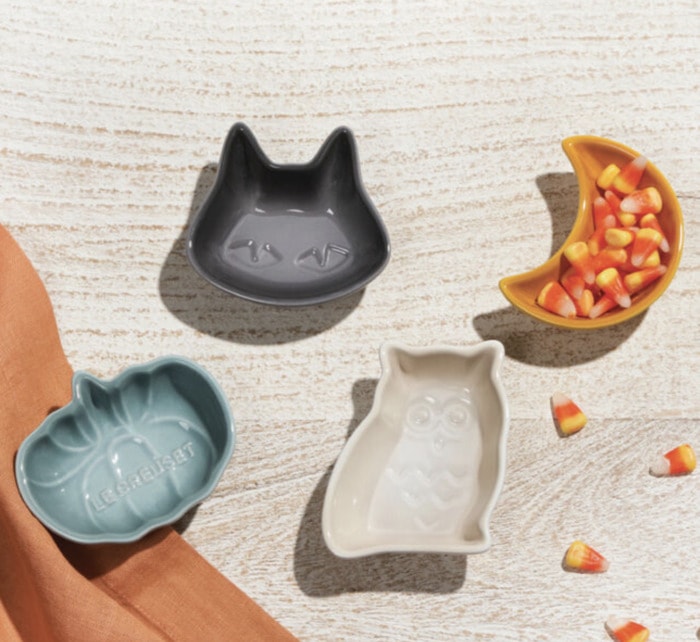 12. Halloween Cakelet Pan, $25.20
This dark, nonstick baking pan will make 12 scarily cute mini treats, in the shapes of ghosts, pumpkins, and bats. And the jack o'lantern orange silicone grips let you fulfill your craving for horrifying cakelets without giving yourself a horrifying burn.
Not to be confused with a "sick burn," like the local teen telling you your haircut is whack.
Available on Le Creuset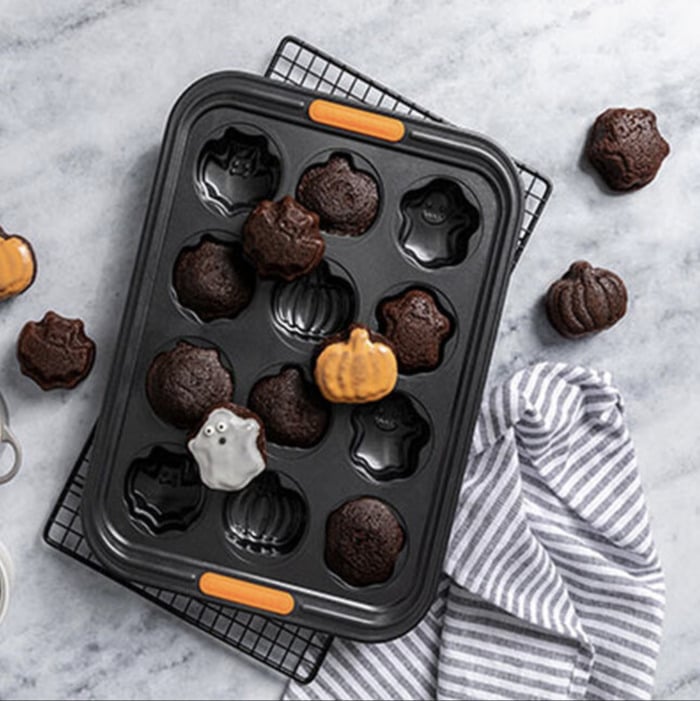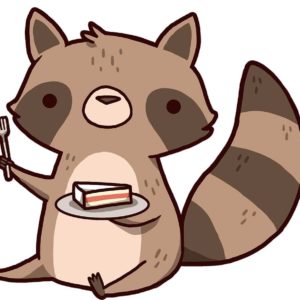 Latest posts by Christine Colby
(see all)