Everybody knows that Halloween is a state of mind, and the spooky season begins well before October 31st. Luckily, our favorite grocery chain is with it, cool, and hip. Case in point: Trader Joe's Halloween 2023 collection. Is it cool, hip, and with it to use those terms? Don't answer that.
Whether you plan on spending the month marathoning slasher films or painting cute pumpkins, you'll need fuel for your Fall activities. Enter: Trader Joe's and their assortment of snacks, plants, brooms, and chants. We made up the last one for the rhyme. But three outta four ain't bad.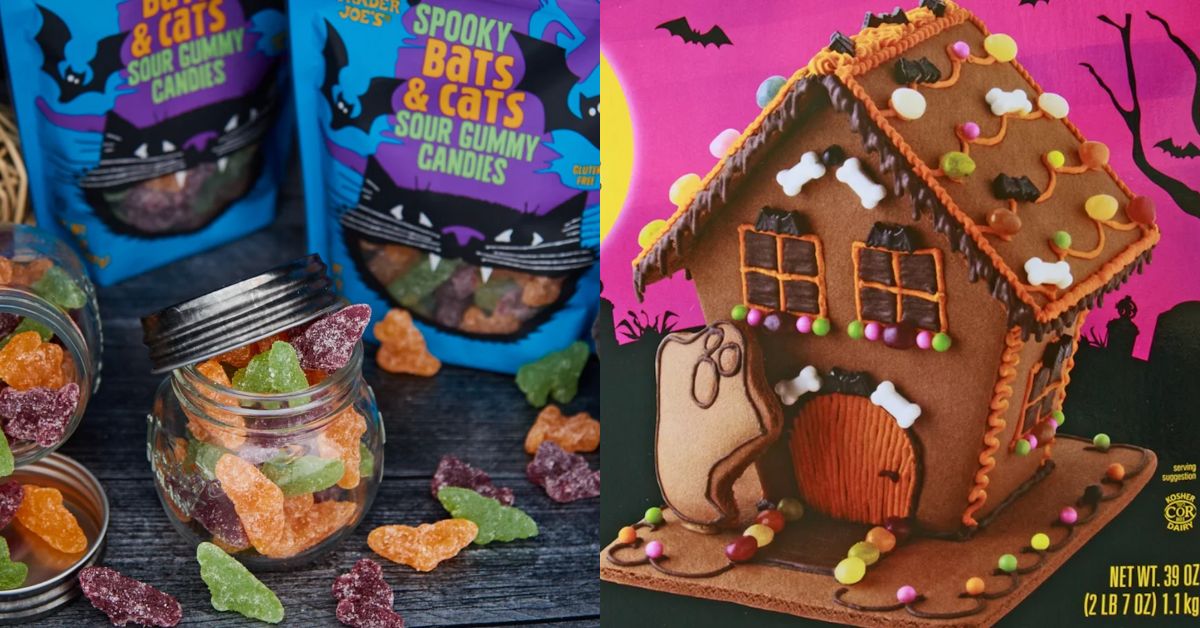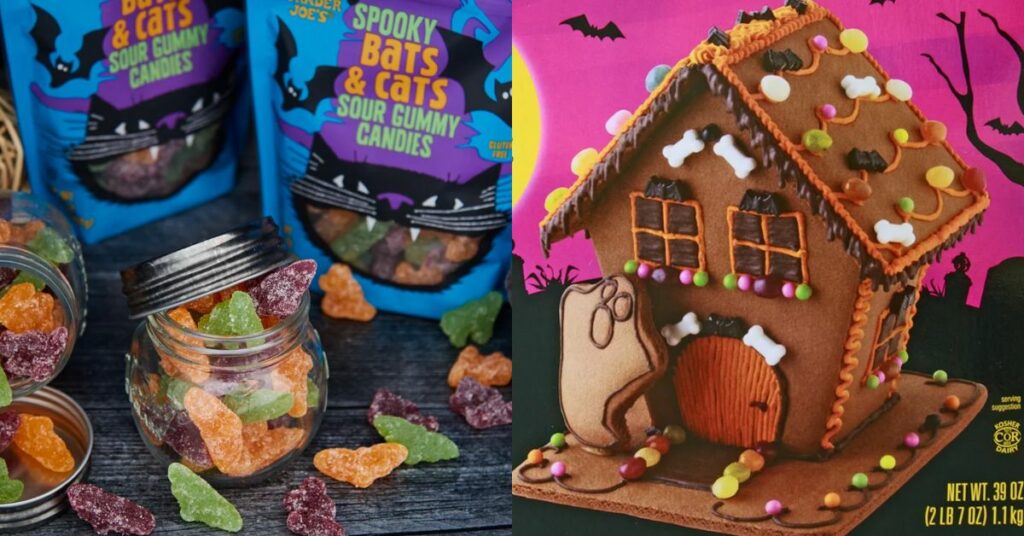 So, fire up your cauldrons, load up the broomstick with reusable bags, and make your way safely to your local Trader Joe's to bask in all the options.
We're talking spooky gummy candy, Halloween Joe Joe's cookies, Haunted gingerbread houses, and more. Load up with the good stuff so that on Halloween, you can pretend nobody's home and not give your hard-earned candy to freeloaders in costumes.
15 Trader Joe's Halloween Products This 2023
1. Spooky Bats and Cats Sour Gummy Candies
Sour Patch Kids are delicious, but they don't hold a candle to these bat and cat gummies. Mostly because they don't have opposable thumbs. Phew.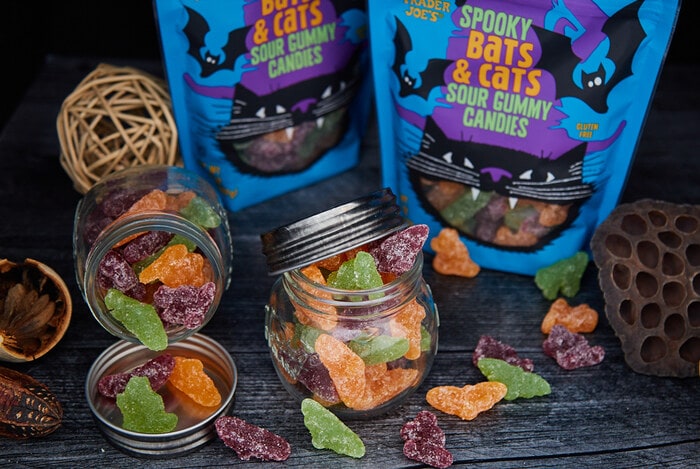 2. Halloween Joe Joe's
A classic for a reason, Halloween Joe Joe's are back again, and we're here for it. The festivity is only in appearance – orange cream and a Halloween cookie print. Sure the Joe Joe's don't taste any different, but hey, that's what the pumpkin spice ones are for.
We'd all be better off if we just stayed in our lanes. Particularly on the highway.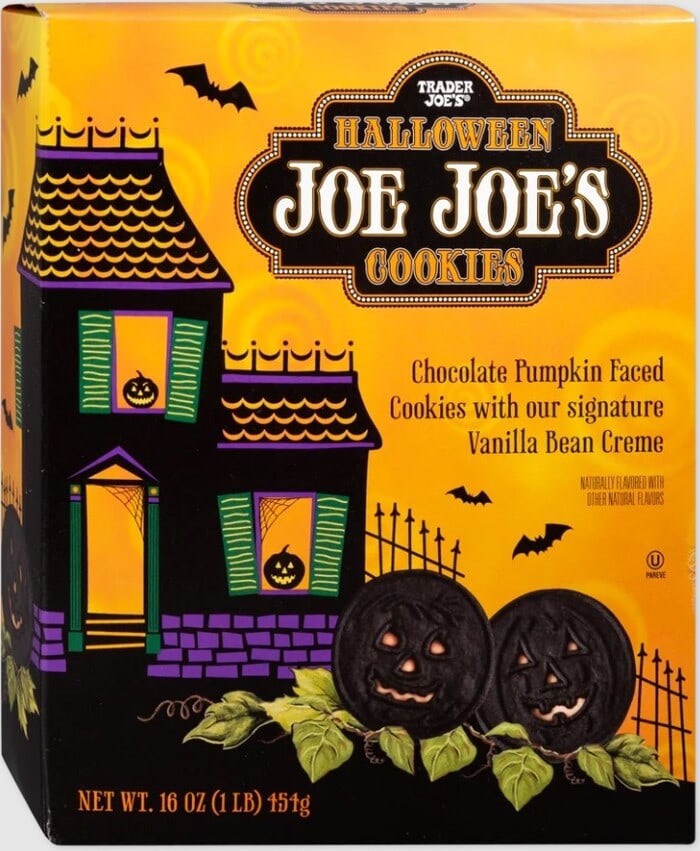 3. Haunted House Chocolate Cookie Kit
This Haunted House Chocolate Cookie Kit is a great option for those who missed out on gingerbread houses because they don't like gingerbread. Or millennials who will never be able to afford a house any other way.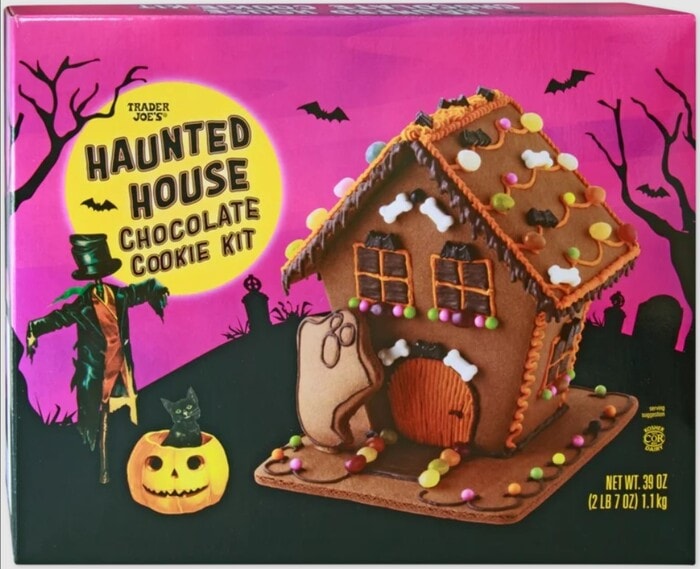 4. Fall Fantasy Pumpkin
Basic: Fantasy football. Original: Fantasy pumpkin.
These little gourds are decidedly individual, varying from pumpkin to pumpkin in shape, size, and blemish. And they're all accepted! You know, because Stop and Shop was out of pumpkin puree.

5. Succulent Skulls
We were a little disappointed to find that something called "sugar skulls" weren't edible. But then we found out that our therapist was more worried that we like sugar enough to be excited about eating skulls. Whoops. Plants are good, too.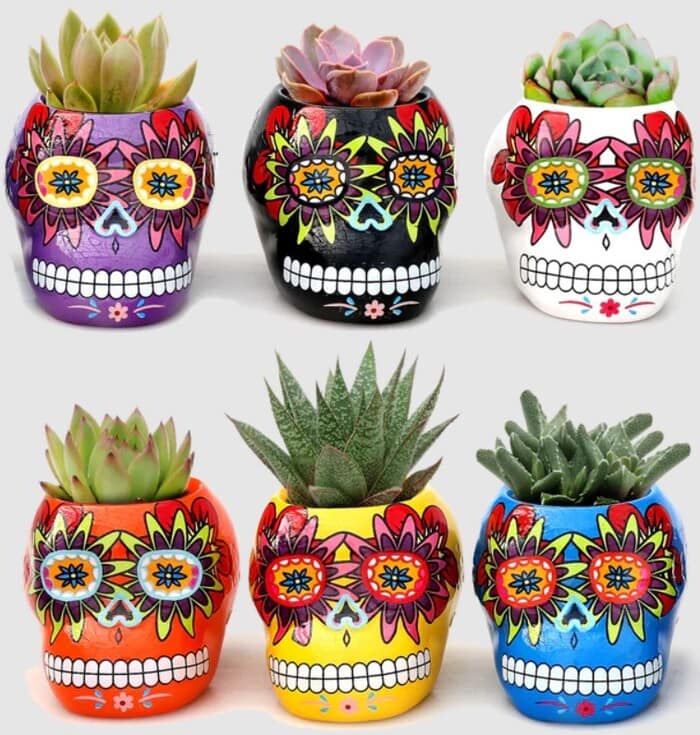 6. Wicked Good Mini Chocolate Bars
Nothing about this actual treat screams "Halloween," but are we going to glom onto the word "wicked" as an excuse to include chocolate in our diet whenever possible. We can practically feel the magic of Salem and the wicked strong Boston accents from here.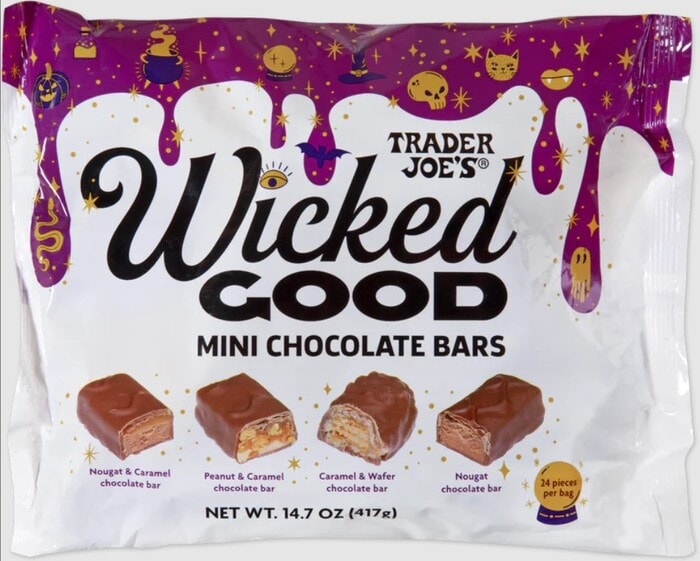 7. Spatchcocked Sweet and Savory Chicken
People might not daydream about getting a roast chicken in their trick-or-treat buckets. But in case you didn't know, a spatchcocked chicken means the chicken has had its backbone cut out. That's some Saw-level stuff. Who knew TJ's was so hardcore?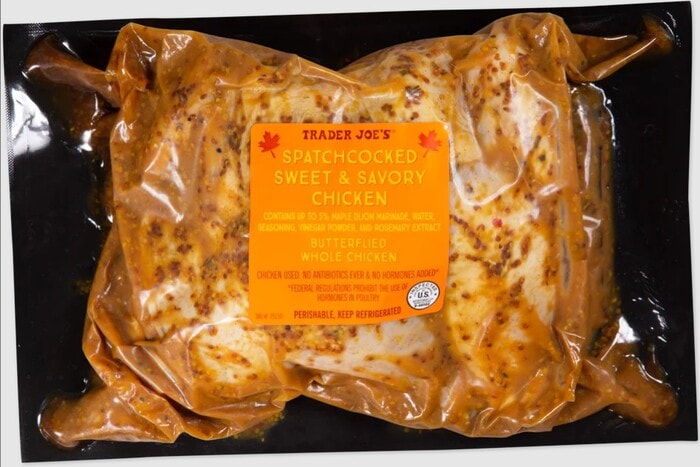 8. Day of the Dead Cat and Dog Succulent
A four legged take on traditional Day of the Dead decorations, you can make these feel extra authentic by placing the cat directly on top of your laptop while you're trying to work.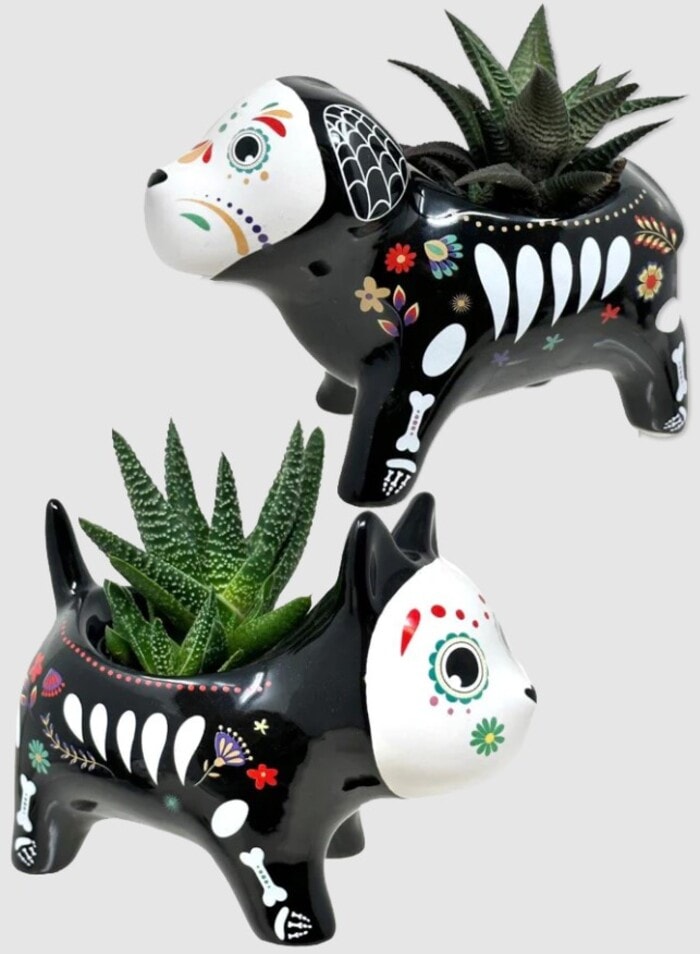 9. Brain Cacti in Ceramic Skulls
These guys have gotta have a killer headache. Does TJ's sell Advil? Or at least something called "Joe's Headache Eradica"?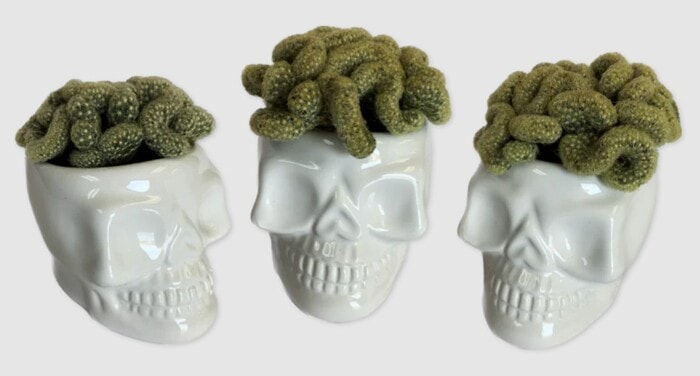 10. Ghosts and Bats Crispy Potato Snacks
As fun as these chips are to eat, the full name is even more fun to say. We're suckers for a slant rhyme, and the satisfaction of knowing you just said it quietly out loud to yourselves. Interactive article? Check.
11. Cinnamon Broom
As great as these Cinnamon Brooms smell, the blind spots are big and the gear shift sticks. 10/10 decoration for humans, 6/10 transpo for witches.
12. Cinnamon Whisk
The mini-me version of the Cinnamon Broom, these Cinnamon Whisks could be just what you need after coming across that "Drink Me" bottle that you swear didn't look all that suspicious.
13. Halloween Gummies
These fun gummies come in mini bags, making them perfect for fair distribution. Or for giving yourself carpal tunnel from opening all the packs one after another because who can stop at just one?
14. Assorted Spooky Seasonal Wine
Depending on your state and location, a lot of Trader Joe's have an assortment of seasonal wines available. Although, any wine can be made seasonal if you hold the glass with sweater paws or drink out of a hollowed-out pumpkin. Yeah, we sound like a great time, right?
15. Curly Slim Ghouls
We look at these and half expect them to start singing "All the Small Things," and half expect them to start singing "This is Halloween." And we fully expect us to try and get more sleep this week, because we're imagining singing pots.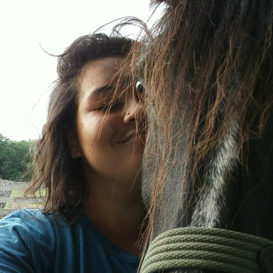 Latest posts by Hebba Gouda
(see all)