Some people believe a tattoo should always have a deep symbolism and meaning, while other people just want their body art to be fun and silly. And pizza tattoos are perfect for everyone, no matter which way they lean on that debate.
You can get a whole pie or just a slice, adorn it with real-world toppings or fantasy ones, or even decide that your slice is topped with vegan cheese. Who's going to know? They'll never know. Licking people is weird.
So text your tattoo artist, and then decide which delicious, majestic, and ridiculous pizza tattoo you're going to get. Who wants to join us for lunch after? It's on us. Okay, not literally. Can you stop licking our tattoo?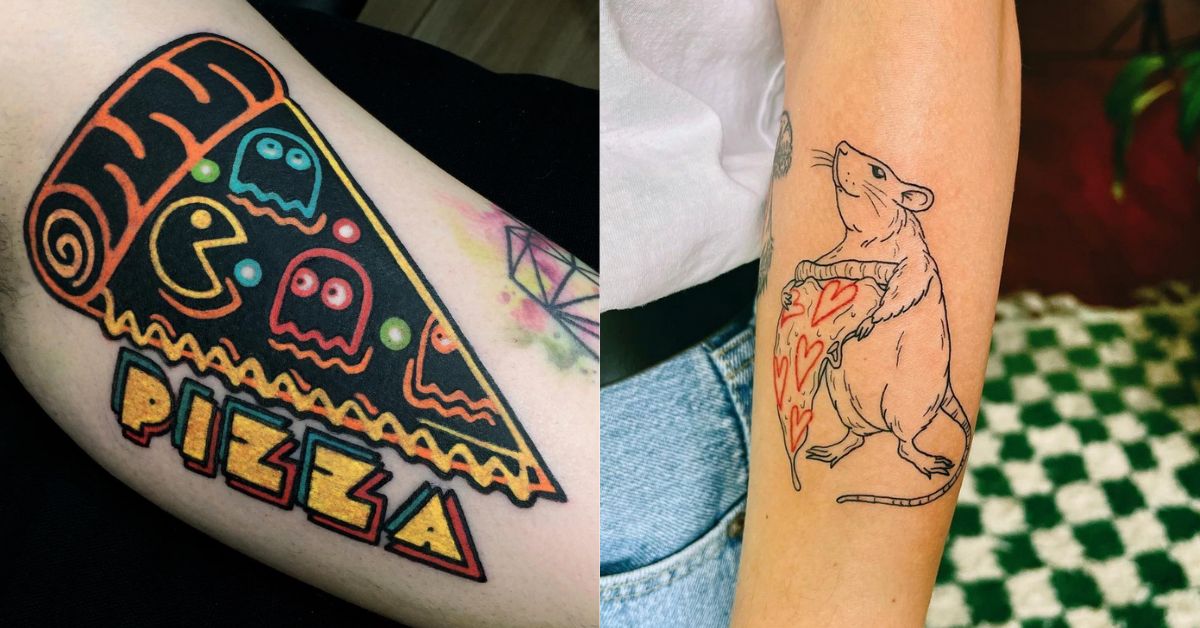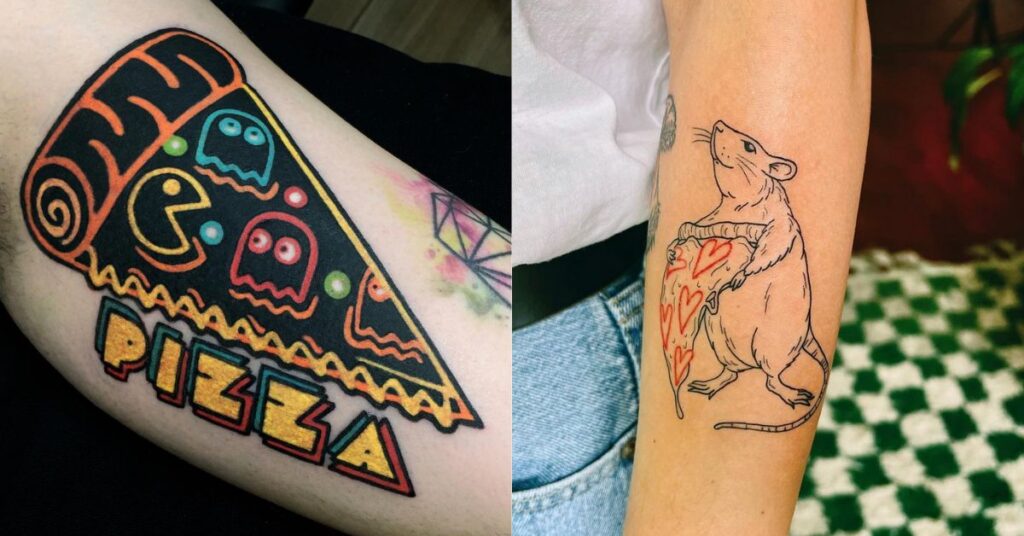 25 Cool and Funny Pizza Tattoos
1. Pizza Time Tattoo
Instead of thinking about cool amphibians with epic martial arts skills, all we can think about is delicious pizza pie. Darn you, Raphael.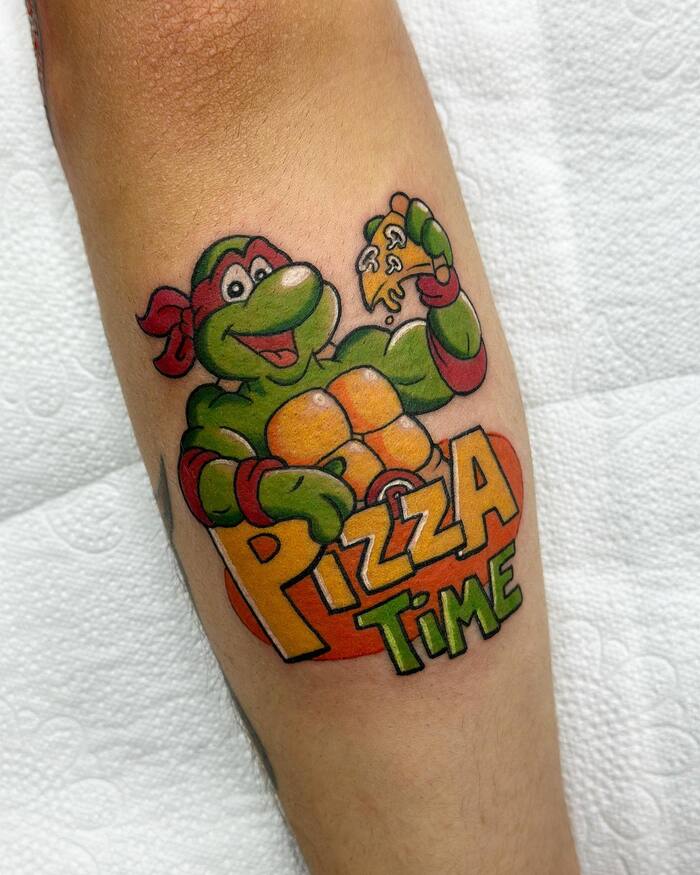 2. Pizza Cat
Has anyone ever really had a cat who would put up with such undignified treatment? We're skeptical. But that won't stop us from trying. C'mere, Rutherford B. Fluffypants.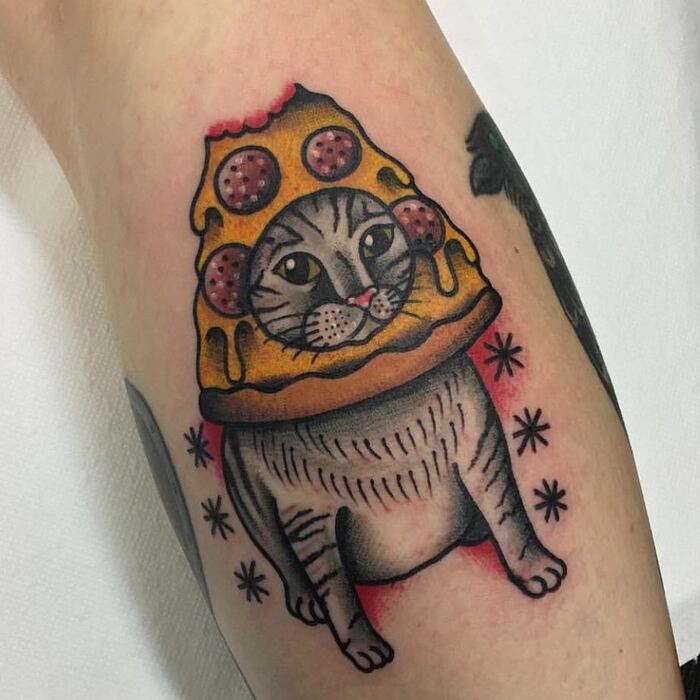 3. Pepperoni Pie with Mushrooms and…Dinosaurs?
We're not sure if this is a reference to something specific, but oddly, we've never felt so seen. How'd you access our dreams?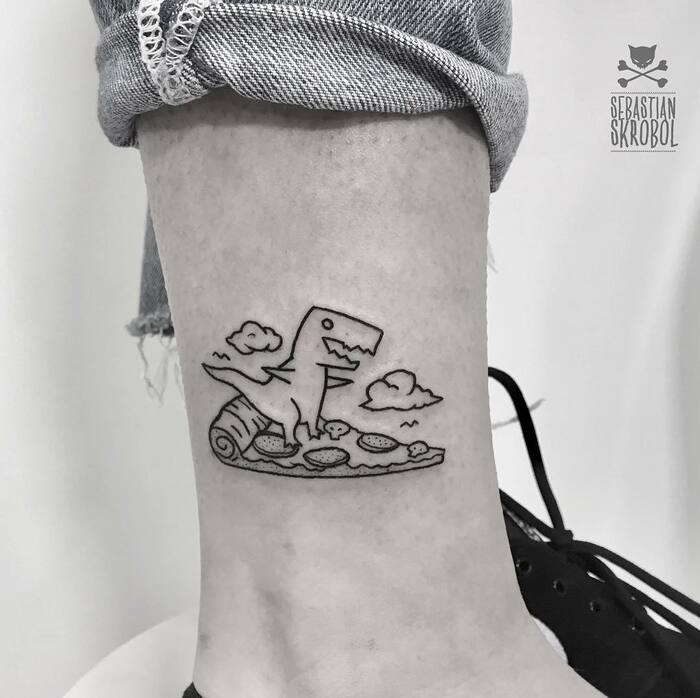 4. Out-of-this-World Pizza
Sometimes, a bite of pizza at two a.m. after a night out feels like it's transporting us to another world. It's totally just cheese giving us that feeling. Nothing…else.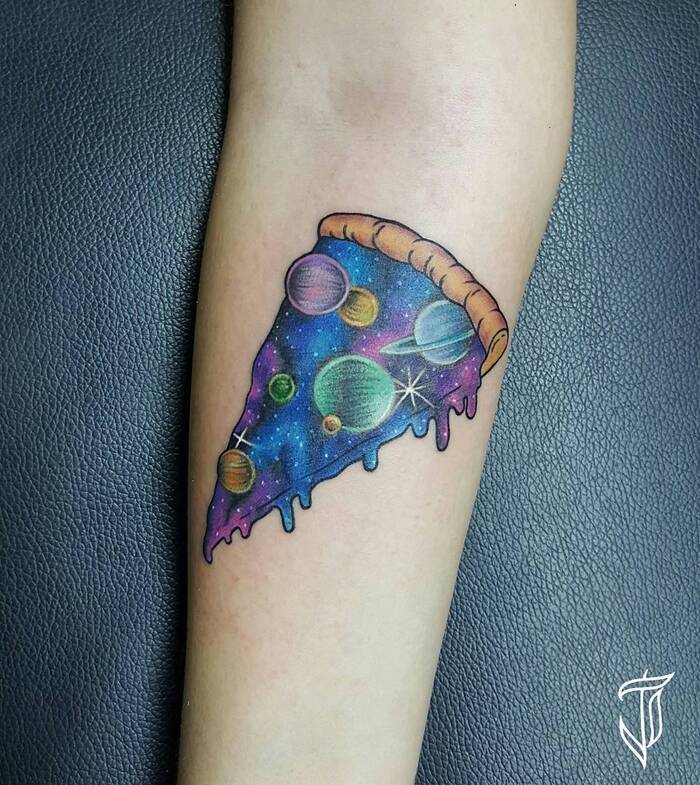 5. Life Is Good Pizza Tattoo
If the pizza is good, life is good. But even when the pizza is bad, it's still pretty good.
6. Do You Wanna Pizza Me?
Why, yes, thank you very much. We do indeed. What do you expect? You are pizza.
7. Pizza Illuminati Tattoo
This cute and tiny, all-knowing, all-seeing pizza slice of the Illuminati is here to walk adorably across your wrist. If you press your wand to it, Beyoncé will show up.
8. Astronaut Pizza Tattoo
What a metaphor for the challenges and obstacles life puts in between you and your desires, huh? Pizza runs deep.
9. Perfect Pepperoni Pizza Ink
Most tattoos of food don't actually make us hungry. But we can practically smell this pepperoni slice. Oh look, the GrubHub app. Pavlovian response does it again.
10. We Love Pizza Rat
Not everyone will get this design, but anyone who lived in NYC in 2015 will remember the viral pizza rat. Sadly, pizza rat was dethroned by smoking roach a few years later, but he'll live on forever on this guy's arm.
11. Pepperoni Pizza Tattoo
This slice looks like it's levitating majestically in the sky, looking down and blessing us all with dollops of hot, greasy cheese. If this is a deity, we'll see you in church. Right after we get these burns treated.
12. Devilishly Good Pizza
We're just going to assume that's plant-based pepperoni so we can get away with saying, "Hail Seitan!"
13. Piece of the Action
This small fine-line tattoo got us in the feels. Give piece a chance. Especially when you ordered and we forgot our lunch.
14. Pineapple Pizza Tattoo
This pizza tattoo is for that one friend who loves loudly defending pineapple on pizza and insists that hot dogs are sandwiches. You know who you are.
15. Pizza Pokemon
When you play Pokémon GO enough, everything starts looking like those rascals. But at least you can eat this one.
16. We Love Pizza
This slice of pulsating pepperoni is pretty in pink, and apparently loves us. We'll take affirmation wherever we can find it.
17. Pizza Pie Tattoo
The cool thing about this couple tattoo concept is that it works for poly relationships, too. And we love inclusivity in our pizza.
18. Pizza Rat Rules
The fact that there is more than one pizza rat tattoo just confirms that they are still the king of NYC, despite what the smoking roach thinks. Ugh, there we go again, pitting two powerful queens against each other.
19. Holding a Slice of Pizza Tattoo
Are we the only ones who absolutely friggin' love it when tattoos have tattoos? It's like walking around with a flesh infinity mirror. It's cooler than it sounds.
20. Pac-Man Pizza Tattoo
If any one image can encapsulate childhood hours spent playing Pac-Man at the roller rink, it's this pizza tattoo. TikTok could never.
21. Ninja Turtles Pizza Tattoo
Is this like a locked room mystery to figure out who took the bite out of Donatello's slice? Since Leonardo's the only one with a weapon, he is our person of interest. And we are very interested. In his slice of pizza.
22. Pizza Bandit
This could be a whole series, since raccoons, little trash pandas that they are, will eat anything. Including your finger. Sorry, too late.
23. Panda Eating Pizza
We don't know what they put in the pizza sauce in Poland, but if it causes us to make that expression, we'd pay a premium for it. At least we don't need a lot of money for shoes.
24. Trippy Pizza Tattoos
"Love at First Bite" works for both pizza and our favorite vampire movies. We're not sure what's going on with the other slice, though. But if that mushroom topping is making your pizza explode into a flock of birds, you may want to sit down.
25. Alien Pizza Tattoo
Obviously a super-intelligent life form from a far-away solar system would know that the only thing worth traveling to Earth for is the pizza. But Lombardi's? Patsy's? Original Ray's? Finally, intergalactic life to settle the debate.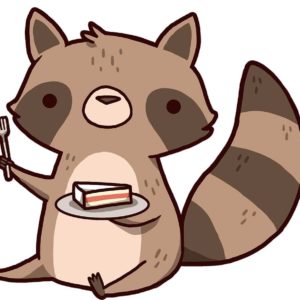 Latest posts by Christine Colby
(see all)