It's a common misconception that advent calendars are just for the kids, tiny bribes to urge patience until Christmas morning. But these food advent calendars for 2023 are making us realize that they're for grownups now, too.
Whether you love fancy chocolates, exotic teas, hot sauces, or even frozen entrées (yes, Stouffer's has entered the chat), you'll find an advent calendar for you. The hardest part will be sticking to only one treat per day. Curse you, rules!
Or, life hack: buy more than one and you can have as many treats per day as you want. We're geniuses and we know it.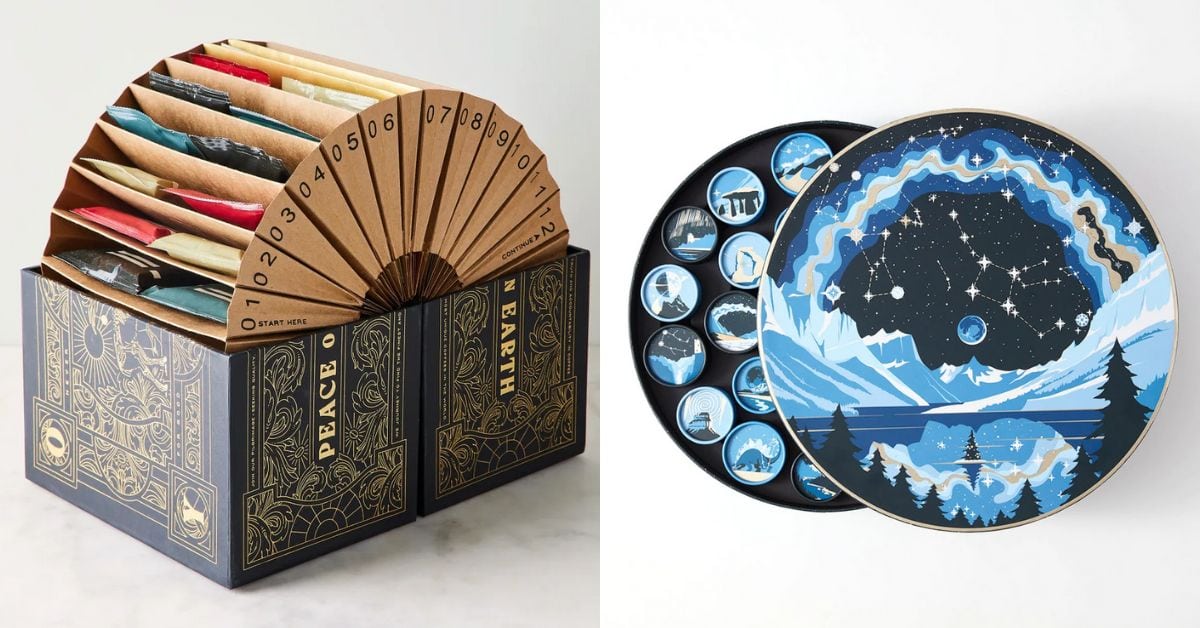 23 Food Advent Calendars for 2023
1. Stouffer's Comfort Calendar, $39.99
Honestly, this one is our favorite this year, if only for the unexpected weirdness of finding macaroni and cheese and mashed potatoes behind the doors of an advent calendar.
Sadly, there are only seven days of dinners, but that could lighten your load before hosting your whole extended family.
Available at Stouffer's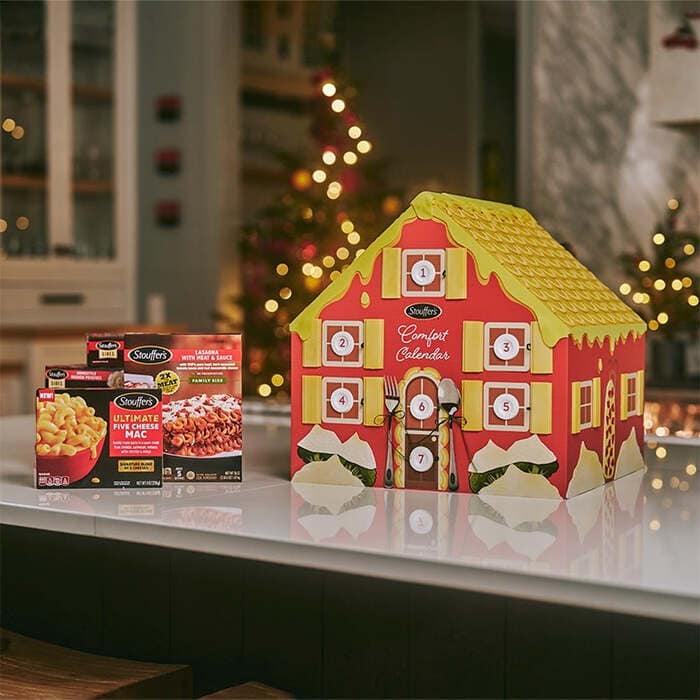 2. Kate and Jason McCrea Handcrafted Caramel Advent Calendar, $40
This contains 24 days-worth of small batch, handmade caramel candies in unusual flavors. We can't wait to try the Cinnamon Clove, Ginger Fusion, Black Lava Sea Salt, and anything else our teeth can handle. We'll have our dentist on speed dial in January.
Available at Uncommon Goods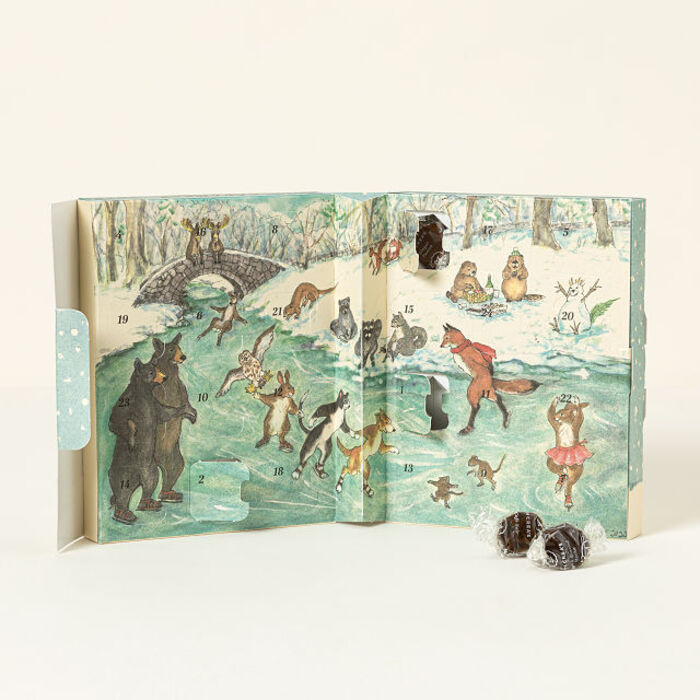 3. The Grinch Holiday Countdown Calendar, $39.95
People can claim to hate Christmas all they want, but they may change their tune when presented with Grinch's box of 24 candy treats. You'll find a mix of chocolates, gummies, and other candy surprises that will make your heart grow three sizes. And maybe some other things.
Available at Williams Sonoma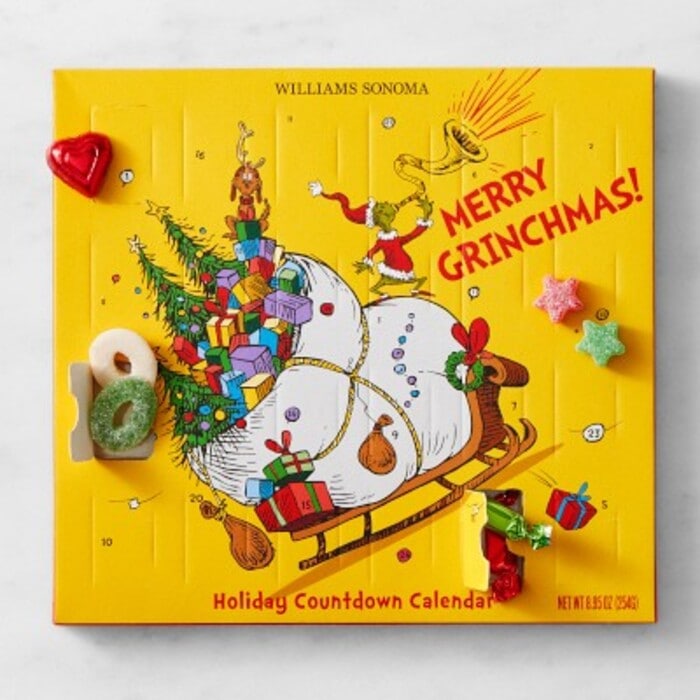 4. Onyx Coffee Lab Advent Calendar, $189
Each of the 24 sleeves in this elevated fan-style presentation contains enough coffee beans to make two cups. So enjoy your two servings of Krampus Peaberry or Ethiopia Negusse each morning, or get someone else to brew a cup for you.
Available at Food52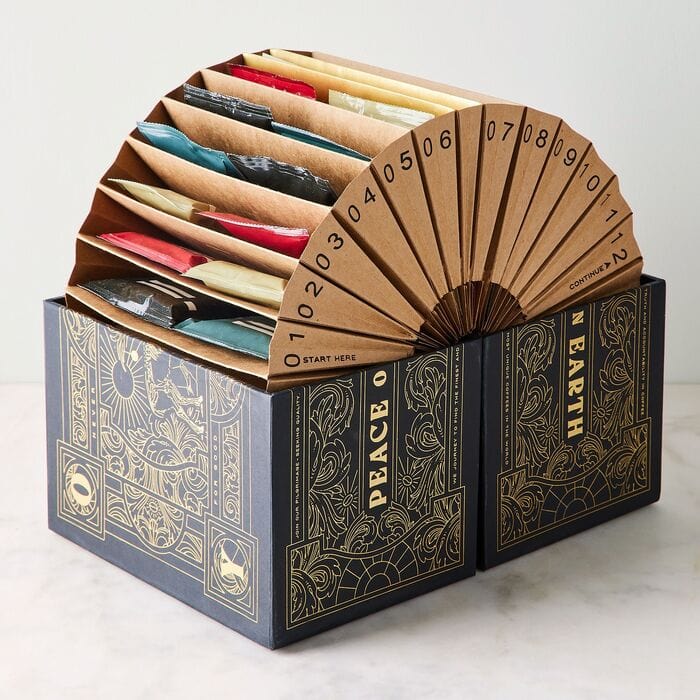 5. Bar and Cocoa Advent Calendar, $159
This upscale and impressive box offers a tour of gourmet European chocolates, with an emphasis on Italy. You get 24 days of deliciousness, some bite-size and some full-size. Do we get all full-size portions if we open them in costume? Just asking.
Available at Bar and Cocoa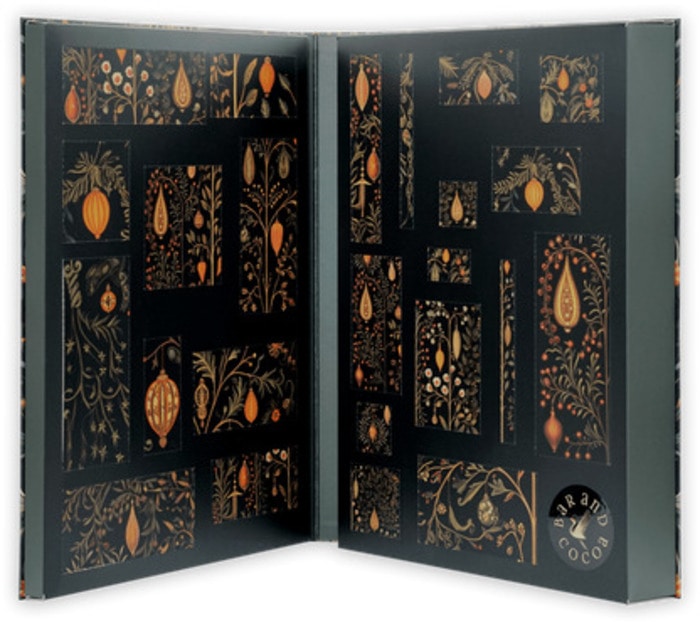 6. Godiva Holiday Classic Chocolate Advent Calendar, $45
This is exactly what you'd expect from Godiva: a reliably fancy and traditional album of 24 milk, dark, and white holiday chocolates. You don't mess with the classics. Except, maybe, by opening more than one per day. Shhh.
Available at Godiva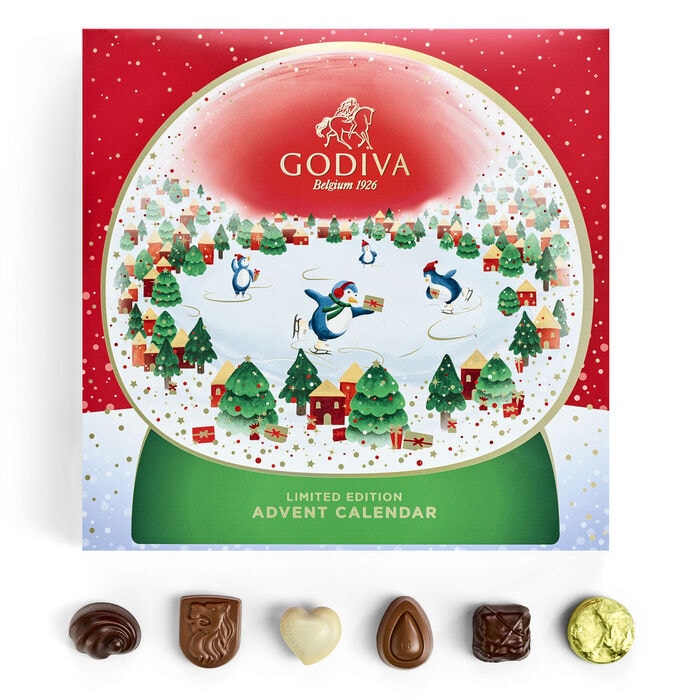 7. British Cheese Advent Calendar, $18.99
Even we can approach capacity with holiday sweets. Approach it, we said—not quite reach it.
But, when we crave a savory bite, we'll never turn down cheese. This box provides 24 sticks of British cheeses like Double Gloucester, Vintage Applewood, and Red Leicester.
Available at iGourmet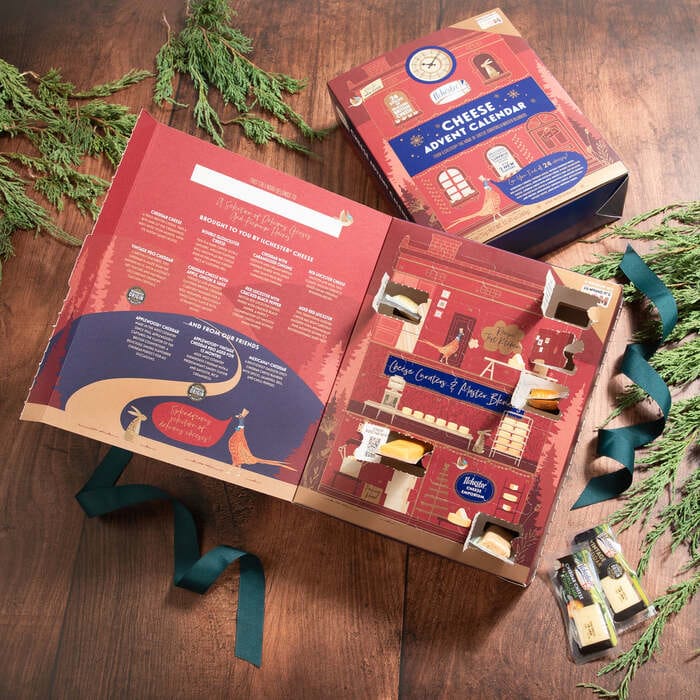 8. Beanbox Specialty Coffee Advent Calendar, $85
Get your daily caffeine fix with 12 days of 1.8 oz. packages of curated holiday flavors of gourmet coffee. We may need that boost to get the rest of our holiday shopping done. We still don't know what to buy for our normcore niece.
Available at Beanbox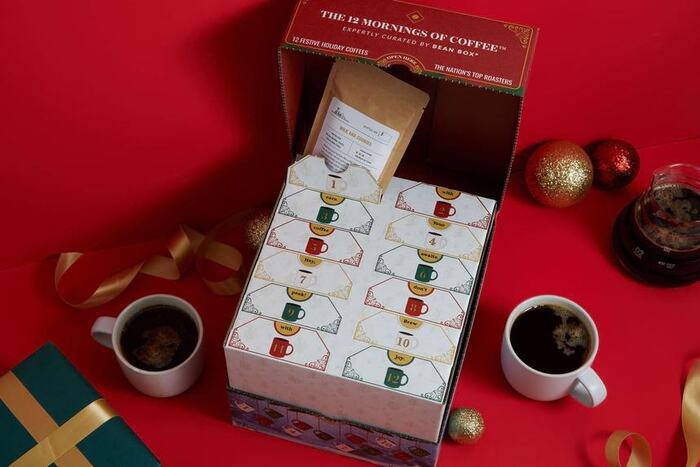 9. Compartes Gourmet Chocolate Advent Calendar, $109.95
This beautifully botanical box of 24 handcrafted chocolates is flavored with ingredients found in California's orchards. You'll find Lemon Poppyseed, Raspberry Rose, and Peanut Butter Banana, among other indulgent flavors.
It's just occurred to us that advent calendars don't have a treat for actual Christmas day. Suddenly, we feel ripped off.
Available at Compartes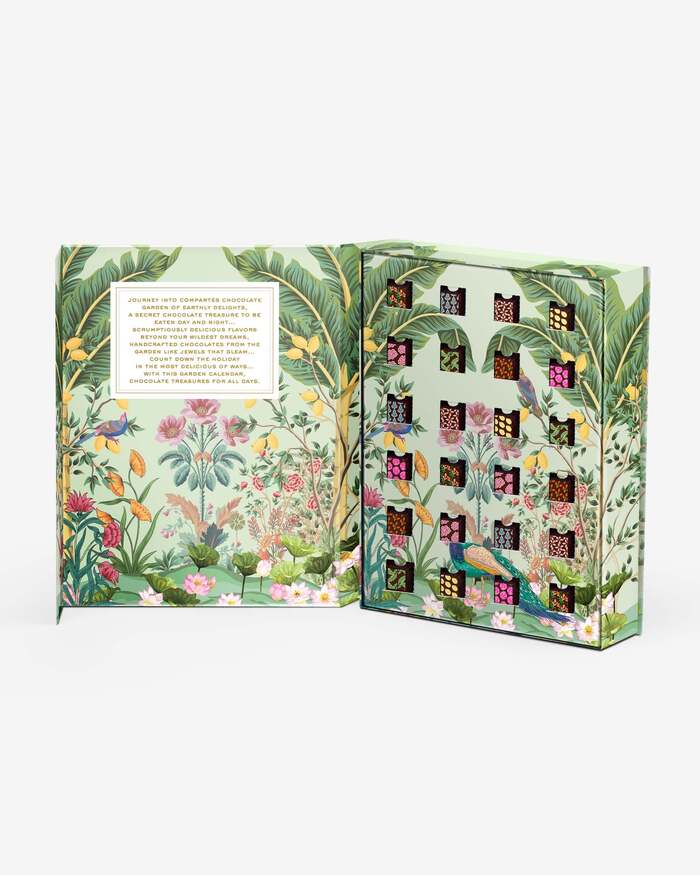 10. 12 Days of Hot Sauce Advent Calendar, $50
After so many delicious desserts, your taste buds may be ready for a spicy jolt. Set them on fire with 12 days of holiday heat. Pretend you're on Hot Ones with Son of Zombie, Habanero Evil, Garlic Reaper, and other zesty options.
Ideally, you'll use these as a topping. But we can't stop you from guzzling, we suppose.
Available at Uncommon Goods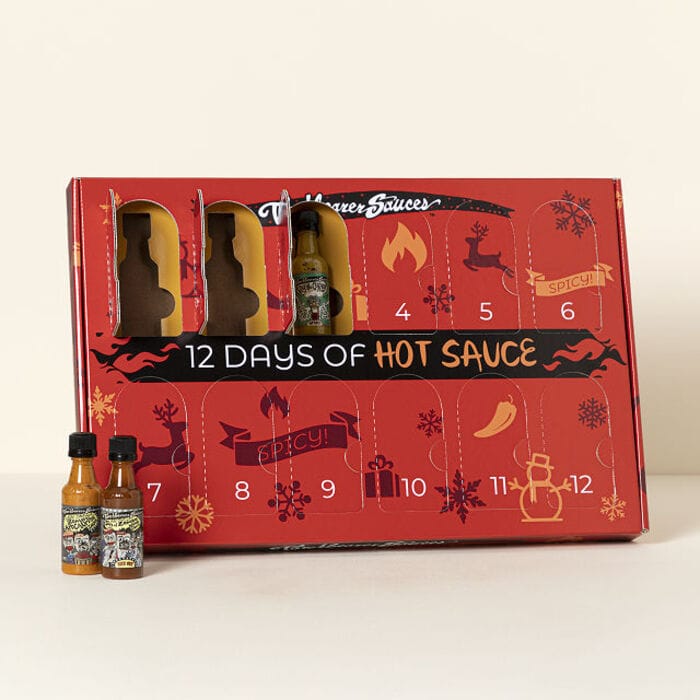 11. See's Candies Advent Calendar, $50
See's has been a favorite candy maker for 100 years, and there's a reason for that. Try 24 tempting chocolates, lollipops, and other treats. The company also promises some extra surprises, which is exciting, unless they're like that surprise speeding ticket we got in the mail.
Available at See's Candies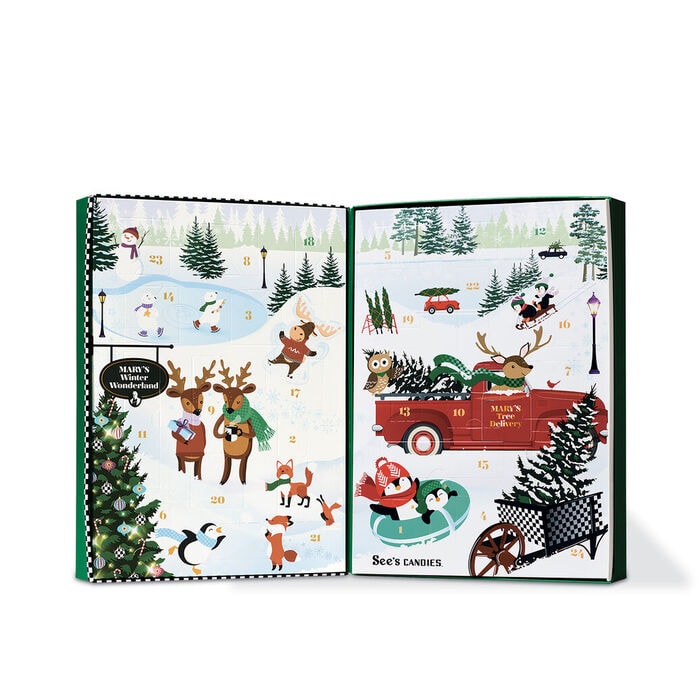 12. Wally and Whiz Danish Gummy Advent Calendar, $50
If you're obsessed with gummy candy, you have to try these Danish "wine gums" made from all-natural ingredients. Weirdly, wine isn't one of them.
But we do love the inclusiveness of this advent calendar, which has braille dates on all 24 candy windows.
Available at Food52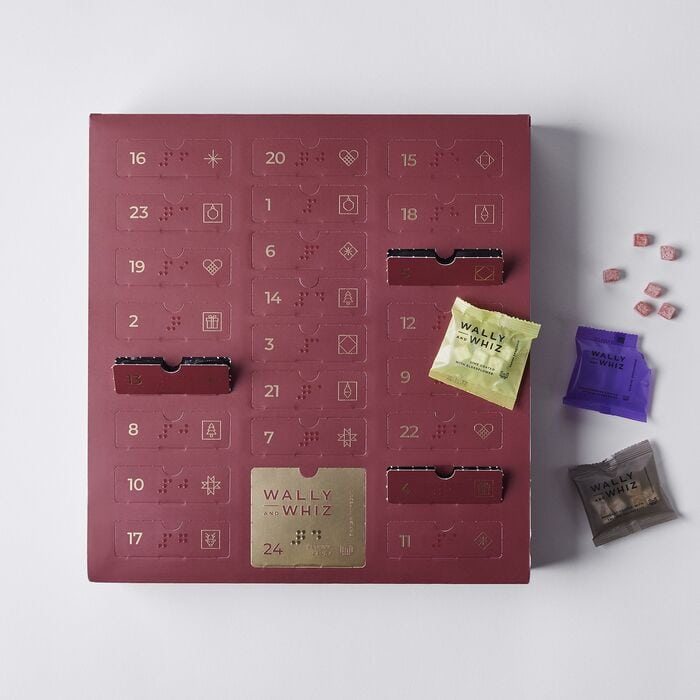 13. Walker's Shortbread Cookie Advent Calendar
Walker's Shortbread is the OG Scottish biscuit, perfect for dunking in your tea. This includes six varieties of the rich, buttery cookies, and enough for 28 days of advent fun—unless your grandma is visiting, and they disappear faster.
Available at Amazon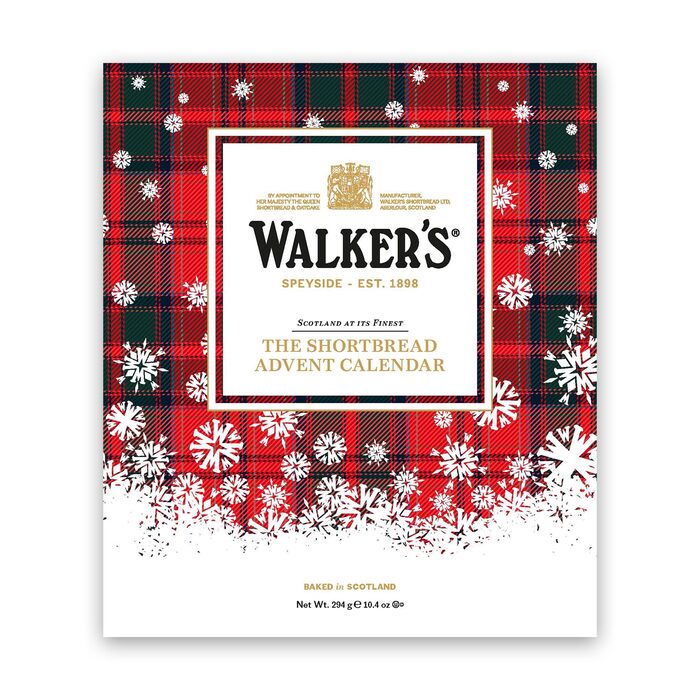 14. Vosges Haut-Chocolat Advent Calendar, $300
We get it. Most people won't pay $300 for 24 chocolates. But, hear us out! This luxury Vosges advent calendar not only lights up and plays music, but it includes that unexpected 25th treat for Christmas morning. So it's totally worth it.
Or just charge the company card. No one has to know!
Available at Vosges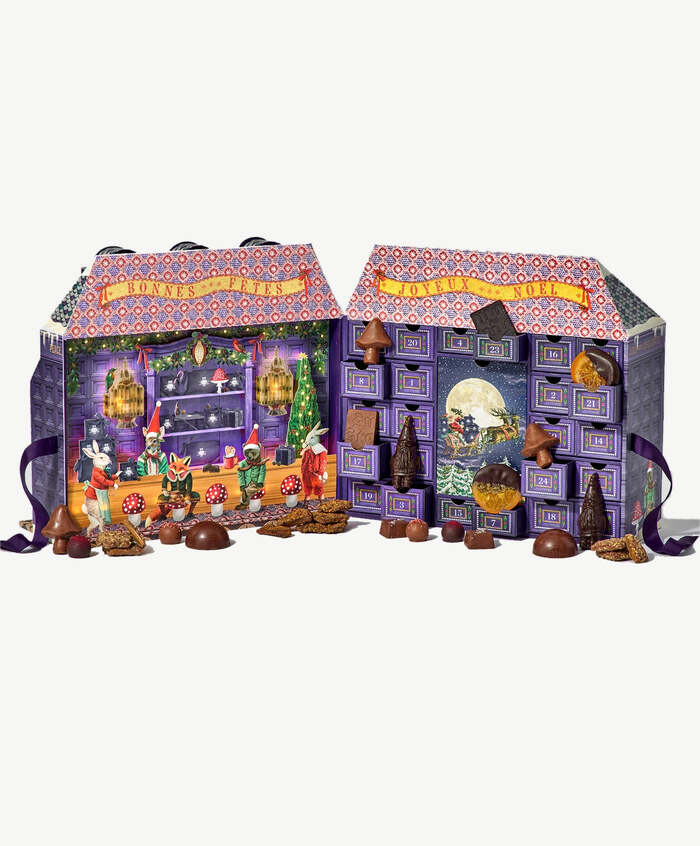 15. 12 Christmas Mornings of Coffee Advent Calendar, $80
Unlike some others, this 12-day coffee calendar comes with grounds instead of beans, so you can get to brewing without getting out your grinder. The limited-edition seasonal blends include Feliz Navidad, Holiday Cheer, and Gentle Yeti, among others.
We must admit to being intrigued by the Gentle Yeti flavor—if it doesn't taste like hair, musk, and snow, what could it taste like?
Available at Uncommon Goods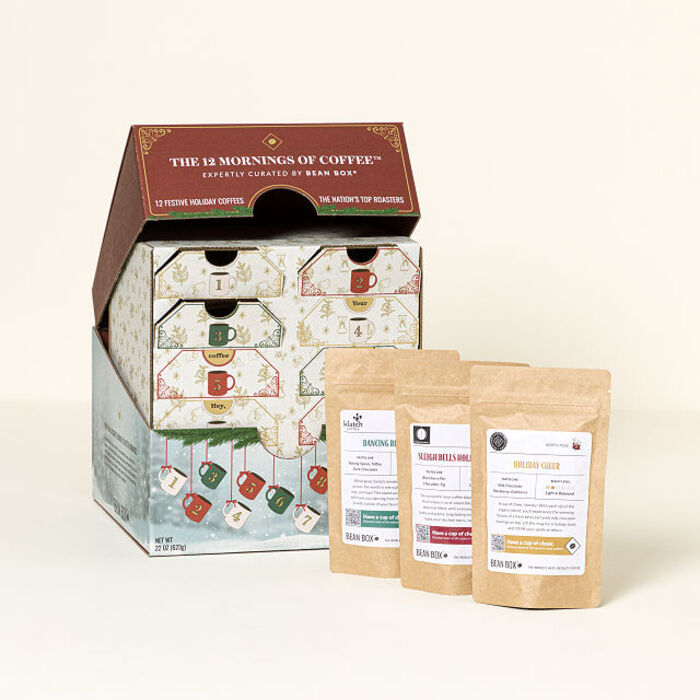 16. Mangifty Jerky Advent Calendar, $99
First, just ignore that this site is "for men." Go ahead and order it for a man if you want, but women eat jerky, too. Clearly they haven't ever seen our Trader Joe's cart.
Available at Mangifty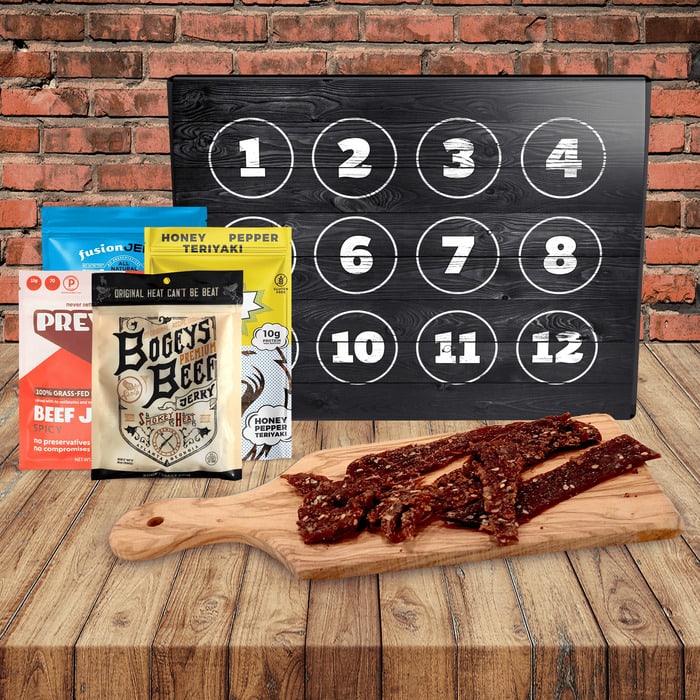 17. Palais des Thés 24 Days of Tea Holiday Advent Calendar, $38
This beautiful and dreamy package contains tea for 24 mornings. Each cotton tea bag contains curated options such as grand Yunnan imperial, Scandinavian detox, and other flavors.
Available at Macy's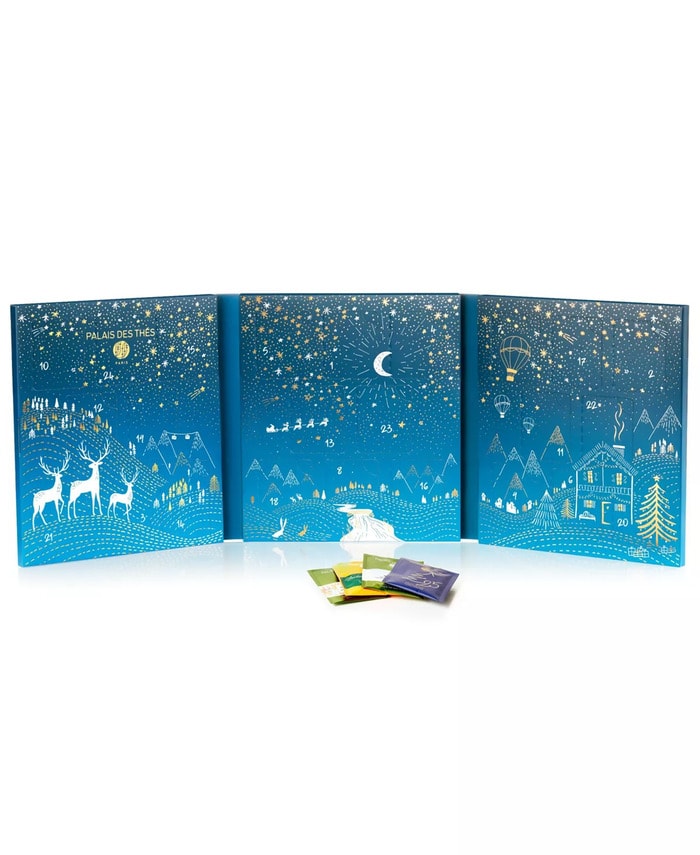 18. Dandelion Chocolate Advent Calendar, $170
This incredible "Dark Skies, Bright Stars" package contains 25 wrapped ornaments sporting landscapes, constellations, dinosaurs, and other artful designs. Inside are chocolate confections from 25 different acclaimed chocolatiers.
You probably know just the right nerd who will swoon at this collab with astronomer Dr. Tyler Nordgren. It's you. You're the nerd.
Available at Dandelion Chocolate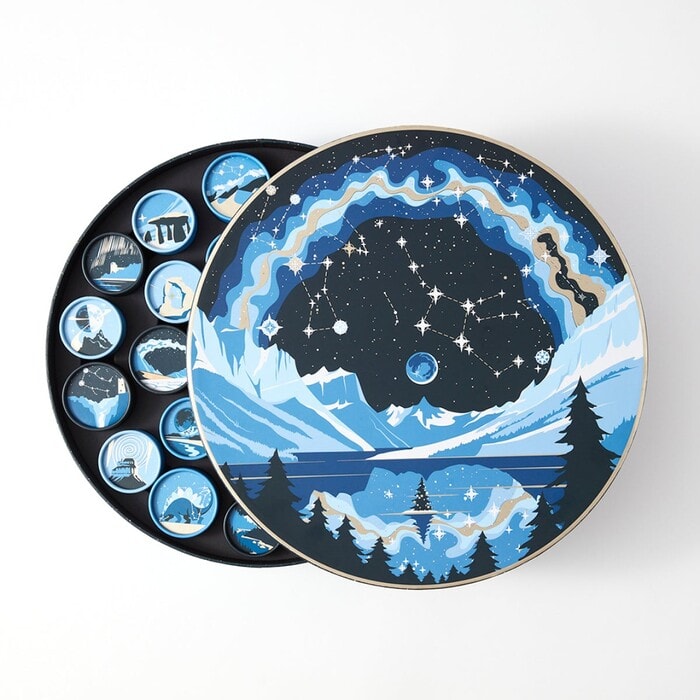 19. PEZ 12 Days of Christmas Advent Calendar
We'd be lying if we said we'd outgrown PEZ. So we won't. This set of 12 holiday dispensers features one for each element of the beloved "Twelve Days of Christmas" carol. Beloved when we're not singing it, we mean.
Available at Amazon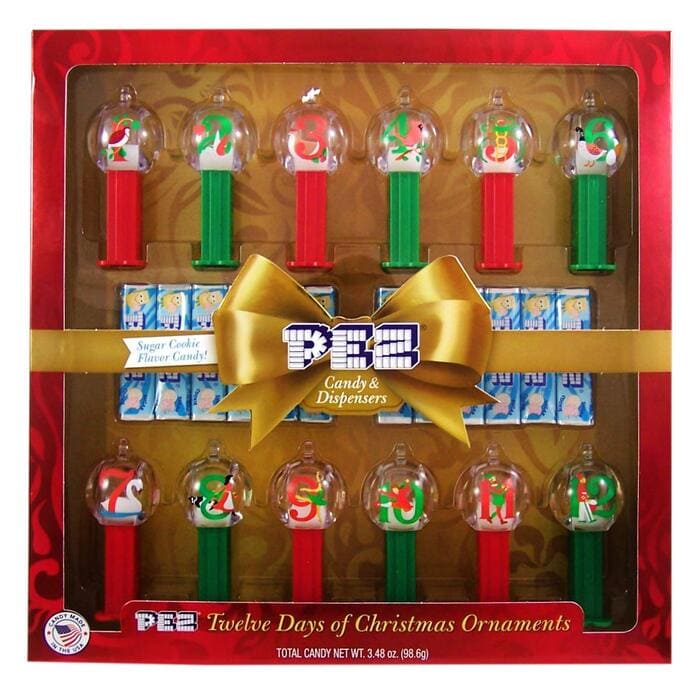 20. Sugarfina Candy Carousel Advent Calendar
This Tiffany blue toy carousel actually spins and lights up and has 24 little drawers filled with treats. The dessert bites include strawberry champagne bears, lemon shortbread cookies, peach bellini candy, and other surprisingly grownup tastes. Adults just wanna have fun.
Available at Amazon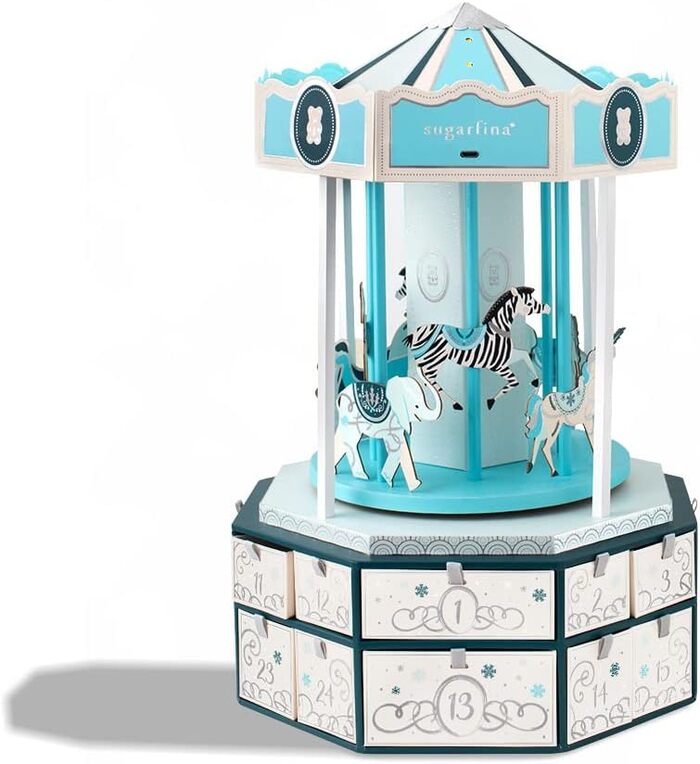 21. Cheryl's Cookies 12 Days of Christmas Advent Calendar, $39.99
We're not sure we have the strength to stop at only one Cheryl's cookie per day, but we'll do our best. The baked bites of heaven include buttercream frosted cinnamon roll, Rocky Road pecan, buttercream frosted chocolate mint, and more.
Available at Cheryl's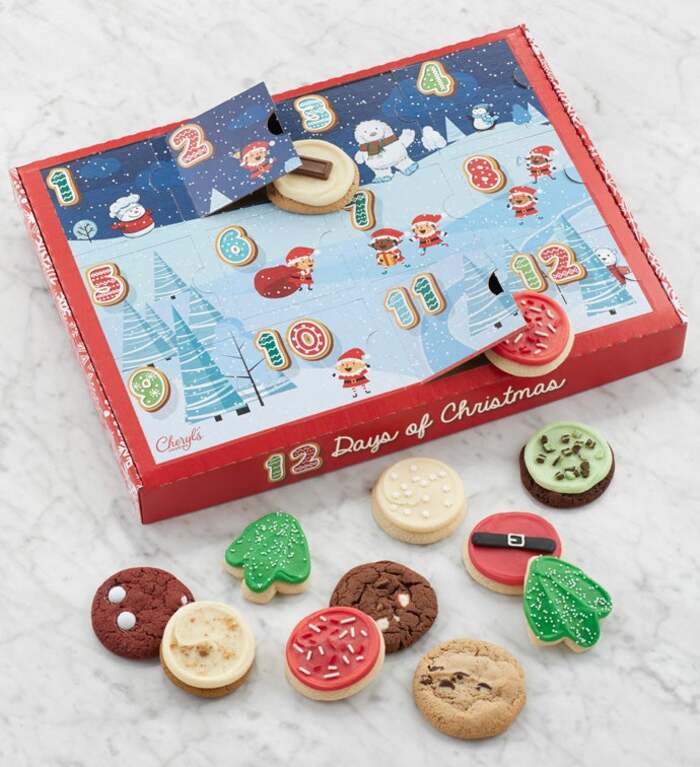 22. 24 Days of Christmas M&M's Advent Calendar, $27.99
This advent calendar from M&M's also includes daily yums from Snickers, Starburst, Twix, and other well-known favorites. Perfect if you've just gotten to the bottom of your Halloween loot bag. Ours was empty by early November, but don't be like us.
Available at M&M's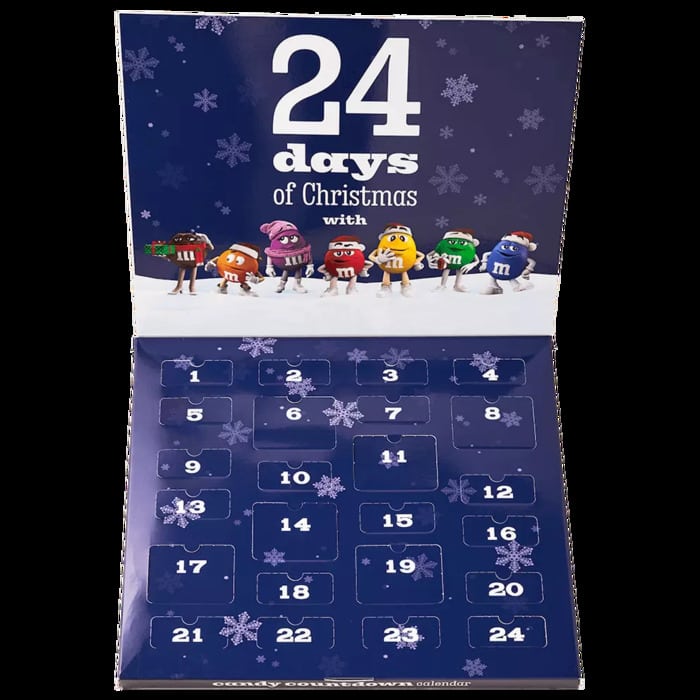 23. Delicious NYC Advent Calendar, $159
This unique option contains 24 treats locally made in New York City. It includes Everything Bagel seasoning, Matzo bites, baked apple popcorn, and more. If the Big Apple isn't your thing, the company sells curated calendars from Minnesota, Indiana, the Great Lakes, the Great Plains, and other locales.
Available at Delicious Food Delivered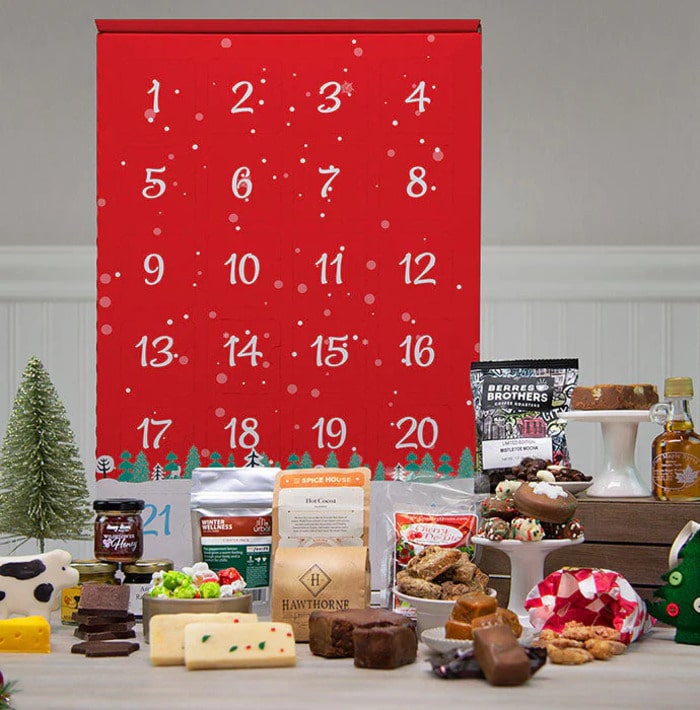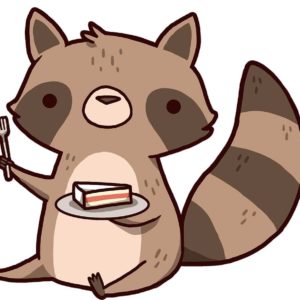 Latest posts by Christine Colby
(see all)