As foodies, we always look forward to the endless array of beige starches that is the Thanksgiving spread. As Trader Joe's lovers, we're also excited that they roll out the goods in advance, so we taste tested and ranked Trader Joe's Thanksgiving items from worst to best. Gosh, it's good to be us.
On November 1st, we're chomping at the bit to get chomping at a bit of Thanksgiving food. Like athletes in training, we work our way up to the fourth Thursday with a month of sage-ladden, rosemary-studded, gravy-soaked goodness. From pumpkin toffee cakes to seasoned popcorn to butternut squash mac and cheese, our training season has been stacked in the best way.
The aisles of Trader Joe's are alive with possibilities for Thanksgiving sides and Fall flavors. So we did our due diligence and ranked them all, so you know which to stockpile and which might actually make you miss your Aunt Val's saltless boiled Brussels.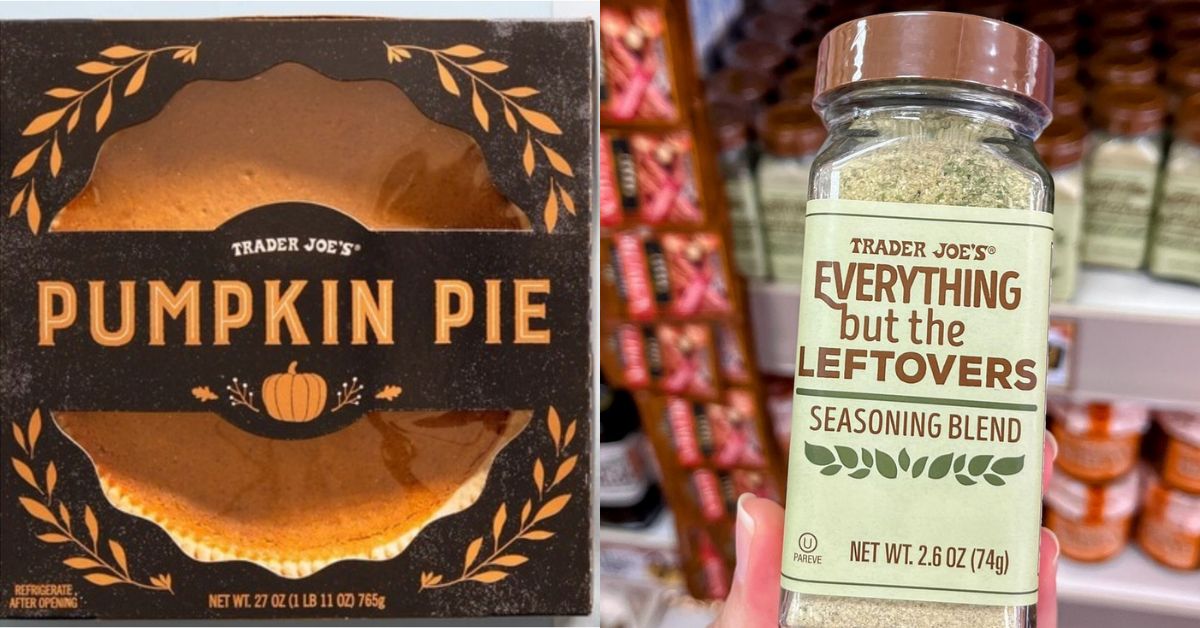 Trader Joe's Thanksgiving Items Ranked From Worst to Best
14. Riced Cauliflower and Butternut Squash Risotto
Fool us once, shame on you. Fool us twice, shame on us. Fool us thrice, you're probably cauliflower, bulldozing your way into our favorite dishes and laughing in our faces because we're naive enough to believe in you.
Cauliflower cannot even be normal rice, let alone a creamy and luscious risotto. We wanted salt. We wanted unctuousness. We wanted…well, we wanted risotto. Next.
13. A Turkey Walks Into a Pumpkin Patch Cookie Kit
The redeeming factors of this kit are that it's cute, and it comes with a lot of frosting.
But that doesn't make up for the fact that it's built on sugar cookies, which are great as roof shingles, but bad as food. If you're going to be a cookie, be more exciting.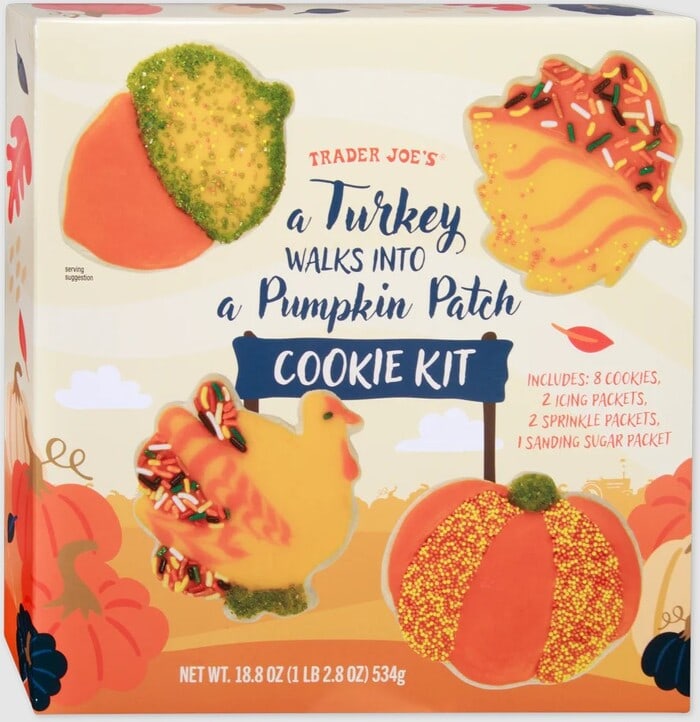 12. Green Bean Casserole Bites
While these weren't the worst tasting on the list, they were certainly the biggest disappointment. We love green bean casserole, and these just missed all of the marks.
The mushroom binder was a little thin, there was a lack of crispy fried onion, and it just didn't have that flavorful pow that we know and ignore comes from extremely processed cream of mushroom. We like what we like.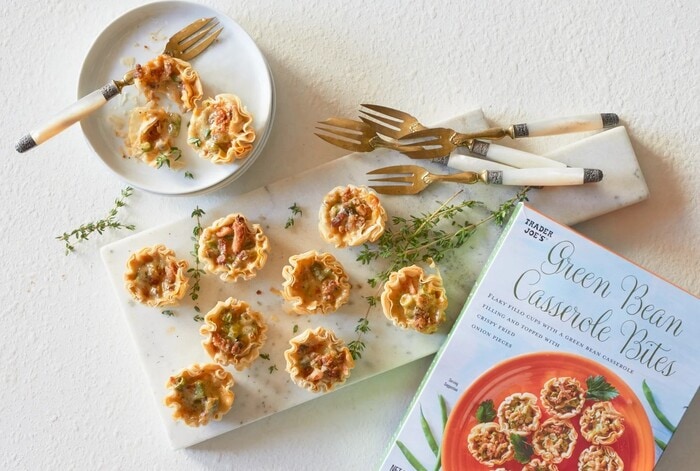 11. Roasted Turkey and Sweet Potato Burrito
Roast turkey, sweet potato, and cranberry are so delicious on our Thanksgiving plates, but something got lost in translation. This burrito version felt like something called #EatCleansGiving that you'd grab from the refrigerated case of a fancy gym's smoothie bar. The workout is you running from security because you definitely cannot afford a membership there.
We get why you can't soak a handheld burrito in gravy but also, we want the burrito soaked in gravy.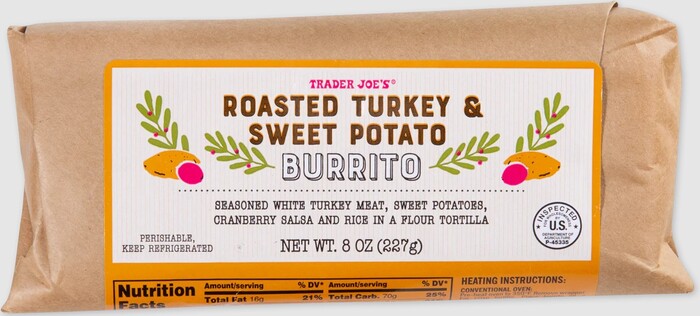 10. Thanksgiving Stuffing Seasoned Popcorn
This popcorn is a good option for those who aren't shy about seasoning and want to do some mindless munching. They're heavy on the Thanksgiving flavor, but the popcorn itself is so light that the herbs can actually get a little overwhelming.
Snacking for long enough will leave you fundamentally confused about the disconnect between your mouth, which is exhausted by the strong flavors, and your stomach, which is still very empty. It's somehow satisfying and unsatisfying at the same time.
Points for piquing our curiosity, we guess?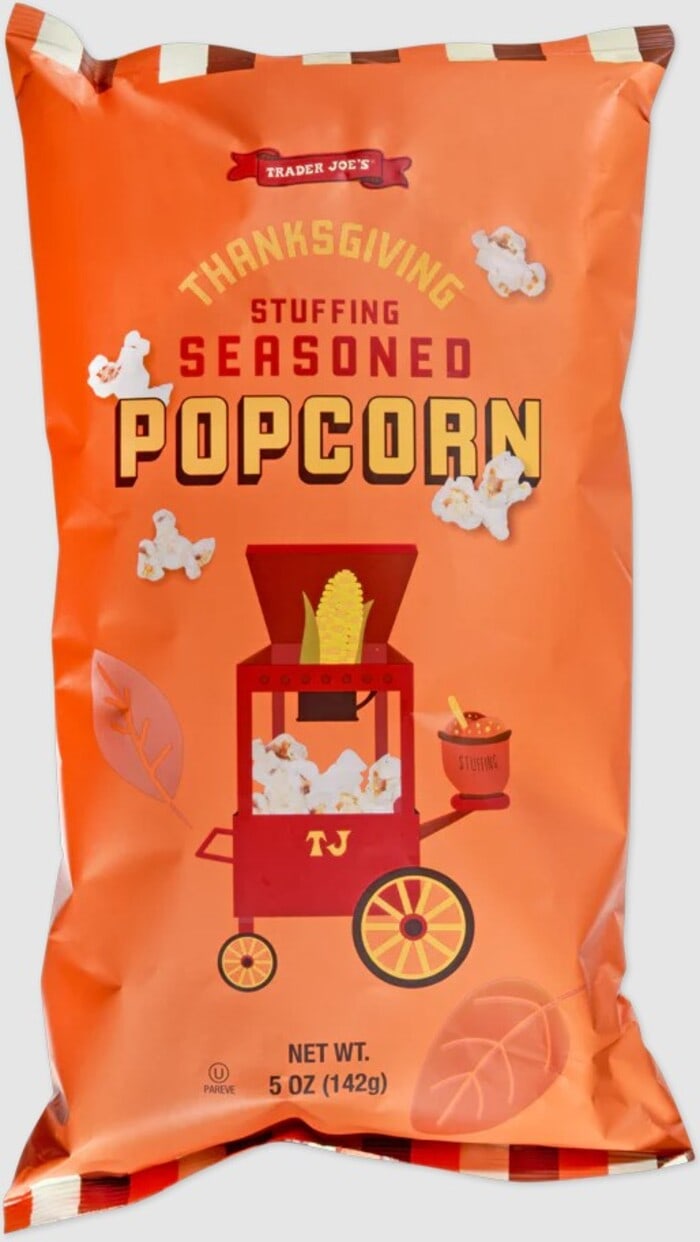 9. Pumpkin Pie
Look, it's delicious. Of course it is. Because it's a pumpkin pie. But that's the thing. It's just a pumpkin pie. We can get one anywhere and we're going to love it, so we couldn't in good faith put it much higher on the list.
Forgive us, TJ's pumpkin pie. We'll probably see you at Thanksgiving.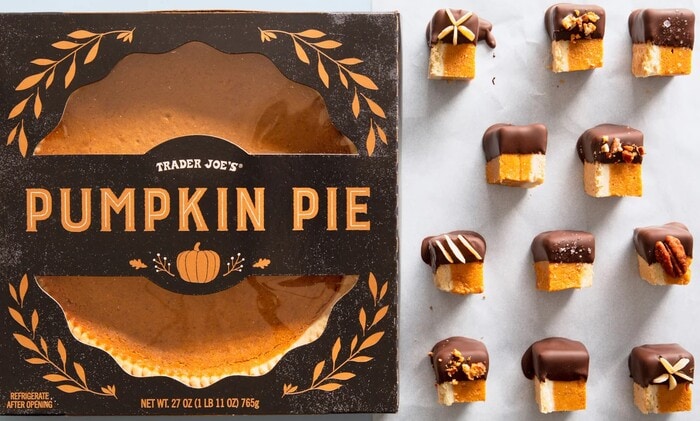 8. Everything But The Leftovers Seasoning
This is kind of cheating the game. It's basically transportable umami in a bottle. Seeing as it's much easier to carry around and clean up than a bottle of fish sauce, we love it for the convenience of being able to shake it onto anything and everything.
This scores higher for gameplay than for pure taste, but perks are perks.
7. Pumpkin Bisque
Some people get tingles up their spine when their lovers brush against them a certain way or breathe a sweet nothing into their ear. That's how we feel when we think about soup season. We go right to a creamy bisque.
We were worried this pumpkin option wouldn't live up to our unrealistic expectations, but we're so happy to be wrong – especially topped with some crispy onions or salty pumpkin seeds. Is it getting hot in here? Oh good, our soup must be ready.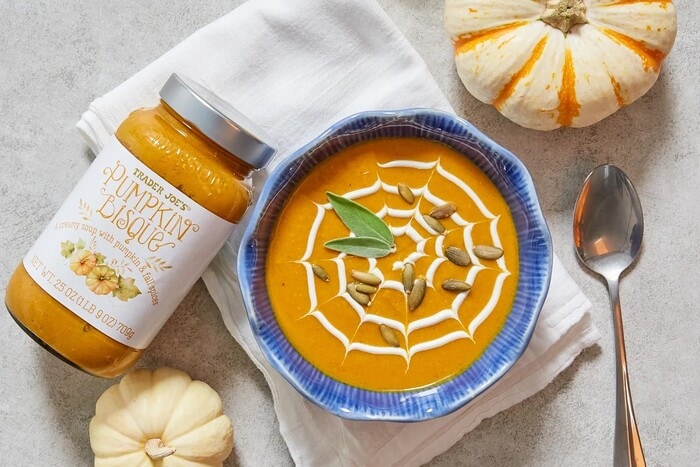 6. Thanksgiving Stuffing Seasoned Kettle Chips
We're sadistic in the way we love kettle chips. We love a salt bloat that makes our mittens feel snug and a chip so crunchy that it cuts up our mouths a little bit, and these chips deliver.
We barely got the bag open before we were overtaken with the smell of Thanksgiving seasoning, and we're happy to say they taste as good as they smell. We think this year we'll use them to scoop up our mashed potatoes instead of a spoon. Bring on the chaos.
5. Turkey Sausage Stuffing Fried Rice
We're not normally huge on rice around Thanksgiving. We think it should give the other starches a chance to shine. But you know what? Simone Biles was right to not step aside and so, too, was rice.
This is comforting in its taste and inventive in its format. It's absolutely delicious, and we happily ate the whole bag.
4. Butternut Squash Mac and Cheese
Considering we saw some mixed reviews, we were shocked by how much we liked this. Scratch that. How much we loved it. How much we still love it. How much we still think about it, all the time. We feel like we're Noah and this mac is Allie and we want to write it a letter every day for a year.
If you're not a butternut squash fan, you'll be sad by this mac and cheese, but we'll be happy, because more for us. It's creamy and rich and comforting and slightly sweet. We're big fans.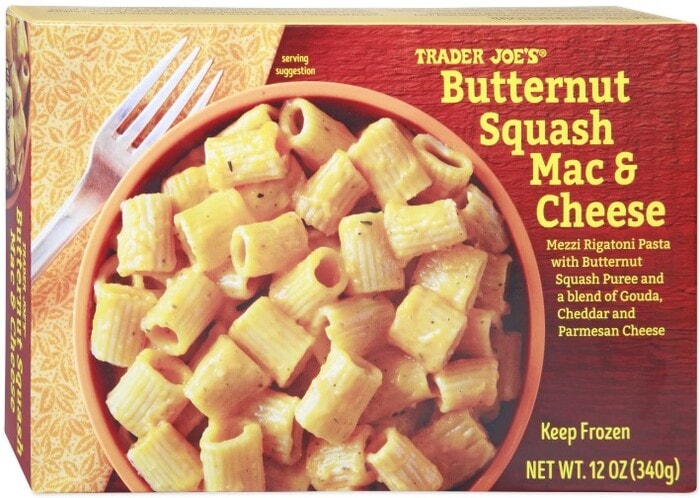 3. Mini Spicy Pumpkin Samosas
We're suckers for spice. That's why we've done a hot sauce ranking and why we've deemed it worth it that our insides are exploding.
These are perfectly seasoned and ever-so-tinglingly spicy, which has them sitting pretty in our top choices. We love the marriage of slightly sweet pumpkin and paneer cheese in a crispy handheld shell, and our only sadness is that these are seasonal.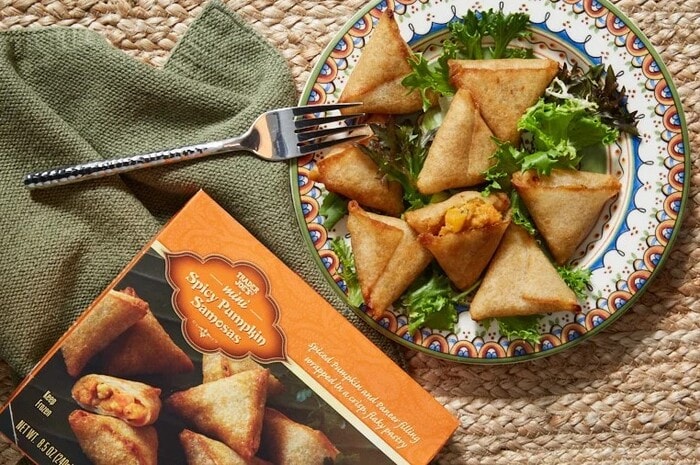 2. Pumpkin Sticky Toffee Cakes
Wow, talk about a decadent, comforting dessert. These cakes pack a wallop of pumpkin flavor inside of a moist, sticky, mini bundt. We thank the lord these are already individually portioned, because we know we would eat however much of this was put in front of us.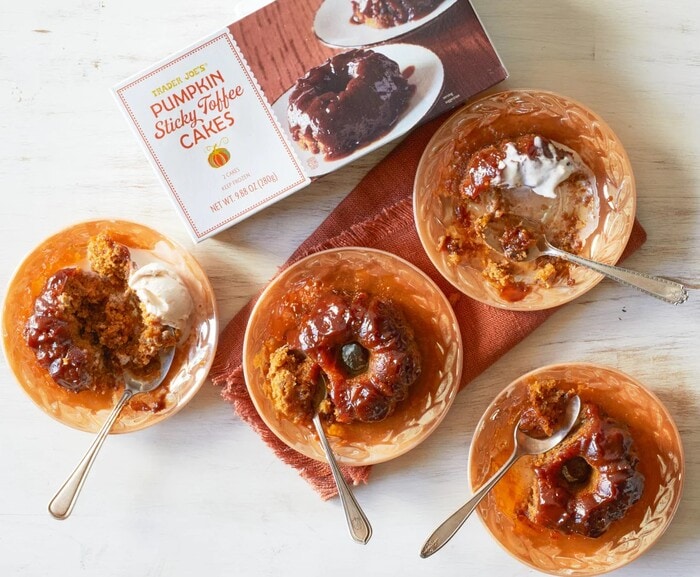 1. Pumpkin Ginger Hold The Cone
The reigning champion of Fall TJ's foods. We don't care if it's not overwhelmingly specific to Thanksgiving, we make room in our freezers every year for as many boxes as we dare buy.
The perfectly fresh take on a pumpkin pie and a gingersnap at the same time, these refreshing treats round out any Fall dinner perfectly. The ice cream is smooth. The candy coating is crunchy. The cone is ever so slightly spicy. This dessert is a 10, which is at least how many we can eat at a time.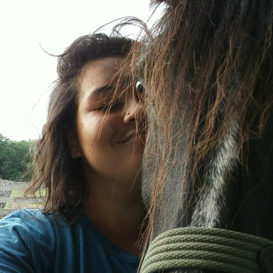 Latest posts by Hebba Gouda
(see all)