November is a month full of wolfing down your trick-or-treat haul and inhaling everything pumpkin and butternut squash. In a season full of great food, don't neglect to visit the epicenter of delicious offerings. Because here's all the best stuff arriving at Trader Joe's for November 2023.
The crisp Fall air is perfect for walks…especially if they're straight into the arms of our Hawaiian-shirted heroes. We're so happy with the selections that we don't even feel inclined to lecture you how wrong you are not loving stuffing with every fiber of your being. That's the power of Trader Joe's.
Even if you're not excited about traditional Thanksgiving foods, TJ's has plenty of options for November, from fancy cheeses to turkey-shaped cookies to seasoned popcorn.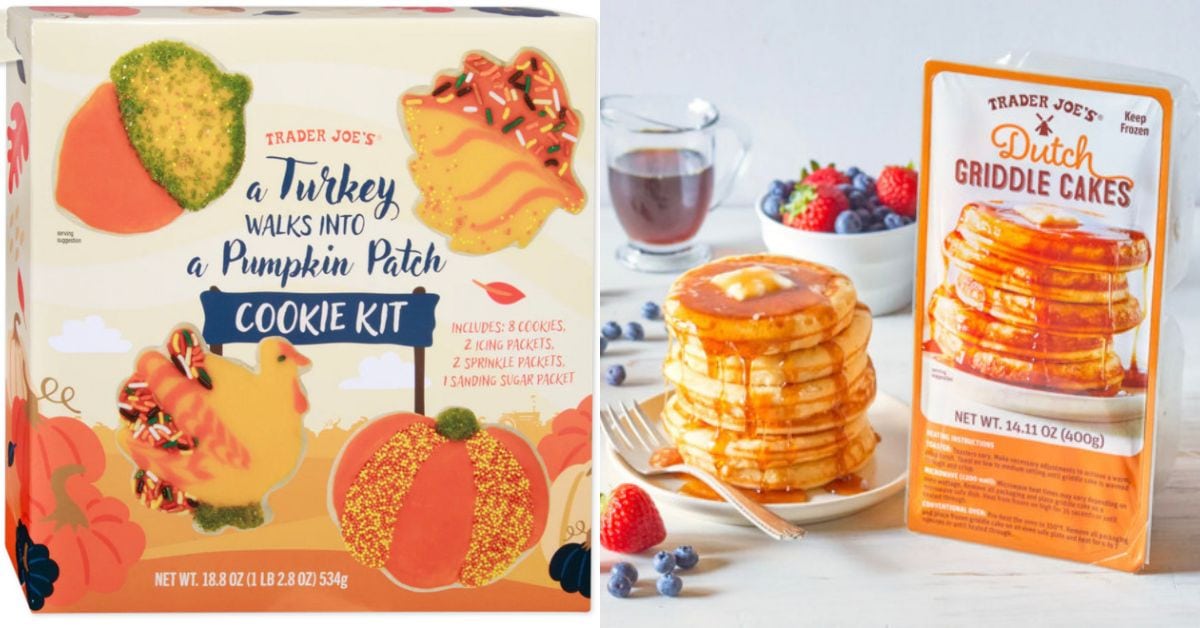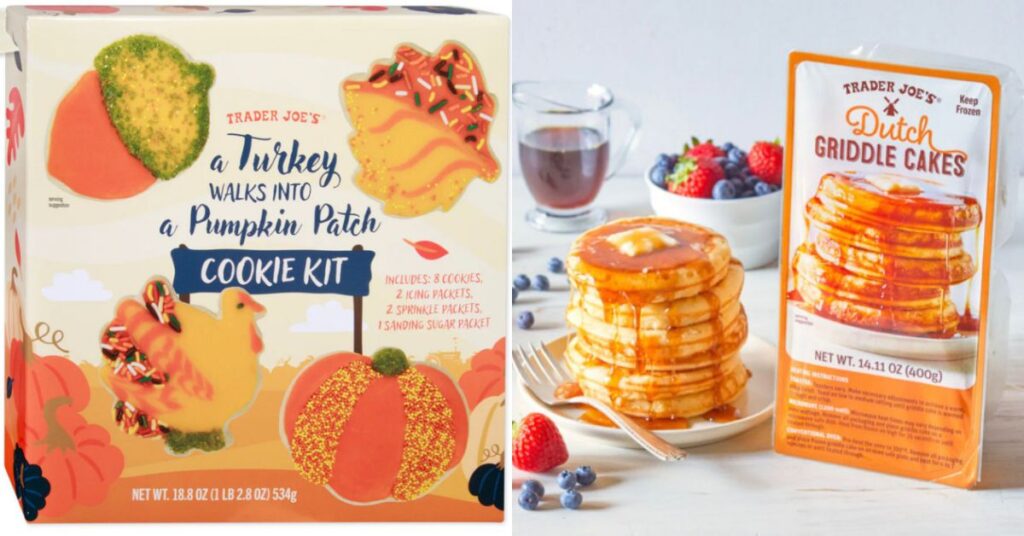 21 Trader Joe's Products in November 2023
1. A Turkey Walks Into a Pumpkin Patch Cookie Kit
We're usually dark meat people, but we'd take white meat if that means getting a turkey-shaped sugar cookie.
This kit contains the tools to decorate eight cookies, so it's both a fun activity and a perfectly responsible way to have turkey if you're a vegetarian. Bye, tofurkey.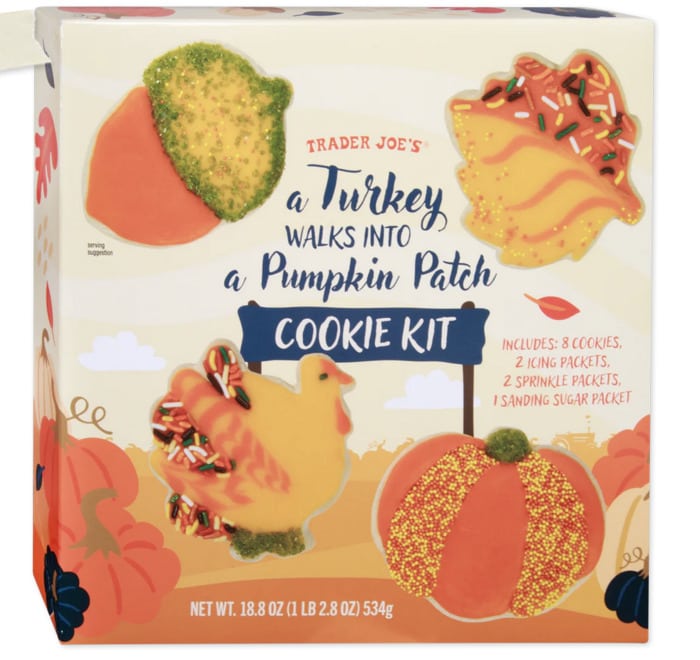 2. Dutch Griddle Cakes
Ever looked at a pancake and wished it were just a little bit fluffier? A little more delightfully chewy? A little more ready for you to eat without having to do any work?
Thank goodness for these griddle cakes that kill all three birds with one stone. You can save them for Thanksgiving dinner.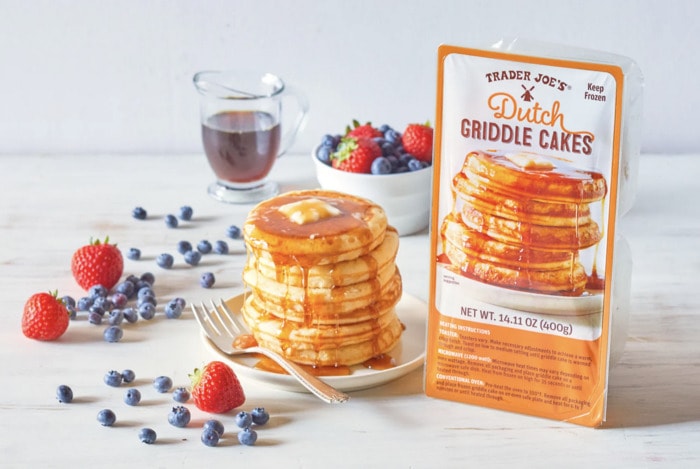 3. Caramel Chocolate Peanut Butter Frooze Balls
Caramel? Chocolate? Peanut butter? A fun name? How did something start with caramel and keep getting better?
We don't know and even if we did, we couldn't explain it because our mouths are full of Frooze Balls until further notice.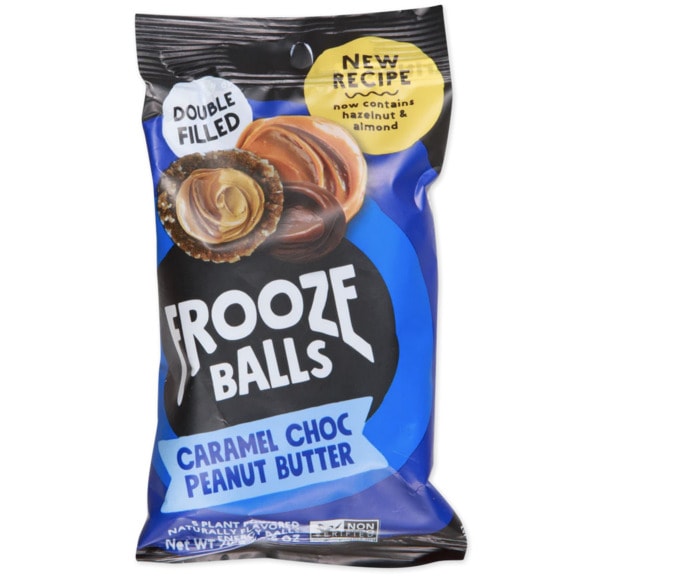 4. Aged Sheeps Milk Cheese Marinated in EVOO
Hosting a cozy yet classy Fall event? Sounds like you need a charcuterie board. And your charcuterie board needs this cheese.
The key is that this cheese was aged by professionals, and not by a little method we like to call, "oh crap, I forgot I left that there."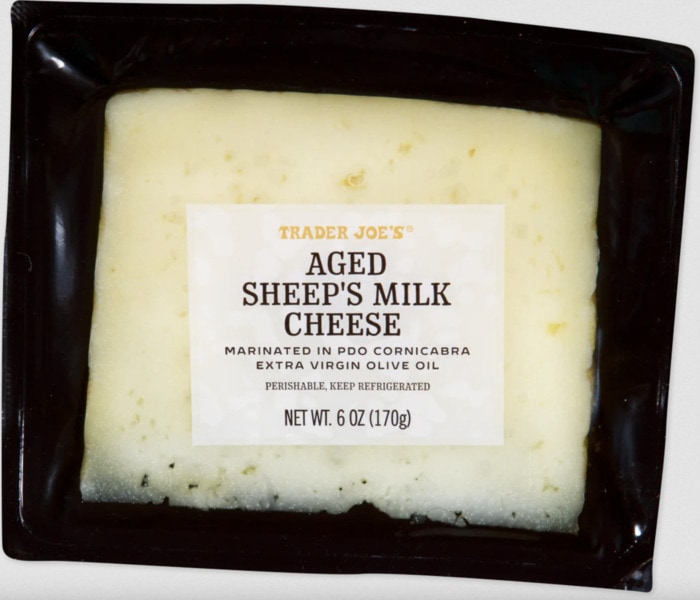 5. Organic Conversation Olive Trio
Cocktail parties always seem like they're going to be more fun and less awkward than they are, but have no fear. No conversation is in danger of stalling when you have this trio of olives.
Containing three types of olives – Nocellara, Bella di Cerignola, and Leccino – cracking open a jar of these will immediately lube up the social situation. Which will give you plenty of time to theorize how you could have watched so much Food Network and not heard of any of these olives.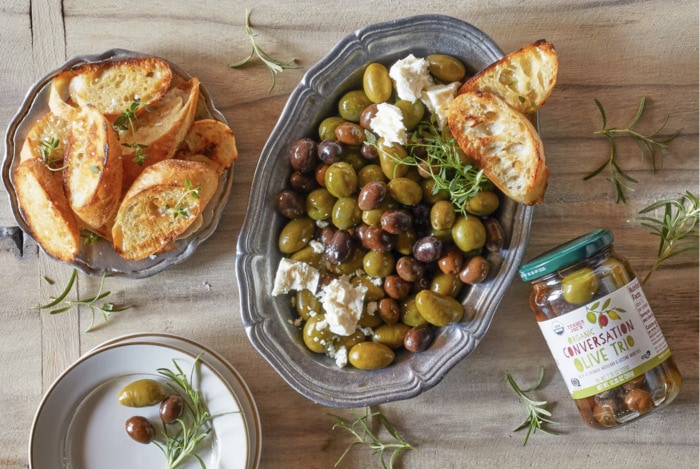 6. Non-Dairy Cinnamon Bun Creamer
We wish our tummies liked cinnamon buns as much as our mouths did. Maybe it's the dairy in the cream cheese frosting, maybe it's the gluten, maybe it's that we had half a dozen. No, can't be that last one.
Thankfully, this creamer allows us the taste we love without the dairy we don't. And it doesn't hurt that coffee is involved, too.

7. Italian Black Summer Truffle Slices in Olive Oil
We can't afford a trip to Italy, but we'll happily settle for a little taste of the ol' boot because we know it tastes way better than we just made it sound.
Black truffles combine two of our favorite things – umami and the brief opportunity to delude ourselves into feeling fancy as we eat boxed pasta in our PJ's in front of Golden Bachelor.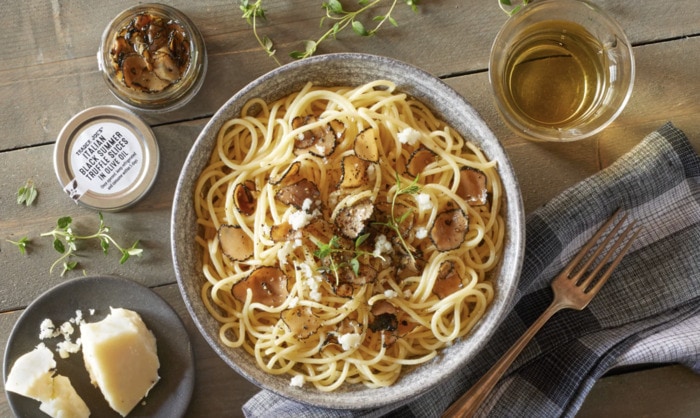 8. Chocolate Dipped Danish Cookies
Heard of the Danish term "hygge?" It's the idea of creating a warm atmosphere, enjoying good things in life with good people, and just generally being cozy.
So, chocolate dipped cookies? Yeah, that tracks.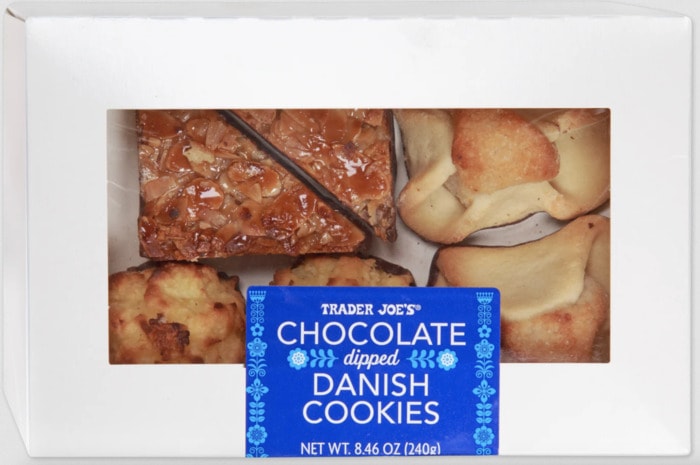 9. Braised Pork Shoulder
The chillier months mean we can have our ovens on for long enough to braise a pork shoulder. But it also means that the sun goes down earlier, so obviously we're not going to do anything after 4 p.m.
Because we don't have our lives together enough to allocate the hours to get a pork shoulder tender, we will always find the time to go to Trader Joe's.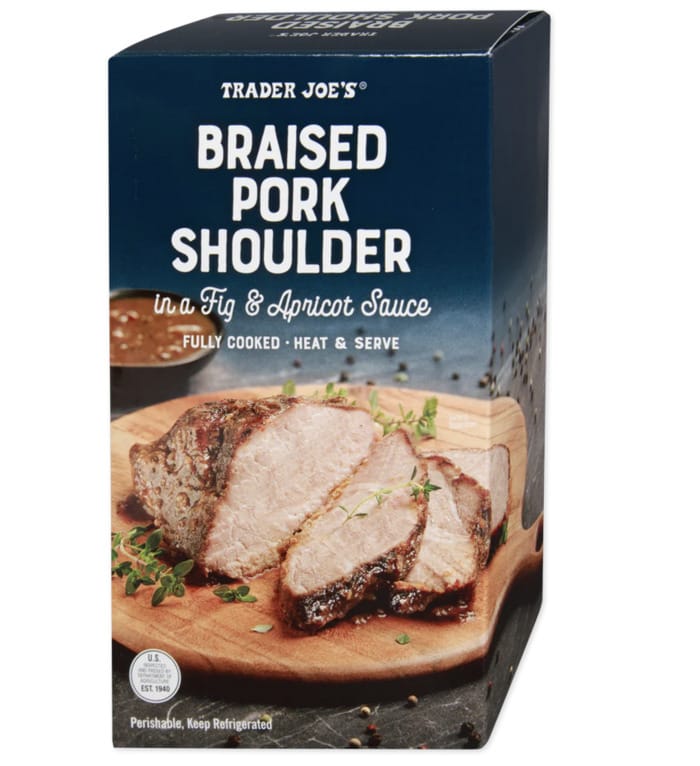 10. Milk Chocolate Coins
Part of us thinks we might be disappointed to open a gold coin and find it's chocolate. But then we realized giving us chocolate instead of money is really just cutting out the middleman.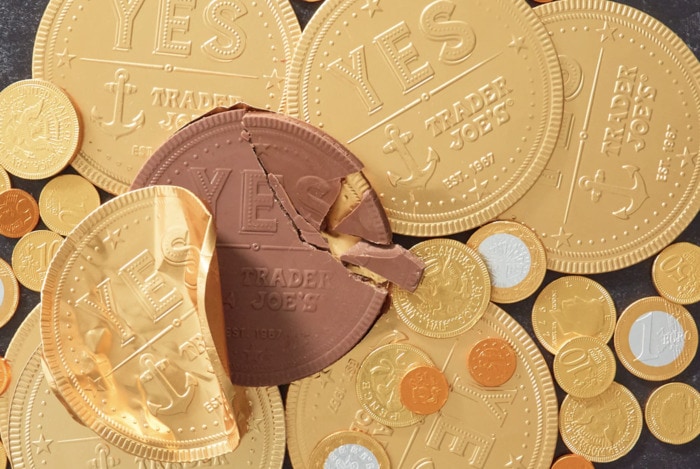 11. Thanksgiving Stuffing Seasoned Popcorn
We have been waiting for science to come up with a way for us to constantly eat Thanksgiving dinner without ever getting full. They've cracked it. Or rather, they've popped it.
All the lightness and snackability of popcorn and all the flavor of Thanksgiving stuffing? Say less.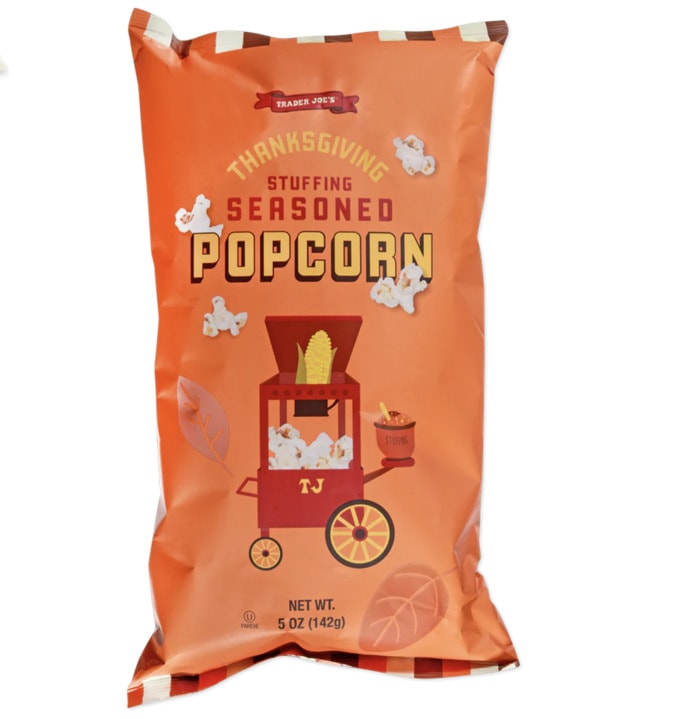 12. Baked Pizza Flavored Pillow Crisps
"Baked pizza flavored pillow" is something we've accidentally made many times, especially when Domino's has a deal on pizza delivery and it's 2 a.m. Trust us when we say these are way better.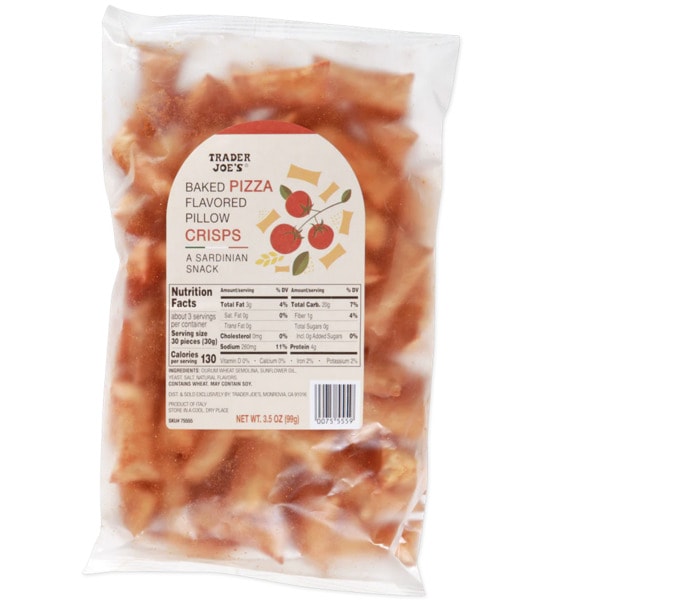 13. Cinnamon Sugar Toffee Trio
The Three Musketeers had their moment, but it's time they moved aside for the better trio in town. Unless we're talking about the candy bar. That should stay forever.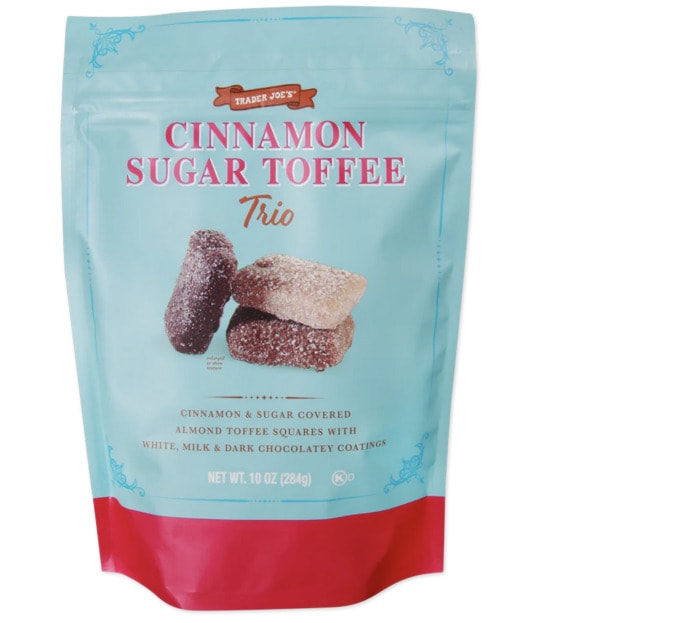 14. Apple Overnight Oats
This combination of apples and oats has us jealous of horses that get to eat like this every day. And also don't have to worry about paying rent or doing taxes. But mostly the oats.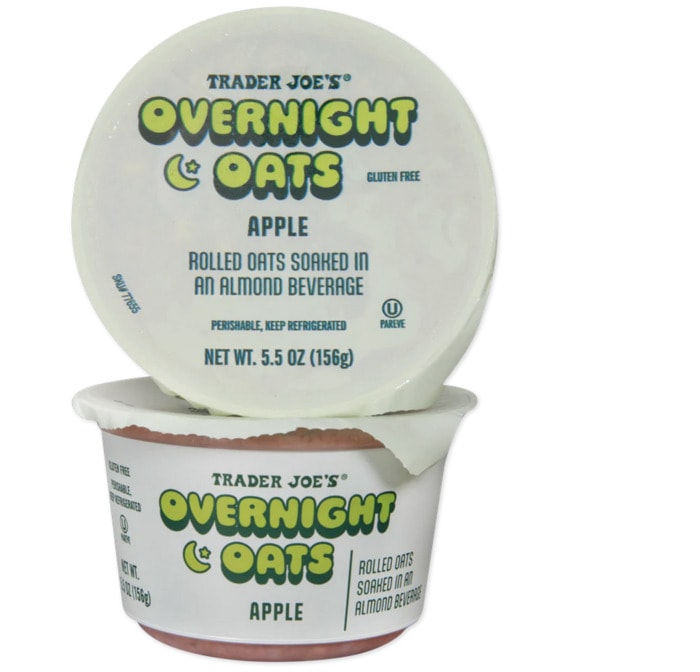 15. Roasted Hatch Chile Jalapeno Cheese Dip
Imagine this dip in a crock as you pull out a fresh loaf of bread to tear into, dunking a warm chunk into this vat of creamy, spicy goodness.
Doesnlskjs adlkajflkasjlkawp bkl a – whoops, had to wipe the drool off of our keyboards.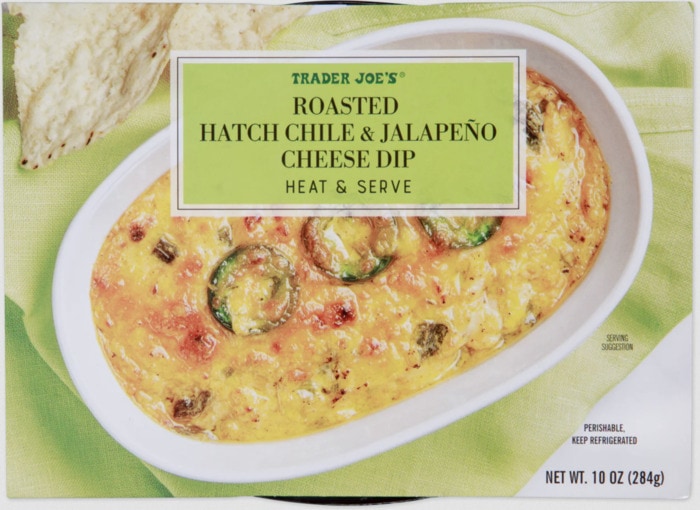 16. Chicken Noodle Soup
It's soup season. No two ways about it. Chicken noodle soup is the definition of an oldie but a goodie, and Trader Joe's is confident enough to know that they don't have to mess with the classics.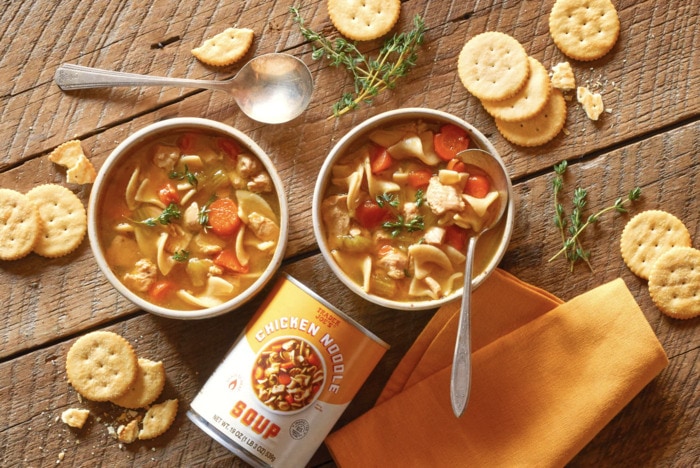 17. Garlic Black Pepper Almonds
We have a saying: When in doubt, cover it in garlic. When not in doubt, also cover it in garlic. Cover it in garlic.
We haven't tested the theory extensively, but after seeing how well it works with almonds, we're excited to continue with the experiment.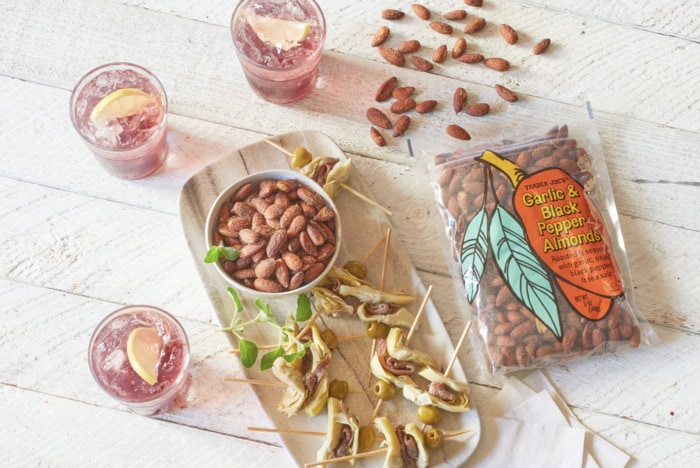 18. Almond Chipotle Dip
This creamy vegan dip has been likened to Bitchin Sauce, but this version is more PG. Which doesn't matter because no way you're sharing with your annoying kid cousin anyway.
19. Salted Maple Ice Cream
Sure, we got excited hearing that 'NSYNC was back (thanks, Trolls) but this ice cream return had us happy dancing so hard that even Justin Timberlake himself begged us for lessons. We said no, obviously. #TeamBritney
20. Pumpkin Blondie Brownies
We know how they're labeled. but we can't comfortably call these chocolate-less treats a brownie. They're really more like a sheet of dense pumpkin bread, so you won't catch us complaining.
21. Felted Wool Pumpkin
DO: Use these for decoration.
DON'T: Eat these. Don't say we didn't warn you.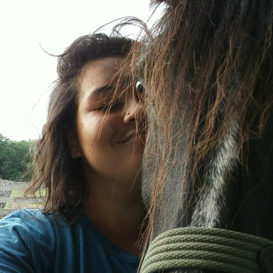 Latest posts by Hebba Gouda
(see all)