Every November 1, tinsel hits the fan and things go from zero to Christmas in no time flat. The Grinch in us is shaking our fist, yelling "but Thanksgiving!" But then Trader Joe's dropped their holiday products for 2023, and reminded us of the true meaning of the season.
You don't have to be religious to enjoy the tasty treats that pop up with the oh-so-exciting "limited edition" labels, but you do have to make plenty of room to stockpile the goods. Chuck the gifts. You need space for boxes of Peppermint Joe Joe's, Mini Gingerbread People, and Dark Chocolate Mint Stars.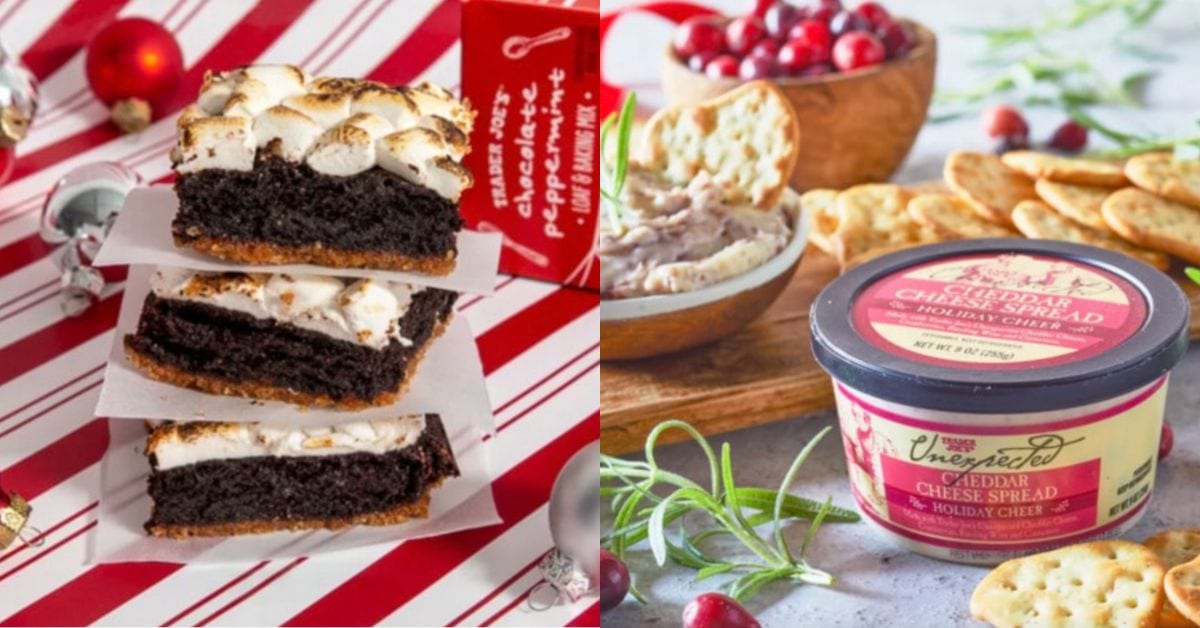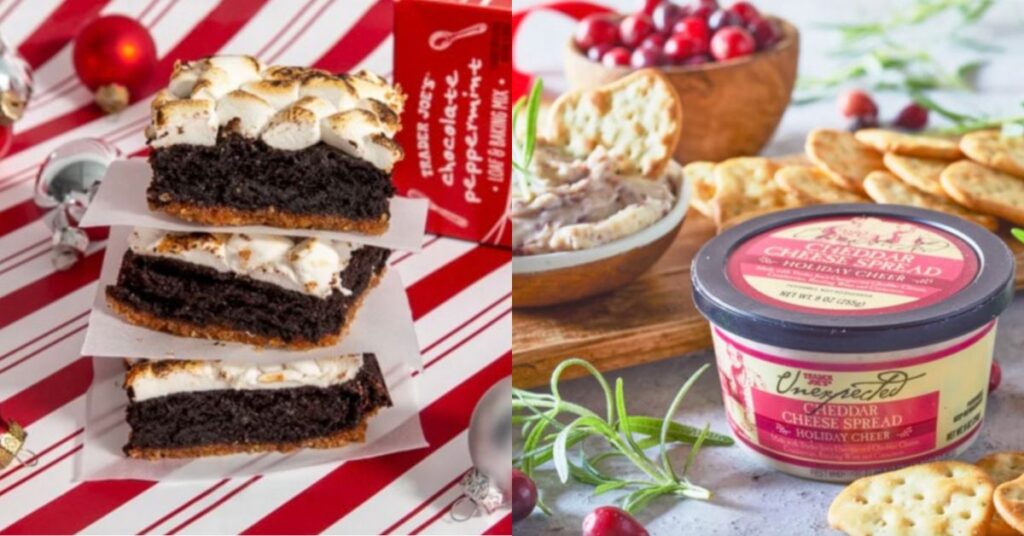 The offerings of the holiday season (the period of time from Thanksgiving preparation to New Year's hangover) are some of the most festive out there. This year, we're manifesting. All we want for Christmas is to hear anything other than that song. And also every single thing on this list. Chop chop, Santa.
21 Trader Joe's Holiday Products for 2023 to Celebrate With
1. Chocolate Peppermint Loaf Baking Mix
The holidays are busy enough without having to bake something from scratch, and your relatives are critical enough without you bringing something clearly store-bought.
This baking kit is the perfect way to save a little time, while still being able to add love into the recipe. If you're in a good mood.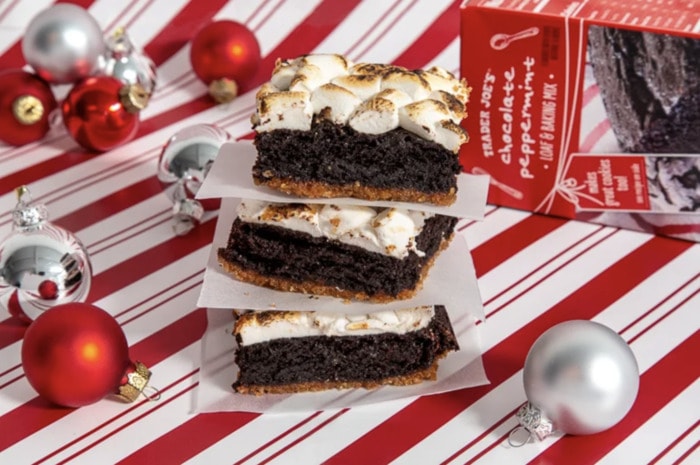 2. Mini Gingerbread People
While these tiny cookies are adorable, the name makes us imagine a world where gingerbread people that aren't explicitly called "mini" are the size of regular people. It's a world in which we're very happy, and only a little terrified.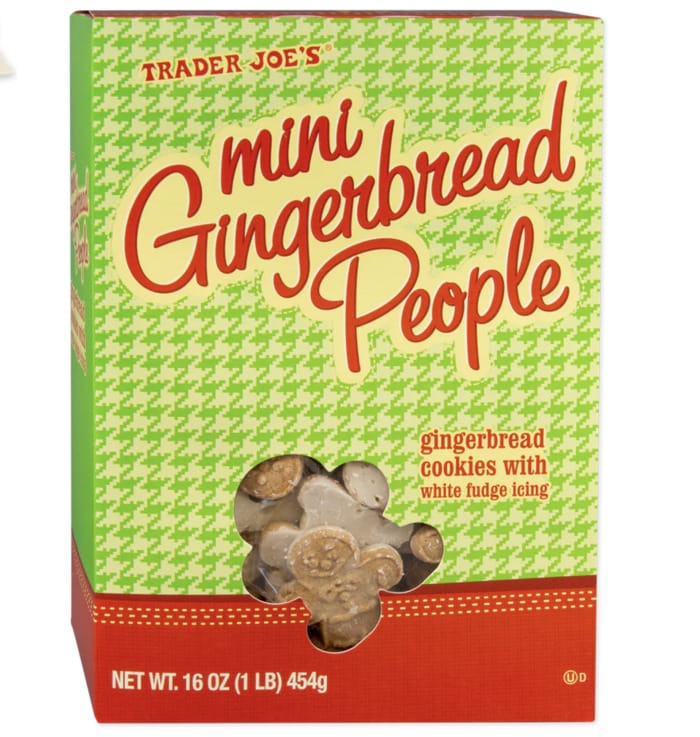 3. Peppermint Mini Marshmallows
Chestnuts roasting on an open fire can step aside. We're about to roast these marshmallows and make some Christmas s'mores. Would you rather eat marshmallows or a food that could be considered healthy? Get your priorities straight.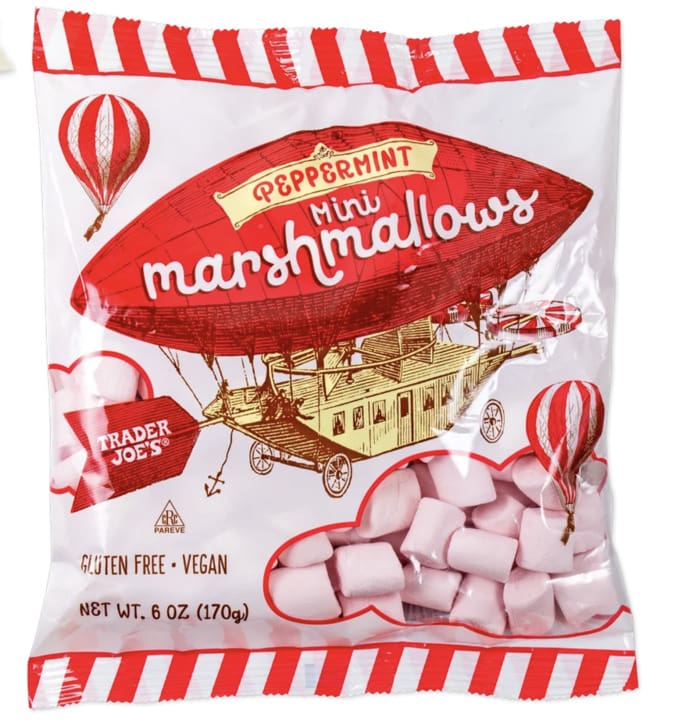 4. Gingerbread Cake and Cookie Mix
Trader Joe's heard us when we said we hated to choose between cakes and cookies. Actually, everybody heard us. We yell it often from the rooftops. But hey, whatever gets stuff done.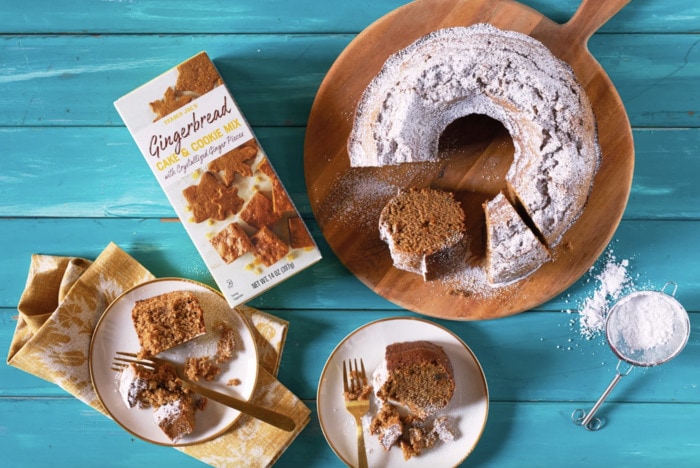 5. Handmade Candy Cane with Cocoa Center
We know and love stirring hot cocoa with a candy cane, so we're enticed by this fun swap where the cocoa is now inside the candy cane. How very surrealist of you, Trader Joe's.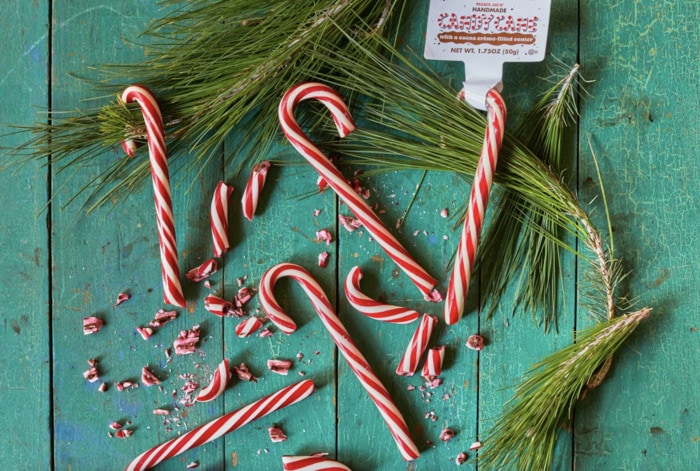 6. Minty Flavored Cocoa Truffles
Not to be confused with the umami-packed mushrooms, these truffles are a bite-sized sweet. We buy them to share with our friend that hates mint chocolate because "oh no, we totally forgot" and now we have to eat the whole box by ourselves. Dang.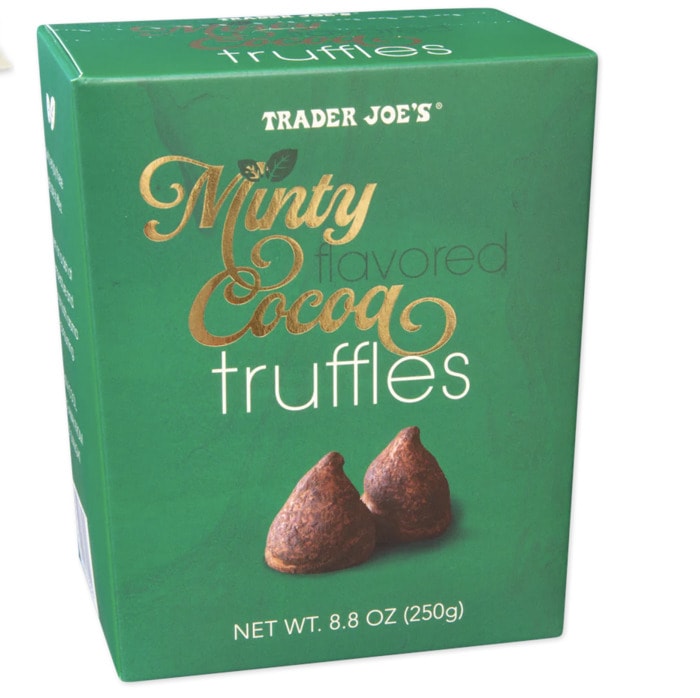 7. Gingerbread Sandwich Cookies
As much as we love crispy gingersnaps, we're thrilled to see those warming ginger flavors in a cookie that's soft, chewy, and hugging a glob of vanilla frosting. I mean really, can you say that without smiling?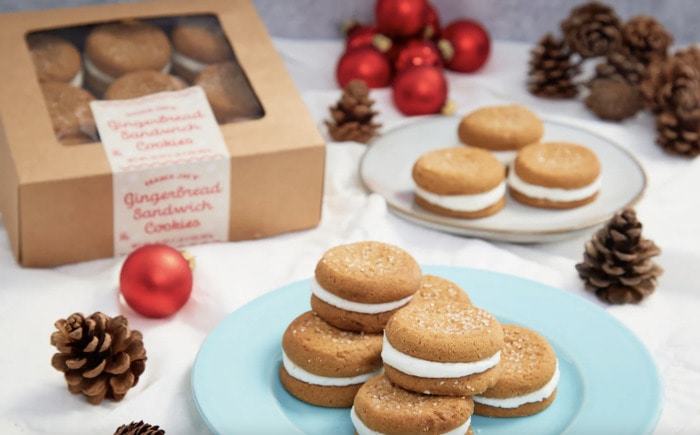 8. Dark Chocolate Mint Stars
With Girl Scout cookies for the year far in our past, the absence of Thin Mints has us hankering for mint chocolate. Thus, these cookies are stars in more ways than one.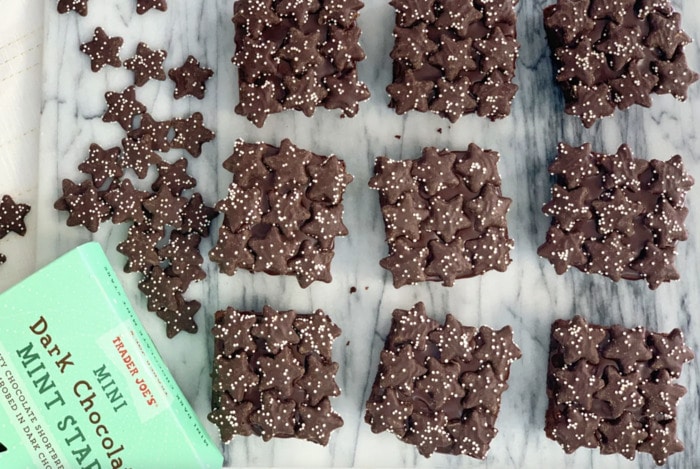 9. Felted Ilex Berries
Alright so this one isn't edible. At least, not if you have a standard human digestive system.
But it is certainly festive, and the name includes a great new idea for how to use that X you can't get rid of at family Scrabble.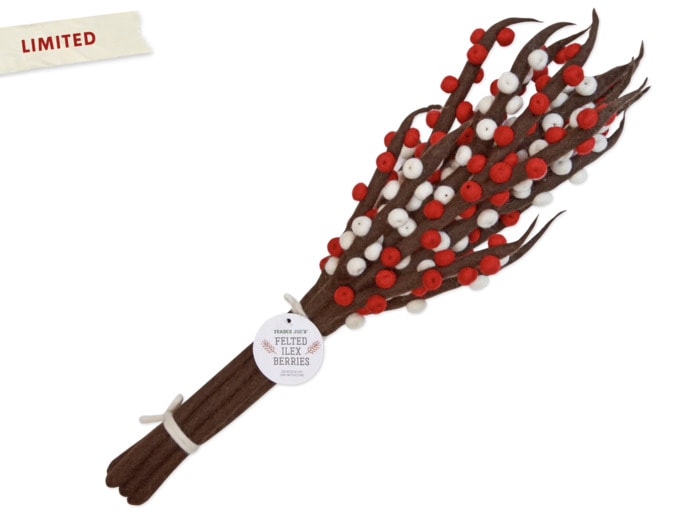 10. Christmas Sprinkle
The simple hack to making anything festive. This confectionery mix of green trees, red candy canes, and white snowflakes has the power to take your dessert from ho-hum to holiday faster than you can spiral into an existential crisis because you're halfway through baking and realize you have nobody to share a dozen cupcakes with. Hehehe.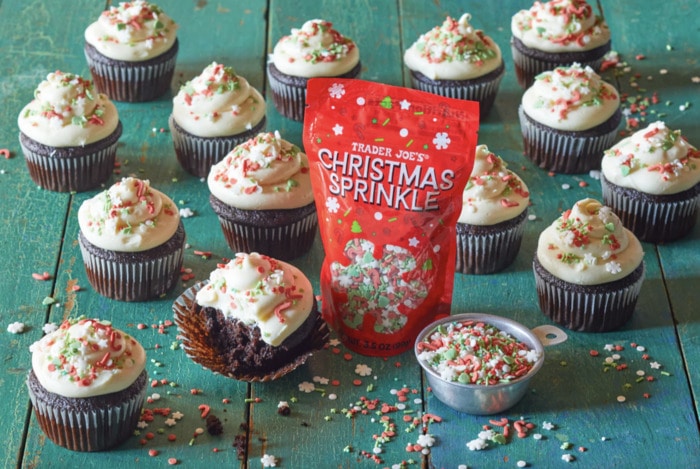 11. Chocolate Dipped Danish Cookies
Is it a holiday party without a platter of cookies? Could be. Is it a good one? Definitely not.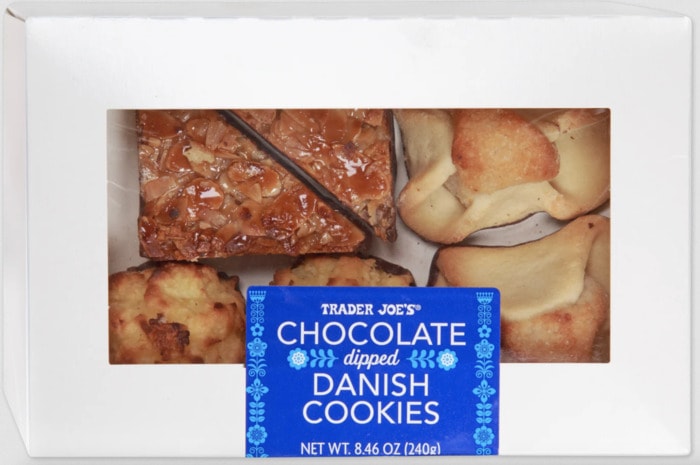 12. Holiday Cheer Unexpected Cheddar Cheese Spread
We always cheer for cheese. But the "holiday" part of this comes from the addition of cranberries, cinnamon, and the primal desire to address any issue at work with, "We can circle back after the holidays."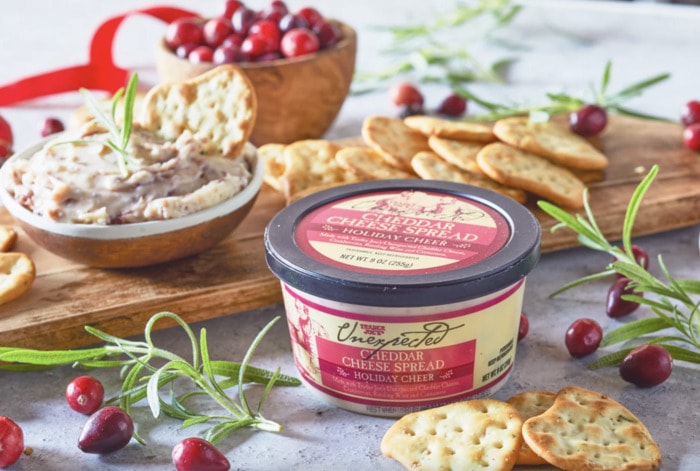 13. Thanksgiving Stuffing Seasoned Popcorn
If you're already starting to watch Hallmark movies, you'll need a snack – and we're not talking about the cookie cutter-ly handsome actor that's in every Hallmark movie. Wait, those aren't all the same guy?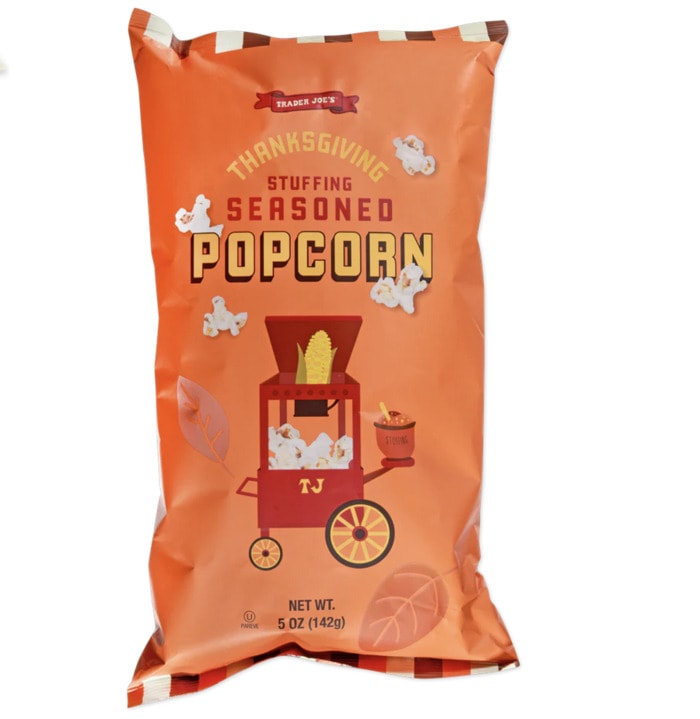 14. Holiday Peanut Butter Flavor Decorated Dog Treats
Trader Joe's could hit us over the head with the information that their products are made for dogs and we'd still be incredibly tempted to eat them. What can we say? We're just more excited about peanut butter than we are turned-off by dog treats.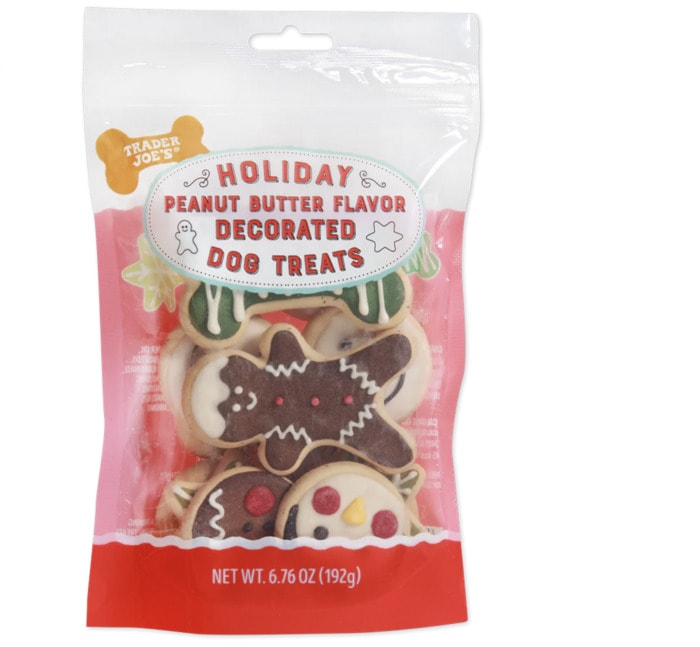 15. A Turkey Walks Into a Pumpkin Patch Cookie Kit
We see this cookie decorating kit featured heavily in the training montage leading up to building the most insane gingerbread house ever.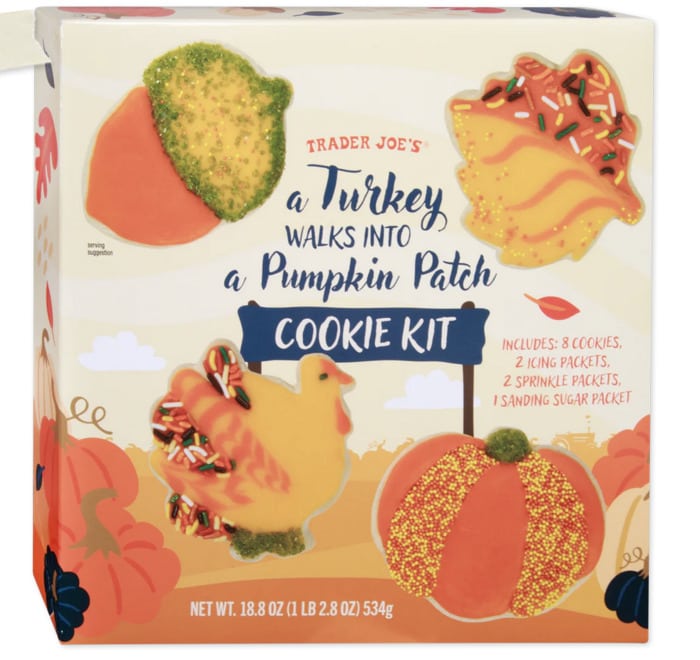 16. Holiday Baking Crew Advent Calendar
Not only are these calendars adorable, but they contain 24 mini milk chocolates. We have both of those things in common.
17. Chili Cranberry & Orange Crunch
We love the classic chili garlic crunch, and we're happy to see a holiday variation. The sophistication of this take is going to level up the scrambled eggs or packaged ramen we make for ourselves at 11:30 pm. Sorry, we meant "and."
18. Jingle Jangle
This tin is what would happen if a bunch of geniuses got into a room, made a delicious snack mix, and then said "that's great, but what if we covered it in chocolate?" Did we mention they're geniuses?
19. Thanksgiving Stuffing Seasoned Potato Chips
Admit it, you love to build a perfect forkful at Thanksgiving with both stuffing and mashed potatoes. Now the flavors have been combined for you, leaving us plenty of stomach space for the perfect forkful at Thanksgiving dessert: pie and more pie.
20. Turkey Sausage Stuffing Fried Rice
Combining the ultimate comfort foods of Chinese takeout and a hearty Thanksgiving dinner isn't a novel idea. But this definitely tastes better than when we slathered our chow mein in gravy after a few too many hard ciders.
21. Everything But The Leftovers Seasoning
Thanksgiving feels a little like an alternate dimension in that we all look forward to the leftovers, sometimes more than the actual meal. We're just going to go ahead and thank anyone that's ever called us "sloppy seconds."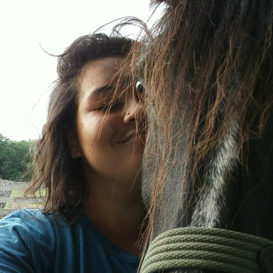 Latest posts by Hebba Gouda
(see all)