Thanksgiving is a food-centric holiday. But ultimately, there's really one food that this holiday is all about and that's cake. Especially if it's one of these fabulous Thanksgiving cake ideas.
These feature incredible designs, from fondant-covered turkeys, to foliage-themed masterpieces, to a double-decker candy corn-themed cake. Not flavored, just themed. We're not monsters.
Meanwhile, turkeys require hours of basting. It's a food you have to babysit, like that brownie you made in your Easy Bake Oven that still never fully cooked. And don't even get us started on the carving. Cake is a simple feat, and couldn't Thanksgiving use more of that?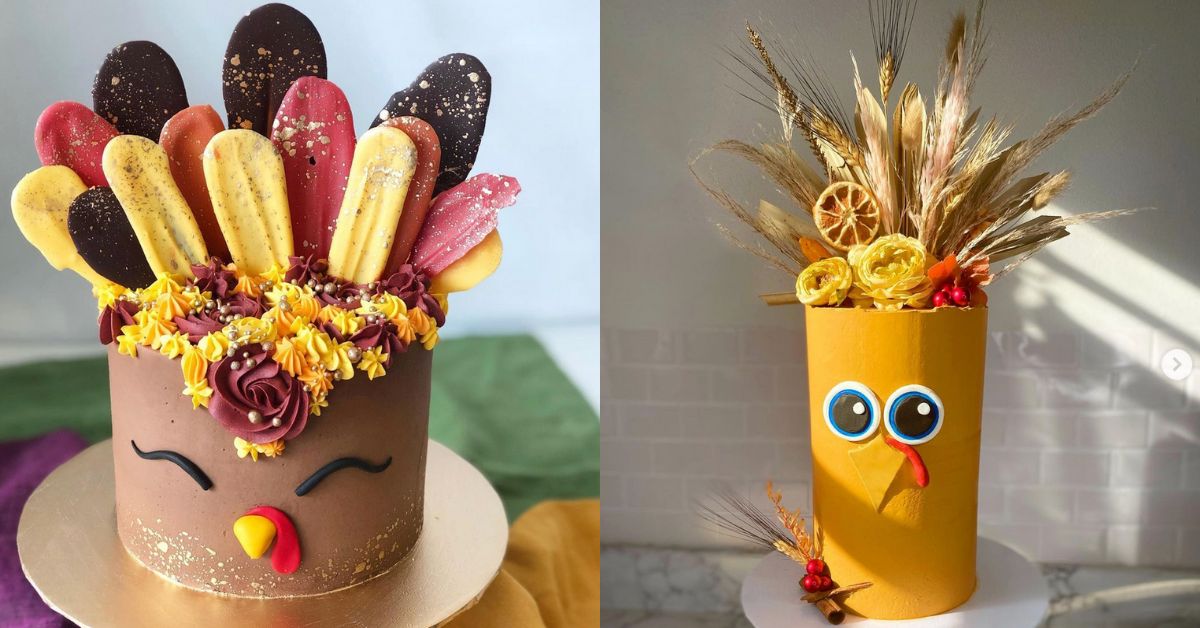 35 Incredible Thanksgiving Cake Ideas
1. Pumpkin Macaron Cake
If a Thanksgiving cake went on vacation to France, it would look like this. J'adore a macaron in the afternoon. Or the morning. Or the middle of the night. Really, we won't say no.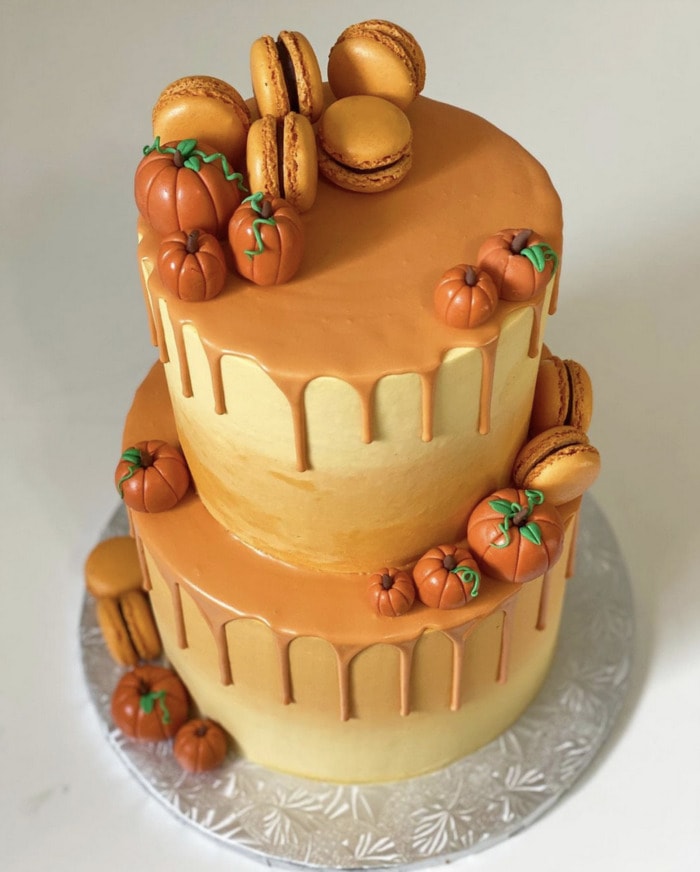 2. Thanksgiving Characters Cake
These owls and turkeys are lining up for Black Friday sales. You'd think they'd just be grateful they weren't eaten last night.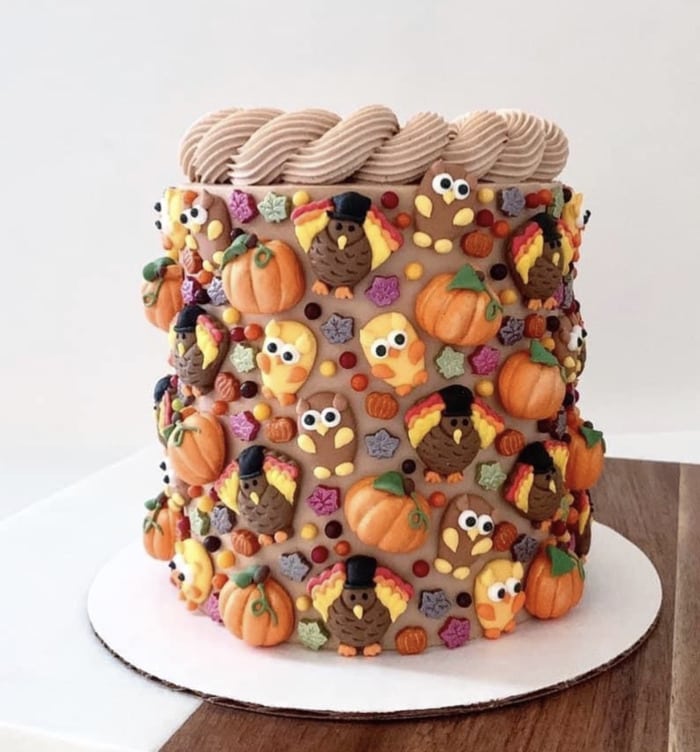 3. Thankful Cake
The tradition where everyone goes around the table to say what they're thankful for is all fun and games until you're last. When everyone else has taken your ideas, you can say you're thankful for this cake. And you too, Grandpa.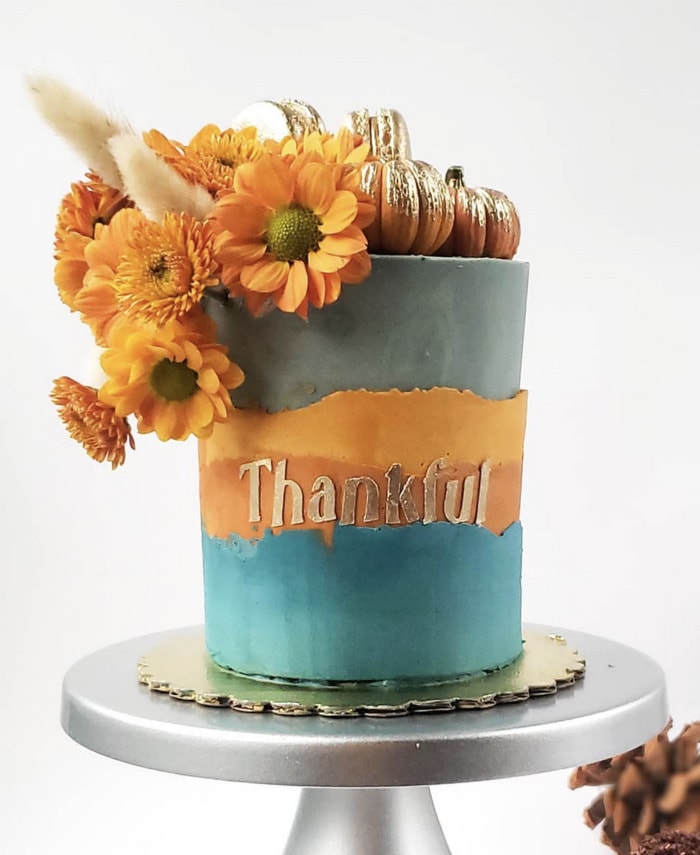 4. 3-Tier Turkey Cake
With three tiers, there's plenty of cake to go around. We can't say the same for the 9×9 stuffing dish. All's fair in love and sides.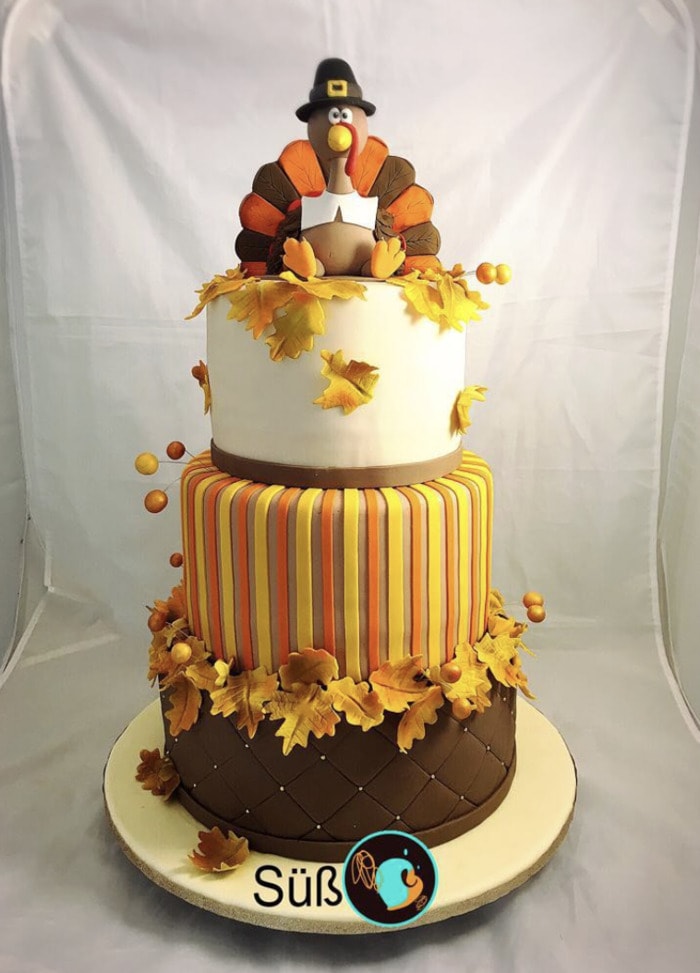 5. Happy Thanksgiving Cake
We have a Happy Birthday song, Christmas carols, and the Monster Mash. Thanksgiving is a missed opportunity for catchy musical tunes. We'd nominate "Stayin' Alive" by the Bee Gees, but the turkeys won't agree.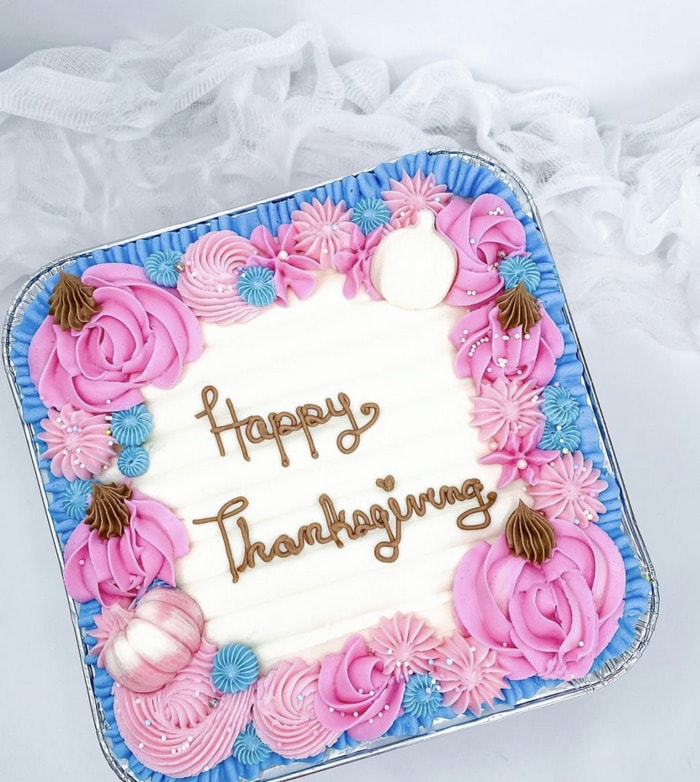 6. Thanksgiving Basket Cake
Someone needs to solve the case of the missing turkey. He sounds like a real basket case.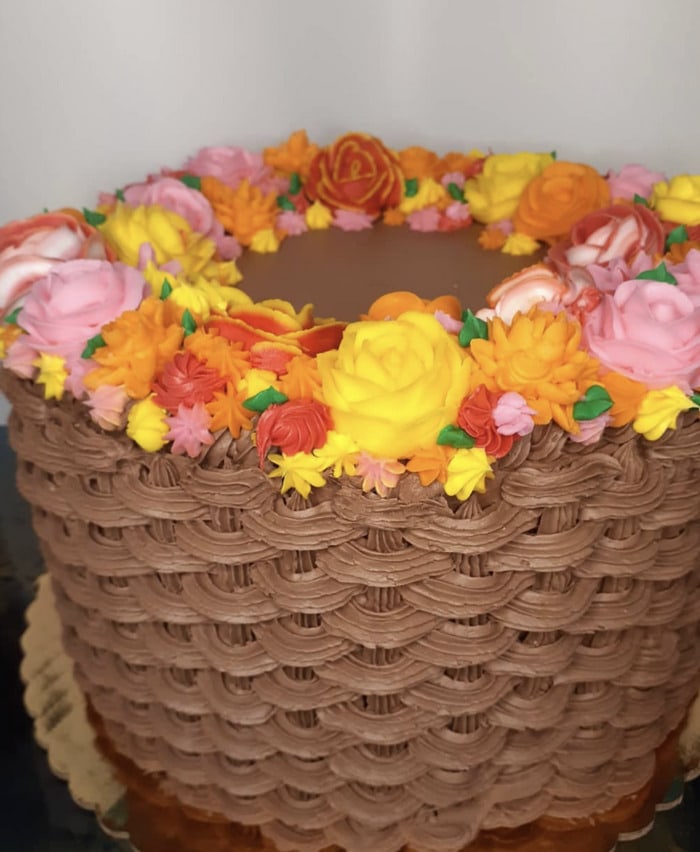 7. Gold Accent Thanksgiving Cake
Everything is better in gold. At least that's what jewelry companies what you to believe. Have we been brainwashed into thinking…ooh, shiny!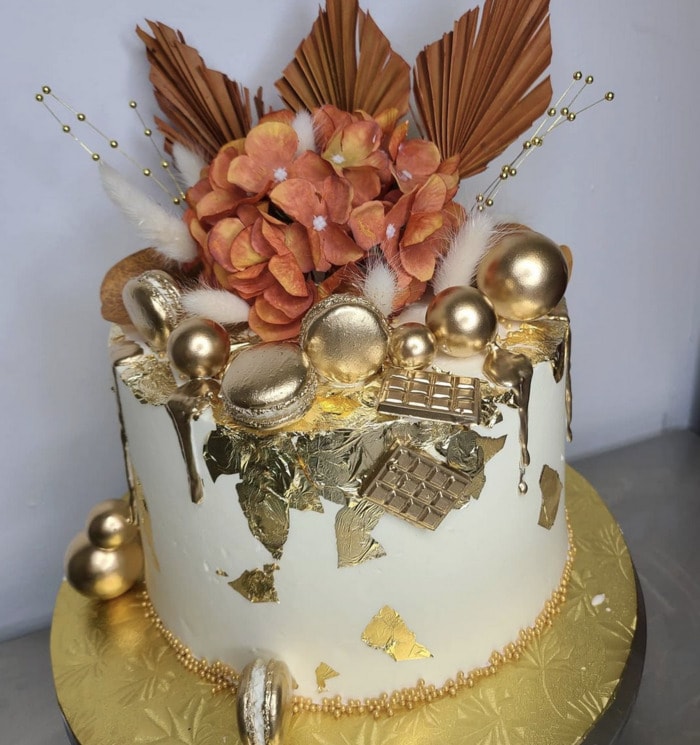 8. Thanksgiving Dessert Cake
Feast your eyes on the dessert platter of your dreams. We've got donuts, pie, macarons…and it's quite possible there's a cake under there.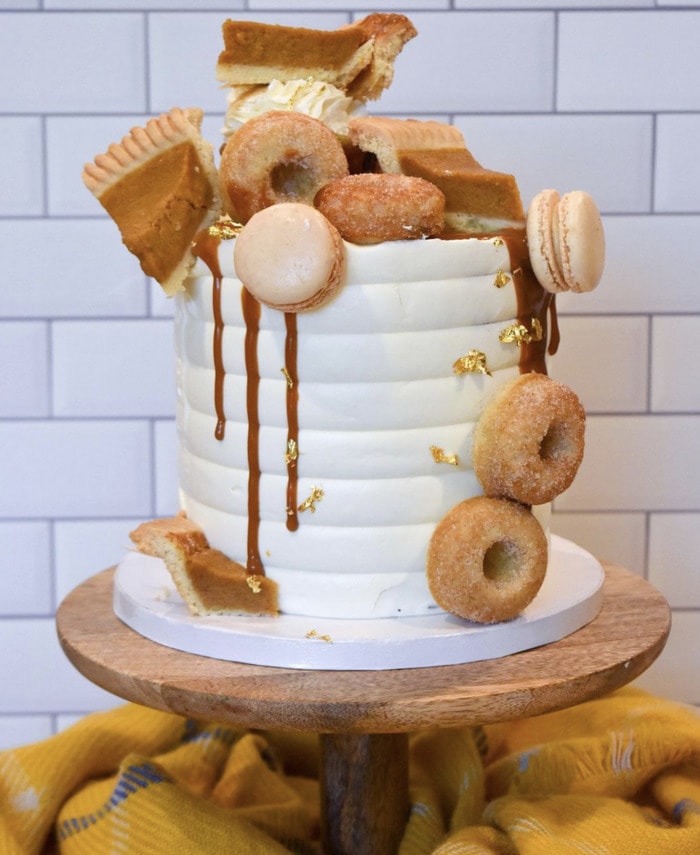 9. Turkey and Wheat Cake
When your turkey decides to go full Hair-y Styles, it looks something like this. Wait, don't remind us about the buzzcut.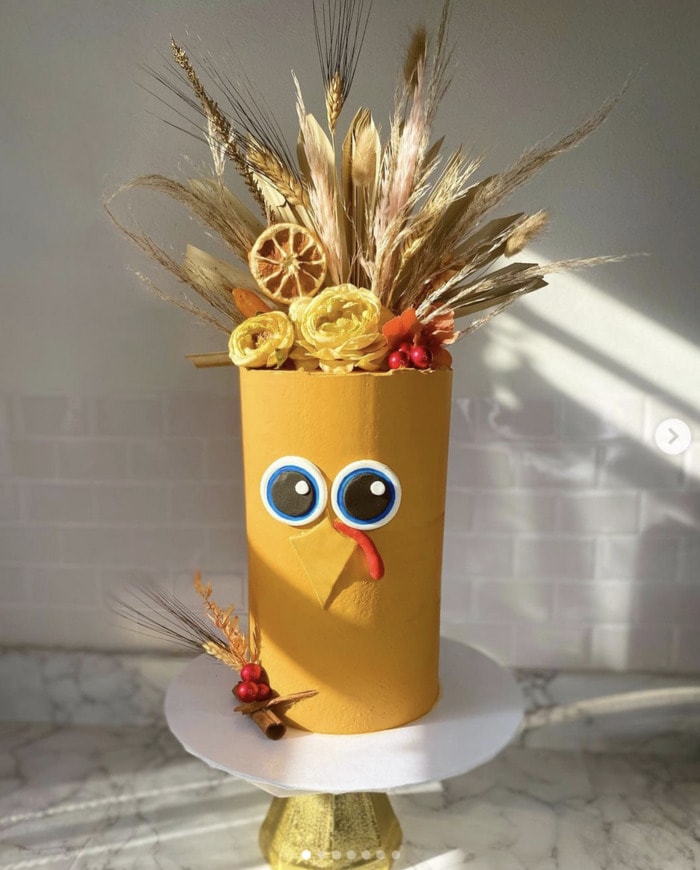 10. Glitter Turkey Cake
This turkey knows how to shake a tail feather. Right into our mouth please, Mr. Turkey. A little to the left.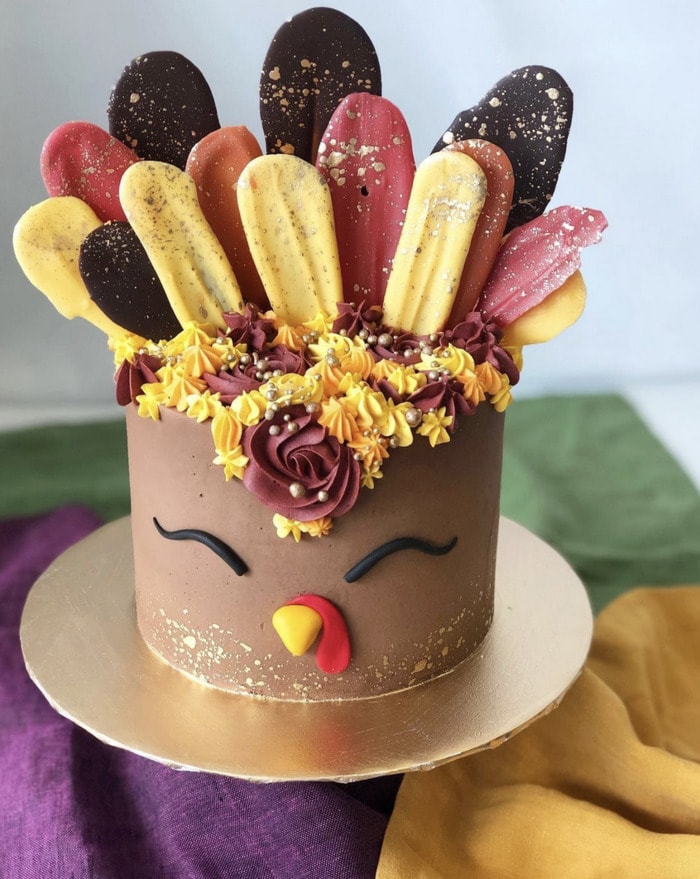 11. Thanksgiving Sheet Cake
It's not Thanksgiving until there's a fight over who gets the flower slice of the cake. A giant glob of frosting? You shouldn't have.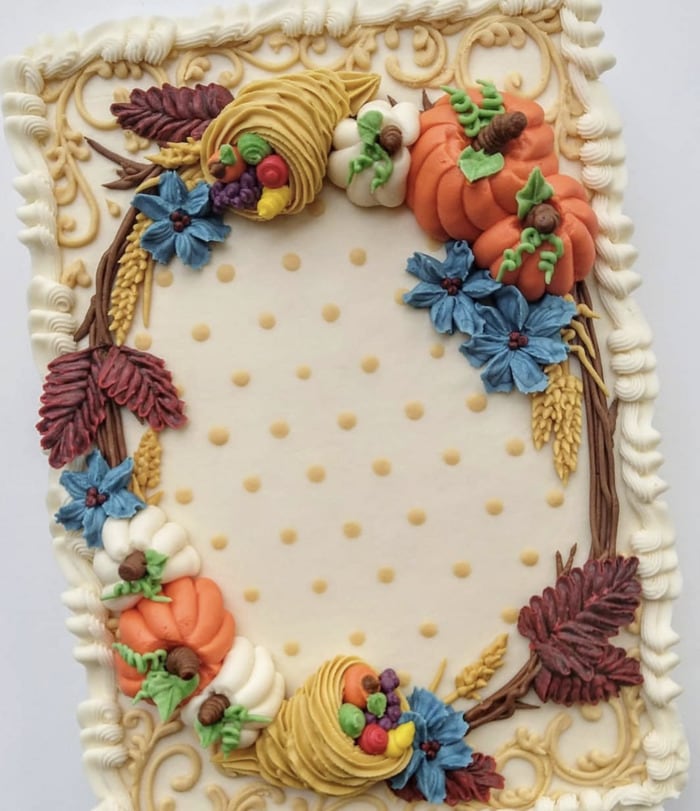 12. Cute Turkey Cake
How could you look into those eyes and then eat this little guy? We can't answer that, but we can tell you we want thirds.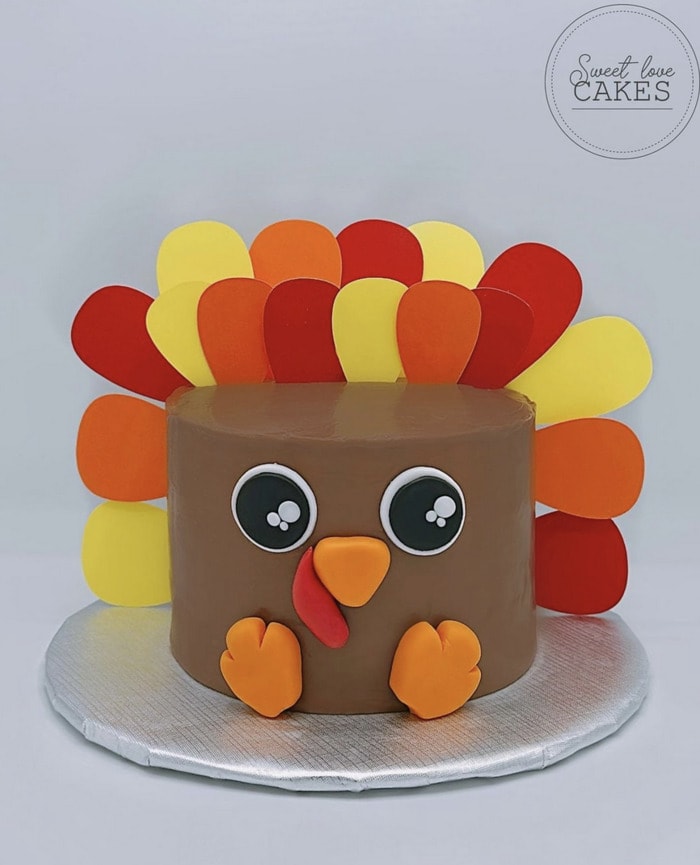 13. Thanksgiving Wreath Cake
Those YouTube DIY videos make wreath-making look easier than pie. And it is. Until you're $50 deep at Michael's craft store, covered in hot glue burns, and still can't get your plastic gourd to sit straight.
14. Turkey Cake
You might not believe us, but this turkey is actually a cake. We know it's freaky, but it's true. Eat it with our eyes closed, it tastes just as good.
15. Candy Corn Pumpkin Cake
This is the perfect dessert solution for if you don't like candy corns, but you like the aesthetic of candy corns. What do you do with that sunny disposition before a cup of coffee, may we ask?
16. Falling Leaves Cake
We are falling for this cake. It perfectly captures the perfect autumn ambiance. And also, we tripped over your shoe.
17. Thankful Wreath Cake
Like Halloween decorations, Thanksgiving door wreaths are a competitive sport. This one might not stick on the door, but it will make you some new woodland friends.
18. Thanksgiving Pumpkin Cake
The Great Pumpkin from Charlie Brown has a family too, and they're all coming home for Thanksgiving. Ugh, does this mean we have to play football?
19. Thanksgiving Sunflower Cake
The sun will come out tomorrow. We won't bet our bottom dollar though. We're saving it for the Black Friday sales.
20. Thanksgiving Centerpiece Cake
A Thanksgiving centerpiece should be show stopping enough to distract your family from you snatching up the last of the stuffing.
21. Gobble Gobble Cake
Gobble gobble is what turkeys say, and also what we say while we're eating them on Thanksgiving. Is this some form of psychosis?
22. I'm Just Here for the Pie Cake
An ice cream cake for pie lovers? This is a mashup we would wait in line for. Take your new iPhone and shove it.
23. Thanksgiving Lunchbox Cake
Next-day leftovers are one of the highlights of Thanksgiving dinner. Unless you're still eating those leftovers the day after the day after the next day. Then it's probably time to order pizza.
24. Thankful Braided Rope Cake
One of the most relaxing activities of childhood was weaving friendship bracelets. If you're still thankful for your childhood bestie, this Thanksgiving cake idea is for you. If you're not, congrats on growing up.
25. Turkey Dinner Cake
This Butterball turkey looks as lost as some of the Butterball helpline experts on Thanksgiving. Here's our advice: It's all gravy. Seriously. Throw enough gravy on anything and it'll taste okay.
26. Sliced Thanksgiving Cake
There's nothing better than something sweet that does its work ahead of time. Like us if we tried harder at work. Anyway, here's some cake.
27. Happy Thanksgiving Tiered Cake
A slice of this rum cake should take the edge off of distant relatives asking you uncomfortable questions about your personal life. Like "where have you been the last 15 years?" and "are you only here for the cake?"
28. Thanksgiving Cornucopia Cake
Is it a real cornucopia, or is it cake? Since this is an article about cake, the answer should be clear. Minus two for deductive reasoning skills.
29. Thanksgiving House Cake
House cakes are the new dollhouses. They're delicious and less likely to be haunted, unlike your childhood dollhouse. Better eat every crumb, just to be on the safe side.
30. Thanksgiving 2020 Cake
No one will want to social distance from this cake or its leftovers. Except maybe the CDC.
31. Thankful Floral Wreath Cake
There are a lot of things to be thankful for. Ordering takeout instead of cooking on Thanksgiving is one of them. Thanks for existing, DoorDash.
32. Give Thanks Cake
Twine brings up the age old debate: How do you tie a bow? Are you a one-loop fan or ride-or-die for bunny ears? You won't even need to bring up politics with a question this divisive on the table.
33. Pumpkin Cake
The rosette detailing on this cake is simply gourd-geous. Too bad you have to squash it with your fork. Well if you won't, we will.
34. Chocolate Drizzle Thanksgiving Cake
Chocolate drizzle is the Queen Elsa of the dessert world. It's frozen in time, just like that picture of you with bangs and braces from middle school on mom's mantel.
35. Thanks+Giving Cake
You don't need a calculator to add this one up. You passed first grade math, right?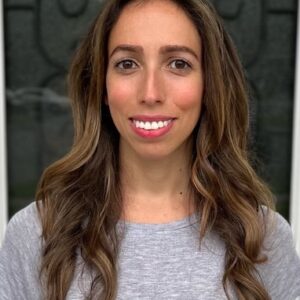 Latest posts by Danielle Cappolla
(see all)